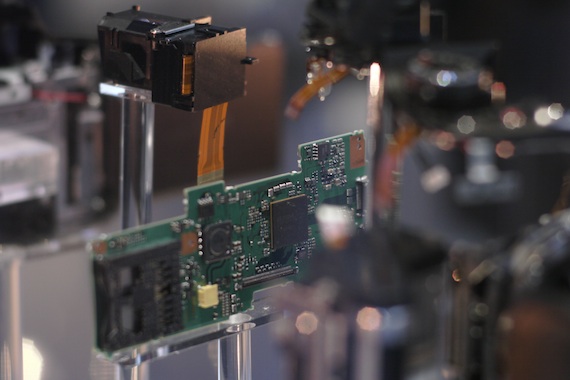 At 43Rumors.com, VK has been interviewed regarding the GH2. Please do read the interview in full. Although it contains quite a few contradictions, technically it is quite illuminating.

• B-frames are present in the GH2's AVCHD encoder to avoid mud.
• The camera has a 1:1 sensor crop mode which turns it into approximately a 2/3 sensor camera, great for c-mount lenses especially long zooms with constant (fast) aperture.
Vitaliy believes however that on the market the GH2 is going to be a disaster. I don't agree with this, I think the Panasonic stand at Photokina was one of the best, it touched a great deal of people (some of them quite influential) and there are a great deal of GH1 owners chomping at the bit to upgrade. The GH1 was out of stock for quite some time and was not a sale disaster. Not as successful as the more consumerist GF1 of course, and nowhere near Canon but still a great start. The GH2 is much more competative on price than the GH1 was at launch, it pleasently surprised me at just $899 for the body and $999 for the basic kit lens package. The expensive 14-140mm is what adds so much to the price but know we have more options. This is a great move.
Vitaliy however thinks differently!
VK: Photokina show [is a]marketing disaster.
43: What should they do [instead]?
VK: Make long list of any people in communities, review sites, valuable shooter or just famous owners of your brand, etc.
43: Panasonic should send a GH2 to Philip Bloom?
VK: No, they should not.
43: Why not?
VK: Look at religion.They always work on someone who don't have faith or who already with them, at least partially. I don't see any point to spend money and time turning someone if you can just get same for free. So, for one man it can be good. But as company politic it leads to nowhere. They must make their own followers. In fact, they already have them.