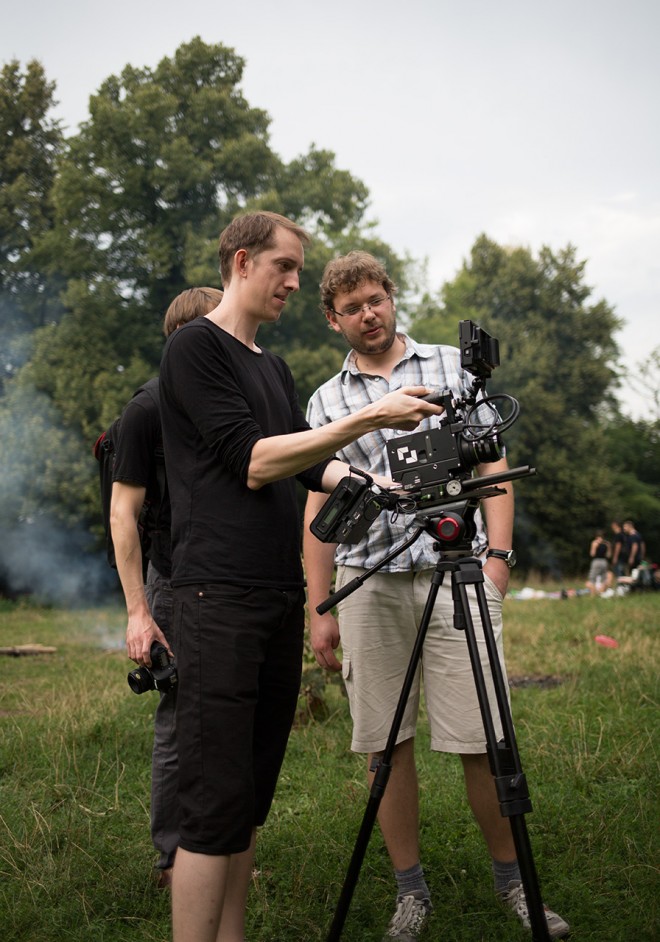 [vimeo]http://vimeo.com/72646025[/vimeo]
Thanks to Michel and Ludwig at HD Videoshop in Berlin for the test unit. Essential primer details on the MINI are here.
The KineRAW Mini is a very cool option in the emerging raw market. With an almost identical range of features and the same 4K Super 35mm CMOS sensor found in the larger, more expensive KineRAW S35, this baby version has a form factor I absolutely love. It is not just small but light as well – very suited to the kind of art-film-on-location shoots I love.
EOSHD takes a brief hands-on look at what the camera offers.
Whilst Blackmagic have been enraging most people with 12 month long shipping delays, Kinefinity have been just quietly getting on with shipping on time and within expectations. For just a little over 3000 euros for the body, the KineRAW MINI is accessible for all pros, but importantly also some aspiring filmmakers and consumers.
Yet this is a camera packed with surprises. Foremost of which is 100fps at 720p in Cinema DNG raw.
Great for capturing slow-mo moments in glorious raw, this is the only camera to do high speed 100fps raw close to a consumer price point. The FS700 plus external recorder is significantly more expensive at over $10,000 including the Sony recorder. The Red Scarlet does 1280 x 720p at 120fps but with a crop of the sensor. The KineRAW MINI uses the FULL sensor for 100fps! No awkward change in the rendering of your lens and field of view.
I found 100fps had a pronounced affect, much more dramatic looking than 60p. The higher frame rate was conformed to 24p in-camera and the playback mode is able to shows you the results almost immediately after recording finishes so there's no lengthy buffer dump like on the FS700. There was a bit of aliasing that isn't there in 2K but the images looked clean, with plenty of fine detail. Very usable indeed and can upscale to 2K. No signs of moire but this wasn't an extensive test. I hope to begin one next week after Johnnie at Cinema 5D has tested the camera too.
Download some original Cinema DNG frames from my shoot to get an idea of the image quality
In the downloadable pack of DNGs above, there's a 5D Mark III comparison frame shot at the same time as the MINI. One thing you have to be aware of when opening these files in Photoshop / Adobe Camera Raw is that the default saturation level in the middle of the slider is high on the Canon shot and under on the KineRAW, so lower the Canon saturation and up the KineRAW saturation so they match. I've also included shot which is heavily exposed to the right so you can see how far you can rescue it.
Although one of the necessary cost and size savings is a less powerful ASIC than the full sized KineRAW S35, the camera has the same 4K Super 35mm CMOS sensor which is capable of 13 stops dynamic range in EI (Exposure Index mode). This technology shifts dynamic range around sensor-side, shifting distribution to match your light levels, instead of using ISO gain with a maximum dynamic range of 11.5ev, EI should in theory give you better handling of shadows and highlights as you are prioritising one over the other. I haven't tried this yet but for my full review I will.
It doesn't do real-time CineForm encoding internally but that doesn't mean to say you can't get it. On the back is a proprietary 'raw' output port for external CineForm recorder compatibility (I believe Kinefinity are in the process of developing one called the KineREC) and this may even in the future allow for a direct tap on the 4K sensor raw data. Kinefinity say the camera will also get an off-line CineForm conversion feature in-camera with a firmware update. This wouldn't be real-time, instead you'd still acquire in Cinema DNG, but go into the menus and convert clips to CineForm or the camera would convert to CineForm as it copies media to your hard drive. How long that process would take though, I don't have the info on.
The camera also has a WiFi connection, a sync port for 3D rigging featuring two KineRAW MINI cameras, USB, headphone socket and a mic input but no XLR or phantom power.
Above: Kinefinity KineRAW MINI with Canon 35mm F2.0 IS.
The raw recording codec is uncompressed Cinema DNG and the camera had no issues recording to my standard Kingston SSD after initialising the drive in-camera. KineRAW mags are also available with guaranteed performance.
Since slow-mo was added via a very new firmware update from Kinefinity, this camera was running more recent firmware than the KineRAW S35 I used back in May. I'm not sure if any other improvements to the image have been made – that's possible – because the results were stunning. Detail in 2K is very very good and 100fps is good for 720p.
Below shows how minimal the false colour / aliasing is in 720p, good considering it is scaling 720p from a 4K sensor.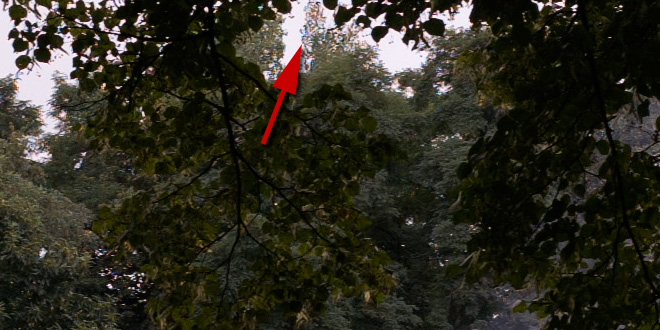 Below is another 1:1 crop of 720p.
I've upscaled the 720p to 2K in post and compared it to the detail coming out of the camera at 2K in the standard 24p mode…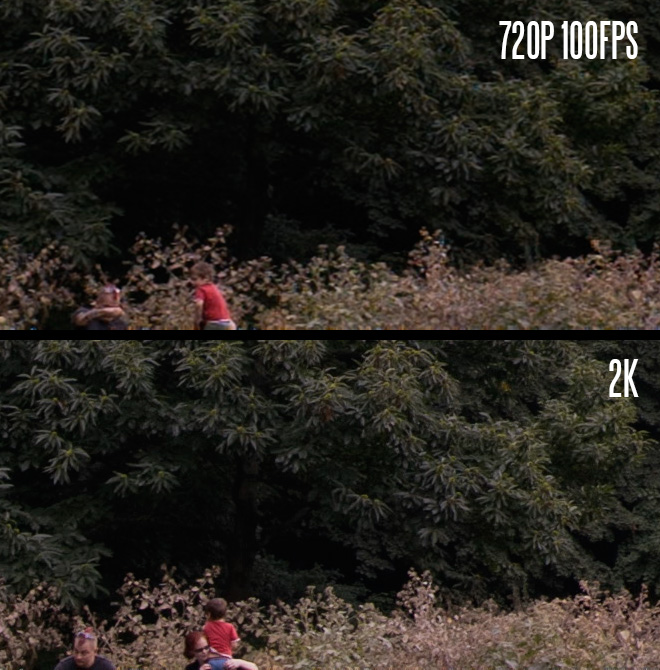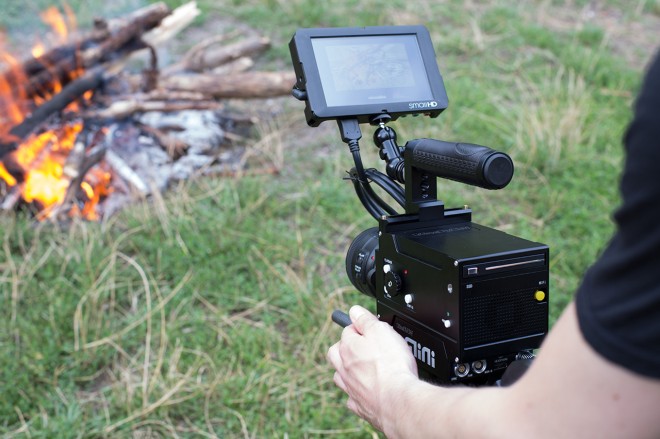 Build quality was also a nice surprise. It has a fully metal construction but is lighter than the BMCC. There's hardly a hint of plastic on the whole camera. Very clean finish too.
We had the EF mount on this camera and it's an active mount for aperture control. Canon's latest generation ultrasonic IS on my Canon 100mm F2.8L IS and the new 35mm F2.0 IS didn't seem to work so hopefully this can be addressed with a firmware update.
Kinefinity have done little to restrict the MINI over the much bigger and more expensive S35.
What HAS changed is the control scheme and two HDMI outputs replacing the HD-SDI outputs on the S35. That's the only real downside of the camera which isn't related to the inevitable compromise of downsizing of both chassis and price. The cost saving seems to have been mostly made with the ASIC, similar to how Red are able to offer the Scarlet for less than an Epic. The less powerful processor helps keep the size, bulk and price to a minimum but it would have been nice to see 10bit ProRes 422, something which would have made it a no-brainer over the Blackmagic Cinema Camera had it featured it. At least support for built in LUTs remains, as does zebra, waveform, histogram, peaking and focus zoom.
As is standard for cinema cameras the MINI has no built in screen of any kind so DSLR users will need to invest in an external monitor or EVF. You can choose to attach the monitor to the HDMI at the front or at the rear of the camera but I'd have much preferred to have seen HD-SDI. HDMI ports are non-locking and the cables are thicker yet not as durable. Given the price though, HDMI isn't anything less than you'd expect to see and you do get two! They're capable of operating simultaneously. Motion in 2K 24p was somewhat choppy on my SmallHD DP6 but I put this down to a firmware bug rather than any hardware limitation.
For power you use an external battery which does add a bit to the weight of the camera, and there's no internal backup cell like on the BMCC. The Canon 5D Mark III is alone in offering hours of raw recording from a tiny internal swappable battery and no fan but that's because it isn't even debayering the raw or processing DNG at all, rather dumping data direct from the sensor via RAM to the card. Also as is natural for a DSLR, Canon spent a lot of time making their CMOS sensors and (rather slow) image processors power-economical.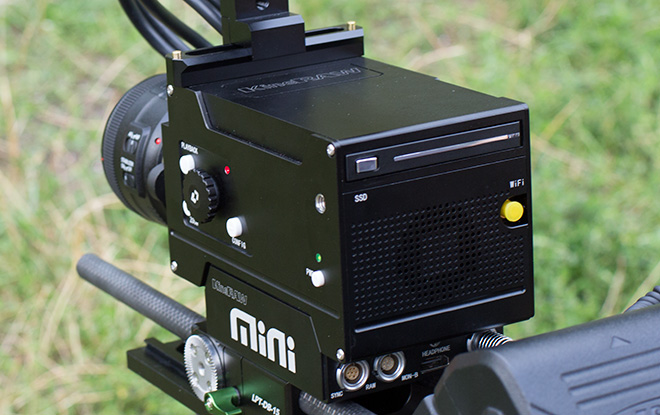 The big S35 was a very heavy camera like the Alexa more suited to studio, TV and crew work rather than one-man operator stuff on-location. The MINI ergonomics feel totally different – this is much more in the mould of the Epic & Scarlet. I also prefer it to the BMCC. It's better balanced, more boxy and has a lower profile / centre of gravity which helps when you have the weight of a monitor on top and a top-handle.
Weighing in at 1.5kg, the MINI has a very quiet fan at the back which can be turned down to 30% or even off in cool conditions.
The camera menus however are not without their quirks. I am sure Kinefinity can do much via firmware updates here and since all new menu systems takes some getting used to I'll reserve judgement on it until I've had more time with the camera.
First impressions of it though are of physical control being too sparse. It is the polar opposite of the FS700 where you have too many buttons. Here's there's not enough! Playback button, focus zoom button and menu button but no dedicated buttons for shutter, aperture and ISO. Instead a multi-function dial does all the rest of the work. It doubles as a joystick, dial and button all in one.
Directions on the joystick-dial trigger seemingly randomly assigned functions. Press left for instance and you find yourself cycling through SSD-related options on the same key as aperture adjustment. Hopefully later firmware will fix this and allow the ability to reconfigure the joystick commands in the main menus, as this option didn't seem to be on the current camera. Maybe Kinefinity can clarify this for me?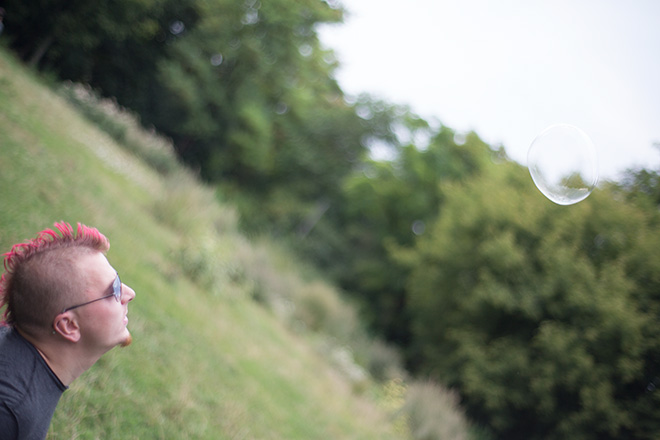 I think if you are using a Canon lens, aperture really needs it's own dial on the camera. Hopefully their upcoming grip which attaches to the right of the camera and plugs into the 'misc' port will add some more control, similar to the C100's grip. It would be great to have at least one or two jog wheels for controlling aperture and shutter. A programmable d-pad would complete a still-minimalist control scheme and I'd prefer to see the d-pad move to the top plate so it's on the same plain as the monitor where up is up and left is left.
In the 'config' menu options are listed in the form of drop down menus. Inwardly pressing the joystick enters a menu and pops out more options – it may take some getting used to as I often found myself backing out of the menu instead of confirming a selection.  Entering and exiting playback mode was a bit sluggish and the start-up time is 30 seconds so a DSLR or a Blackmagic is quicker in that regard.
The camera only has one record button and it is recessed on the front of the camera like on the Epic so that hand-grip gives Kinefinity the opportunity should they seize it, to add a much needed second record button for when part of your rig makes access to the front of the camera near the base of the lens mount inconvenient.
First impressions summary
What the KineRAW MINI gets right, it gets very very right. I love the size, shape and weight of the camera. The menus and physical controls need some firmware tweaks and a side grip – I wasn't a huge fan of that aspect, but everything else is a roaring success. The Super 35mm sensor sits behind a swappable mount and is very capable in low light. In 2K it gives very good detail with hardly any artefacts. The tantalising prospect of 4K later via an external recorder is interesting.
The MINI gives a cinematic rendition which is a bit more muted than the 5D Mark III but no less cinematic. Sometimes it has a more organic look, but I haven't decided which one I like best yet.
I am eagerly looking forward to fully reviewing it in a week or so and only then can I really get a full grasp on it. It's a very different camera to the 5D Mark III with raw. Some things like anamorphic 4:3 and 3:2 aspect ratios on the 5D Mark III and the full frame look I might miss on the KineRAW, but image quality between the two seems to be close. The KineRAW is certainly more practical for paid work. It has the advantage of a more robust form factor, SSD media, cinema-camera firmware, swappable mount, 100fps slow-mo, all for about the same price of a new 5D Mark III body and a bunch of 1000x CF cards.