[vimeo]http://vimeo.com/45682834[/vimeo]
Buy the RX100 at Adorama or Buy the RX100 on eBay
The RX100 is a camera that fits in your jeans pocket. Would I consider intercutting RX100 footage with 1080p from a pro Super 35mm cinema camera? Yes I would.
This should give you an idea of what a monumental achievement the technology of the RX100 is.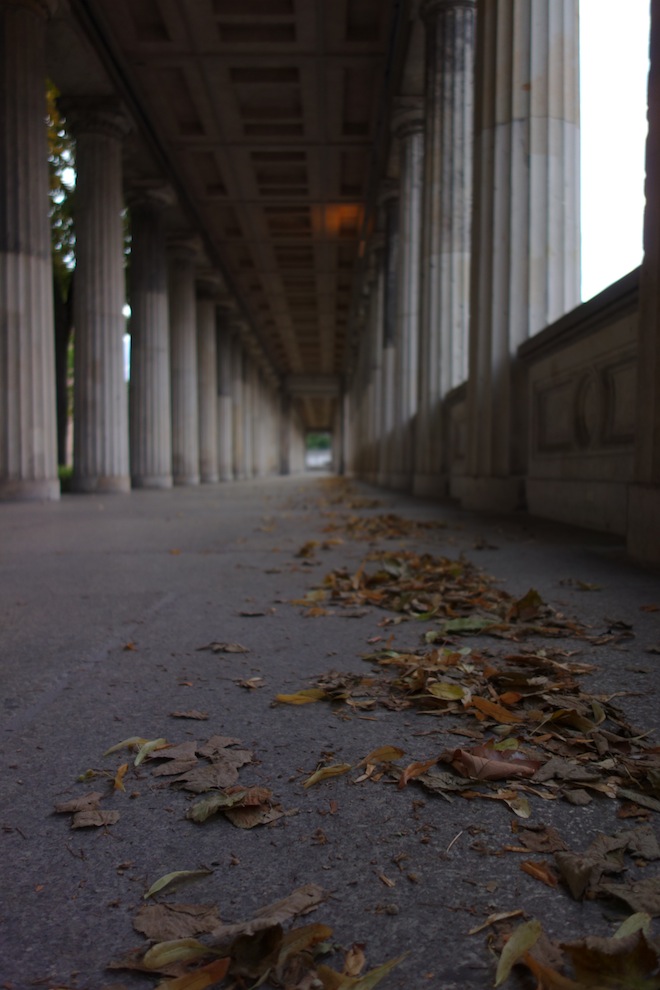 Berlin Museum Island corridor shot on the RX100
The RX100 bares a striking piece of text on the base. 'Made in Japan'. This speaks volume about Sony's approach to this camera. Advanced propriety technology fresh from the lab which is too complicated and delicate to have manufactured outside the lab itself.
Last year I found the Sony HX9v was a great leap forward for a compact as well. An innovative model. 1080/60p for the first time on a compact, an impressive stabiliser on a way above average Sony G lens. Resolution in video mode was bettered only by the Panasonic GH2 of the current crop of affordable digital cinema cameras, with significantly less 'nasties' like moire than on a Canon Rebel – the HX9v punched well above its weight.
Now Sony have stepped the HX9v up a level. Actually not a level, but a league.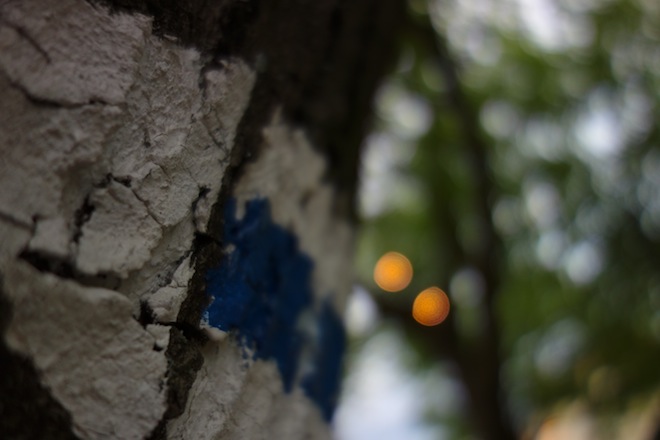 'Micro Zeiss'  at F1.8 gives incredible shallow DOF for a compact
This has not been done with a direct replacement (the HX20v is an evolutionary follow up) but rather by a large sensor compact with raw.
Manual controls have been added in video mode – a rare thing indeed to see on a compact camera.
It also has a continuously variable silent aperture which can be assigned to the clickless focus ring and adjusted mid-shot.
The number of rival cameras the RX100 completely destroys is quite astonishing. Say goodbye to your Canon S100, Fuji X10, Canon G1X, Nikon 1, Olympus PEN, Lumix GF3 with X power zoom. The RX100 is a better all-rounder than all of these cameras and significantly smaller (with lens) than any current mirrorless offering.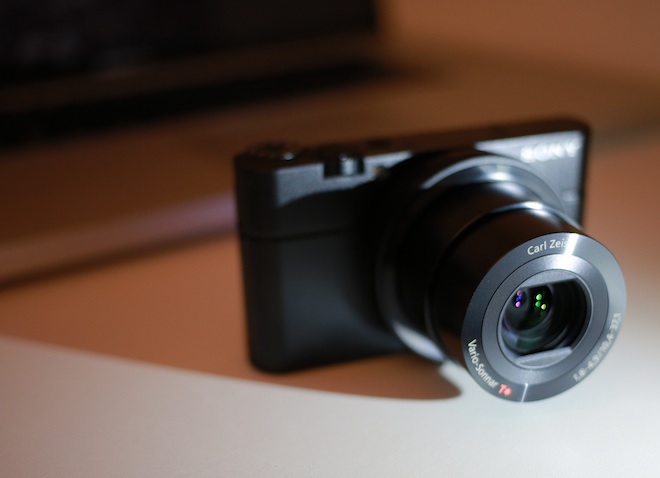 Compared to – Canon G1X
The sensor in the G1X is a 2x crop 1.5 inch CMOS. Larger than the 2.7x crop 1 inch CMOS in the RX100 – but actually there's no real shallow depth of field advantage to be had. This is because the RX100 makes up for the smaller sensor with a faster aperture. This is true throughout the range but the biggest difference is at the wide end where the 'micro Zeiss' is over a stop brighter at F1.8. Bluntly the fast focussing, smaller, brighter lens on the RX100 makes the G1X's lens look like it was designed a couple of years ago by a much lesser company than Canon. It's a big difference in optical technology on display and the lens is the RX100's secret weapon.
On the RX100 manual focus is done with a very smooth rotating front ring with peaking (yes – peaking! On a compact!), whilst it is a hassle on the G1X with a tiny wheel at the rear and on-screen guide range.
AF is far faster on the Sony as well as more reliable. The build and size of the RX100 is far superior, and it is half as heavy (213g to 390g) to lug around. The G1X does have a few areas where it is better specified but not many. It has a built in ND filter and articulated screen. It also has a tiny optical view finder though I personally find it absolutely useless.
Compared to – High end small sensor compacts – Canon S100, Fuji X10, Panasonic LX5, etc.
The RX100 packs in DSLR quality to the same space as the S100 but not the same price. Very price conscious consumers might not be ready to pay double for what is clearly a better camera. They will miss out. It packs a much larger sensor and 1080/60p in video mode. It complete blows away the S100 in low light and for overall image quality. Neither the S100 or G1X have manual control in video mode so the RX100 is viable as a filmmaker's tool as well. The RX100 also has a better screen with RGBW (Sony dub this technology Whitemagic – see explanation over at DPReview) 1229k resolution – again a first for a compact camera. I believe the screen it be the same panel as in the Fuji X Pro 1.
Relative to the little Fuji X10 – I do like the retro gem and the 1″ sensor of the Sony is not as much bigger relative to the 2/3″ White Orb Special in the Fuji as it is over a 1/1.7″ compact sensor. Furthermore shallow depth of field at the long end of the zoom on the X10 benefits from a faster aperture, F2.8 compared to F4.9 on the RX100. The retro styling of the X10 also appeals to me, but there's no hiding the fact at the RX100 packs the more advanced technology overall, the better image quality and the more responsive firmware. It also does not freeze for 30 seconds when you put the memory card in after reading the contents on a Mac. Always a bonus, that.
Like so many high end compacts, the Fuji X10 is not actually jeans pocketable. Not unless you want to look extremely pleased to see people. The RX100, like the S100 has the advantage of being almost the size of a packet of cigarettes.
In terms of video it is a no contest – both in terms of features and image quality the RX100 is the best compact camera for video on the market. Furthermore electronic shooting features like sweep panorama and handheld twilight are significantly better implemented on the Sony as well.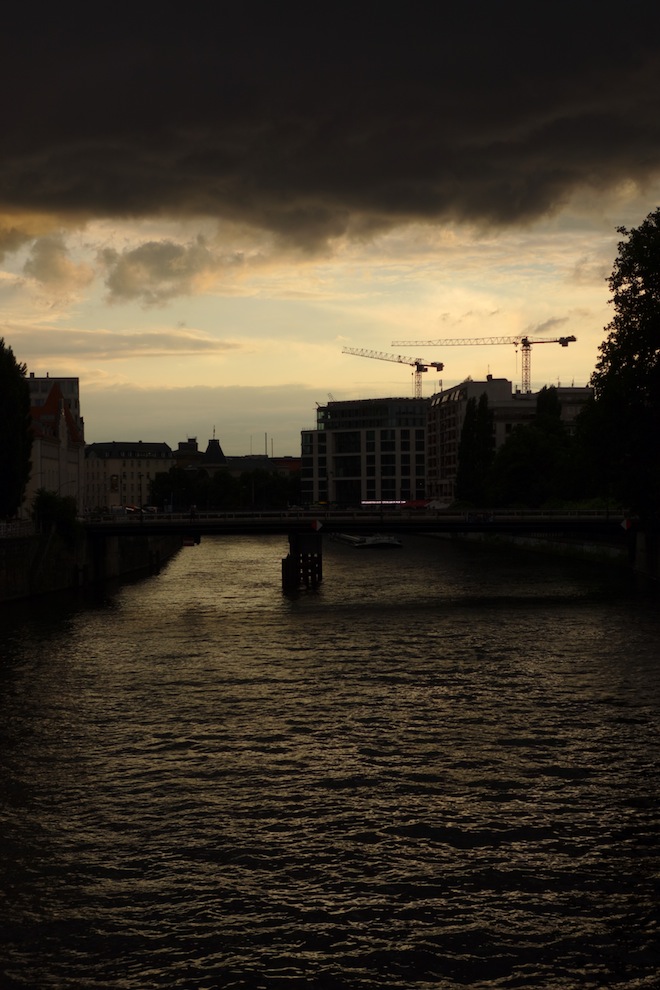 Approaching storm, River Spree
There's other trickery in the cigarette packet wonder. This guy (David Pogue) explains it better than I do:
"[There's the] bizarre but sometimes enlightening Auto Crop. It creates a duplicate of your portrait, cropped in what it considers a better way. Sometimes, it's right."
"For self-portraits, you can set a timer as usual. Or use its even smarter mode, in which the camera waits until it sees your face in the frame. Then it fires a shot every three seconds until you leave the scene."
I am not a great believer in gimmicks but you have to admit – that is clever programming.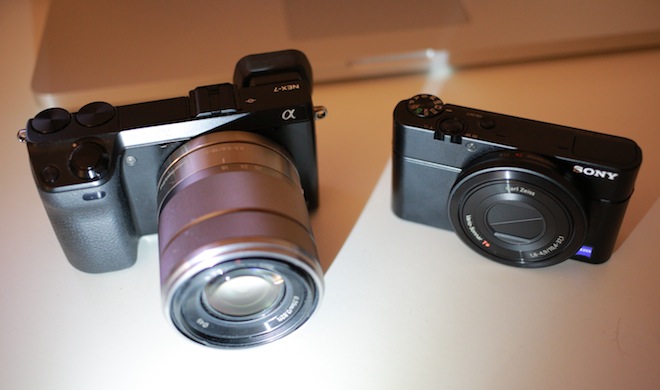 NEX 7 vs RX100 size comparison
Compared to… Consumer mirrorless, GF3, Olympus PEN, NEX C3, etc.
What shall we do with this bunch? (Well, I told them it wouldn't work…)
With the advent of the RX100, low end mirrorless cameras packing kit lenses are dead.
If you don't need an interchangeable lens mount on your small camera I challenge you to find the advantages of shooting stills OR video with a low end mirrorless camera and kit zoom, over what the RX100 offers with the far better Zeiss and rather advanced 20MP sensor. Relative to low end interchangeable lens cameras (and by Olympus PEN I mean cameras like the E-PM1 not the high end OM-D) the RX100 is far smaller with a faster aperture. Smaller but larger. Yes – it seems Sony are defying the laws of physics, but there you go. Even when a GF series is paired with a high end kit lens such as the Panasonic X pancake zoom and a narrow aperture of F3.5 at the wide end, a camera like the GF3 or GF5 is not nearly pocketable, yet the RX100 with a not much smaller sensor and massively wide F1.8 aperture is – go figure!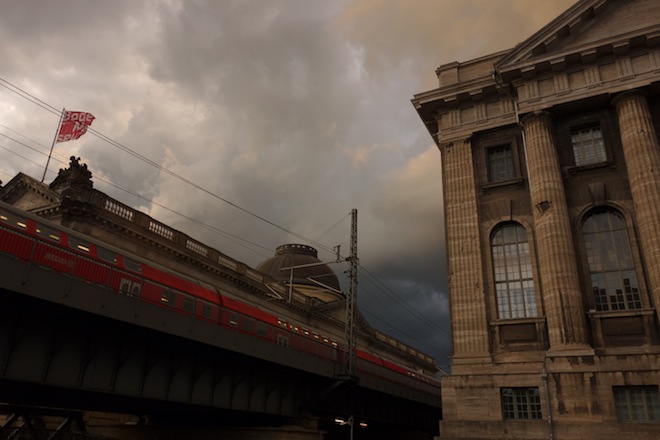 Approaching train, Museum Island
The problem with low end mirrorless
I don't understand the obsession manufacturers have with making cameras like the Panasonic GF3 and GX1 or Pen Mini or NEX C3 body so small and putting them in the hands of 'soccer mums'. The lenses of small consumer mirrorless cameras defy the point of making them so small in the first place.
Cameras like the Panasonic GF5 are a flawed concept in that they put the complexity and hassle of interchangeable lenses in the hands of customers who really just wanted a simple zoom, high image quality and a small body. The size of the lenses and tricky shallow DOF offered by a large APS-C sensor is not a good fit for a point and shooter. In my view, mirrorless has its true place in the high end and enthusiast camera market, catered to by the GH2, OM-D and NEX 7. I'd rather use a larger GH2 or OM-D E-M5 for better handling, as well as the obvious advantage in image quality and advanced features these have.
Meanwhile, due to their rather cheap and cheerful retail prices, low end mirrorless stuff just feels crap in the hand. Take the kit zoom for the J1 – please – take it. It is cheap and it shows. It is 10-35mm with a slow F3.5 aperture at the wide end. It has a manually retracting (and extending!) barrel, cheap construction and a zoom ring made of plastic scavenged from a toy shop. By comparison, the lens on the Sony is also a 10-35mm (approximately)… And YET:
It is smaller
It is all alloy
It has a motorised power zoom
It automatically retracting to be almost flush with the camera body
It is F1.8 at the wide end
POW!! If that isn't an optical advantage with a Zeiss badge I don't know what is. Although the RX100's sensor is exactly the same size as the Nikon J1's 10MP unit, it somehow manages to double resolution to 20MP without sacrificing low light performance and half the size of the optics whilst featuring that huge F1.8 aperture at the wide end.
In fact it is superior in low light with better colour. The J1, as a cheap camera body is actually very good value for money – but it is let down by those awful CX lenses. Put simply the retractable Zeiss zoom on the RX100 is state of the art. It cannot be removed but you wouldn't want it to be.
Although the aperture does decrease quickly beyond the widest point (it drops from F1.8 to F2.5 almost immediately and then very quickly to F4) at F2.8 you get a relatively standard portrait focal length which still provides a decent amount of background blur. The 2.7x crop sensor of the RX100 gives the 10-37mm lens a equivalent focal range of approximately 28mm-100mm.
Video mode
Coverage of the RX100's video capabilities and image quality will be on a rolling basis on EOSHD, as there is simply too much to fit into one page.
However I can give you a summary.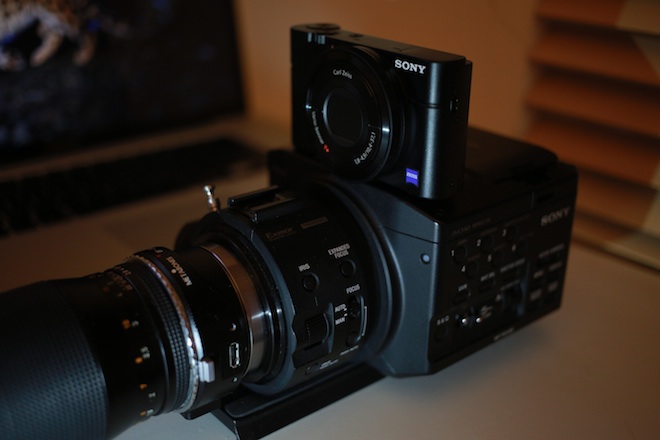 Sony RX100 gets a piggy back on the NXCAM FS100
Last year the lovely HX9v had a very good showing for a compact versus a DSLR. It resolved more detail in 1080p than a Canon DSLR, arguably more than the Sony NEX 5N and NEX 7 as well, if still short of the mighty hacked GH2. It didn't suffer much in the way of moire and aliasing either but it did suffer from a small sensor, limited dynamic range, poor low light and no real manual control.
The video mode on the RX100 is game-changing for a compact. I feel that video quality is actually an improvement on the NEX 5N and NEX 7. With sharpness dialled down on both my NEX 7 and RX100, the RX100 has the edge on resolution.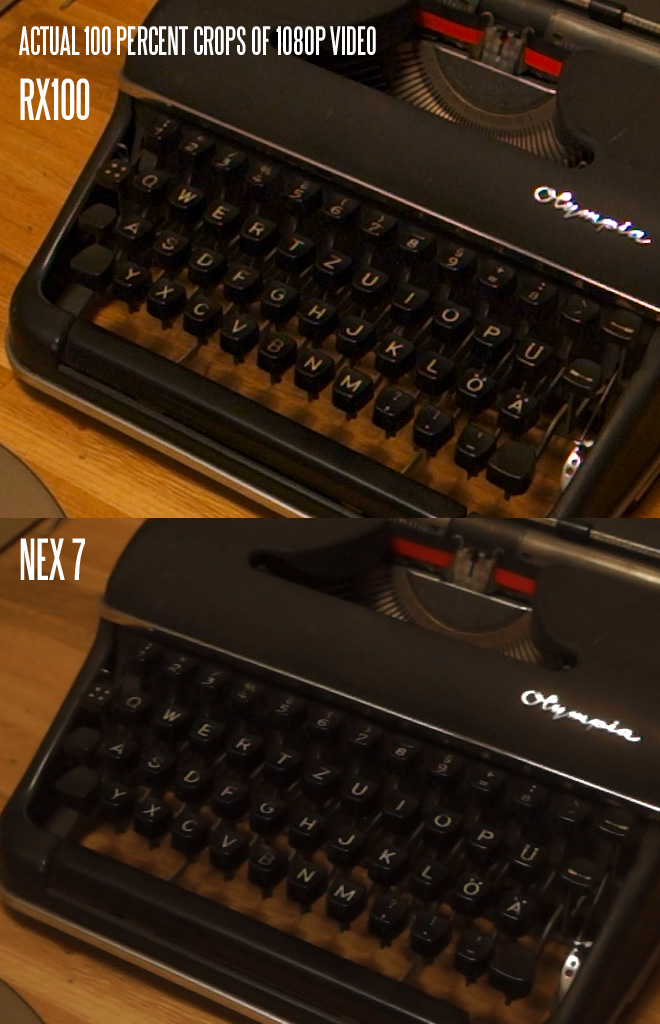 There's some aliasing especially some 'crazy chroma' false colour on the edges of hard specular highlights (like on the Olympia badge), but there's certainly less moire and aliasing than on a Canon Rebel DSLR. Colour and dynamic range is also DSLR standard and way beyond what was previously offered in a compact, let alone one this small.
The feel of the in-camera AVCHD can be fine tuned with some of the same picture profiles you get on the NEX mirrorless models. I find 'Sunset' with contrast -3 and manual white balance gives the smoothest tonal range and highlight fall off.
Although the sensor is smaller than APS-C and significantly smaller than the 5D Mark III, I could intercut RX100 footage with the 5D Mark III stopped down for more manageable focus and you probably wouldn't notice. The RX100 also features 1080/60p/50p depending on your region so it is great for slow mo and Twixtor. You can conform 50p to 25p perfectly, and 60p to 24p does go without too much in the way motion artefacts unlike 30p to 24p.
Depending on how challenging the shot and the scene, you can intercut footage from the FS100, FS700 or $15,000 Canon C300 with the little RX100 quite happily. It has a smaller sweet spot, softer detail and more artefacts of course – and certainly the GH2 gives the better video output – but we're talking about a shirt pocket camera here, that can be intercut with a $15,000 cinema camera in certain circumstances.
Rolling shutter 'jello' by the way, is massively improved over a DSLR and you really have to be doing 90mph whip pans to provoke slanted verticals.
One trick we learned from the 5D Mark III is that dialling down sharpness all the way in-camera and adding it back in post is far more preferable to letting the camera do it.
Sharpening in post
RX100 footage is not quite as soft as that from a Canon DSLR but it is not as detailed or as sharp looking as that from the GH2 or FS100, so it does respond well to a bit of sharpening in post. +15 in the Sharpen filter of Premiere is enough for most shots. You don't need to add as much as you do with 5D Mark III footage. You can view the full 1080p frame grab (sharpened in post) here.
Of course the sharpening is always more noticeable in terms of making the image pop when the image is moving, but here is a comparison regardless. As you can see, from this 100% 1:1 crop even at the per-pixel level the RX100 is delivering a decent amount of detail.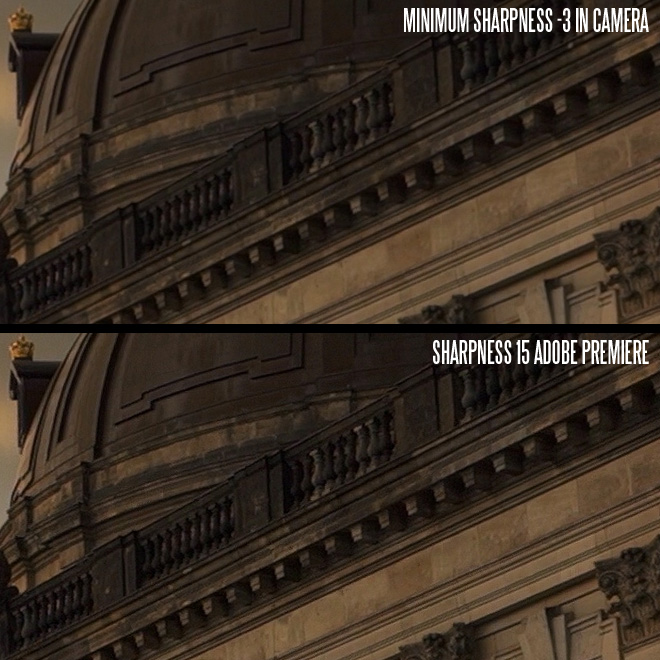 Live HDMI
Rarely (no – uniquely) for a camera of this class, there is indeed a live HDMI output during recording to the SD card. It is perfect for monitoring purposes though not so much uncompressed ProRes with a Atomos Ninja because you do get a black bar at the bottom with some info in it that cannot be turned off. But the quality of output is superb and it is 1080p. I had the camera linked via Micro HDMI cable to my Zacuto EVF and with the punch in zoom enabled on the Zacuto, detail is very crisp and clear at 1:1. Great for checking focus.
Unfortunately the Micro HDMI socket on the camera is located on the bottom close to the tripod mount so you will have to come up with a cute way of mounting the camera to a rig if you want to use a monitor of EVF. To be honest the screen on the RX100 has peaking and a very fine pixel pitch so I'd have no qualms about just running with a Zacuto Z-Finder on it, like I did with the HX9v.
Handling
Sony have a mixed history when it comes to the usability of their cameras. I have to say that I even find the NEX 7's software design does not make the best use of the rather nice physical controls. The internal logic is iffy in places. Why do I need to use all 3 dials at once just to change white balance or picture profile attributes? The main menu system is also too fragmented and I dislike the grid layout. Thankfully the RX100, coming as it does from a different part of Sony, has a better menu, a better control logic and a selection of physical controls that are minimalist without being dumbed down. It is more like the Alpha series of DSLRs.
The buttons and dials also have a high degree of programmability although it would have been nice to see the ability to toggle peaking on and off with one of the function buttons. Only a limited set of main menu options can be assigned to a programmable button.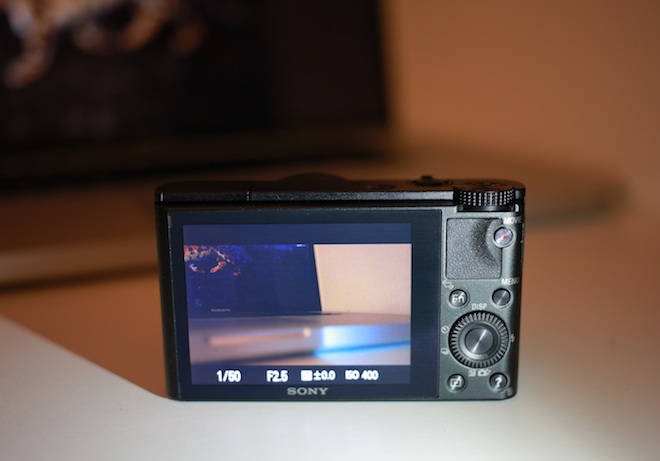 Sony RX100 with Whitemagic LCD
The camera charges the battery in-camera via USB port. This means I don't need to bring a charger with me if I am packing a laptop. The socket is on the upper right side near the mode dial. Unfortunately as I mentioned earlier, the HDMI port is on the bottom! It'd have been nice if they'd swapped the positions.
There's a rocker switch for zoom and a d-pad with rotating dial on the back – generally it feels superb in the hand and the placement of the HDMI port is the only downer. I'd have liked to have seen the SD card slot move to the side of the camera though too… It is frustrating to see the entire compact camera industry keep putting it in the battery compartment.
By the way, the feel of the mode dial is superb on this camera – solid enough not to be knocked but grippy and responsive.
The control ring on the front is stepless (no clicks), which is great for manual focus, not so great for other settings. Aperture changes don't seem that responsive but the iris closes gracefully during video recording. Documentary shooters will like that. The only complaint I have with the front ring is not that the physical feel is off – it is lovely – but that the sensitivity varies too much in manual focus mode, and if you turn it slowly for a precise rack, it ends up hardly shifting focus at all and it takes a good few rotations of the ring sometimes to get it right. Maybe this becomes better with practice, or maybe a firmware update is needed.
TV Tower as seen from Museum Island
Sensor quality
Sony are completely throwing out the rule book when it comes to image quality for a compact. They say the best camera is the one you have on you and indeed my iPhone has benefited from that many times, capturing some very nice cinematic moments on the rare occasion I was't specifically out there shooting with my DSLRs.
Likewise the RX100's great selling point is that it fits in your shirt pocket so you can take it everywhere. It is worth keeping on you as often as a phone, if you are off duty but think the situation could open up to something visually interesting. It is great for artists to keep on them like a visual sketchpad and great for consumers who just want better image quality than a compact, without the hassle of focussing with razor thin DOF, changing primes, camera bags and the general hassle of bulk of other cameras.
At the moment Camera Raw does not support the RX100 – sluggish as always to incorporate new releases – but Sony's own Image Data Converter software does, which you can download here.
Stills at ISO 1600 in raw are comparable to the NEX 7.
Think about that for a moment.
This is a shirt pocket compact!!
Although the blue channel is noisier, the overall noise grain is nice and fine, and not too much higher than the APS-C sized equivalent – and not too much short in the resolution department either. Here is a 100% crop of raws taken at ISO 1600.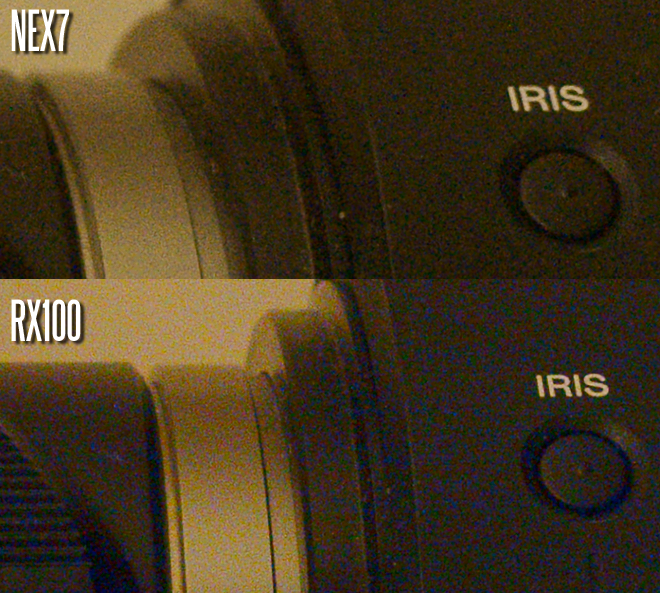 There's clearly been no artificial market segmentation here and the RX100 is as good as the new technology inside allows it to be. I am sure Sony will cannibalise a few NEX sales with this beast but far better Sony do it than someone else.
Build quality
Unlike unadventurous made-for-profit compacts the RX100 is Made in Japan. This bodes well and indeed I have no complains about the way it is put together. The materials used do not turn white and give you an allergic reaction. The stock doesn't run out when a river overflows in Thailand. This is all a bonus and I'm happy to pay a premium to have something made in somewhere other than a sweatshop for a change.
A subtle touch I've noticed is the rather Leica X1 styling. It does take a few cues from Leica, mainly the rounded edges of the top plate, the front profile and the mode dial. It really is a very pleasing looking camera.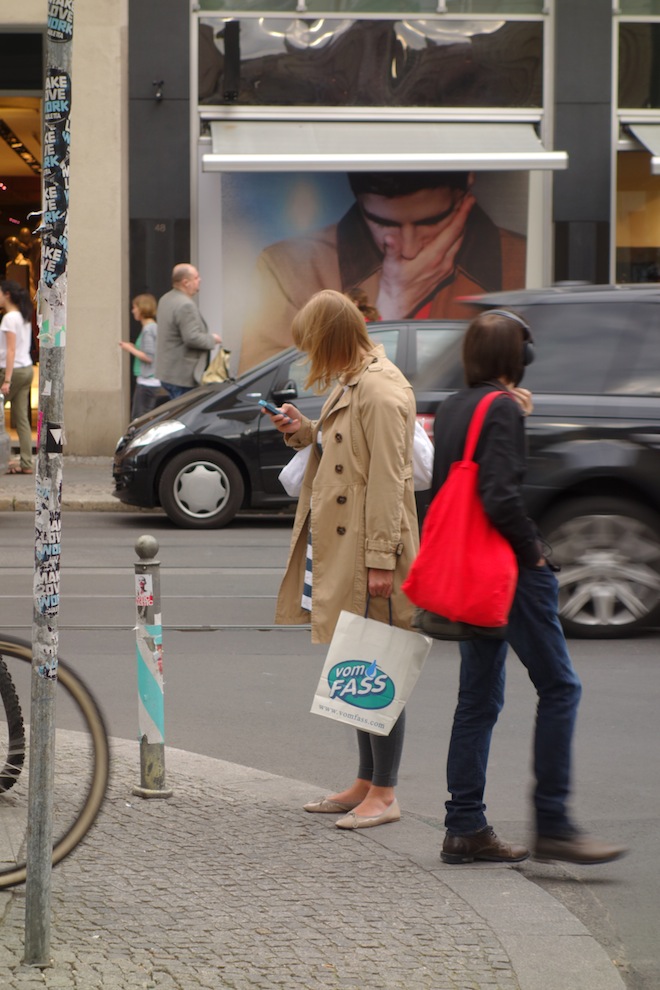 Woman, paused, iPhone
Conclusion
Despite owning a NXCAM FS100 for video I am still obsessed with small cameras. There's so much fun to be had with a pocket camera, for gathering visual ideas, taking journalistic style snaps and sometimes just for pure convenience or stealth. A small camera is also useful for taking to difficult to reach locations where you don't want to carry any non-essential equipment. For with the jeans pocketable RX100 you literally don't need to carry a camera and you can free your hands up for, say, a rock climb.
In terms of the technology on display, the Sony RX100 is the camera the Canon G1X should have been. The G1X's slow auto focus, unusable manual focus, cheap feeling build and a bulky body defeated the object of it for me. Likewise the Canon S100 is comfortably replaced by the RX100, with no regrets.
Sony's head start in mirrorless technology has allowed them to beat Canon in one of the largest and most profitable markets for cameras – the high end compact. This was a market dominated by Canon with the G12 and before that Panasonic to some extent had a good run with the LX3 especially in Asia. Those models are now a thing of the past.
With mainstream / low end compact camera sales suffering due to rampart smartphone usage, manufacturers have concentrated on 'step-up' cameras offering better image quality. Until very recently with large sensor compacts, mirrorless has been the answer. Not any more. The RX100 kills the GF, Nikon 1 and PEN series for me. In fact I was always uneasy with mirrorless being a 'step-up' from a point & shoot any way. Those models are now a thing of the past.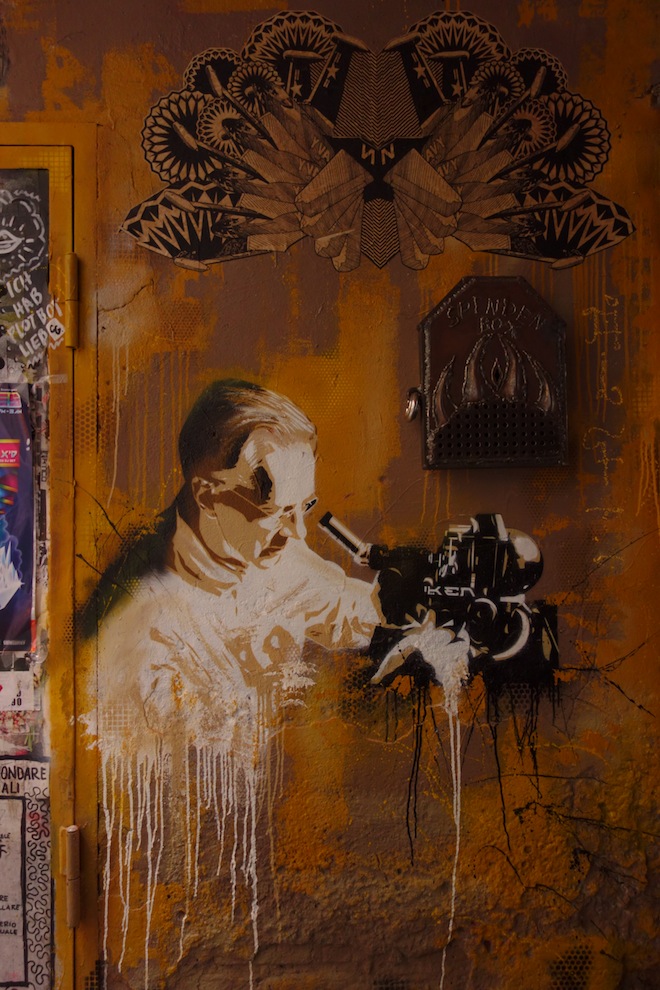 Urban art, Berlin
Pros
High end DSLR rivalling results in a shirt pocket camera for the first time – easily the best image quality per cubic centimeter
Smashes all immediate opposition (though you do pay a premium over most rivals)
1080/60p/50p (though not region switchable)

50p conforms perfectly to cinematic 25p
Faster progressive frame rate very welcome for slow-mo

Superb colour from the Sony Exmor even in low light
Very little distortion from the 'micro Zeiss'
F1.8 aperture lens at the wide end has exciting uses

Shallow DOF portraiture (for close-ups)
Low light wide angle
Low light macro

Low light performance for a compact beats all comers especially in raw and handheld twilight mode
Lots of firsts for a compact

Peaking
RGBW screen
Full manual control in video mode
Live HDMI out

Extremely stealthy camera for Henri Cartier Bresson style street shooting

Silent leaf shutter – no bang of a mirror or curtains drop of a DSLR shutter
Entirely black apart from Sony and Zeiss logos
As well as body, zoom lens is very compact and does not extend as far as on the G1X or a DSLR
Lens retracts almost flush with the body – an extraordinary feat of optical design

Very usable manual focus ring by compact standards and peaking stays on whilst recording video
Logical control system an improvement on the NEX cameras despite fewer dials (than NEX 7) and more cramped body
NEX picture profiles, make meaningful difference in video mode or when shooting JPEGs
Raw stills (unlike HX9v, etc.)
Nicely programmable control layout
Very effective optical image stabiliser
Sweep panorama and handheld twilight best implementations of such features from any manufacturer currently
Very close minimum focus distance at wide end and above average throughout the range
Hint of Leica X1 styling, rounded edges, minimalist and traditional, black metal
Made in Japan
Cons
Front control ring ideally needs sensitivity option adding in firmware update – sometimes needs too many turns
Feel of fly-by-wire manual focus, though reasonable, is not up there with Olympus Micro Four Thirds lenses
No punch in focus assist in video mode (you have to use peaking instead)
No native 24p/25p in 1920×1080 (60p and especially 50p conform well to 24/25p in post – less ideally switch to the 1080i interlaced wrapper or low bitrate 1440×1080 25p MP4 mode)
Stills shot whilst recording video are upscaled 4MP frame grabs, not full 20MP quality
Stabiliser still lets handheld jitter creep into videos especially with objects that are close to the lens
Poor placement of HDMI port
Cannot assign peaking to a function button
Would have liked to have seen more isolation of settings between modes. Too many settings carry over to video mode, should be more independent (i.e., AF in PSAM, MF in Movie)
Fastest shutter speed of 1/2000 relative to 1/4000 on most other cameras, and no built in ND filter like G1X
Slightly wooly bokeh compared to a high end DSLR lens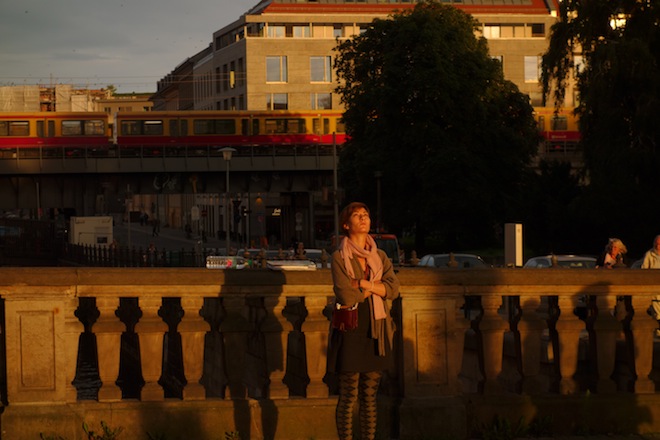 Magic hour outside the Bode Museum
There are a few cons which are forgivable to keep the size down. You cannot completely defy the laws of physics.
These are:
Slow lens at the telephoto end, indeed from half way through the range
No articulated screen
A wide 24mm equivalent end would have been nice to see instead of 28mm
Recommended?
I can highly recommend the RX100 for your compact and point & shoot. I'll be shooting a lot of stills with this.
Compared to a consumer camcorder for video, it has a much bigger sensor than the typical handycam and better dynamic range, plus it takes great stills. Compared to a professional small chip camcorder, resolution is not quite as clean as a very high end one like the Canon XF305 of course – nor is the lens as long, or AF as fast or reliable but it is much cheaper and smaller so you can buy multiple cameras to cover more angles at a live event. 1080/60p is a bonus as is the larger sensor.
For pro filmmakers and video pros I can recommend it for certain assignments and as a handheld B-roll camera, crash camera, POV camera or helmet cam. The small size has interesting implications for rigging and it is certainly easier to grab a shot with the RX100 than it is with a heavier digital cinema camera.
If you haven't yet entered the DSLR video world, the RX100 is capable of similar results in video mode and even a similar standard of stills. This is amazing and I cannot believe we're talking about a pocket camera.
For consumers who already have a DSLR, certainly if you haven't bought any fast primes for your NEX or EOS yet, the RX100 is definitely a viable replacement for a DSLR with kit zoom. At $650 (£550 or €650) it has zero competition which isn't bulkier and more hassle.