[vimeo]http://vimeo.com/36845339[/vimeo]
Minimum viewing recommendations: 40″ TV. Download the MP4 file.
The NEX 7 is a beautifully designed high end mirrorless camera with probably the most advanced CMOS sensor Sony have ever produced. As a stills camera it is superb (if you don't mind adapting glass and manually focussing – because the current E-mount lens range is somewhat limited).
But does it topple the Panasonic GH2 and Canon 5D Mark II for video?
I was very enthusiastic whilst shooting with the NEX 7 about its capabilities. Getting the footage back and grading it was a slightly different story.
I felt that the flat image profile I used for the footage above negated some strong points of the NEX 7 and the footage fell apart terribly when grading. So a lot of the colours are very muted and I haven't tried to push the grading very far with the footage above. When you shoot in Standard or Sunset, colour is rich out of the box with high tonality. More on this in a moment…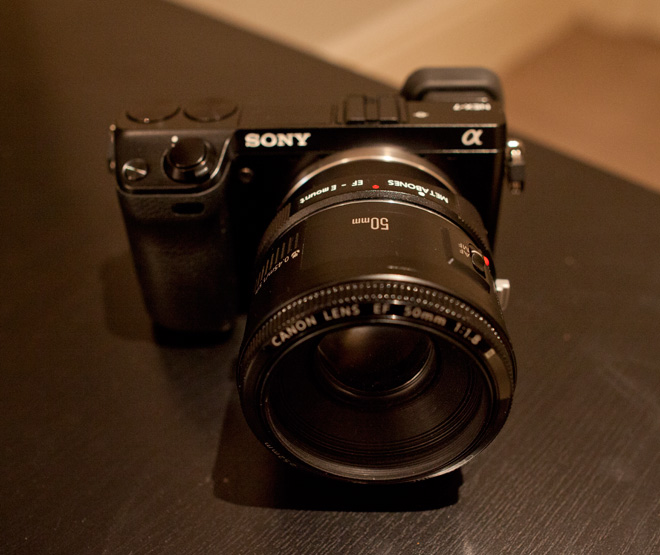 Firstly it is easy to understand why the Sony NEX 7 is so desirable.
Finally a mirrorless camera with a metal body designed for pros and enthusiasts who – shock – want a camera. It marries next-generation technology with the seriousness of a professional DSLR. It is not a gadget.
When picking up the NEX 7 you feel cold steel painted black, not painted plastic. The LCD flip-up mechanism is preferable to the sideways rotation of the GH2's screen, whilst it is also double the resolution. It is a very nice piece.
That screen is good but it is nothing compared to the OLED TruFinder. When you look through this you see an image with more lifelike colour and better contrast than any EVF you've ever used or the main LCD itself (which is plain old LCD, not OLED). And of course you can shoot video through it.
The camera packs more features into a small space than a hamster does in its cheeks, and they are useful features not gimmicks. Peaking for manual focus, a daylight mode for the LCD making it clearly visible under bright sunlight and a flat image profile. I find that even without peaking the TruFinder EVF alone is a great manual focus aid, as good as the Zacuto EVF. I didn't find myself using the it much on a tripod because you can't angle it upwards and you really have to press your eye against the camera body to use it risking shake – but for handheld run & gun documentary or news with the bare minimum of rigging, and for stills, it is so much fun to use.
Above: the NEX 7 with Metabones EOS adapter that should let the lens communicate with the camera body – sadly it doesn't work with the NEX 7 and needs to go all the way back to Hong Kong for a firmware update.
Almost all of the on-train stuff in the video was shot handheld with the camera held to my eye.
Dials rather than buttons dominate the control layout of the NEX 7. Again this is very positive in terms of usability. On the GH2 you only have one very notchy plastic dial, but on the NEX 7 you have 2 very high quality alloy ones on the top and a further (more delicate) wheel on the back. I have ISO assigned to that and it makes changing it a breeze, you can even do it after the shot is rolling if you need to make some ad-hoc or last minute changes to exposure without having to stop and start the recording.
Both aperture and shutter speed are on the Tri Navi dials at the top, which are not configurable – unlike the rear dial, four d-pad directions and 3 soft keys. It is safe to say the NEX 7 is pretty configurable!
Video quality
The NEX 7 is a real mixed bag. At times it has wowed me with a dynamic range and colour that seemed to be the best on any DSLR video mode including the 5D Mark II. Other times I felt the GH2 and 5D Mark II would have produced nicer results.
But it is certainly in the top 3 for video. It is preferable to a NEX 5N, 7D or 60D no matter what you intend to do with it.
With the test video above I've mixed in some rogue GH2 footage shot with the same lens – a Leica R 50mm F2 and lovely Iscorama 36 1.5x anamorphic in 1080p mode. If you don't spot the GH2 footage and feel they intercut with no obvious difference in resolution then the NEX 7 may be for you.
Just be aware of its weaknesses.
The NEX 7 is let down by middle-of-the-road compression, an encoder that smudges fine detail and a downscaling method from 24MP to 1080p that introduces too much false colour.
Also, I was excited to shoot in the super flat picture profile offered on the NEX 7 but it is a disaster.
At first glance it is so flat I was shooting in twilight at the same ISO I was using during the day – ISO 200 and the camera picks up far more in the shadows than the GH2. The image profile in question is called Neutral, dialled down to -3 across the board – contrast, sharpness and colour.
The NEX 7 has fantastic colour and I thought I could get it back again from the flat image profile.
Wrong!
It grades very poorly from a flat image.
Don't dial down the contrast on the NEX 7, don't flatten the image in video mode! Preferably choose Sunset for velvety gradation and use manual white balance – and practice getting it spot on. Adjusting it afterwards in post just does not work.
The footage does not hold up to heavy colour correction in the same way that the 5D Mark II, 7D or GH2 does. You may ask what is the point of shooting flat if you get better results from selecting an appropriate 'normal' picture profile on location. It is like shooting with CineStyle but not being able to being the pizazz back into the footage afterwards with a LUT / different curve.
Also at certain levels of exposure the blue channel can completely break up – sometimes even in-camera let alone in post. This clipping can be mitigated with manual white balance, and the Sunset image profile.
Here is the ungraded flat image.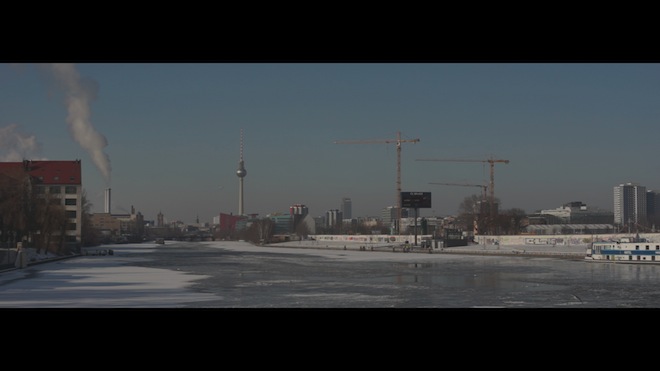 Below is what happens when you try to grade it (1:1 crop view). The sky is completely breaking up, not just in terms of all the macro blocking due to compression but there's a lot of clipping of the blue channel and the tonality looks like something you'd get out of an 8bit video game from the 80's. Not very realistic.
The GH2 with the hack does far better here and wouldn't smudge the fine detail of the trees below the cranes.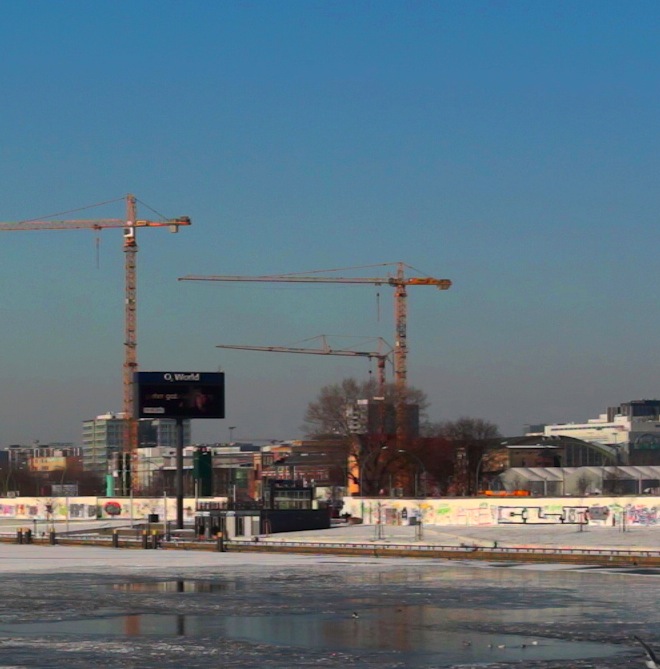 This all conspires to create an end result which, whilst cinematic with 80% of shots, can fall down badly at times relative to the opposition with certain shots and you lack something as gradable as CineStyle.
Both the GH2 and 5D Mark II resolve more fine detail from the sensor and because of stable bitrates exceeding 50Mbit (with their hacks) can keep hold of it.
Aliasing and moire
The NEX 7 appears to suffer from quite a lot of electronic manipulation to cover up aliasing and moire. As a result extreme moire patterns don't appear very often, but you do still get a lot of false detail. Speckles of red & blue mixed in with real detail.
The issue on the 5D Mark II has changed dramatically with the VAF-5D2 anti-aliasing filter by Mosaic Engineering. With this the 5D Mark II exceeds what the NEX 7 is capable of video mode in terms of the cleanness of the image and yet still holds onto more fine detail with less visible signs of compression. All that false detail, rough edges, moire, speckles and unattractiveness almost disappears. Meanwhile the GH2 has barely any of that in the first place.
On medium close-ups of actors against a blurred backdrop at fast apertures, these artefacts are far less of a problem than in wide shots with a deep depth of field.
For wide angle I'd recommend a GH2 or 5D Mark II and if I was cropping the image in post or recording in 720p, the GH2 would appear of higher resolution than the NEX 7, all else equal.
The GH2 doesn't hold onto as much in the lows as the NEX 7 but when you view both on a good TV it really helps to reveal the smoothness of tone in the lows that these cameras are truly capable of. This is particularly noticeable if you try viewing my Zen video in Shanghai (below) on a laptop screen and then plug your laptop via HDMI into a decent TV… Compare the two results on the shots inside the temple. Very different.
[vimeo]http://vimeo.com/33047750[/vimeo]
Never are these weaknesses of the NEX 7 – like all DSLRs – more evident than on a monitor or a MacBook. The NEX 7's footage does look far better on a projector and when sat at a reasonable viewing distance, than it does on the harsh pin-sharp screen on a computer.
So I think what the camera offers in terms of the whole package and your individual needs, are more important than the image quality quibbles it has in video mode when pixel peeped. The sensor is APS-C and 1080/60p is present, there is peaking, TruFinder, better build quality, more robust mount than the GH2, great screen, which is wider than the one on the 5D Mark II and articulated. These are all worthwhile factors to consider when choosing which camera to shoot with.
Rolling shutter is there – although similar to the 5D Mark II and GH2 – possibly slightly worse. Avoid passing trains and whip pans!
I recommend to avoid the dynamic range DRO expansion features of the NEX 7. It seems to lead to a wider dynamic range but a very compressed colour gamut resulting in less tonality and weird colours (which only get weirder when you do colour correction in post). DRO optimisation also has the side affect of adjusting on the fly the brightness of shadows and highlights during the first few seconds of a clip, so effectively the first few seconds of your recording is imperfect with it.
To summarise – for best results don't use a flat image profile in-camera and disable DRO. If you do that and don't alter the footage too much in post, colour, gradation and tonality is superb on the NEX 7.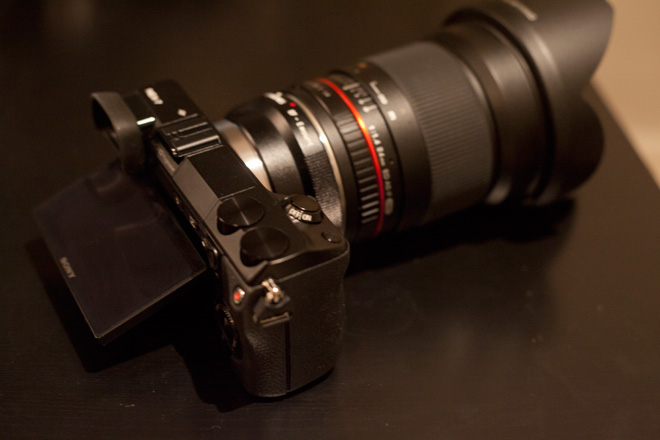 Conclusion
The NEX 7 is such a strong camera in so many areas.
It is only in terms of the downscaling of the sensor in video mode,  the baked in flat image profile being slightly useless and the high compression that it is weak. If you want a great B-camera to an FS100, the NEX 7 has the same mount, same sized sensor, the same recording format and 1080/60p for slow motion, all in a body a fraction of the size and cost.
Faced with the 5D Mark II and Panasonic GH2, the NEX 7 is a better stills camera than the GH2, ergonomically superior to both for video, has great colour and tonality in the standard picture profiles, but is not up there in terms of resolution and compression.
The pros and cons I've separated not just into general positives and negatives but also versus the immediate competition. There are quite a few things the NEX 7 has that the GH2 and 5D Mark II don't offer. It is important to bare these in mind and not just let the video mode image quality quibbles effect your purchasing decision.
Pros over the GH2
Larger 1.5x crop sensor over 1.86x
Full 1080/60p slow motion compared to (admittedly very detailed) 720p/60p on the GH2
2.42MP OLED EVF compared to 1.3MP LCD EVF – a clear win
Metal body and better manual control dials
920k screen compared to 480k – a clear win
The sensor is far superior in stills mode – almost a different league here!
Live peaking for manual focussing
Pros over the 5D Mark II
1080/60p slow mo compared to nothing
Wider 3:2 aspect ratio screen which is articulated up and down avoids the need to add a monitor or EVF when shooting minimally
Far smaller and lighter
AF in video mode with E-Mount lenses
Built in EVF usable in video mode, 5D's optical viewfinder isn't
Full 1080p HDMI output with no delay / switch to SD resolution upon recording (though there is a gamma switch like the GH2)
More features like peaking out of the box ** The 5D Mark II now has peaking and extensive manual audio controls as part of Magic Lantern
Pros (in general)
Very strong sensor, the most advanced APS-C CMOS on the market to date
Good as a run and gun camera, very small and stealthy, built in EVF is superb
Good range of frame rates including 25p for PAL users and 1080/60p for slow motion
Packs a lot into a small body, even a built in flash, hotshoe and mic socket
Some handy firmware features such as peaking and ability to put all overlays in black bar rather than over the top of the live view display
Superb manual controls
Very good build quality
Cons (in general)
Video mode doesn't quite do justice to the sensor
Compression in video mode smudges fine detail
Lacks the high bitrates of the GH2 and 5D Mark II
Resolution in video mode not as cleanly resolved as GH2 or 5D Mark II with VAF-5D2 anti-aliasing filter
Convoluted adjustment of picture profiles, white balance, etc. involving use of almost every dial to navigate
No dedicated movie mode means JPEG stills have to be set to 16:9 for accurate framing of video
The sensor and EVF show a clear investment – to the tune of billions of dollars – by Sony in cutting edge semiconductors. Video is not an afterthought but it hasn't been given quite the focus that Panasonic lavished on the GH2 in terms of the encoder and downscaling process. If only Sony and Nikon would do what Panasonic managed to do in a $800 consumer camera – we'd have a Canon beating Nikon D4 and a NEX 7 that would be the bargain of the century. Whether it is intentional on Sony's part to keep the video mode of the NEX 7 below the FS100 or done on an engineering basis and to necessitate the much lower price point we'll never really know. I suspect it is to preserve compatibility for consumers (SD cards, editing, TVs, set top boxes, etc.), maintain reasonable battery run times and to avoid cooking the CPU and sensor.
If you are shooting for Vimeo, where most of your audience will watch your material close up on a laptop screen, in full screen the flaws of the NEX 7's video quality will be apparent over a modified GH2 and 5D Mark II.
Funnily enough if you are projecting your footage on a big screen these micro-flaws are less noticeable.
Future NEX 7 and Iscorama 36 articles at EOSHD
There will be further coverage of the NEX 7 here, with a low light test versus the 5D Mark II, NEX 5N and GH2 which should be very revealing.
I'm going to be writing about the Iscorama 36 separately as well. I bought it from Roman Königshofer at Christmas and this is the first footage I've shot with it. It truly is a spectacular piece of glass.
Further reading and more footage in my NEX 7 First Impressions here