[vimeo]http://vimeo.com/85773475[/vimeo]
Featuring original music by HERDWHITE –  "I Already Know What For".
The E-M1 is a real surprise for a video.
For this review I decided to set myself a challenge with a musician friend, where we'd shoot a music video 'Dogme 95' style.
Entirely handheld with the Olympus 5 axis stabliser
Very basic lights (iPhone torch and a flame)
Maximum of 2 shooting days
In the process I learned a lot about what makes the E-M1 such an effective camera for filmmakers.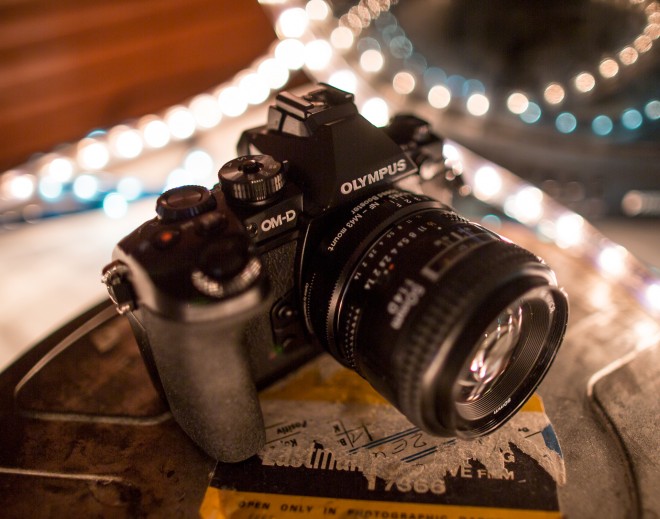 With most cameras you add rigs for stabilisation, EVFs for monitoring, even external recorders to bump the quality up. With the E-M1 you don't do any of that, you just pick a lens and shoot a video. I find this very liberating. With this camera you can get stuff done with alarming efficiency without so much as a tripod.
The video above was shot entirely handheld with a Nikon 50mm F1.4 AFD on the Metabones Speed Booster. This works out as a 35mm F1.0 and the look is similar to a 70mm F2.0 on full frame. With or without such a fast aperture, the E-M1 is an excellent performer in low light with very clean high ISOs in video mode up to 3200.
Film Convert Tip
Film Convert helps add a bit of authenticity to the video output of the E-M1. However if adding film grain you must make sure not to stress the codec you're mastering the final project in. Do NOT use the 'DSLR' preset in Adobe Premiere for your timeline and do not let the timeline take the form of the E-M1's H.264 video at just 24Mbit. Instead use ProRes 444 otherwise the image will break-up when Film Convert is applied.
The same applies to your export settings. Don't choose H.264 for Vimeo if you want to maintain the fine noise grain. Choose the lowest bitrate flavour of ProRes (Proxy) instead. I'd have thought 44Mbit H.264 would have avoided any break-up but clearly the grain on the shot below was just too much for Adobe's encoder. ProRes 422 Proxy gives a similar file size to H.264 at 44Mbit, which is on the large side for a short 3 minute music video at 600MB but it's better to give Vimeo's server a high quality source file than a broken one.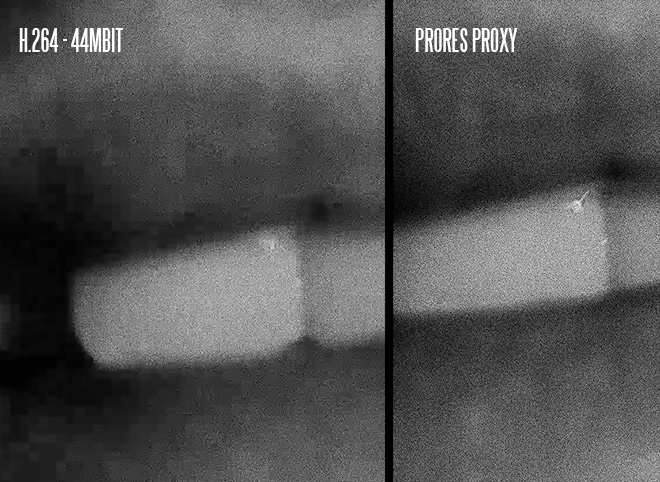 Above: Premiere's H.264 encoder had issues with this Film Convert treated E-M1 1080/30p clip even at a high bitrate. The ProRes Proxy export was fine.
Olympus have a new codec on the E-M1 and have reduced moire and aliasing. The encoder is less muddy than before and the bitrate is up from 20Mbit to 24Mbit.
There's also a few 5D Mark III raw shots in the video above, they intercut seamlessly with the E-M1. Obviously the 5D Mark III in expert raw guise is the more powerful but the E-M1 isn't a mile off in the end result.
Olympus gets a half-clue
Last year Olympus gave what I thought to be a very strange reason for their video modes being a pale imitation of Panasonic's.
Olympus don't want to be too good at video, in-case their cameras become known for it. They want to be associated with photography professionals and not cat-video YouTube uploaders, just in case they might get popular with filmmakers and sell us lots of cameras.
I can really sympathise with Olympus, it must be a terrible prospect to have better image quality on your cameras and higher sales. Canon also recently became extremely worried that video might improve on their DSLRs (thanks to Magic Lantern) with terrible consequences. The nightmare scenario of offering their customers better video absolutely scared the life out of one rep who said the threat of better video would be dealt with by their lawyers!
Joking aside (or I am?!) why doesn't Olympus want to be known for video? From the perspective of Olympus looking at the video features and their users, it might look like video users just sit around uploading clips of kittens to YouTube and editing in iMovie. (Maybe that's true!?) But if we're pointing the finger here, I'd say leave off the pop-art filter and HDR images, you photographers! There are as many casual stills shooters as there are video shooters and the 1500 euro E-M1 should not compromise one bit for any of them. Put the gimmicks in the lower end stuff instead.
Indeed on the E-M1 photographers get a raft of serious features and improvements like a 1/8000 shutter and weather sealing and video users get some new funky special effects for their 1500 euros. If you press the left button whilst recording video the image echoes and then returns to normal. If you press the down button the image ghosts and leaves a trail. Case closed.
Clearly photography is taken more seriously as an art-form than video?
30p all round!
The E-M1 only shoots at 30p. Hey you, come back! It's not all bad! Yes 24p is the fabled film frame rate which apparently is good enough for Hollywood but not good enough for consumer's holiday videos. Makes sense to me!? So the engineers have chosen to serve us a frame rate which isn't as useful as 60p for slow-motion and not as good looking as 24p and not even a video standard in half the world due to PAL regions but actually maybe Olympus are not so stupid after all?
The smoother frame rate compliments handheld shots using the 5 axis stabiliser. This gives flow to handheld movement where 24p looks choppier. So it's not the deal-breaking situation it could have been, at least not for me. I've shot stuff in 30p ages ago on the 5D Mark II before it had the 24p firmware update, and on the GH1 in MJPEG which was 422 at lovely high bitrates with the hack but in 30p only.
[vimeo]http://vimeo.com/12472000[/vimeo]
[vimeo]http://vimeo.com/12467162[/vimeo]
Do I look back on these 30p-shot videos with distain? Not really. I think 30p can look just fine, but I don't like to be backed into a corner… give us options. On the rest of the camera Olympus have packed in the options to a ridiculous degree. You can even choose if your automatic white balance maintains the warm hue of indoor lighting and set the warning level for a low battery. But no video options other than resolution? C'mon Olympus.
Don't worry it gets better
Whether you're a professional commercial shooter, single operator film artist or an enthusiastic amateur, the E-M1 is worth considering purely because of that stabiliser, small form factor and lovely EVF.
As for more casual users, you can do point and shoot video with the E-M1 better than most of the competition as well – again due to the stabilisation system.
Latest generation 5 axis stabiliser
[vimeo]http://vimeo.com/85756915[/vimeo]
The main reason this camera is so useful for video is that it's the only interchangeable lens camera I'd consider for handheld shooting with zero rigging, completely bare-bones as if shooting stills. The in-body stabiliser is even better this time round. There's not as large a crop effect with it enabled in video mode and effectiveness seems to have been turned up a notch.
I found IBIS indispensable on the old E-M5 and it was responsible for extending my use of the camera far beyond the point where other's superseded it with a better image like the Blackmagic Pocket Cinema Camera. When I wanted to test a lens or grab a camera and just shoot something experimental, the E-M5 was usually the one I chose.
It's much better than the Sony A7R in low light
Despite having a full frame sensor, at ISO 3200 the A7R's image is almost unusable in video mode. At this ISO there's too much noise and smudging of detail, with a fizzing mosquito mask over the image. At ISO 3200 the OM-D E-M1 is perfectly usable and the grain texture is quite nice. The difference is quite remarkable.
Less banding than the hacked GH2
Another surprise, given the difference in bitrate and codec (the Olympus E-M1 clocks in at just 24Mbit) there's less banding on smoothly shaded areas and skies than there is on the hacked GH2. The E-M1 has far less noise too, regardless of ISO. For example when the GH2 is shooting at a relatively safe ISO 800 the E-M1 is far smoother and yet still maintains a good amount of detail.
It has a crop mode which can be toggled during a shot
[vimeo]http://vimeo.com/85757221[/vimeo]
This feature is SO COOL for documentary and run & gun shooters. You get to instantly re-frame without interrupting the clip. If you want to move to an area of interest or emphasis whilst rolling simply press the Fn2 button and bam – a rolling crop mode.
This is very useful, though the feature isn't quite perfect. The image is not as detailed as the 1:1 crop mode on the GH2 thanks to aggressive noise reduction and a weaker codec, and you have a 4 or 5 frame delay when toggling between the crop and full sensor, but it is perfectly usable and very creative.
None of my other cameras do it on the fly! Until now only 4K shooters would be able to do this and only in post, by cropping from the 4K master to 1080p and delivering the final footage in 1080p. Having the ability to do it live in the moment and recorded to card is pretty unique and other cameras should follow suit.
The ergonomics are lovely
Probably the biggest reason Olympus cameras are so popular with photographers are the way they handle. The EVF is every bit as good as the one on the A7R both that and the main LCD screen have been upgraded significantly over the OM-D E-M5. I prefer the Olympus ergonomics to to the way the Fuji X series handles as well.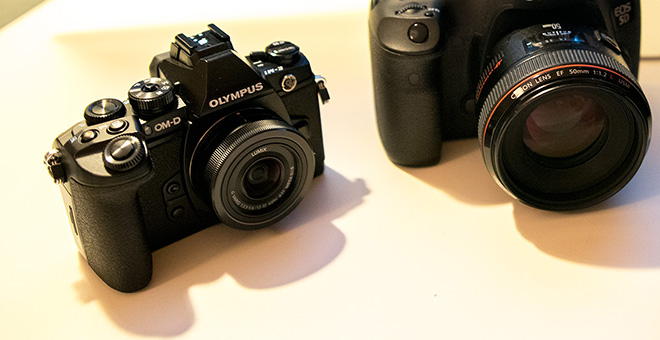 Improved codec
The codec this time around is 24Mbit rather than 20Mbit. The other change is the picture profiles can be dialled truly flat.
The highlights look better and there's less mud on motion blur compared to the previous model, the E-M5.
Moire & aliasing is reduced (slightly)
Not a massive change over the E-M5 but you do get slightly less moire and aliasing this time round. Just make sure you dial the sharpness back in digitally if you have sharpness turned down to -2, because when both cameras are dialled down flat the E-M1's footage looks considerably softer than the E-M5. In actual fact when both are treated optimally in post they resolve roughly the same amount of resolution in 1080p. The image isn't quite as clean as the 5D Mark III but it's a good try.
There's less coloured moire patterns on the E-M1 than on the A7R.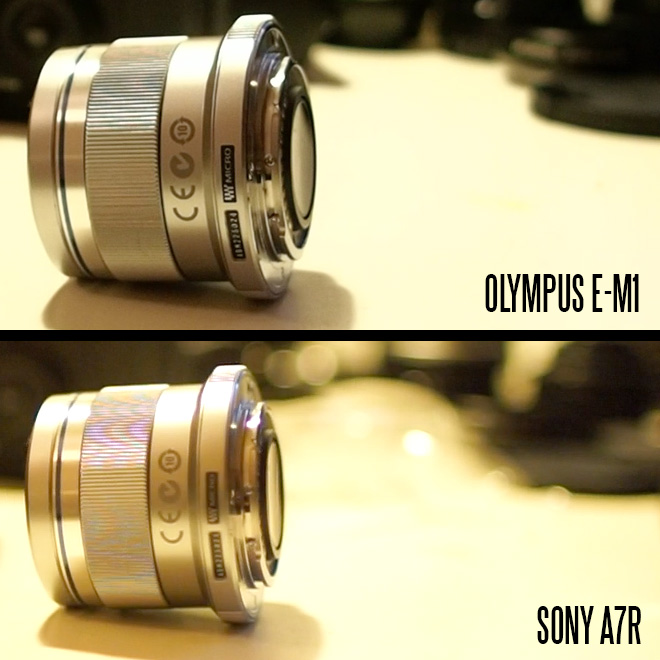 They finally added a mic socket!
There's more good news for video shooters in the form of a 3.5mm mic socket. The E-M5 didn't have one at all. Though there's still no headphone output for monitoring and manual audio control is very basic with just 3 levels of gain.
The Micro Four Thirds lens range has come of age
Metabones Speed Booster is working wonders for me, I no longer wish I had a full frame sensor on me at all times. I can get nigh on the same results from my OM-D E-M1 as I can with my Sony A7R, by using a 50mm F1.4 and Speed booster on it. This lens becomes a 70mm F1.0 equivalent on a 1.4x crop sized sensor, which is actually larger than Super 35mm and so much closer to full frame.
A word of warning… If you're using a zoom like the lovely Sigma 18-35mm on the E-M1, the stabiliser needs to know the focal length and of course it's impractical to manually input the focal length every-time you adjust the zoom. To get around this I find putting in a value towards the wide end like 20mm gives stable results at both 18mm and 35mm.
****
The camera now has chunky grip and when I first saw it, I thought – woah – this is an ugly thing. Actually in the flesh the E-M1 is a very attractive looking camera, very advanced looking and a nice mix of classicism and modernism.
It is not a cheap camera – expect to pay an hefty 1500 euros for the body alone and £1300 outside of the US. The US pricing is much keener at $1299 – presumably because mirrorless sales need a bit of encouraging in that market and import duties are less.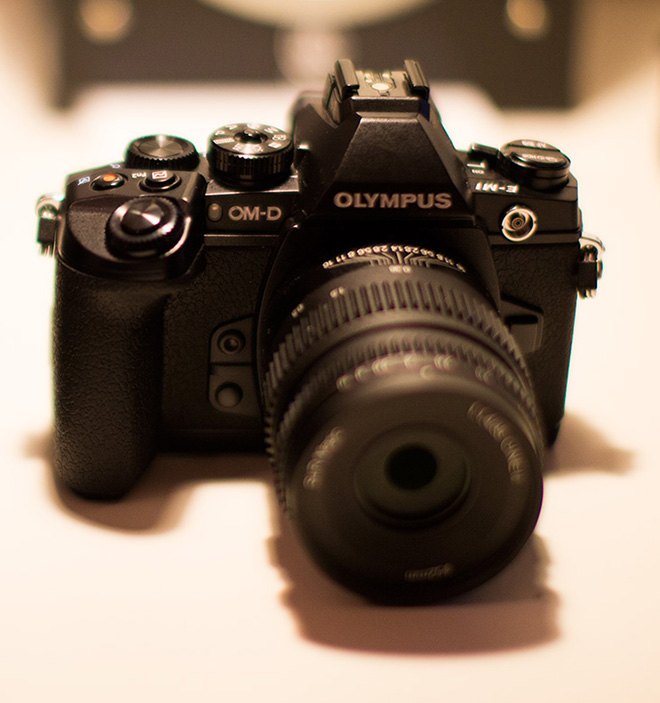 On the stills side the faster AF is very welcome and it's extremely good in this respect for a mirrorless camera. There are plenty of nice lenses optimised for AF and performance is well up there with DSLRs. That's not the case with the Sony A7R which is slower for AF and doesn't have the same lens range for when you need it. The Sony A7R for me has so far been a manual-only affair.
The E-M1 has faster AF with legacy Four Thirds lenses now too. The Panasonic-Leica 14-50mm F2.8-F3.5 is a nice one to get if you're looking for an alternative to the rather expensive Olympus 12-40mm F2.8 kit lens.
WiFi allows the iPhone or other smart phone to act as a wireless monitor. Which could be useful for when the camera is mounted in a hard to reach place. It's surprisingly responsive with little lag but unfortunately live-view detail is too low to manually focus accurately with it. Use an AF lens and set it to one-shot AF rather than continuous if shooting video, to avoid hunting and squirrel like behaviour.
The Olympus remote control app has a touch screen AF focus feature and you can take stills through it and then wirelessly transfer images to your phone over the network. You can select any folder of images but it will only show JPEGs not raws.
Conclusion
I wish there was a cinema camera with 5 axis sensor stabilisation. This system should be in everything from the Blackmagic Pocket Cinema Camera to the Canon C300. It would just make rigging and handheld stuff so much easier. It beats all the optical image stabilisation on-lens systems for effectiveness in video mode.
The codec still isn't perfect. There's no 24p or high bitrate mode. However it's much more robust than the E-M5's implementation and grades reasonably well in Film Convert. I'm get the best results without using a flat picture profile. On a strong codec like ProRes a flat image can be made to look great in post. When you have a weak codec it's better to bake in the colour and contrast at the time of shooting.
Some are put off spending big money on Micro Four Thirds cameras because of the sensor size, but the gap is now being bridged effectively by an extensive range of fast aperture lenses and the Metabones Speed Booster. The Speed Booster makes this camera just 1.4x crop over full frame – larger than APS-C and Super 35mm.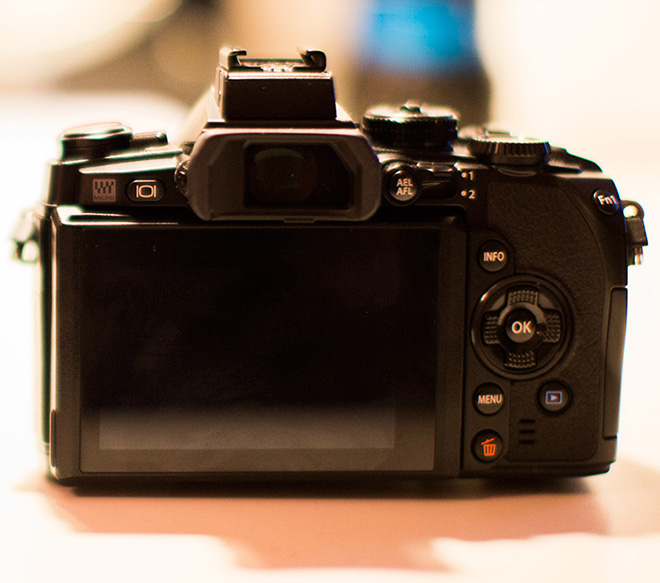 Seen in this light, the camera is a worthy competitor to the Sony A7R. Video performance is better overall, and that stabiliser is indispensable. The A7R lacks this altogether unless you're using one of the 2 lenses Sony FE mount launch lenses that have OIS. I much prefer the ergonomics of the OM-D E-M1 to the A7R, with a better placed shutter release and video record button, nicer menus and more logically laid out controls – more like a Nikon DSLR than a mirrorless camera. Much better AF for stills and a wider range of glass.
The Sigma 18-35mm is a lovely fast wide with stabiliser on the OM-D E-M1 and you will struggle to find an alternative zoom with that aperture and stabilisation for any other system.
Summary of improvements over the E-M5
Improved codec at 24Mbit to 20Mbit, better encoder engine, less mud (though still only 30p)
Slightly reduced moire and aliasing
Greatly improved screen and larger EVF, both very detailed
Crop mode can be seamlessly toggled on and off while recording
Focus peaking (though poorly implemented)
Mic socket
Improved stabilisation
Better low light performance in video mode and less banding at very high ISOs in stills
Weather proof body
Larger grip and improved ergonomics
Faster AF for stills
Flicker reduction 50hz / 60hz for video (just sets shutter, it's still 30p)
WiFi
For me that is worth £700, because the E-M5 was already a nifty, convenient tool for professional handheld video shooting.
The new live crop mode during movie recording is unique.
But I'd have given my right arm to have a better codec, 24p and 60p.
A firmware update to introduce 24p, live HDMI output, a higher bitrate mode and 720/120fps slow-mo would catapult this camera into the hands of far more videographers.
Pros
Unique 5 axis stabiliser
Video mode capable of cinematic results, if shot at fast apertures and handled well in post
Beautiful to handle, great ergonomics once you are accustomed to it
Lots of small and welcome improvements over the E-M5 such as less moire & aliasing
Very good EVF and LCD
Crop mode can be activated during recording
While not recording, can use the crop mode as an effective magnified focus assist
Good low light performance for video especially with Metabones Speed Booster
Excellent stills quality and improved low light performance over the E-M5
Larger than APS-C 1.4x crop sensor if used with Metabones Speed Booster (2.0x crop as standard)
Improved dial and button positioning compared to E-M5
Very fast AF, improved over E-M5, is best in class for mirrorless and live-view
Attractively styled and above average build quality
Good battery life even in movie mode
Pleasing mechanical shutter sound, far quieter than Sony A7R
Micro Four Thirds mount offers wealth of options in terms of native mount lenses with AF, fast apertures, Speed Booster and adapters
Mic socket added over E-M5
Remote control with smart-phone via WiFi including remote monitor function
Weather proof
Responsive operation
Very fast 10fps continuous shooting and large buffer
Quick to write raw stills to card
'Handheld starlight' produces stunning JPEGs in low light
Interesting multi-shot framing mode produces action collages in-camera
Cons
Video quality not optimal – some moire, no 24p, no high bitrate codec
Somewhat expensive especially in the UK and Europe
30p not suited to PAL regions (our standard is 25p) forcing user to use 1/50 shutter speed
No live HDMI output
Too many non-serious features like ghosting and trails in video mode and JPEG art filters
Improvements to video mode do not go far enough in general, still treated as a toy feature – get serious!
Useful crop mode disabled if toy movie effect icons disabled in main menu
LCD displays toy movie effect icons in place of important shooting info like shutter speed
Crop mode video quality softer than GH3
Cannot change noise reduction level for video
Lacks 60p or higher frame rates, no slow-mo mode
Flat picture profiles do not make video output more gradable and better to look at
No dedicated punch-in focus assist in movie mode, need to use crop mode
Peaking badly implemented – jerky and switches off when you need it most (during video recording)
Touch screen buttons too small to be useful
Only 3 levels of manual audio gain control