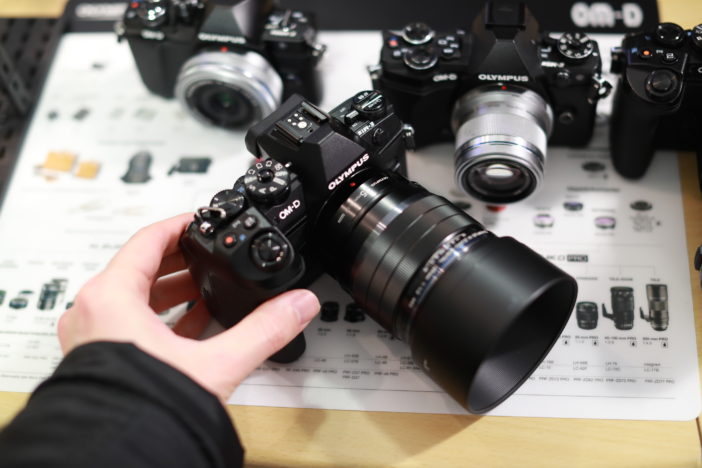 I got to play with the new Olympus E-M1 II today, a pro Micro Four Thirds camera they hope will sell for $2000. It certainly pulls out all the stops to imitate a miniature 1D X Mark II.
This camera does NOT crop the sensor in 4K mode like the GH4. Instead, it over-samples from 5K down to 4K, using the full width of the sensor even with sensor-shift 5 axis stabilisation enabled.
Featuring a 237Mbit codec, the image quality in Cinema 4K mode is outstanding with very little rolling shutter.
I am wondering if the E-M1 II is a preview of the fundamental technology (sensor, codec, image processing) that is going to be in the Panasonic GH5 when it arrives in 2017.
It's certainly higher specced for video than I thought it would be for an Olympus camera.
The all-new 20MP sensor does a full pixel readout in Cinema 4K mode which is a big advantage already over the current GH4, and it should be because it's nearly 3 years newer.
Even with the 5 axis image stabilisation enabled, there's no extra crop. The only time a crop of the sensor happens is when added electronic image stabilisation is enabled on top of the already very capable 5 axis sensor based stabilisation. Except in emergency shot-grabbing situations, I wouldn't turn it on. It produces some tearing and distortion too.
Video has a separate noise reduction filter in the menus, which you can turn off.
The E-M1 II seems to have a flat picture profile which Olympus confusingly does not call either flat or LOG. They call it… Picture Mode.

Rather vague though this is (even the added menu description is a little fuzzy), Picture Mode pulls down the highlights and brings up the shadows giving you more head room for dynamic range.  It isn't as flat as a LOG profile, however I found this worked rather well to give more dynamic range without compressing the image too much or altering colour and introducing banding. Like Nikon's flat profile on the D750 it should also be super easy to grade with a nice smooth highlight roll off.
The thing is, this not being a full frame sensor, you are looking at a more limited dynamic range to start with. I don't believe DXOMark, I believe me own eyes more and I think the larger the sensor, the better scenes requiring high dynamic range always look. The E-M1 II didn't show much improvement over the old model in terms of high ISO performance either.
Sure with raw stills you can expose for the highlights and shove the shadows up into the mid-tones for an awful looking image DPReview will claim is 13 stops… whatever.
In the end how does the colour look and the shot overall? Like puke or like reality? I am not expecting the E-M1 II to replace my 1D X Mark II as a stills camera, it is certainly a very compelling second body for handheld 4K shooting because of the astounding stabiliser and nice ergonomics.
It is like having a gimbal but I did find it tricky to stop it drifting when held still. It was if the camera was panning when I just wanted a locked down shot. So it might be better to turn it off and use a tripod if that is what you need. For me, a completely still locked off video has a very different energy and mood to something shot handheld even with a very good stabiliser or gimbal.
The image stabilisation system has a few new options in the menus that I haven't seen before
You can choose whether it prioritises frames per second in continuous shooting mode, or the effectiveness of the stabiliser.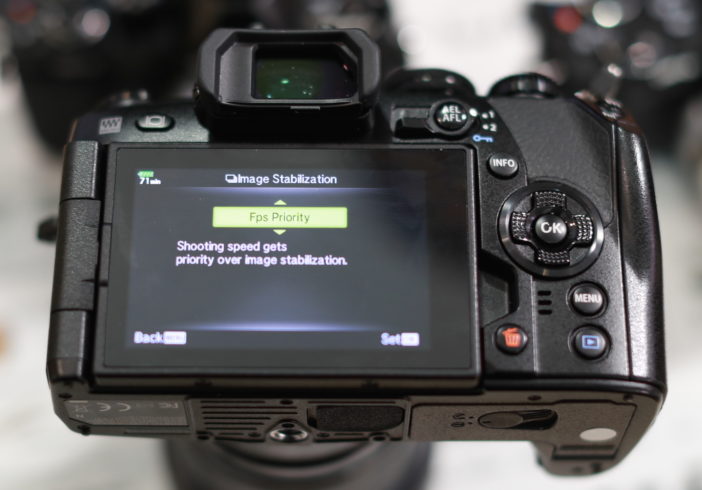 That burst rate is outstanding, at 60fps full resolution with the silent electronic shutter. The nearest thing on Canon is the 4K 60fps video from the 1D X Mark II but this isn't RAW.
I found build quality overall excellent – it actually feels like a pro camera, but looks like a mixture of high end consumer camera and pro. Olympus have left in some of the features that lean very heavily towards consumer use, such as toy effect filters and vignettes. Apparently some pro wedding photographers do use these. Some pros also use them to show their clients very heavily stylised instant results results on a shoot. So Olympus felt fit to keep them despite the E-M1 II being very much marketed towards the high end of the market.
The EVF isn't too different to before, so the Leica SL is safe for now.
The LCD felt familiar and perfectly functional. I find OLED panels a little bit more tricky outdoors in direct sunlight though. Since there is no light or happiness in Berlin during November I didn't get to find out what it's like. At least it doesn't gain down the brightness when you hit record in 4K mode like the Sony cameras!
I had a go of the new 25mm F1.2 Pro lens which is the Micro Four Thirds equivalent of my favourite full frame lens, the Canon 50mm F1.2L. It's quite large but far less heavy than the full frame Canon. Sharpness seemed excellent but it's the overall rendering and bokeh I love so much about it. I think the Voigtlander 25mm F0.95 finally has some serious competition from this lens, especially as it has such good AF and a clutch based focus ring with mechanical coupling and hard stops in the manual position.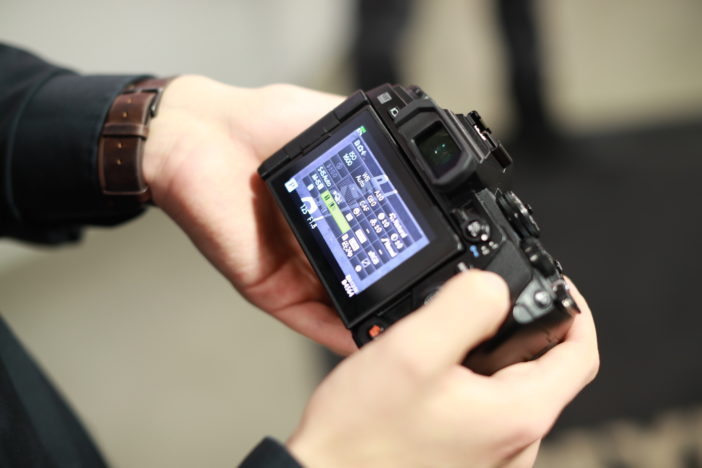 As this was a pre-production model I didn't get the chance to shoot anything with it but for a few clips indoors to test the rolling shutter.
This sensor seems to have rolling shutter in 4K well and truly sorted.
I think it could even be doing a 60fps scan in 5K – it's certainly capable of one in the 60fps continuous shooting mode. This 60fps sensor scan was also how the Canon C300 reduced rolling shutter distortion.
Overall the E-M1 II is set to the the best Micro Four Thirds camera of 2017 along with the GH5. I'm expecting the GH5 to have far more in terms of video features but Olympus seems closer than I expected in terms of the 237Mbit Cinema 4K codec, lack of further crop in video mode, flat-profile and that incredible stabilisation which I am expecting will edge it over Panasonic. Ergonomically too I loved the Olympus. What's more it will be available next month, so has the leap on the GH5 in terms of availability.
I know I should wait for the Panasonic GH5 so will have to try very very hard indeed to resist the temptation to put this Olympus under my Christmas tree.
The ergonomics are more 'photography' than Panasonic and have more charm.
The only thing it really seems to miss aside from 4K 60fps is any slow-mo ability. I am expecting at least 1080/240fps on the GH5. Aside from that and a few video fine-tuning options like luma range, master pedestal, proper LOG, etc. the E-M1 II seems to deliver 90% of what the GH5 will.
It could be however that the GH5 springs some surprises for us as well – RAW video anyone?
The 5K 60fps in stills mode on the E-M1 II certainly hints that the current hardware is capable of it.