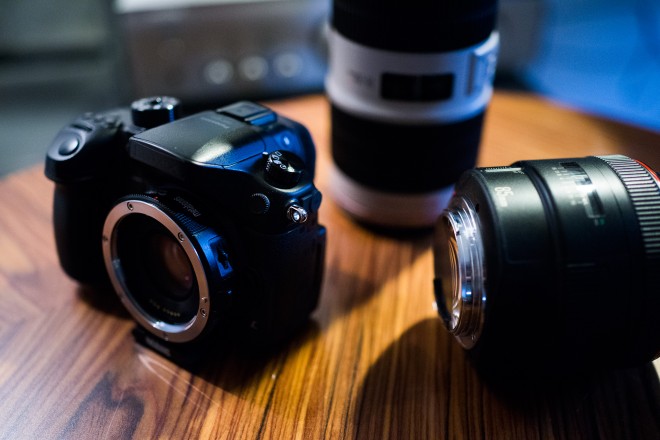 First impressions review
The long awaited active Canon EF mount Speed Booster adapter for Micro Four Thirds is finally here. I have a review sample, currently putting it through a few shoots to see how it performs. This is not the Blackmagic Pocket Cinema Camera version but the general Micro Four Thirds mount adapter, so fully compatible with most Micro Four Thirds cameras including the GH4, but not yet the E-M1 or E-M5 due to the overhanging bodywork directly over the mount on those cameras. Finally you can use all your Canon lenses with full electronic support for aperture control and stabilisation.
The specs
The EF – M/43 Speed Booster uses the same excellent 0.71x optical reducer from Caldwell Optics as the Nikon mount version, for optimal performance in the corners. It adds the all important electronic interface from Conurus though for Canon lenses, whilst the Nikon mount version was entirely passive with no support for aperture control on the body or image stabilisation.
The Blackmagic Speed Boosters are 0.58x and 0.64x respectively because of the smaller sensors (3x crop and 2.3x) of the BMPCC and BMCC. The GH4 has a 2x crop sensor but in 4K it goes to 2.3x crop. Putting the Blackmagic optics in the general Micro Four Thirds adapters wouldn't have worked well enough because of issues in the corners, vignetting with APS-C lenses and the glass backing too far into the mount. It's fine for a DIY experiment but not fit for retail. So the 0.71x optics here make sense. It turns the GH4's 2x crop sensor into a 1.5x crop APS-C equivalent, making full use of third party EF APS-C lenses from Sigma and Tokina. Canon APS-C lenses are EF-S mount so won't work. The EF-S standard is locked down by Canon and cannot be used by third parties, plus the rear of most EF-S lenses sticks out too far making them physically incompatible with the Speed Booster adapter.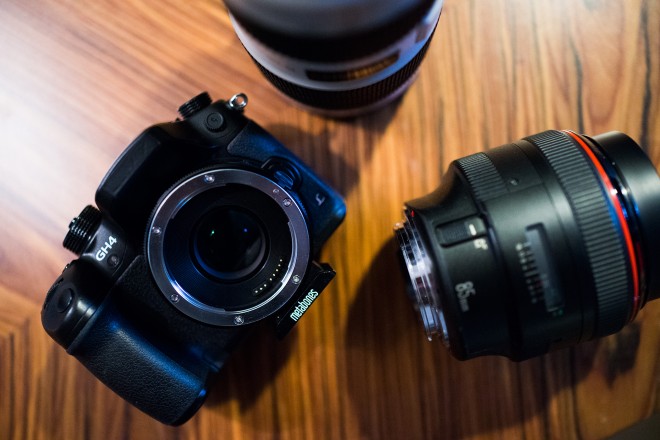 In 4K mode on the GH4 we end up somewhere between 1.7x and 1.8x crop depending on the type of 4K resolution selected. The 4096 x 2160 DCI 1.85:1 mode of course uses more of the sensor area to record the image thus the crop factor is a little less. In stills mode and with the internal 1080p recording the crop factor with Speed Booster is 1.5x, or actually in cinematography terms a 1.0x because it is Super 35mm.
The Canon 1D C in 4K mode is a 1.3x crop.
A full review and shoot is coming soon on EOSHD.
In summary…
1 stop increase in brightness (F2.8 effectively becomes F2.0)
The same look as a Super 35mm sensor (Canon C300, etc.) when shooting in 1080p or stills mode
0.71x wider focal length (effectively meaning 50mm becomes 35mm on a 2x crop Micro Four Thirds mount camera)
Approximately 1.7x crop in 4K mode on the GH4 instead of 2.3x
Compatible with GH4, GH3, GH2, GH1, G1, GF1, G2, G10, BMPCC, BMCC, Digital Bolex D16
Built-in electronics to control EF lens aperture, IS and transport EXIF data to the camera
Aperture control on the camera body and aperture display on LCD / EVF
Detachable tripod mounting foot
The advantages of a Canon mount adapter
As well as the electronic interface and image stabilisation, the Canon EF mount is actually itself very adaptable to other formats notably Nikon, M42, Contax Zeiss, Leica R and Olympus OM. The lenses that won't fit are Canon FD, Minolta, Sony and of course mirrorless glass on Speed Booster is a physical impossibility!
Canon lenses are a popular choice for video and it's great we can now bring them with us to the GH4, obviously a much better overall choice for video than any of Canon's current DSLRs.
Prior to this adapter the ones which offered aperture control with Canon lenses on Micro Four Thirds mount all had quite severe compromises. With the Speed Booster it is like having a genuine Canon mount on your GH4. The other advantage is that this adapter is meaningfully slimmer than the Nikon mount Speed Booster for Micro Four Thirds. It almost feels like you are mounting Canon glass straight to the camera body. The lenses don't stick out as much and are pretty much flush to your rig.
Image stabilisation of course is a great advantage of this adapter. Canon's latest Ultra Sonic IS works very well in video mode. Some of the third party lenses also offer up-to-date IS which works very well for handheld video work. The Sigma 24-105mm F4 ART and Tamron 24-70mm F2.8 are particularly good for handheld run & gun shooting.
There's no AF active on this adapter but fly by wire focus does work on lenses like the Canon 85mm F1.2L and 40mm F2.8 STM pancake. I've also tested the highly rated Canon 70-200mm F2.8L IS Mark II on the adapter and this works fine. The stabilisation on this lens is mind-bogglingly good on the GH4 via the Speed Booster. Sharpness is flawless, easily enough for 4K. To put such an expensive and heavy lens in front of the adapter and to have these kind of images as a result really vouches for the quality of the optics in the Speed Booster. Why put a cheaper adapter in front of such a nice lens?
Downsides?
The only initial downsides I can see, is something which applies to all photographic bayonet mounts really – especially mirrorless ones. Whilst the lens itself attaches very tightly and securely to the Speed Booster, the link between the Speed Booster and GH4 still has some very slight slack and rotation in it. Therefore it makes sense to attach your cage, tripod, etc. to the Speed Booster's mounting point rather than to the camera body. When shooting without a rig and with a heavy lens like the 70-200mm F2.8L you really need to be careful not to knock the body of the camera whilst shooting, and of course it goes without saying to use a lens support with heavy lenses on a tripod and to hold the camera by the lens if shooting handheld with it – not one handed on the camera grip!
One other thing I'd love to see on future Speed Boosters and other active mount adapters from Metabones is for them to really crack the issue of auto-focus once and for all. This needs to work and be as fast as native mirrorless lenses are. I have no idea if this is even possible but for stills, personally I really need it! This is the only reason why I still pick up my Canon DSLR – stills and AF.
Also on future adapters it would be interesting to see how far Mr Caldwell can push the focal reduction factor in this newer designs, to give us as close to the full frame look as possible. I'd love to have the option even with the inevitable compromises, like a drop off in performance towards the edges of the frame, because for certain shots this won't matter, especially head shots and close-ups with an extremely shallow DOF.
I'll be shooting far more with the GH4 now I have full use of my Canon glass and a bullet-proof reliable adapter so stay tuned for more coverage.
Pricing and availability
The adapter costs $599 and is available from the Metabones website now.
A standard Smart Adapter (EF to Micro Four Thirds) without Speed Booster glass will also soon be available, for details see here.