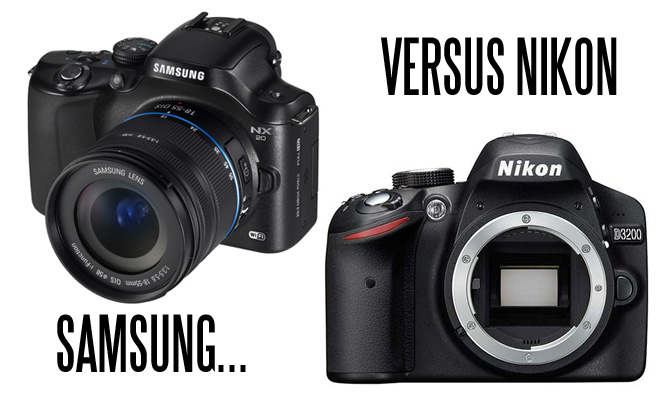 There are two new cameras are on the DSLR video radar. The new NX20 is Samsung's answer to the GH2 and similar in many ways (though crucially not one, as we'll see in a moment).
A nice surprise is that it has a 1920×810 2.35:1 anamorphic cinemascope mode.
It is also interesting in that it's one of the first 'smart DSLR' style cameras with features that make the iPhone and Galaxy S such a compelling photography tool.
The Nikon D3200 is a much improved (in video terms) entry level model for just $699, nevertheless featuring a spectacular 24MP sensor and Expeed 3 image processor from the $5999 D4!
The Social Network, South Korean style
Sharing photos and video online makes the world goes round, but curiously this is a feature which has been missing on DSLRs for years now, despite the fact that the iPhone has been so popular in this regard, along with the rise and rise of Facebook and Twitter.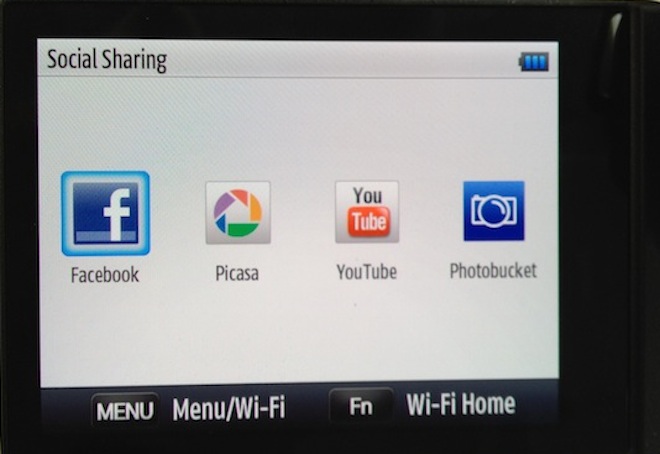 Finally Samsung got the memo and the camera has some pretty nifty internet-age abilities. But as you can see there are baffling omissions.
No Flickr, no Twitter, no Vimeo. Ouch. What it does do is pretty special for a DSLR however…
Social sharing (Facebook, YouTube, etc)
Remote Viewfinder via WiFi
SkyDrive storage
Wireless TV link
MobileLink (with Samsung's Galaxy phones for example)
The ability to email photos
There's no 3G support but WiFi is a start, at least.
Now not a day goes by without me sharing the odd snap from my iPhone on Facebook or Twitter. So would I use these features on a DSLR? Of course! Sharing is fun and it is great to have that built into a camera rather than via a clunky add-on or laptop.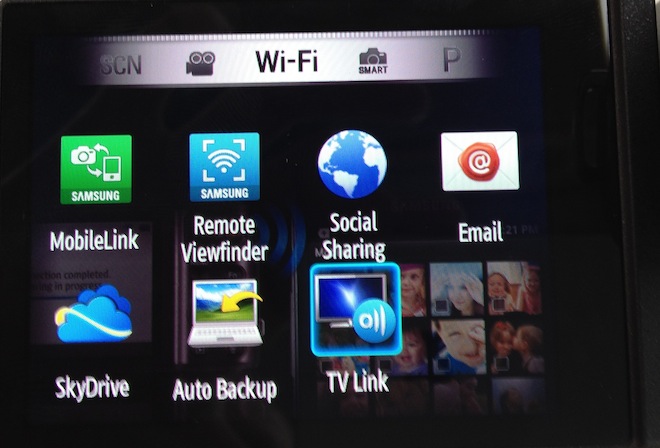 Above: is it an Android or an interchangeable lens camera? The most welcome Smart features
Samsung's NX20 is retailing at $1099 with the 18-55mm kit lens. Unfortunately for those in Europe it is priced the same in Euros which should serve Samsung well for the impending financial apocalypse.
The NX20 has a very nice AMOLED LCD on an articulated hinge similar to the GH2. This screen is superb, also nice and thin but it feels pretty robust. It is of very high resolution and feels closer to one of Samsung's high end smart phones (in terms of the on screen graphics, menus and resolution) than a typical DSLR. The built in EVF doesn't match the resolution of the Sony TruFinder but is still pretty nice on first impressions. Build quality isn't pro-grade but it is close, and the body is lovely to handle and looks less like a toy than many other mirrorless cameras.
Lenses wise, the NX mount range is a let down so far, in my opinion only the expensive 85mm F1.4 really appeals. This lens is far more expensive than getting a 85mm F1.4 from Samsung's fellow South Koreans down the road at Samyang or even a Canon FD 85mm F1.8 from eBay and a third party adapter. In fact it is adaptable glass all the way with this camera. That the NX lens range is poor isn't an issue for me since I rarely use any Lumix lenses on the GH2 either!
NX video
The camera is PAL / NTSC switchable between 25p and 30p – but 24p is only available in a cinemascope 2.35:1 1920×810 crop. This serves as a pretty cinematic looking direct from the camera movie mode. Nice to see Samsung recognising the worth of a wider aspect ratio, even if the crop is something you can easily add in post it may help to popularise it. It doesn't give you the many other characteristics of using an anamorphic lens but I much prefer it to 16:9.
It is worth adding that the crop does not enable any bonus features like a faster scan of the sensor for higher frame rates or any improvement in scaling the 20MP sensor to 810 lines rather than 1080. Image quality is the same.
In PAL mode full HD 1080p is 25p and in NTSC mode it is the 'home video' standard of 30p – not good for Americans but nice to have 'our' cinematic standard of 25p this side of the Atlantic. Samsung don't seem to have realised yet that they are offering their customers in different territories two distinctly different video formats. One is awful, the other isn't.
720/50/60p cannot be recorded to the card as 50/60p but is conformed to slow mo in-camera and stored in 25/30p. 720p is also available at normal speed 25/30p. 640×480 is 'super slow mo' but image quality in that mode is rather poor.
Speaking of image quality…
Though resolution is okay (not at GH2 levels but above the Canon 600D) aliasing and moire is very bad on the NX20 – as bad as 720p on the Nikon D800 especially on horizontal or sloping high contrast lines.
And this is a deal breaker for me, sadly.
In many regards it is a match for the GH2 and is certainly a better stills camera – very good APS-C sensor, nice handling, great screen, decent video encoder to H.264 MP4 files and full manual controls in video mode. But right now the GH2 and NEX 5N are the better options for video, purely because of that nasty aliasing issue on the NX20. A shame. It is worse than on the NEX system or a camcorder by far.
Nikon D3200 – new benchmark for an entry level camera
Is this is the most powerful entry level DSLR ever? On paper I'd say yes.
However compared to the NX20 the D3200 is very much a traditional DSLR and relative to the Samsung there's a lot I don't like about the handling – it feels dated, clunky and less slick. The D3200 lacks the built in WiFi like the NX20 but there's aWiFi dongle on offer which plugs into the USB port for wireless transfer and interfacing with an Android and iPhone app. However the lack of social sharing options built in takes some of the fun and immediacy of photography away and I cannot see Canon and Nikon suddenly seeing the value in this, as they are predominantly about serious photography not consumer electronics!
This from Lori at CNet on the WiFi approach of the D3200:
Nikon's approach is the new WU-1A, a $59.99 wireless receiver/transmitter dongle that plugs into the camera's USB port and works in conjunction with an app running on your tablet or phone. The adapter and Android app will be available in late May; iOS won't be available until the Fall.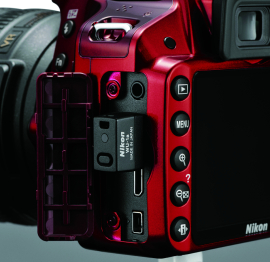 D-Movie 2012
The Nikon D3200 suffers from aliasing and moire but to a lesser extent than the NX20 thankfully. Image quality wise, in video mode it is a bit like a very cheap APS-C version of the D800. This camera costs half of the NX20 in Europe, and is $699 in the US so is a great budget option. Again though the GH2 provides the better overall image (and more flexible lens mount) for a similarly low price if you pick one up on eBay.
The simple addiction of 25p,24p, manual controls and an improved image with a decent 24Mbit encoder makes the D3200 a worthy upgrade for video compared to the D3100 or D5100 and older Nikons. The sensor at 24Mbit seems very similar to the one Sony use in the NEX 7, A65 and A77 – all much more expensive offerings than the D3200. From my early first impressions I feel the D3200 also has a sharper, more detailed video output than the Sony NEX 7, Alpha A77 and associated models.
To summarise, here's an interesting quote I found in Nikon's D3200 promo material…
"Nikon is committed to developing DSLRs that are not just superlative still image cameras, but superlative video cameras, as well."
As it happens, this focus is evident because the D3200 is *finally* the first budget Nikon DSLR I can recommend for video. In general I felt the image from the D3200 had a nice cinematic feel to it. If you have a ton of Nikon glass and a limited budget the D3200 could win you over, especially as a 2nd body to your D800.
Conclusion
The Nikon D3200's image is better than that offered by the NX20, with less moire and aliasing and higher effective resolution. However the body and overall design of the NX20 is more appealing with an articulated screen that is very useful for video. The NX20's social networking WiFi options put some fun into proceedings for sharing your shoots on the road.