[vimeo]http://vimeo.com/79536594[/vimeo]
Aside from Blackmagic there's only one other company endeavouring to give us affordable cinema cameras at the moment and that's Kinefinity. The MINI is a smaller cut down version of their S35, shooting 2K uncompressed raw to SSD from a Super 35mm sensor. It has an option for 4K to an external record (Q1 2014) and it's a powerful piece of kit, though I have some reservations about usability.
Is the KineRAW MINI the early stages of a new Arri? A Chinese cinema camera industry?
There's two ways to design a camera. The minimalist approach and the feature rich approach.
You can take features away and focus on making the ones you do have work fluidly. You can pack features in but there's a compromise in terms of crowding out the camera with complexity.
Let's get my reservations out straight away about this camera. For me (in my opinion) it just has too much going on, and too slowly. There's amazing complexity and a feature list longer than a Blackmagic waiting list but the basic fundamental stuff like being able to get smooth monitoring above 20fps and having a record button that works when you want it to, was sadly missing from my test camera.
The good news is that Kinefinity have been unbelievably responsive in listening to feedback, refining hardware and developing firmware updates. It's a natural process for a new camera and I've never seen a higher work ethic. One bug I reported was fixed and added to a firmware update in 24 hours. I had gone to sleep after sending the email, woke up and it was fixed and waiting to be downloaded. No other camera company is as nimble and politics free as Kinefinity.
Many Blackmagic users have bemoaned the lack of basic features like audio meters, which still aren't in any firmware updates. But I actually think the minimalist zen-like approach of Blackmagic has benefits. If you are developing something as complex as a cinema camera and have a small team with smaller budget than the bigger players, it's better to focus on a few very core features and refine those, than stretch yourself too thin. The danger with the KineRAW MINI is that there's going to be a huge support overhead due to the sheer number of features it packs in. Let's look at some of these now –
Built in LUT support for applying user LUT to monitor and Cinema DNG metadata, during a shoot.
Wifi control.
Exposure Index control, which shifts dynamic range to shadows or highlights depending on which you're truing to prioritise (shadows in low light for example).
Sync port for multi-camera 3D rigs
4K port (optional) for recording 4K Cinema DNG or CineForm on the KineDECK external recorder
Swappable lens mount, with upcoming locking EF mount (active)
Reduced rolling shutter mode
Super 16mm crop mode
Overcrank and under crank conform at any frame rate (max 100fps) with crop of the sensor
Full sensor readout at 100fps at 720p
2K crop of sensor at 48p and 50p
Waveform, Zebra, Histogram
Punch in focus assist, peaking
Built in SSD management
Audio recording
2 HDMI ports
Offline CineForm encoding with KineSTATION (transcodes to CineForm raw from Cinema DNG during data transfer from camera to PC)
That's not a comprehensive list either. Impressive. But is it just too much to think about during a shoot?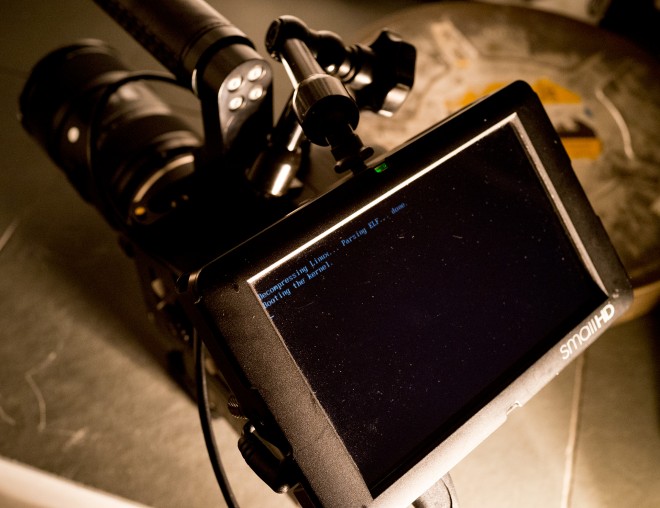 Above: the KineRAW MINI is the first cinema camera to run on an open source Linux OS, which will be of huge interest to the open source community. Go Linux!
Vs 5D Mark III
These cameras deliver a very similar image in good light but the 5D Mark III has the advantage of better low light performance from a larger full frame sensor, whilst the KineRAW MINI has the advantage of an extra stop and a half of dynamic range. With the Exposure Index feature, the KineRAW MINI can deliver 13 usable stops of dynamic range. In the normal ISO mode it can give you 11.5 stops, the same as the 5D Mark III's sensor is rated (for full resolution raw stills). Even in the 11.5 stop ISO mode my tests showed the KineRAW MINI had about 1 stop more headroom in the highlights than the 5D Mark III raw output with Magic Lantern. The 5D Mark III didn't have as much latitude and clipped the highlights earlier.
However in terms of low light performance I struggled to get usable ISO 1600 from the KineRAW MINI despite it being able to go to a maximum of 25,600. The 5D Mark III delivered a much cleaner image at ISO 1600 and 3200.
The 5D Mark III also seems to do a cleaner downsample of the high resolution sensor to 1080p, with slightly less aliasing than the KineRAW MINI in 1080p. Though the difference is very small and you're not likely to notice much aliasing and moire in the real world with either camera.
The KineRAW MINI's image overall, is not quite as sharp as the BMCC at 2.5K or as clean as the 5D Mark III in terms of noise, and then we come to colour…
At warmer white balances I struggled to grade the footage to my liking, it would always have a slightly greenish yellow cast. It therefore takes more expertise to grade that out.
I found colour would desaturate more in low light than the 5D Mark III and by default the colour saturation is extremely low, so again you have to take this into account when grading the footage.
Progress report
I've been involved in giving feedback to Kinefinity on the camera and European dealer HDVideoShop have worked hard on collating feedback from multiple tests.
There's a page at the European Kinefinity website listing current and future hardware and firmware updates; the highlights of which are at time of writing…
Reworked REC button: included in all units ordered after 01.11.2013
Reworked Lock-Type Active EF-Mount: included in all units ordered after 20.10.2013
Timecode was free running only, now with record-running feature (firmware 6057)
Rolling shutter fix: included in latest firmware update
Overcrank / Undercrank features added at various frame rates and resolutions (firmware 6054)
48fps at 2k in Super 16 crop mode included in latest firmware update
Sleep mode for camera: Q4 2013 (faster boot times)
KineSTATION for Mac: This November! (PC version already out)
Let's touch on these one by one.
The original record button had too much travel meaning it felt spongy, and it didn't always activate recording when you thought you'd pressed it all the way in. To their credit Kinefinity have now addressed this crucial part of the camera. The cheapest EF mount option for the camera had a rather loose fit to almost all EF lenses. The locking type mount addresses this and then some, I'm told it's similar to the way RED's locking EF mount works for Scarlet. Timecode used to just run freely, not you can set it to run-record. Rolling shutter is about at the BMCC 2.5K level in 2K on the MINI but now with a trade off in image quality you can enable a faster sensor scan which reduces rolling shutter. Kinefinity call this a sports shooting mode. It could come in handy but it came just a bit too late for me to properly test it and see how much image quality is lost with that faster sensor scan.
A 'sleep mode' similar to suspending a Macbook or PC is promised which allows you to preserve battery life between shots on location. Otherwise you have to ride out the 45 second boot time every time you turn on the camera. That isn't unusual for a cinema camera but DSLR users might find it off-putting.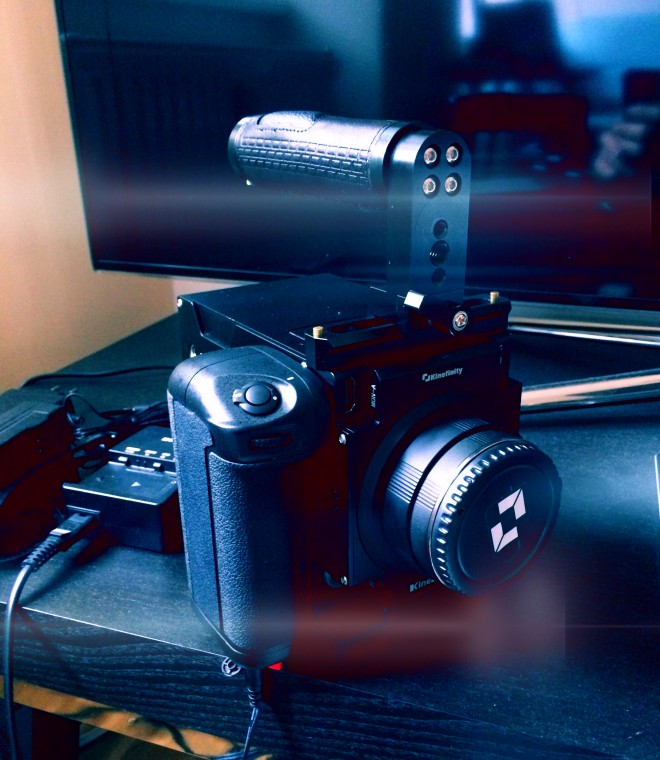 4K and pricing
The MINI would have benefited by getting here before Magic Lantern raw and before Blackmagic's cameras became relatively commonplace but it has a secret weapon, which will appeal especially to pros.
It's the only camera for the price that will do 4K from a Super 35mm sensor with 13 stops. The MINI's sensor has a higher native sensitivity and a wider dynamic range than the Blackmagic Production Camera is expected to achieve. It's the only camera for the price that has a native PL mount option. In fact the mount is swappable and various ones are available, all 100% locked in connection with the camera body unlike an adapter on a Micro Four Thirds mount.
Once kitted out with raw port, side grip and lens mount the camera comes to around 4000EUR + tax and delivery. A minimum price of 3199 euros for the 'brain', 279EUR for the raw port and 199EUR for a non-active EF lens mount brings it closer to the price of a Blackmagic Production Camera and you can add 4K later when you need it.
There might be some extra costs to factor in. Since the camera doesn't have a built in monitor like a DSLR or BMCC you will need to add in the cost of an HDMI monitor if you don't already have one. You can run the camera off the neat DSLR style battery grip (a side grip like on the Epic) but it only lasts about 40 minutes on one battery, so a larger power brick is recommended. This grip is optional so you can save by not ordering that and spend the money on a normal V-lock battery instead.
Who's it for?
I think this is a more appealing camera for pros than enthusiasts. The camera offers a lot but shooters who don't need 4K, a S35 sized sensor, 100fps slow-mo, PL mount or an extensive feature set will be better off going for the Blackmagic Cinema Camera and investing in lenses. Users who need the image quality of raw and are happy to stick with a DSLR form factor will be happier with a 5D Mark III. Something else which may give prosumers pause for thought over the MINI is that the larger Super 35mm sensor is mitigated by how well the BMCC MFT goes with the Metabones Speed Booster – effectively bridging that gap in sensor size and throwing in more low light performance as a bonus.
In terms of the codec again the Blackmagic cameras are more prosumer friendly as they can do ProRes. Lossless 2:1 compression of raw in-camera is also useful though it's not yet come to the BMCC.
The KineRAW MINI only does uncompressed Cinema DNG raw in-camera and you need to add the KineDECK external recorder to get CineForm compressed raw on the fly.
It's a complex landscape on which to make a decision, as a camera buyer.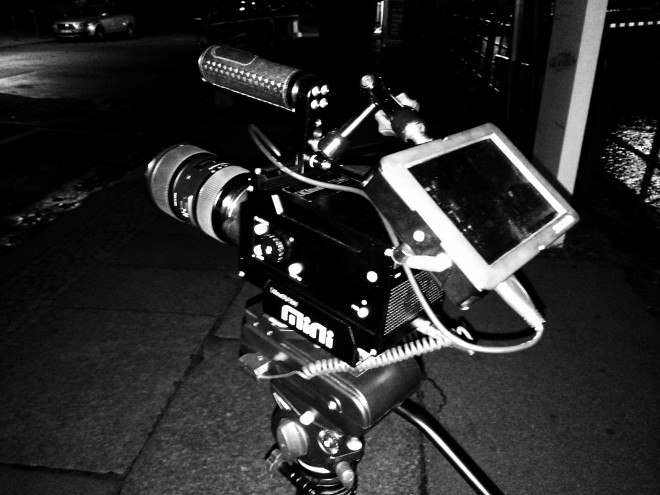 Audio
One thing that is lacking universally on all raw shooting cameras at the moment is audio. The 5D Mark III cannot currently record audio in sync with raw video. The KineRAW MINI has one single mono 2.5mm jack. No stereo input at all and no XLR. The Blackmagic Cinema Camera has a poor internal audio circuit and no way to monitor levels. These are absolutely not the right cameras to use for events, live shooting or where in-camera audio is of importance. They're designed to be used with external audio systems kept separate to the camera, like a Hollywood film camera.
Even though the KineRAW MINI has a low price for a pro camera, I think the lack of XLR and HD-SDI is a bit of an own goal. Pros all have a mantra – HDMI is wobbly and it sucks. Pros all like robust things, things that lock. They want the mount to lock, they want the audio jack to lock. They want XLR jacks. Instead of HD-SDI Kinefinity have a proprietary port for raw output. At least they have 2x full sized HDMI connections rather than one mini-HDMI port like on a DSLR.
Maybe the price would have crept up with XLR and HD-SDI but I think it would have hit a real sweet spot with pros, willing to pay to get that better connectivity.
Workflow
Of course the KineRAW MINI does not come with a full license for DaVinci Resolve 10 like the BMCC. Is this a problem? I'd say no actually, because the Lite version is now so fully feature packed and unfettered. It handles 4K unlike the old Lite version 9. To my mind the only thing I remember being pulled from the Lite version is support for dual GPUs (SLI) though there may be other concessions they are not major ones. That was a good move by Blackmagic. Users who don't want to pay for things usually find a way to download it anyway! But controlling the features on offer in an official free version avoid piracy. Blackmagic will see a huge user base increase around Resolve 10.
On a modest CUDA accelerated system with Cinema DNG from the KineRAW MINI you get 40fps render speeds and realtime editing of raw, whilst image quality is now tip top – I highly recommend it over Adobe's stuff.
The KineRAW MINI is a better fit to narrative filmmakers working at a paced manner, in a controlled environment, with a crew or on a set. Video journalists and documentary shooters will be hampered by the slow control scheme and 45 second boot time. It isn't a photography style 'decisive moment' camera like a DSLR but then you wouldn't expect that with an Epic or Alexa either!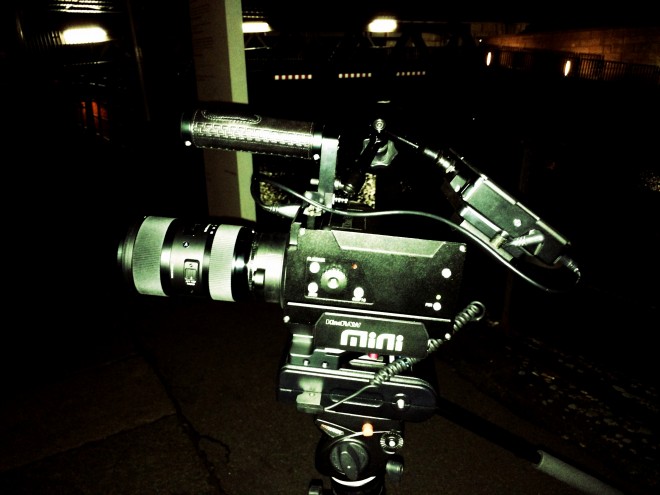 Responsiveness

This is the biggest area for improvement with the KineRAW MINI. The control scheme and how responsive the settings are.
Cycling through ISOs for example, the display is slow to apply the effect of the ISO as you scroll. It's one thing having that lag when applying a setting but another to have the lag effect the navigation of the setting.
I'm a sucker for fast operation where the camera gets out of the way and allows me to have a zen like focus on the shoot itself.
These things really matter to me as I like to have a flow going on where I'm not thinking about the scrolling haptic of a menu. The MINI demands your concentration, when the focus should really be on the scene and the shot.
Although the layout of the menus on the KineRAW MINI are pretty much fine, I didn't enjoy the physical control scheme for navigating it. The joystick just has too much going on. It's a dial, a button and a joystick. Confusion gives way and you get used to it but it's still too slow if you're coming from a DSLR or a minimalist Blackmagic.
Oft criticised by professional videographers for their ergonomics, DSLRs actually do a much better job of having direct controls on dedicated buttons and dials rather than having stuff buried in a menu.
The upshot of this is that it depends on how you're used to working…
On a cinema camera, shutter speed (for example) is usually set once for the duration of a shoot at 180 degrees and exposure is done via an aperture ring and ND filter.
Likewise ISO would usually be set to a native ISO like 800 and left alone. The cinematographer uses his lights to suit the camera's sweet spot. Out on the streets though, without a controlled environment, the camera really suffers from not having quicker access to core settings. I'd much rather have a control scheme like a DSLR. It would greatly benefit from a smaller joystick like on the rear of a 5D Mark III under your thumb and two dials – one for aperture and one for exposure.
With a raw camera you really only need to control the exposure for the monitor and do the exposure with the lens and in post.
Regardless it still needs to be quick to control the display during a shoot.
Conclusion
Pros
Amazingly wide range of features for a version 1.0 camera, at a low price point relative to other pro cameras
Super 35mm sensor gives very cinematic raw image at native ISO (800)
Upgrade path to 4K with output port and KineDECK external recorder
Good sharpness and detail at 2K and 1080p
100fps super-slow mo raw
Interchangeable lens mount
Optional PL mount
Very useful Super 16mm crop mode
Imaginative use of Nikon DSLR battery grip as a power source and side-handle
Supports built in LUTs, allowing live monitoring with user LUT applied during a shoot
Works with affordable off the shelf SSD media as well as proprietary KineMag
Open source operating system and the first ever Linux based cinema camera
Competitively priced
No serious moire issues
Kinefinity responsive to user feedback
Great support in Europe from HDVideoShop based in Germany
Cons
Unresponsive and convoluted control scheme
Record button on first versions is unresponsive (now fixed)
Grading of footage requires slightly more work and skill to get good results – especially with warm tones which tend to have yellow / green cast by default
Low light image quality not the best – benefits from staying at ISO 800 and achieving an exposure just right of centre
45 seconds to boot compares unfavourably to competing Blackmagic Cinema Camera
Choppy 20fps frame rate via HDMI makes it hard to judge look of motion during a shoot
Quite heavy given the small size, and quite large when fully rigged up
Some aliasing and false colour still visible in 2K and 1080p (increases further in 720p slow-mo mode)
No programmable function keys
Main joystick feels imprecise
Overcrank and undercrank confusingly implemented
First version of standard EF mount lacking robust connection with lens
Won't drive focus on Canon 85mm F1.2L
Lacking in terms of audio inputs – 1x mono 2.5mm jack! No stereo input
SSD management menu not present in any of the main menus (instead on direction toggle of joystick)
Some raw meta data way off in Adobe Camera Raw and Resolve, such as white balance kelvin
Value for money / unique  selling points
The KineRAW Mini offers some unique prospects for the price. For a start, there's the price itself. As a pro cinema camera, it comes in at the low end even when kitted up. It's unlikely you'll need to spend more than $5000 at the outset. Compare that to a $12K Canon 1D C or $15k C300, which don't offer raw or anything greater than 8bit colour depth, and you have a very competitive deal. The trade off is usability and convenience.
100fps slow-mo is top of my list for the unique features on this camera and although resolution drops to 720p at 100fps and aliasing increases, it's still a very usable image and you have to spend considerably more ($10k +) to get better raw slow-mo (with the FS700 and Odyssey 7Q).
And compared to the more common 60p, 100 frames makes a huge difference when it comes to how dramatic the slow-mo effect is.
[vimeo]http://vimeo.com/72646025[/vimeo]
What's also unique is that the KineRAW can do 4K raw via a proprietary Kinefinity output port to the forthcoming KineDECK (scheduled for end of 2013 / Q1 2014). Meanwhile another add-on – the KineSTATION – can transcode from uncompressed raw to CineForm automatically as you copy footage from the camera to your PC in realtime. None of these features are currently offered by Blackmagic or Canon.
Wrapping it up
The KineRAW MINI will suit a lot of shooters but it's not for everyone.
For my work I need a camera even smaller and lighter than the MINI. I need that responsive control and direct access to ISO, shutter speed, etc. I don't like to rig up monitors, batteries and external recorders and I want the full frame look to my lenses because I'm so heavily invested in the glass.
Although image quality is lovely on the MINI, aside from that very tempting 100fps slow-mo I didn't find a compelling reason to replace my 5D Mark III with Magic Lantern raw, or Blackmagic cameras with the KineRAW MINI. The image is arguably better on the BMCC and 5D Mark III overall, though aside from low light performance they all play in the same league. 4K is a very interesting prospect for this camera but the price does begin to creep up towards an FS700 which is equally as capable when it comes to 4K and raw to an external recorder.
SSD drives on the KineRAW MINI certainly give it an advantage over the 5D Mark III in terms of storage media, since generic 256GB SDDs are $150 compared to that much for just 64GB of Compact Flash (12 minutes of raw) on the 5D Mark III. The KineRAW MINI records directly to Cinema DNG whilst the 5D Mark III needs a transcode, though it's a very swift one. This is a small price to pay, since I prefer the ergonomics, image quality, smaller form factor and very good battery efficiency of the 5D Mark III.
If you can live with the downsides and put them into perspective (some may not even matter to you) you're essentially getting a Red Scarlet style camera for half the price, robust build quality, 4K upgrade path, 3D rig sync port, Super 16mm crop mode, reduced rolling shutter mode, 100fps slow mo, Alexa-like Exposure Index with 13 stop dynamic range, Super 35mm sensor and more features too countless to mention in a mere summary.
All in all an impressive start to a new cinema camera industry in China – with limitless potential!
To order the KineRAW MINI or to see the full specs and pricing info go to Kinefinity.tv here