[vimeo]http://vimeo.com/88208795[/vimeo]
Sample footage! You can download the full resolution 3840 x 2160 Ultra HD file from Vimeo here if you're a 'Plus member'.
Keep an eye open for my Production Camera review in a forthcoming issue of Mac User magazine available at all good newsagents in the UK.
I am currently shooting 4K with the Blackmagic Production Camera on loan from their British office which features a global shutter and Super 35mm sensor for $3000. For this shoot yesterday I found myself at an aeropark built in 1930's Berlin, thanks to a suggestion from Lars Rehm of DPReview who also finds himself in Berlin for some reason! The girls are shot opposite an old wind tunnel and a giant egg shaped concrete structure which the Germans used to test the aerodynamics of fighter planes in, until the Russians came and nicked the fan. Part of the wind tunnel still has an inscription from the invading Russian forces branding the buildings "free of mines", which cleared the way for them to take all the advanced technology back to the Soviet Union with them.
Today the aeropark is part of a university campus and parts of the Charlize Theron movie Aeon Flux were shot there. (This shoot was my own experiment and not a commercial one).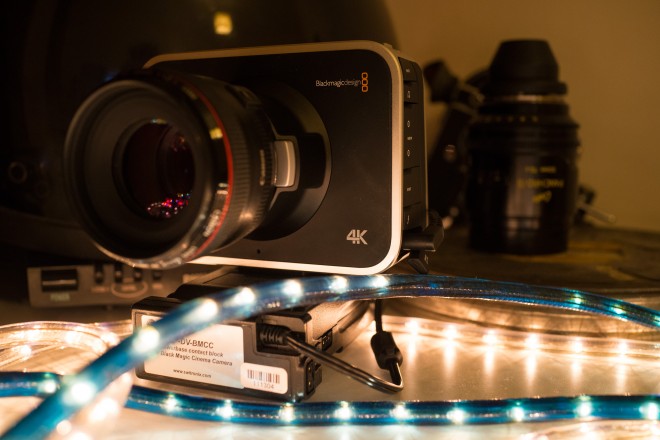 Miss Blackmagic
So how am I getting on with Miss Blackmagic? After a week of dating, we got married and now we get on pretty well. I just wish I'd married someone not just for their looks but for their personality. I miss my Japanese girlfriend, Miss Panasonic GH2. She was small and enthusiastically went everywhere with me. I enjoyed flipping her screen around and pressing my head into her viewfinder. I enjoyed putting my very very small card in her slot and she would never weigh me down with enormous files when she returned home from work every day. I had to go and mess it up and go for a 4K model, falling for the gorgeous face. Suddenly Miss GH2 fell out of favour and she was left broken hearted in the wedding dress she'd bought just days before I dumped her.
I'm not sure how long me and Miss Blackmagic are going to last to be honest. She has some very bad habits… She drinks ALL the juice in the fridge. I have run out. Her sister, the Pocket Camera went through about 6 Nikon juice cells in a day once. This one is much worse. Then there's her weight. I have to be very delicate what I say here, but she's a little on the heavy side especially when she is carrying around that big juice carton all day in her handbag. Before marrying Miss Blackmagic I am definitely going to go to Las Vegas and do a trial marriage to a Sony or a Panasonic, even if I might end up getting drunk and married to a JVC.
Drawbacks
Before moving onto the image let's get the negative stuff out of the way first. The Production Camera has changed very little over the Cinema Camera in terms of the form factor. That controversial design concept, I think I get how it's supposed to be used now. Took a while to figure out the madness but I accept it. Do I like it? Not so much for my work. I do a lot of shooting on-location and guerrilla style. This camera is more at home in the studio as the name would suggest, with a crew to handle it rigged up with a lot of stuff on a big tripod and someone to data-manage the large 4K files. The Panasonic GH4 shoots at 100Mbit/s. This is 880Mbit/s. That is 100 megabytes per second!
Raison d'être or raison d'fail?
Each design element of the Blackmagic Production Camera has a reason to exist, a primary purpose to fulfil yet neither can be used primarily for what it is! It's bizarre. We have a big 5″ monitor. Can you use it for monitoring? Nope, too reflective even on a cloudy day, not sharp enough for manual focus in 4K and there's no histogram to aid exposure. So we need to add an external one. The battery, can we use it on a shoot? Nope, lasts for 20 minutes and is designed to be a backup for the main one, which again we add externally. The Thunderbolt port, can we use it for speedy transfer of our 4K files off the drive? Nope! SSD won't mount over it so you will need to use an external e-sata card reader. The audio input – what shall we use this for? Any suggestions? You there with your hand up – 'recording sound' you say!? Nope, external device required. Computer says no! Audio circuitry too hissy. Tell you what – if any of these parts suddenly fell off the camera one day I would not miss them. Treat the Production Camera as a sensor in a box, and good luck with it.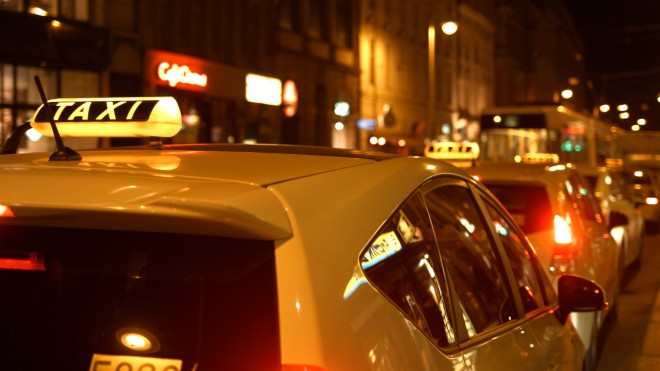 Image quality
Now then we're onto something more positive. MUCH more positive. But not all positive. The Australians are of a much more sunny disposition than me. In Manchester and Berlin we like it when it rains!
The image is dazzling when you have the required light to feed it. When in the comfort zone of this camera 4K images are detailed and clean, noise free at ISO 200 and 400, fantastically smooth in terms of 10bit colour, lovely and realistic, zero distortion thanks to global shutter and a nice rendering of your Super 35mm lenses like the superb Sigma 18-35mm F1.8. You don't have to own a 4K display to appreciate the extra resolution either. It looks spellbinding on a 27″ iMac display. It prints like a DSLR still on a huge poster at A1 size. I had some of my 4K video frames hung in a gallery next to 5D Mark III stills and nobody could tell them apart! This is great news for photographers.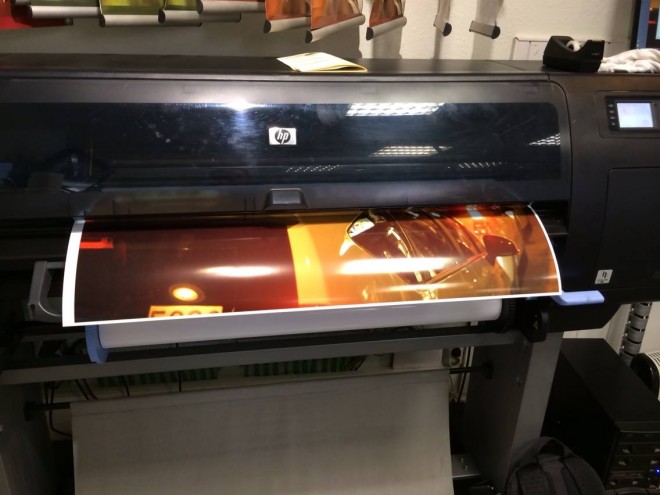 The native ISO of this camera is 400. Motion picture film DPs will feel right at home with ISO 400 and 800. DSLR users will probably run a mile but they shouldn't do. It's a myth you can't do good low light stuff with this camera. On the Berlin streets at night I was able to shoot at F2.0 and ISO 400 and it was fine. Very silky smooth, no noise. It's only when you try and lift the shadows dramatically from ISO 400 to ISO 1600 where you get problems, mainly with fixed pattern noise. The solution if you desperately need to shoot ISO 1600 with this cameras is to apply lots of noise reduction in Resolve 10 and downsample to 1080p, then you can just about get away with it. 4K has plenty of detail to spare over 1080p so if some of it is smudged away you will not notice for delivering HD content. If you look at the 4K image up close though, it is quite noisy even at ISO 800, but ISO 400 is silky and smooth. The lack of higher sensitivities do affect how high a shutter speed you can use in dark conditions and how much you can stop down for manageable focus.
Meanwhile in good light during the day you will need those NDs because the shutter doesn't go higher than 45 degrees which is around 1/240 max in 30p mode. I often don't mind the look of high shutter speeds actually, so it would have been nice to have up to 1/4000 for emergencies or when you don't want to lug a matte box around. Vari-NDs I am not a huge fan of at the moment because they soften the image, knock colour accuracy off and change reflective surfaces due to the polarising effect (particularly noticeable with cars, rivers, etc.) leading to inconsistencies from shot to shot. A word of warning – don't be tempted to shoot at ISO 800 with NDs like on the BMCC, it will be noisy due to underexposing and the camera applying a lift for the ISO 800.
The image is not entirely free of moire and aliasing. I don't think the camera has a filter. That's a big shame in my view. With the new 4K sensor you don't see it as regularly as on the Blackmagic Cinema Camera nor is it anywhere near as bad as on many DSLRs, but it's there! Very fine fabrics especially.
Dynamic range is not THAT far off the Blackmagic Cinema Camera so it's a cinematic image, but at least until the raw firmware update comes out you will really need to get your exposure absolutely spot on with the Production Camera. Highlights can be prone to a steep roll off like the Sony FS100 and burn suddenly.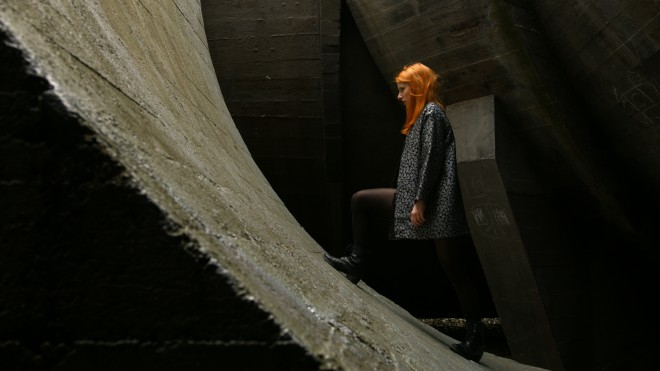 Above: Click to enlarge for 4K JPEG
As for global shutter. LOVE IT. For 3 years I have been speculating when this technology would arrive with affordable cinema cameras and now we have it for just $3k. As far back as 2010 there have been full frame 5K sensors with global shutter as seen here on EOSHD and 2 years ago Panasonic told me it would take around 2-3 years to commercialise one for mirrorless cameras. Yet it's Blackmagic who have given us it first. Very commendable.
Funny story – 6 months before the Production Camera was announced at NAB 2013 I featured a global shutter sensor on EOSHD designed by CMOSIS, that Blackmagic ended up using. This was the genesis of the Production Camera. Since NAB 2013 it's been a race against time to get the Production Camera released and I have to say even though it has taken nearly 12 months they have worked a small miracle.
In case you don't know about it yet, global shutter is a CMOS sensor technology that allows the sensor to expose every pixel simultaneously like a CCD sensor, rather than exposing line by line in quick succession (rolling shutter). The upside of a global shutter is that the motion characteristics of the sensor matches film, so there's no distortion with fast moving subjects or banding with very quick flashes of light in the shot. The downside is that the masses of wiring and circuitry needed for global shutter takes up a lot of space on the sensor, so the chip isn't as sensitive to light as one with a standard rolling shutter. This is why even top spec cinema cameras like the Red Dragon and Alexa have so far preferred to go with a very fast rolling shutter. Incidentally the Dragon sensor is made by TowerJazz, who recently joined a venture with Panasonic so I am sure we'll be seeing some advances in Panasonic sensors considering TowerJazz currently lead DXOMark ahead of Sony with the Dragon sensor. Indeed the main rival for the Production Camera is going to be the 4K shooting Panasonic GH4 come April.
Overall I feel 4K is a wise move and it is going to work long term. I am convinced. It is like the merging of stills photography and video personified. I can pull beautiful stills from the 4K Production Camera ProRes that look wonderful. 4K is a worthy substitute for film be it motion picture or photographic and it will be with us for a long time to come. We just need those lighter codecs and H.265 will come in very handy in reducing file sizes while maintaining quality especially for delivery. To give you some perspective before I go into the details, though only 1080p a broadcast ready codec like the one on the Canon C300 clocks in at just 50Mbit/s and pros seem perfectly happy grading that; the GH4 shoots 4K at 100Mbit/s; the Canon 1D C with it's very inefficient 4K MJPEG codec has a massive bitrate of 550Mbit/s; the Production Camera weighs in at 880Mbit/s in 4K mode so we really need a lower bitrate ProRes LT option in the camera with a firmware update. Currently I get just 45 minutes of footage per 256GB SSD in 4K mode. You wouldn't believe how much this adds over the year, until you have no option but to do the unthinkable and make compressed copies and delete the masters. Because let's face it – who with $3000 to spend on a camera has $20,000 per year to invest in storage?
Shooting with the Blackmagic Production Camera
For my Aerogirls shoot I equipped the Production Camera with the Sigma 18-35mm F1.8 and Canon 100mm F2.8L. The stabiliser on this lens and the Canon 35mm F2.0 IS work really well on the Production Camera. Not as good as 5 axis on the Olympus OM-D E-M1 but they have ultrasonic stabilisation motors that don't just account for larger movements but can damp down tiny very fast vibration extremely effectively, better than the E-M1 can. The Sigma 18-35mm F1.8 of course is a must-have lens for APS-C and Super 35mm sized sensors and although the sensor in the Production Camera is about 2mm shy of Super 35mm, that's not enough to lose the wide end of the Sigma, nor is it enough to turn the Tokina 11-16mm F2.8 into anything less than an ultra wide zoom.
I have put my Switronix PB70 BMCC battery pack ON TOP of the camera because the quick release plate on it is way to wobbly to be used between the base of the camera and the tripod. Speaking of tripods you will need quite a chunky one because the BMPC is a lot heavier than a DSLR especially when rigged up with an external monitor and battery.
I shot in Video mode not Film as I enjoyed the Video results and you can still apply Film Convert to these. The Film mode just brings up all the fixed pattern noise, so you have to crush the blacks afterwards anyway. Shooting Video they are already crushed down and you get a nice punchy look straight off the card, which I am fine with because it's still cinematic and shooting in Film mode didn't seem to really gain me much in the way of extra image quality or dynamic range, as I say mainly because of the shadows. Shooting Film mode just encourages you to preserve the highlights and underexpose your image, then lift the image in post and you can't really do that with the Production Camera because of the fixed pattern noise and inability to go much past ISO 400. Light for ISO 200 for best results and give the camera plenty of light, but make sure your shots can tolerate a few burnt highlights along the way.
In use the Blackmagic Production Camera is a bit like using a DSLR but without the stills features, or any features at all really. It is just a case of composing your shots. Very rarely do you change anything that isn't lens related. This is not the camera to go for if you want a wide range of custom menus or physical controls!
Blackmagic Production Camera page at Blackmagic (specs)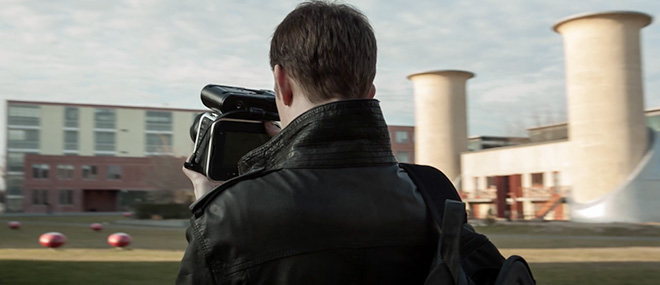 Conclusion
Blackmagic's camera strategy is interesting. In starting out they seem to have a strategy of finding a sensor from suppliers to the science industry and putting their codec and software expertise to work with it. If you're listening again Blackmagic here's another global shutter sensor, this time full frame and 5K at 50fps which I found back in 2010 so I fully expect the team to turn up at NAB 2014 with nothing less, OK!?
Joking aside what I really want next from Blackmagic is a fully featured camera rather than a sensor in a box, even if they have to raise prices a bit.
My advice to Blackmagic is to put a filmmaker in your camera design office. I'm a bit disappointed with the job they have done so far on usability. In its current state the Blackmagic Production Camera is not really a camera at all. It's an Archos media player of some kind which just so happens to have a very nice Super 35mm global shutter sensor tucked away inside with 4K and 12 stops DR!
Overall, if you have a clear understanding of the drawbacks, you should seriously consider blessing your work with an image as good as this.
Thank you Blackmagic for giving us such an interesting piece of kit.
Pros
4K for $3K and then some
Global shutter eliminates distortion from rolling shutter
Super 35mm sensor
10bit 4:2:2 codec, though heavy duty
Beautiful image quality in good light
Records to affordable third party SSD media you can buy pretty much anywhere
Minimal moire and aliasing though some still remains
6G HD SDI output good for professional monitoring
Active EF mount allows use of a wide range of DSLR lenses
Cons
Quality control issues remain
Poor design choices and ergonomics
Aperture control of active EF lenses done with media playback keys, no dials
Aperture set automatically when camera boots, overriding user preference
Canon EF mount reduces compatibility with PL mount cinema lenses
Low native ISO (400) and fixed pattern noise in shadows when lifted to ISO 800 or 1600
Monstrous file sizes and no ProRes LT or lower bitrates than 880Mbit/s in 4K mode!
Very poor screen visibility in daylight
Cannot angle the screen for better visibility
Resolution of the screen not much good for accurate focus in 4K even with peaking
Touch screen sometimes unresponsive
Major features missing such as raw recording at time of shipping
Very poor audio quality
No on-screen audio meters
No HDMI output limits compatibility with external monitors
Out-featured significantly in terms of firmware related aspects by the competition
Thunderbolt port of limited use (cannot mount SSD to transfer clips to hard drive)
Less dynamic range than Pocket Cinema Camera
Harsh look to highlights (like FS100) and steep roll off
Black holes and magenta in bright highlight areas
Panasonic GH4 is more 'ready to shoot' and $1000 cheaper, with smaller file sizes
Heavy for location based work or single-operator shoots, especially when rigged with necessary parts (battery, monitor, etc.)
When called up on to boil water, lacks spout