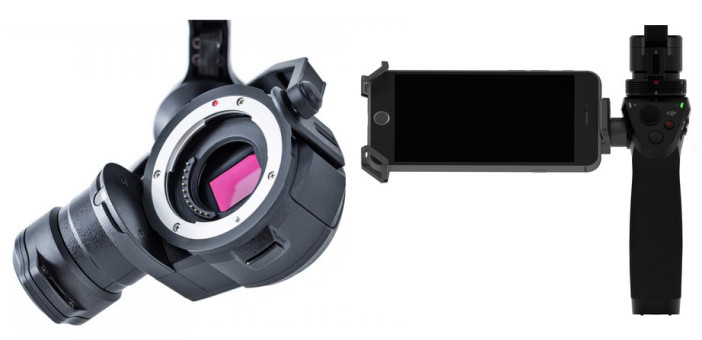 DJI are stepping into new areas where GoPro won't dare tread… The DJI Osmo has been initially cast aside as an expensive 'selfie stick' by some – it's anything but. This device has the cinema credentials to be seriously disruptive.
EOSHD Opinion
… And don't forget their wireless follow focus.
Hey Canon and Nikon we need to talk about the Osmo. Rather than using a standard gimbal or stabilisation system with a bulky DSLR, you can now use this.
There's a set of sample videos here from the $650 model. And that should be pretty convincing evidence that DSLRs are becoming more and more obsolete for video users.
The difference here my friends is that DJI are innovating, the others aren't really.
The ability to hold a Bolex style pistol grip with a tiny camera head and pull off shots like this is what innovation looks like in 2015…
The above was shot with the basic small sensor X3 camera, a Sony 1/2.3″ sensor like the GoPro.
Now, although considerably more expensive I am even more interested in pairing Osmo with DJI's new X5 or X5R, announced last month. The "R" stands for raw and it shoots 4K raw to SSD from a much larger Micro Four Thirds sensor with 13 stop dynamic range. The normal X5 without raw is more affordable and shoots 4K to a compressed H.264 format, like the GH4. So it is also more practical.
Because the Osmo is modular you can buy just the pistol grip and attach your existing Zenmuse camera. So it will be even more appealing to drone owners who already use an X3 or X5 because for a tiny extra bit of money they now have a ground or vehicle based steadycam operator.
The Zenmuse X5 (4K Micro Four Thirds but without raw) is £1165 at CVP which isn't bad when you consider it includes the 3-axis gimbal not just the 4K camera head. You then need to pair it with a small and light lens such as the Panasonic / Leica 15mm F1.7. GH4 owners might have a few small lenses already.
Monitoring is done wirelessly to a smartphone display, which slots into a bracket on the Osmo.
I can imagine a lot of expressive shots and movements that would benefit from such a small 3 axis stabiliser and 4K camera head. It is very unobtrusive for 'real life' shooting as well, so might well find a niche for itself in news reporting.
While GoPro stick doggedly to extreme sports, it seems DJI were not content just to settle at drones.
Well done DJI.
The Osmo with Zenmuse X3 will be released at the end of October 2015 and is available to pre-order from B&H at $649