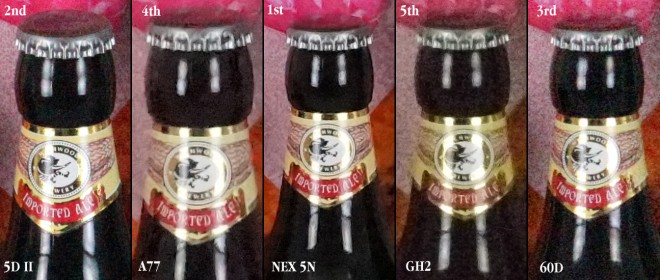 (Click the ISO 12,800 sample image above to enlarge to 1:1). Original samples from http://www.imaging-resource.com
Will Sony's decision to put 24MP in the NEX 7 and A77 backfire? It certainly seems so.
The mid-range 16MP NEX 5N has by far the better image quality at high ISOs despite being half the price. It's the Fuji F31fd of DSLRs!
As we have already seen the NEX 5N trounces competition like the more expensive Olympus EP-3, and its Panasonic rival the GF3. It's also cleaner than the GH2 and G3 and all of Canon's APS-C DSLRs like the 60D and 7D.
Now for the first time thanks to Imaging Resource we have test samples of the same scene from the NEX5N versus all past cameras, like the 5DMkII and it is interesting to compare. Unfortunately their website does not have a comparison engine like DPReview do, so I have done my own in Photoshop.
Image quality at ISO 12,800 goes like this:
Sony NEX 5N
Canon 5D Mark II
Canon 60D / 7D / 600D
Sony A77 / NEX 7
Panasonic GH2.
One thing to keep in mind is that these are stills and show the quality of the sensor and image processor but that might not 100% translate into video mode. Certainly with the GH2 that is the case. The GH2 has the best resolved and least compressed video of all the cameras listed above. The A77 test video samples so far have all been done by stills orientated sites and they only give a very rough outline of what video looks like, but certainly none of the new Sony cameras match the GH2's clean video image in terms of moire, resolution, compression and aliasing. Although it will be interesting to see if the NEX 5N's incredible low light performance translates well from stills to video shot at ISO 6400 and above – something the GH2 isn't capable of.
In JPEG mode the NEX 5N is slightly cleaner than the 5D Mark II at ISO 12,800. Even though the 5D Mark II has a resolution advantage of about 5MP and a full frame sensor in actual fact the difference in detail and noise is very small. This is a remarkable performance from a $599 APS-C camera versus the unrivalled full frame monster from Canon, albeit a very old one in great need of an update.
The A77 and NEX 7 sensor is however rather disappointing. One saving grace is that the video mode might be better than the NEX5N but it certainly doesn't look that way from the footage I've seen so far.
I think (and I hope) what Sony's strategy is here is that they believe through market research that semi-pros put the emphasis not just on high ISO performance but a broad range of features, including handling, EVF and resolution up to ISO 1600 where the A77 certainly packs in the details relative to the 16MP and 18MP competition. The mid-range consumer that the NEX 5N is aimed at meanwhile is probably more excited by clean high ISO performance in the reviews they see on the web and like to pixel peep and benchmark the camera against others they can afford in the similar price bracket. Sony also knew that their closest rivals to the NEX system from Olympus and Panasonic were using much older 12MP sensors so there wasn't any pressure to bump up megapixels to compete, more a desire to see those systems demolished in the high ISO stakes because that is not really the strong point of Micro Four Thirds (G3 and GH2 aside).
Do keep in mind that below ISO 1600 the cameras here are all much closer for stills and especially in video mode. In fact the GH2 has the best image in video mode even at ISO 1600 with Vitaliy's hack giving noise a very nice fine film like grain.
Meanwhile here are some more 1:1 crops from the ISO 12,800 JPEG samples, with noise reduction set to low. They are quite revealing of the NEX 5N's prowess in resolving the same amount of detail as the 5D Mark II yet with less noise, even though it is a 16MP APS-C camera versus 21MP full frame. Even if video quality turns out to be a moire ridden disappointment I am certainly going to pick one up for stills.
Canon 5D Mark II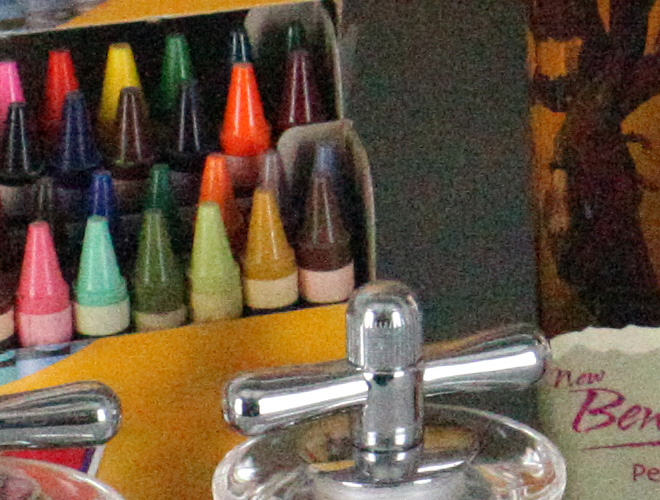 Sony A77 (like NEX 7)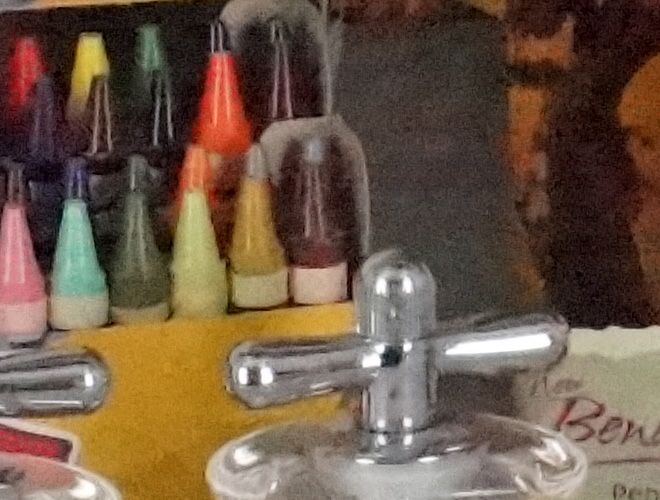 Sony NEX 5N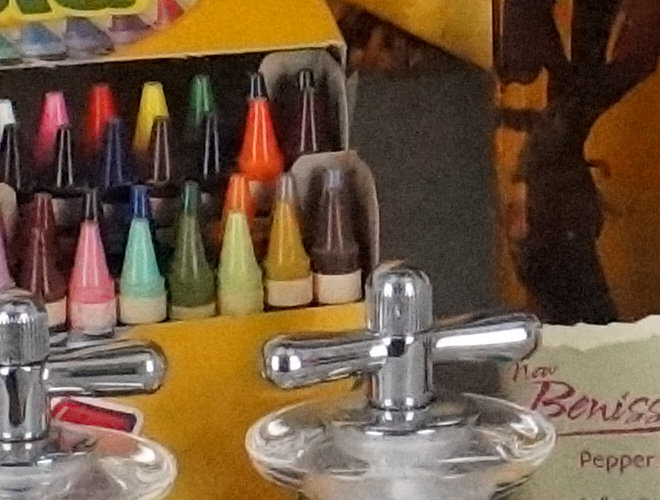 Panasonic GH2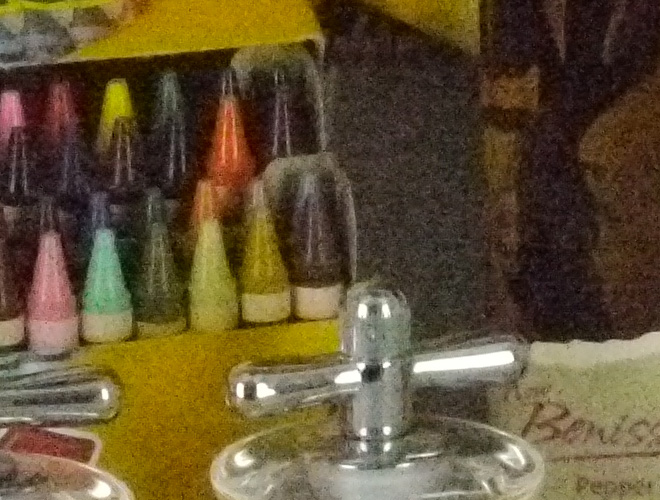 Canon 60D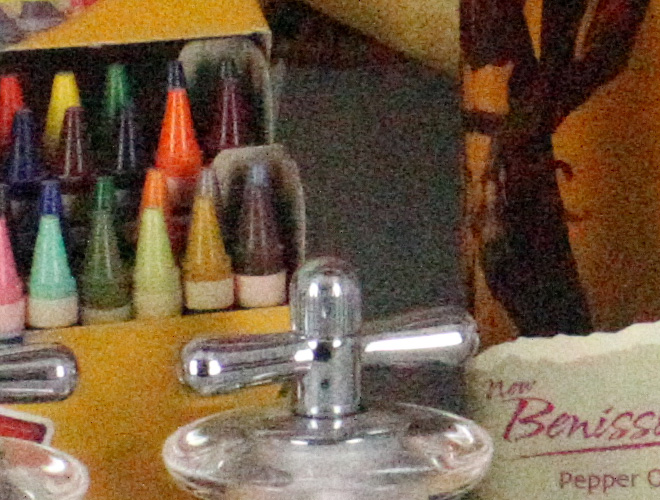 Disclaimer
Remember EOSHD's Fallacy of Pixel Peeping… It only gives you a scientific benchmark not an artistic one to base your purchasing decision on. If possible before committing try the camera out yourself. Watch the video mode projected or displayed on a high quality television to determine real-world image quality. See your photos framed and hung on a wall, and handle the camera yourself to realise its potential. Never take pixel peeping and reviews as the last word. What is right for one person may not be right for you!