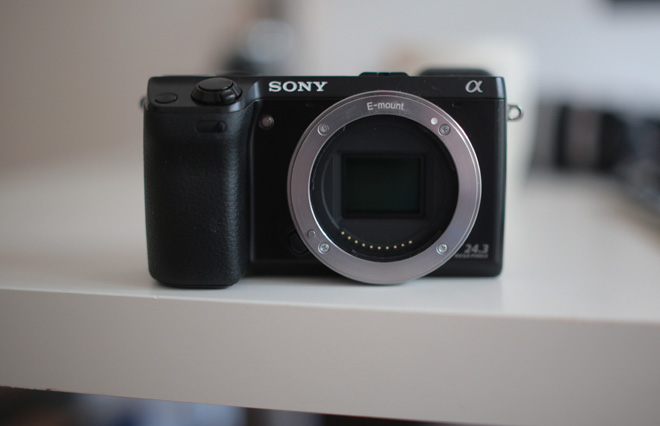 My friend over at Sony Alpha Rumors has given this the highest SR5 ranking.
Apparently NEX is going full frame.
This may mean a full frame video camera (they don't need mirrors!).
It may mean a new kind of mirrorless mount on the A99 behind the removable SLT mount, to allow for greater lens adaptability (to Canon EF, Nikon F, etc.)
It may mean Sony are going after the Leica M and Fuji X Pro 1 with a technically superior product – but this would also mean huge R&D costs on a new range of full frame rangefinder lenses.
If the NEX 9 is indeed full frame, like the Alpha A99 it would mean there will be a lot of model numbers with 9 in my collection.
A mirrorless camera with the kind of video image quality the GH2 has but with a much larger full frame sensor would be a wet dream in terms of dynamic range and resolution.
It won't be an E-mount camera as a full frame sensor cannot physically fit into the current E-mount.
The main advantages to mirrorless is a greater choice of manual focus lenses and a camera optimised around live view which brings better video performance (essentially live view is video).
The other advantage of mirrorless is of course small size but this is less important to me as DSLRs are already very small for cinema cameras. With a full frame mirrorless camera the intent for building one would not so much be a size advantage as the lenses would still be quite large compared to Micro Four Thirds or even APS-C, especially fast aperture zooms, however full frame rangefinder primes like Leica M mount lenses are much smaller than most Canon EF full frame lenses so it could still be Sony's intent to go after full frame DSLR users who want full frame in a smaller package. This would be a big marketing advantage, if you compare the size of a Leica M8 with standard prime to the 5D Mark III with 50mm F1.2L for example.
It surely can't have been missed that cameras like the Fuji X Pro 1, X100 and Leica M8 are popular cameras and larger sensors all the range in the mind of the consumer.
Filmmakers meanwhile could adapt any kind of full frame lens to this beast and even use Leica M glass as they are naturally intended. However none of the current E-mount lenses would work as they only cover APS-C. Also Super35mm cinema lenses like the LOMO OCT19 anamorphic and PL mount Cooke or Zeiss Compact Primes would likely not cover the full frame sensor. So some kind of Super35mm / E-mount APS-C crop mode would be nice so pro filmmakers can still use their expensive PL mount primes.
I'd expect it to be chunkier than the current NEX 7 because the distance between sensor and lens would have to be larger for optimal sharpness and less vignetting in the corners.
Here's what SAR has to say about the rumour:
"I just learned via (many) trusted sources that the third revolution from Sony is about to happen. After the SLT and NEX introductions (first two revolutions) Sony is about to change the photographic and video industry with the third revolution… a new Full Frame NEX system!
As usual with rumors keep your expectations low and be aware that this is a rumor based on mysterious sources and NON-facts. Keep also in mind that I have been told this is just a "Start" (whatever it means). But this may be the first time I believe Sony could seriously compete against Nikon and Canon and Leica in the Full Frame world."
A lot of Sony news around at the moment.
Do Canon have an answer?