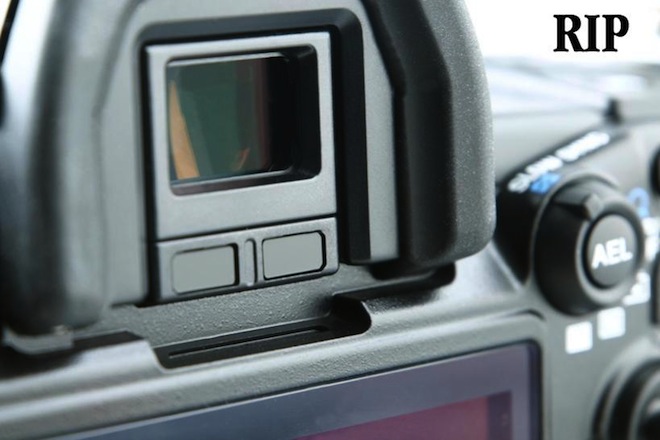 Sony will eliminate the optical viewfinder on all future DSLRs.
Sony Spain let slip in a presentation that the Japanese electronics giant plans to release all future Alpha DSLRs with the SLT translucent mirror technology found on the A33 and A55. No more optical viewfinders and traditional mirror-box DSLRs from Sony. In fact the name 'DSLR' will be consigned to history and replaced with Alpha SLT.
Their rumoured return to the full frame fray (to be unveiled at PMA / Cliq 2011 in September) will also feature an EVF and SLT mirror – no optical viewfinder, and not an SLR.
Sony are the first company to phase out the optical viewfinder and I for one will not miss it. This has been an area of zero innovation in DSLRs for too long, and viewfinders have been too small especially on entry and mid-range DSLRs – a curious backward step from the 1970's where almost every 35mm film camera had a larger viewfinder than most available on DSLRs today.
The Fuji X100 has pioneered a optical viewfinder with hybrid overlay display and EVF which is very useful, but eventually EVFs will entirely replace optical viewfinders. The benefits are many:
• Usable in video mode
• Depth of field preview
• Exposure preview
• Gains up in low light where an optical viewfinder would look too dark
• Allows for more compact body
• Lack of mirror allows for shorter flange distance to lens, greater range of adaptable lenses
Sure purists will want to hang onto the image quality that a optical viewfinder gives them, but EVF panels will catch up, especially ones coupled with extremely powerful full frame sensors without a hint of noise especially when the image is downscaled to the smaller optical viewfinder, compared to in live view mode.
Live view implementations will improve too, and since DSLR live view is the reason we have HD video on DSLRs in the first place, so will HD video improve to eliminate it's current shortcomings – such as a compressed 8bit colour-space, stepped gradients and tones, moire and aliasing, rolling shutter and less dynamic range than raw stills mode.
The clunky flip of a mirror when entering video mode is thankfully now a thing of the past.
Source: Quesabesde.com Via SonyAlphaRumors