Sigma has surprised us all and announced a hybrid Cine/Stills full frame L-mount camera. Rather than the Foveon sensor Sigma traditionally uses, this one has a 24 megapixel full frame BSI CMOS sensor (likely the same as the Panasonic S1 and Nikon Z6).
Now with Sigma being the only L-mount alliance member to recognise the demand for raw video, I hope it spurs Panasonic into action!
Amazingly, the Sigma FP is the size of an interchangeable lens Sony RX1. Measuring only 113mm wide by 70mm high, that compares to 113mm x 65mm for the Sony RX1. The camera body not including a lens is just 45mm deep.
This is truly a pocket size body, unlike the Blackmagic Pocket Cinema Camera 4K which is much bulkier, this one is closer in size to the original BMPCC, yet FULL FRAME!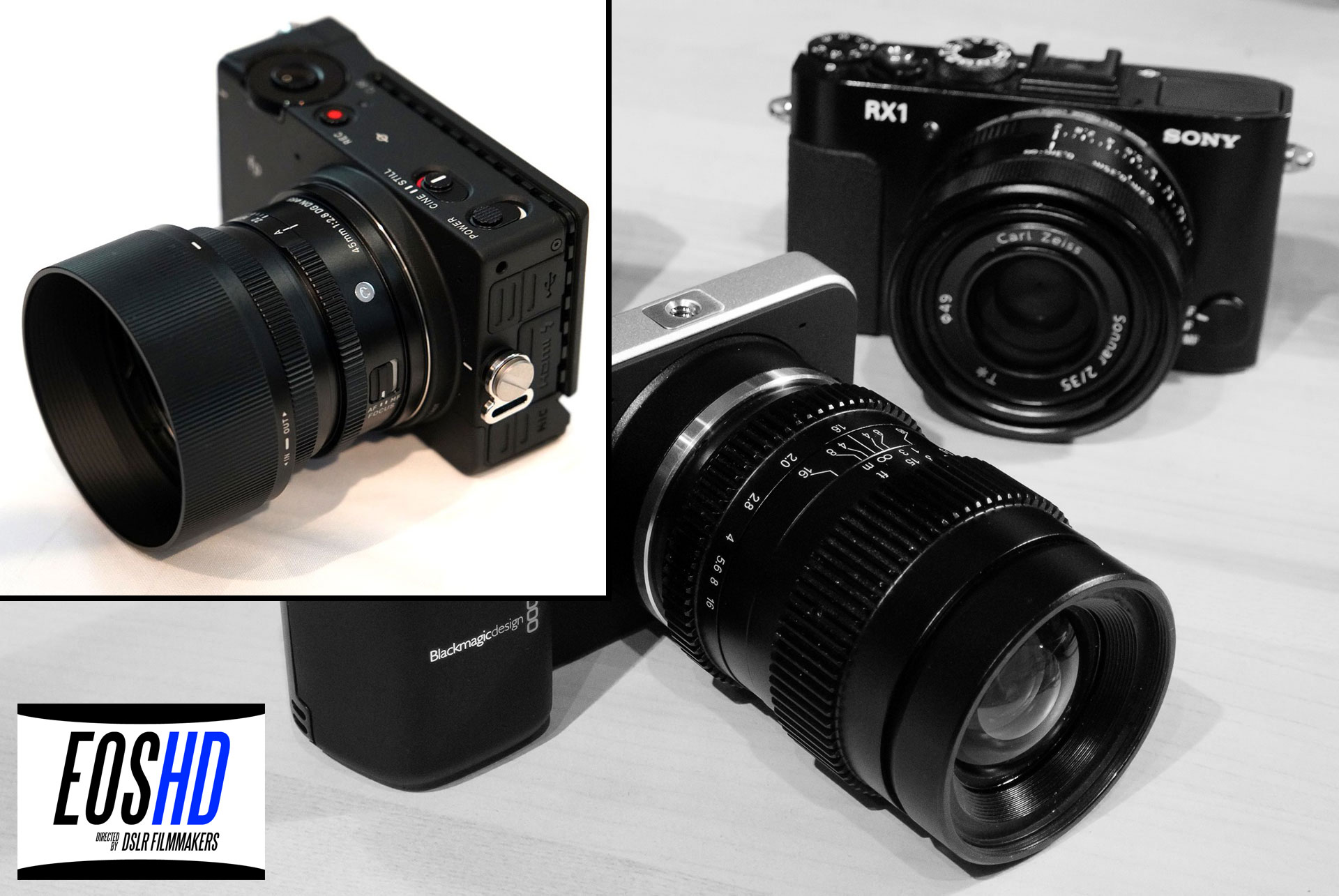 Above: Estimated size comparison
The Sigma FP is a very artistic little tool. The camera has a Director's Viewfinder mode, which when used with the Sigma loupe on the rear screen, turns the device into a fully fledged digital director's viewfinder for use on Hollywood sets with PL lenses.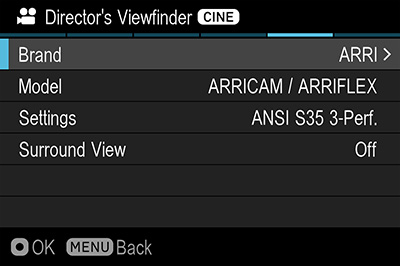 Not your normal "video" shooting stills camera!!
Indeed Sigma have ignored the usual video terminology with this camera and aimed for full on Cine. So say Sigma:
"The SIGMA fp's Cine mode comes with a variety of special functions that are comparable to those of professional cinema cameras. From shutter angle display and waveform display for exposure and color information, to zebra patterning, it comes with the functions and screen displays that can be used in the same way as with conventional cinema equipment."
Clearly Sigma see many purposes for this little beast, and one of them is in the cinema world as a POV / helmet camera or crash camera, or indeed any situation where a super small rig point of view is required.

The Sigma FP has no mechanical shutter for stills, but is able to use a very fast rolling shutter to capture 24 megapixel full frame 14bit RAW DNG.
The 4K 12bit RAW DNG video is captured externally, while internally a high bitrate ALL-I codec is used to capture 4K/24p. It isn't yet clear what kind of device will be used to record Cinema DNG externally. In various publicity shots, Sigma has it hooked up via USB C to an external SSD drive like the Blackmagic Pocket Cinema Camera 4K. It would make sense for such a small camera to use this method of recording raw video. There's also a HDMI port for external monitors and recorders. The body's screen is unfortunately fixed and doesn't articulate, so you might need one!
There is a heat sink behind the LCD but no fan opening so the whole camera is dirt & splash proof.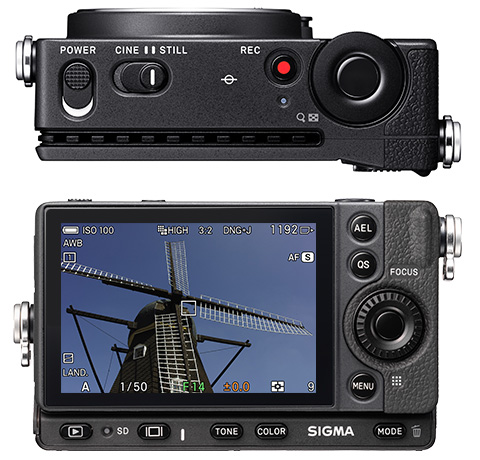 Eye AF is supported but the AF system on this camera is contrast detect, similar to the Panasonic S1. Being L-mount, it's also compatible with the Sigma MC-21 Canon EF adapter.
The first L-mount lenses from Sigma are due next month (August 2019) and it will be interesting to see the autofocus speed of these on the Sigma FP and Panasonic S1. The first lenses to come out will be the 35mm F1.4 ART, 50mm F1.4 ART and 85mm F1.4 ART. By the end of the year six more fast ART primes will follow as you can see below. A bunch of APS-C lenses will follow in 2020 which makes me wonder if Sigma has an even more affordable Super 35mm sensor camera in the making.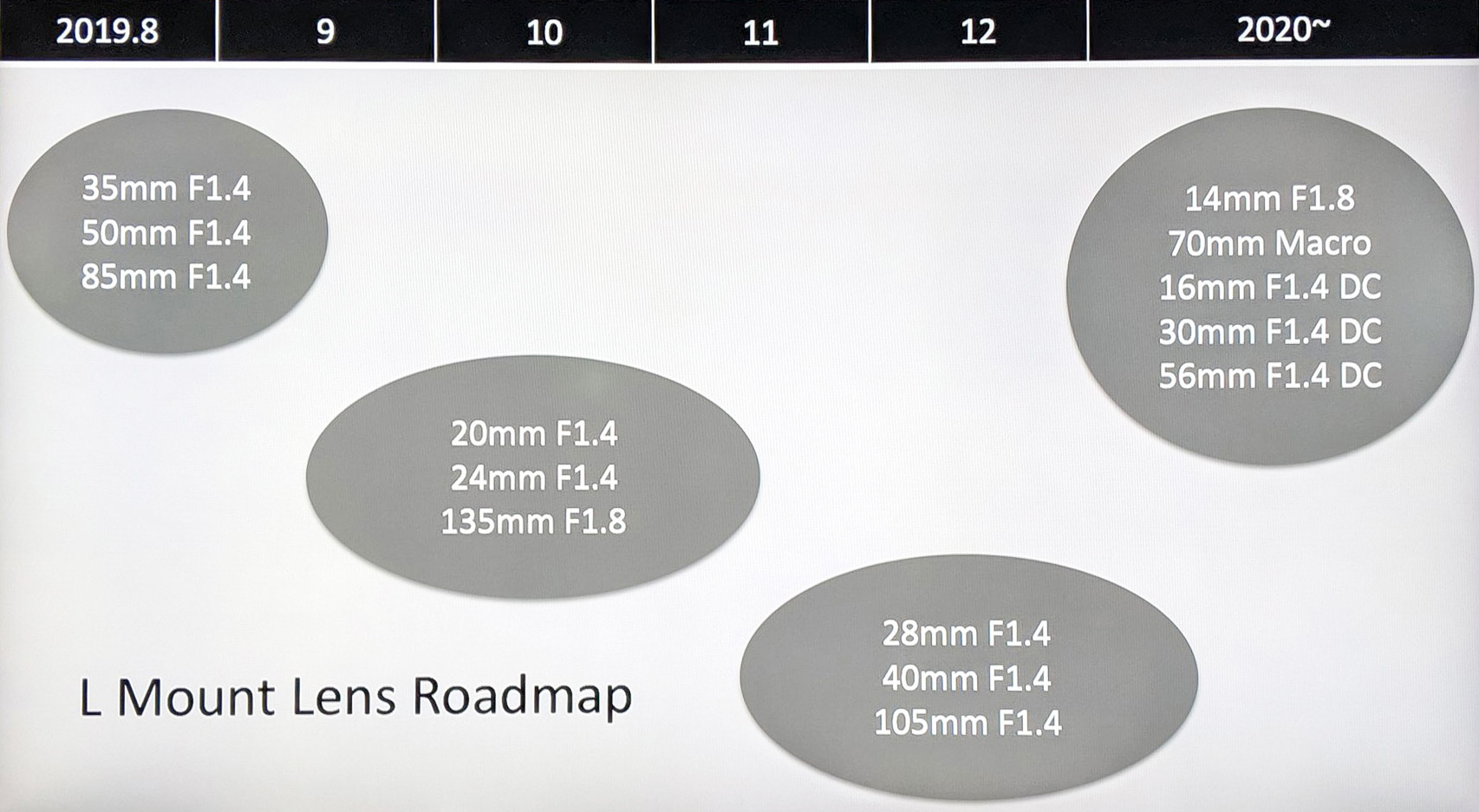 THIS is innovation. Others take note
I love that Sigma has ignored tourists and consumers with this camera and focussed on ARTISTS and people actually ENTHUSIASTIC about cameras.
It's a sexy little sensor in a box which reminds me of Apple at their best in some ways. An artist's tool that just so happens to have massive appeal to just about everyone, because it just so happens to be the smallest full frame interchangeable lens camera on the market.
Knowing Sigma, the price will be competitive as well.
Apparently 'fp' stands for 'fortissimo pianissimo'. This is a classical music term which refers to the dynamics as 'very loud and very soft'.
This small camera will produce powerful images.
I LOVE it.