[vimeo]http://vimeo.com/50210718[/vimeo]
One of the highlights of Photokina 2012 was meeting up with SLR Magic, the small but nimble optics company based in Hong Kong. They brought out one of the first proper fast wide lenses for Micro Four Thirds (the 12mm F1.6) by listening to demand and acting swiftly. Now they are building high end super-fast primes which are optimised for filmmakers as well as photographers.
The 35mm T0.95 and T1.4 have a silent, stepless aperture ring, minimal breathing, metal construction and a way above average count of iris blades (in double figures) for smoother bokeh when stopped down.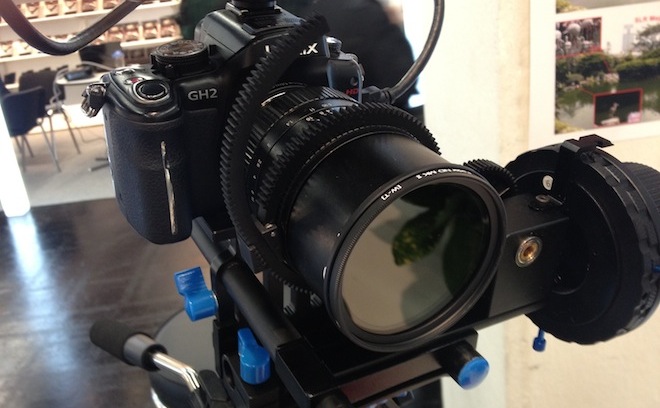 The prototype 35mm T0.95 set up on the GH2 ready for a shoot
The control of breathing on these lenses seemed (in the few hours I had with the lens) to be impressive. I tried the expensive Canon CN-E 50mm T1.3 cinema lens based on the EF 50mm F1.2L and that breathes! One of the definitions of a cinema lens is that this is under control so your framing doesn't change whilst racking focus when stopped down, say at T5.6.
Andrew of SLR Magic very kindly loaned me the 35mm T1.4 and T0.95 to shoot with in Cologne, so we took them out for a test drive. Neither lens is yet finalised, they are prototypes so the image quality will be improved in the final lenses. There's some work to do with the coating and blooming around specular highlights wide open but already for such fast optics they're nice and sharp with minimal distortion.
How sharp?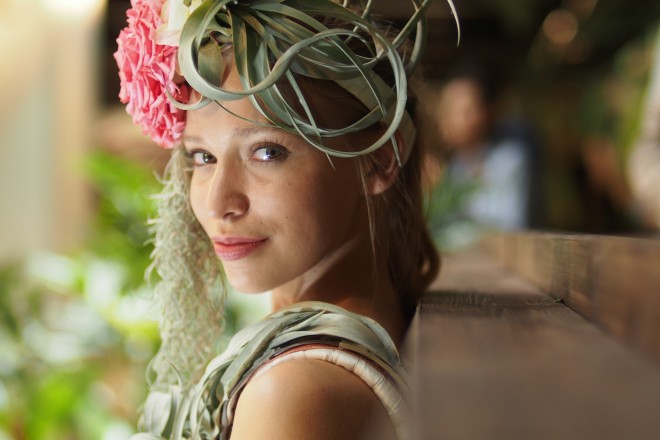 Check this shot on the T0.95 prototype stopped down to T1.4, you can click the image to enlarge it or look at the 1:1 crop below: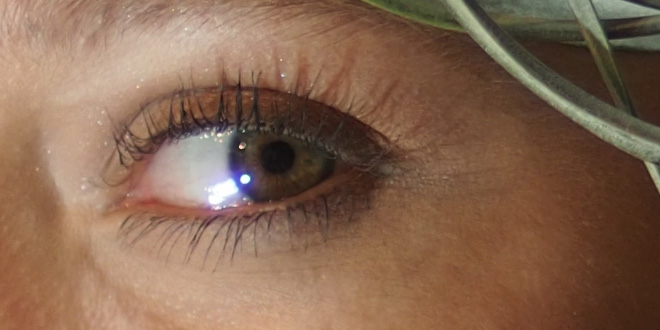 This still was shot on the Olympus OM-D E-M5.
For the video shoot we used the GH2 (seen worn by her creator, below). The beauty of the mirrorless mount is that you can use so many third party lenses. The T0.95 uses a L-M mount for adaptability to mirrorless, but has APS-H coverage. Great for APS-C or Micro Four Thirds sensors but it is not designed to not cover full frame. The Hyperprime 50mm T0.95 however is full frame and works on the new Sony NEX VG900 or Leica M.
Mr Inoue visits Andrew of SLR Magic (he took a few pics of the stand, lenses and follow focus with his GH2) – See my interview with Mr Inoue from Panasonic here
The 35mm T0.95 is sold with an adapter to NEX, Micro Four Thirds or Fuji X. The 35mm T1.4 is also a Leica M mount lens with adapters and covers APS-C.
The smaller and lighter T1.4 is by far the cheapest of the two. Introductory pricing is provisional and expected to be around $279 for the T1.4 and $1276 for the T0.95. This pricing isn't fixed long-term (the SLR Magic 12mm T1.6 was introduced at $499 but later rose to $549 due to increased costs). Tentative release dates (again nothing firm) are December for the T1.4 and February for the T0.95.
The $279 35mm T1.4 I found to be a nice cinematic low contrast lens wide open. This lower contrast can help gradation on an 8bit codec, I particularly noticed an improvement with the look of metallic objects on the GH2 like the steel bridge pillars in the video, similar to the way my Lomo cinema lenses render an image. If you need more contrast then stopping down to a punchy T2 will give you that. Mechanically it is very good for the price. Minimal breathing and very solid build quality.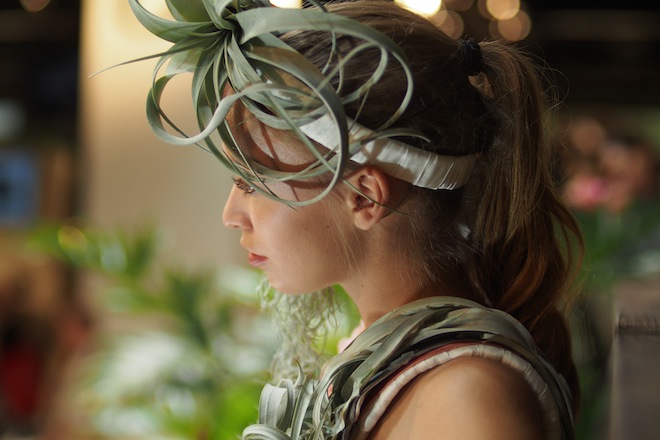 The 35mm T0.95 at T1.4 – bokeh even when stopped down is very smooth because of the 10 iris blades
The T0.95 is a much more expensive lens (and of course it is heavier) because it isn't easy to do such fast optics. It is however smaller and more affordable than the full frame SLR Magic Hyperprime 50mm T0.95. There is a real gap in the market for this lens – although the Voigtlander 25mm F0.95 is a great lens, I tend to choose 35mm on a crop sensor over 25mm or 28mm any day. This is just a nicer look on the GH2 – a 35mm lens has less distortion (than a wide angle 25mm) and a shallower depth of field because of the slightly longer focal length, yet it isn't too long – it works out well for standard portrait focal length work, as does a 50 on full frame. The SLR Magic 35mm T0.95 is cinema optimised whilst the Voigtlander is more designed for stills (with the clicking aperture ring and oddly shaped focus ring grip which is ill suited to follow focus gears).
I'll be very interested to see the final production versions of these lenses. It is too early to make any final conclusions because they're prototypes.
I can however offer my first impressions of the lenses. Overall very positive. They are not clinical and technically perfect. They have character. Some of what makes character are flaws. Yes wide open on the T0.95 there was some blooming and purple fringing – however SLR Magic are in the process of reducing this further and the non-final coating has a lot to do with this. Even the Leica Noctilux has it – such a large aperture is massively challenging for optical designers which is why there are so few of them on the market.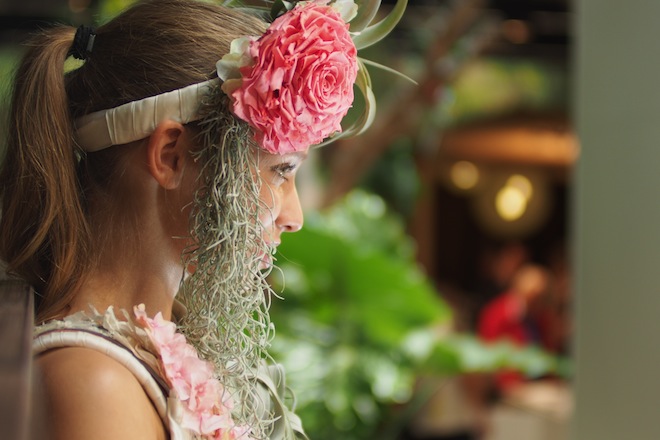 The 35mm T1.4 shot at T2 on the Olympus OM-D E-M5
The T1.4 meanwhile is superb for the price. The prototype is not quite as sharp as the legendary Samyang 35mm T1.4 wide open (and it is not full frame) but it has more character, is very cinematic, has far less breathing when racking focus, is much smaller and far cheaper yet with better build quality and a filmmaker optimised design.
There was a large amount of interest around SLR Magic at Photokina.
Based on their new lenses I think it was entirely justified!
Further reading and a full frame NEX E-mount VG900 test at 3DKraft here