Samsung has joined forces with Fujifilm to develop sensor technology and says it will apply the new innovation to a large sensor.
Could the NX1 finally get a successor?
Since the first rumours emerged about Samsung exiting the camera market, sources from the company have been briefing investors and journalists in South Korea on condition of anonymity. It's also known that a prototype full frame Samsung sensor was developed and shown to company staff in Germany shortly after the release of the Samsung NX1.
In one article from 2017 to The Investor there's optimism for a return to the market with a "new product category to continue the business". The Samsung NX1 microsite now points to the Samsung S9 camera's capabilities but a lot has changed since 2015. High-end mirrorless cameras are seeing a resurgence of sales, with Sony in particular leading the charge.
New joint sensor development with Fuji
Image Sensors World reports on a strategic partnership where Fujifilm supply a new material to Samsung for use in their ISOCELL technology, which better isolates each photosite to reduce colour cross-talk and noise. Samsung LSI marketing boss Ben K Hur claims the technology will bring performance advancements to larger pixel designs as well, not just very small or very high resolution sensors for smartphones.
"Through close collaboration with Fujifilm, an industry leader in imaging and information technology, we have pushed the boundaries of CMOS image sensor technology even further. The ISOCELL Plus will not only enable the development of ultra-high-resolution sensors with incredibly small pixel dimensions, but also bring performance advancements for sensors with larger pixel designs."
The result is 15% increase in sensitivity and better colour fidelity.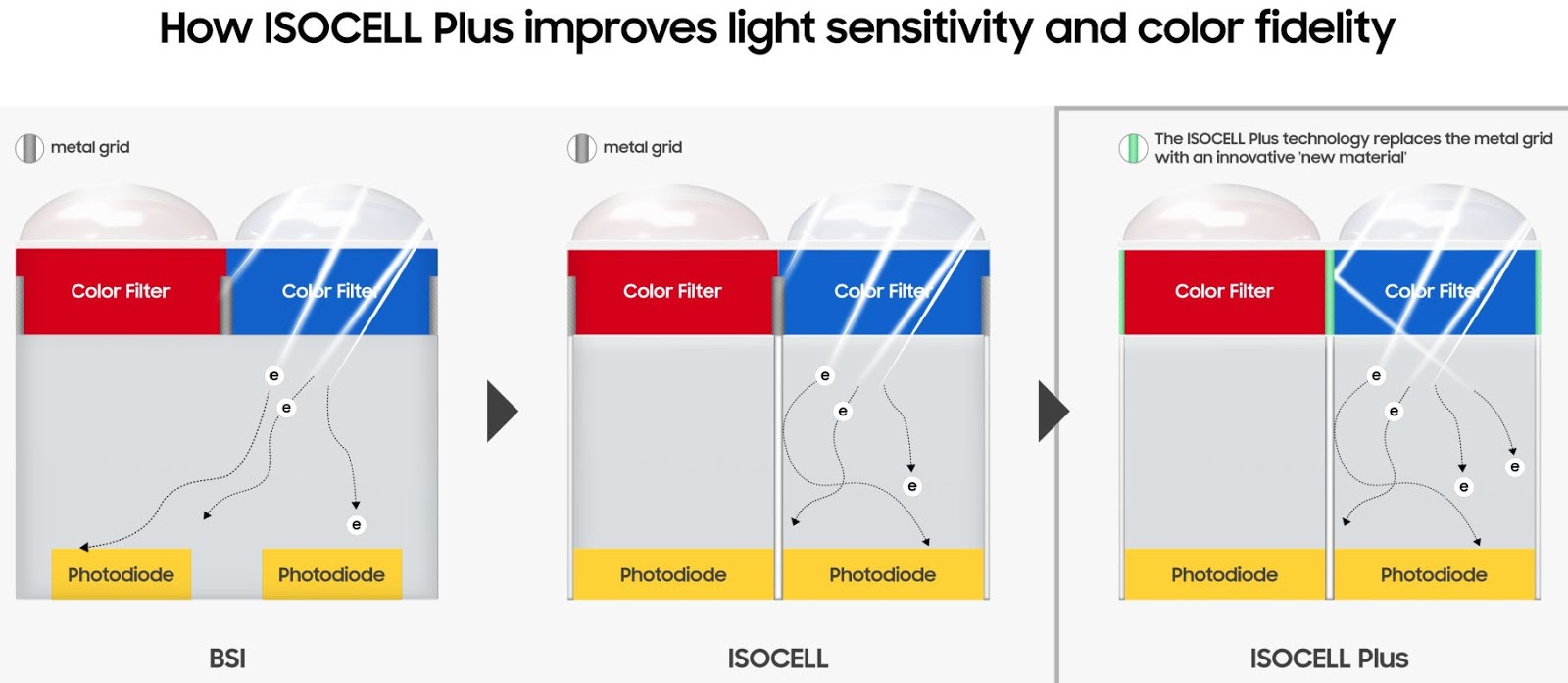 Possible future for Samsung in camera market
Samsung pioneered 65nm copper BSI design rules for the NX1 CMOS compared to the 180nm aluminium process common at the time in the camera industry. In micro processor terms that's the difference between an i486 CPU from 1989 and a Core 2 Duo from 2006-11, a difference of nearly 20 years. That's how far ahead the Samsung NX1 was from the Nikon D750 in 2014. Today for chip manufacturing Samsung is down to 4nm which is the limit for Moore's Law.
Rather than lay to waste this world-class resource, in late-2015 the company showed a prototype full frame sensor under closed doors in Schwalbach, Germany, based on the same technology pioneered with the NX1. Then by coincidence more rumours began to swirl about Samsung finding a customer. None other than Nikon. These widely reported rumours haven't bared fruit yet, and we simply don't know if the upcoming Nikon mirrorless camera uses Samsung semiconductors.
It goes without saying that cancelling the NX1 did nothing to stop Samsung investing further and further in their image sensor technology. That company can turn performance on like a tap. Samsung could design a full frame sensor on demand, mass produce it and do it tomorrow.
I still vividly remember going to Photokina in 2014, seeing the Samsung NX1 and sensing the fear in Samsung's competitors. Here was a company who in 2014 had just spent $13 billion on research and development making a truly high-end mirrorless camera, for the first time, on top of the threat posed by Samsung's own smartphones. It was too much to bear and some of the Canon and Nikon reps were melting.
Their nerves were short-lived. If you look at the 2014 annual report just before the release of the NX1, Samsung don't even mention cameras. Sales were in free fall because all they had were sub $1000 consumer cameras, a lot of them very cheap ones. That market was dying a death so Samsung decided to kill the mirrorless cameras range before their own phones did. The NX1 was the underserving victim and ahead of its time.
Back in 2015 hardware acceleration (GPU) for H.265 video wasn't common and OS support hugely lacking. Image quality suffered with choppy pixilated playback, gamma issues, clipped dynamic range and early firmware. That's all changed in 2018 and the NX1 today is stunning. H.265 feels almost ProRes-like in its image quality and butterly smooth playback. 5 years of HUGE resources culminated in a stunning Super 35mm camera which is still class-leading 4 years later. It is still the only commercially available camera sensor I know of that is capable of 6K at 240fps (source). Of course they didn't implement this (try compressing that to H.265 and writing to SD card) but it demonstrates an important principal of chip design.
It's only a matter of time before Samsung's technology turns up on the camera market again, either Fuji, Nikon or their own brand-new range of high-end full frame mirrorless cameras.