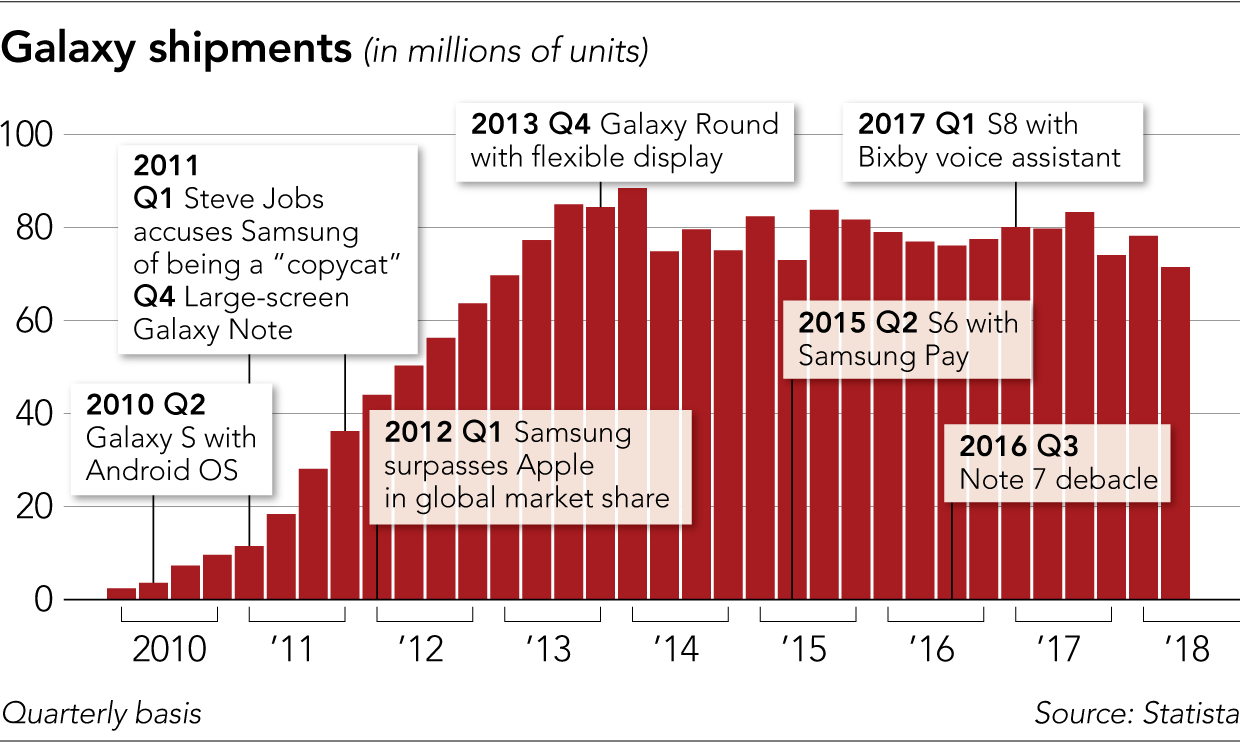 With the number of Galaxy handset shipments stalling since 2013, Samsung has been looking to raise prices on their high-end handsets to offset the plateau. The company has suffered dramatic losses of market share in China to cheaper rivals as a result. Now there are rumours Samsung is looking 'beyond the galaxy'…
Samsung recently cut production in China for many Galaxy smartphones, due to the lack of demand and shifted manufacturing elsewhere. The Galaxy range is in trouble.
Smartphones were THE primary reason Samsung stepped back from mirrorless cameras, with the company even going so far as to link the NX1 web page directly to the Samsung S9 camera features.
Times are changing and recent collaborations with FujiFilm along with rumours of a return to the camera market just won't go away. Yesterday I heard from one source that Samsung is working on a full frame BSI CMOS sensor. I have no way to verify if this is true or not, but with Canon and Nikon entering the full frame mirrorless camera market and Sony's success (selling more full frame cameras in 2018 in the US than any other brand, all of them mirrorless), it could be that Samsung wants to tap a growing market.
It's interesting to note, that in my Google Trends article about the decline in Canon 5D interest and DSLRs in general, that the search traffic for terms like "smartphone" and "android" has been on the wane since exactly the point where Samsung also began to see declining shipment numbers on the chart above (2013) – and a shift to higher-and-higher priced flagships.
Then there's the EOSHD article last month about Fujifilm and Samsung to bear in mind. They are in a technology sharing agreement to produce new ISOCELL sensors for both small smartphone sensors AND larger ones.
Although the Samsung S9 and Note 9 are very nice evolutions of already class-leading handsets, they're low on novelty and new features to differentiate them from the crowd, especially from Huawei. Perhaps in desperation, Samsung resorted to content tie-ins (like Fortnite) with the new phones, to fend off Huawei's innovation on the hardware side – including their 40MP Quad Bayer triple lens camera and far more competitive pricing.
I am currently comparing 4K 60p on the Samsung S9 and iPhone X, as well as stills on the Huawei P20 Pro vs the Samsung S9. The threat from Huawei is real, that's all I can say. Expect the full review soon on EOSHD.
Finally, there is the news that Samsung has earmarked $22 billion for new R&D fields, which could include groundbreaking mirrorless camera technology. This would truly be next generation stuff, although the $22 billion covers a lot of diverse areas such as 5G cell technology and new memory chips. It's in no way a confirmation of camera development.
If Samsung chose to come back and compete with Sony, Canon and Nikon, they'd be welcomed with open arms by me and many other shooters!