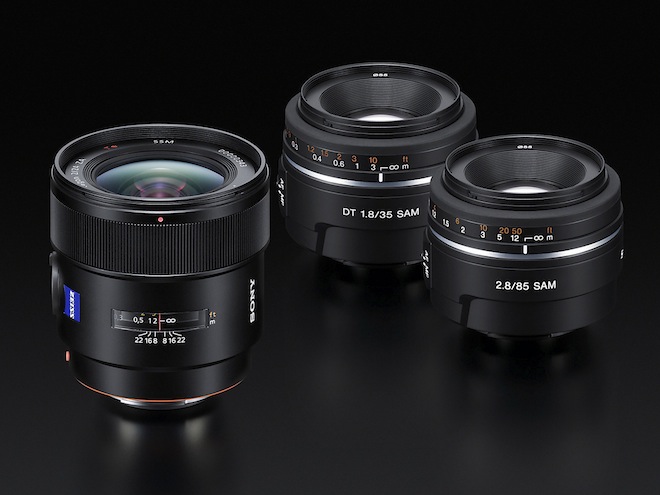 The official announcement of the A77 is due this week. This is a camera that significantly outperforms the current video DSLR top guns Canon 7D and GH2 in every department. If you are going to shift systems your Canon or GH2 compatible lenses (and even Nikon) will be paperweights on the Alpha because of the long flange distance of the mount. Also Sony's lens range isn't exactly huge and third party support is less than for Canon and Nikon.
So I've been doing some research into what the good deals and good optics are for the A77.
These are affordable lenses that won't break the bank – changing systems can be incredibly expensive. If you have the money to buy the best, you probably won't need to read this just choose highest numbers at the shop!! Also it is a bit premature to invest so much in Sony-only glass this early before Canon has brought out an answer to the A77, so most of the lenses in this round-up have manual aperture control and can be adapted to Canon systems and mirrorless too. Lenses that do not 100% adapt to Micro Four Thirds and Canon are marked with a * (i.e. they lack manual aperture rings, mainly).
You can dip your toe in or buy the whole lot, it's up to you.
Depending on what you shoot, keep in mind you may want to place some emphasis on AF with the A77 because it has continuous phase detect AF and AF tracking in video mode. Some newer Alpha lenses have silent AF systems. If you're doing action scenes, run & gun, video journalism, ENG, news gathering or documentary work with a DSLR this could be invaluable. Many of the lenses below are manual focus but I've made sure to include some which are AF capable.
Samyang (often Rokinon or Bell & Howell)
Worryingly for the Japanese, South Korea has it pretty much covered! They offer the right focal lengths… the ones I use most often – 14, 35, 85. They're also fast and sharp. Bokeh is a slightly weak point of the lenses however; Sometimes with the 35 I do miss my radioactive Canon FD 35mm F2 SSC. But I got rid of it for the right reasons, I didn't want to die!

8mm Fisheye (just $279
)
There's a Russian fisheye, 16mm F2.8 from Zenitar which I was very fond of on full frame… But 16mm isn't quite fisheye enough for me on APS-C. I recommend the 8mm from Samyang, you won't be too much out of pocket – leaving more dosh left over for more regular lenses.
14mm F2.8 (just $379
)
Fast wides are again pitifully few on Alpha, like for Micro Four Thirds. In fact it's hard to imagine a better wide angle option than this. Equivalent to 21mm on a full frame camera, it is actually also a full frame lens so when the Sony full frame DSLRs come out in 2012 you can use this yet again, or adapt it to the 5D Mark 3 if it ends up being better! Like all Samyang lenses it is fully manual, including the aperture.
35mm F1.4 (just $499
)
Whilst bokeh is slightly nervous this is one hell of a lens. It's available in Alpha mount, I have the Canon version. Both have a manual aperture ring and build quality is pretty good considering the price. Extremely sharp, though flare can be an issue. If you want to save money and need AF, the Sony 35mm F1.8 is a fantastic alternative (see below).
85mm F1.4 (just $269
)
One of my favourite lenses of all time – Contax Zeiss 85mm F1.4 AE – won't adapt to the Sony Alpha without a hardware mod of the lens. Of course there is the modern Alpha mount Zeiss but it is very pricey and lacks ninja star bokeh! The different between this Samyang and the new Zeiss is not actually that huge apart from the price – same specification and yet high quality glass. An absolute bargain – highly recommended.
Adaptable manual focus lenses
There's not much from Minolta left on eBay that isn't bettered (and with AF) by the newer Sony versions, and due to their scarcity (50mm aside) the prices aren't very attractive. Really there are only two legacy lens formats worth looking to here, and they are M42 and Leica R. However, like Canon FD the really nice stuff is being fast snapped up and these lenses are getting rarer. I can only really recommend 3 here, out of 4 decades worth of optics. Amazing, but that's the way it is.
Look to get an M42 to Alpha mount adapter with an AF confirm chip on it – since phase detect works in live view and video mode on the A77 it will be interesting to see if the AF confirm of the adapter also works in live view. No reason why not!
M42 Carl Zeiss Jena DDR 35mm F2.4 (circa $250
)
If you want something that will adapt to other cameras, is very close focussing and is smaller with cleaner bokeh than the faster Samyang this is a good option plus it's much cheaper. It adapts to almost anything but if I just planned to use it for the A77 I'd choose the 35mm F1.8 SAM DT instead.
M42 Helios 44 (circa $20
)
These are ultra cheap but characterful 55 or 58mm F2 lenses from Russia. Good quality optics, nice flare but a lack of sophisticated coating makes for quite a low contrast image especially wide open. They do pair well with anamorphic lenses however! Nothing gives you so much image quality for so little money on so many different systems.
M42 Jupiter 9 (circa $150
)
This is an 85mm F2 with full frame coverage, nice bokeh and pretty sharp. Not as flare resistant or as contrasty as a Zeiss of course but a great bargain and it's a beautifully cinematic lens. It's also pretty compact for a 85mm F2, at least as small as the Nikon equivalent. As an added bonus typing things like Jupiter 9 Alpha into Flickr makes you feel like you're living in the future. Check out the Flickr samples here.
Leica R 35mm F2.8 (circa $600
)
A beautiful lens with creamy bokeh and ultra sharp. Not the fastest lens, but certainly one of the best. For a Leica it is reasonably priced too.
Sony Alpha
I am interested in the new kit lenses especially the 16-55mm and 24mm F1.8 not least for their silent AF and stabilisation. But I am wary of spending too much on Sony-only stuff, without the manual aperture rings or mechanical focus of less system dependant lenses like the Samyangs or M42 offerings. The Zeiss G stuff is very expensive, so these high end lenses won't be in this round-up. Instead, let's stick to a diet of basics – which are in fact rather good, offering massive image quality for the price.
Alpha 35mm F1.8 SAM DT * (just $199
)
This is a lens that constantly gets superb reviews (optically at least) and it is one of the cheapest modern fast 35s you can buy. Build quality is rather plasticy of course (think Canon 50mm F1.8 Mk II) and you can't really use the tiny focus ring with a follow focus but optically it's the best for the price without any doubt. In many respects outperforms the high end Sony 35mm F1.4 G version according to reviews. Be sure to see these rather lovely samples on Flickr.
Alpha 50mm F1.8 SAM DT * (just $150
)
Very sharp, nice and fast, cheap. If you want to dip your toes in the Sony water this is a good place to start. Personally I prefer a 35mm on a crop sensor though. It's closer to that 50mm is on full frame.
Zooms
Tokina 11-16mm F2.8 * (just $659
)
A worthy alternative to the Samyang 14mm F2.8 but double the price. For that you get one of the best quality ultra wide zooms for APS-C cameras on the market and AF. If you don't need that or the 11mm or 16mm end then get the Samyang and save some money. The Samyang also has manual aperture control ring (versatile for other cameras) which the Tokina lacks, and can be used on full frame DSLRs whilst the Tokina will vignette.
Only the Tokina and the Samyang 14mm go 16mm or wider on the Alpha mount at F2.8.
Sony 16-105mm F3.5-5.6 *
If you don't get the new kit lenses (see below) this is a great walk-around option with a very good range. No other zoom on the Alpha system goes wider and longer in one optic. It is, however, a little on the slow side. It is superseded by an equally slow Zeiss 16-80mm but that lens is more expensive. If you can't afford either pick up the very cheap 18-55m A55 kit lens instead but make sure you have some fast primes if you do anything other than point & shoot with one lens.
New kit lenses
Zeiss 16-50 F2.8
The jury is out on this but if you don't need the 105mm reach of the older zoom above, this should be a no-brainer. Construction is mixed metal and plastic though, and it could be rather pricey in part due to the current Japanese exchange rate issues.
Zeiss 24mm F1.8
This high end lens will be expensive – it might be delicious – it certainly will perform well in terms of silent AF and sharpness – but will it be worth the money over the forthcoming Samyang 24mm F1.4? That is a battle I can't wait to see.
EOSHD's selection
When I first get my A77, I'm not going to buy everything on this list. Top of my shopping list is the Samyang 14mm F2.8, the two Sony SAM DT lenses (35 and 50mm F1.8) and the Jupiter 9 85mm F2. If I only had to pick two of these I'd get the Jupiter 9 and Sony 35mm F1.8… Which together comes to less than $400. That's bang for buck.
Feel free to add your own suggestions below…