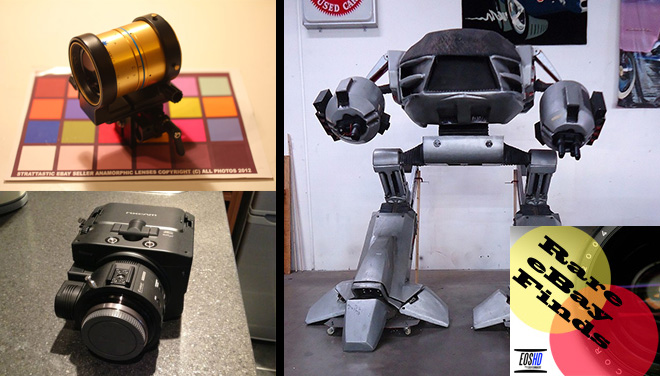 New in this update
Robocop 2
Sony FS100
Isco 2x anamorphic with support system for 15mm rails
Optex 1.33x anamorphic lens

Robocop 2
Buy it now
One robot, may need some attention. A snip at just $25,000. It is recommended you do not tell your wife about this purchase. Buyer must arrange own transport since walking & stomping manoeuvrability is reduced after years in storage. Tendancy to go haywire and kill people. Model number is ED-209. No manufacturer warranty remaining.
Sony FS100
Buy it now
 (UK)
This low light specialist is now a total bargain on the used market. For the same price as a Canon 5D Mark III you can get a genuine cinema camera. This is in the UK and at £3000 is the cheapest I have yet seen. These rarely come up on eBay in the UK and Europe. I imported mine from the US. The FS100 still retails at over £4500 new at stockists, what's more this is just 2 months old and has apparently had less than 2 hours usage. Buy it!!
(US readers may find this a bargain
 – the FS100 here comes with an E-Mount 18-200mm lens which is worth $600 on its own)
Isco 2x anamorphic with support system for 15mm rails
Buy it now
EOSHD forum user and all round nice guy Andy is selling this Isco anamorphic, with his own clamp system. Though this is a projection lens it is a much more practical one than the other much larger and bulkier ones. It also flares beautifully. The clamp he sells for £175 on its own, so that effectively makes this anamorphic just £135. The glass is very sharp, though you will need to focus both the prime and the anamorphic (like with the Kowa 8Z for eample) and use diopters for closer focus than 2m. To avoid that you need to spend 10x more on an Iscorama, so this represents one of the best budget anamorphic deals on eBay.
Optex 1.33x anamorphic
Buy it now
I shot Bridge with this at Photokina in 2010 (below) and regretted selling it ever since. Enjoyed the lens – it is very small and light, you can focus through it so good for run & gun. It is very similar to the much sought after Panasonic LA7200. These lenses are a great investment because they are rare and seemingly doubling in value every 12 months. This is a 1.33x stretch which will give you the standard 2.39:1 cinemascope format from a 16:9 DSLR image unlike the more extreme 1.5x and 2x lenses. I have only seen one of these Optex England lenses crop up on eBay in the last 6 months. The LA7200 costs nearly double the asking price here and is only slightly sharper at the edges.
[vimeo]http://vimeo.com/15543342[/vimeo]