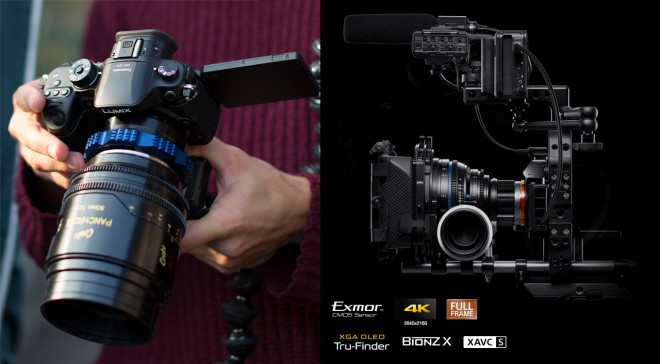 It looks like the story of 2014 is taking shape in the form of very high quality 4K on large sensor mirrorless cameras. Last year for me it was raw on the 5D Mark III which excited me the most and before that it was the Blackmagic Cinema Camera. This year is more exciting on the tech and creative front than any I can remember.
Here's my look at how the GH4 and A7S compare in detail for 4K cinematography…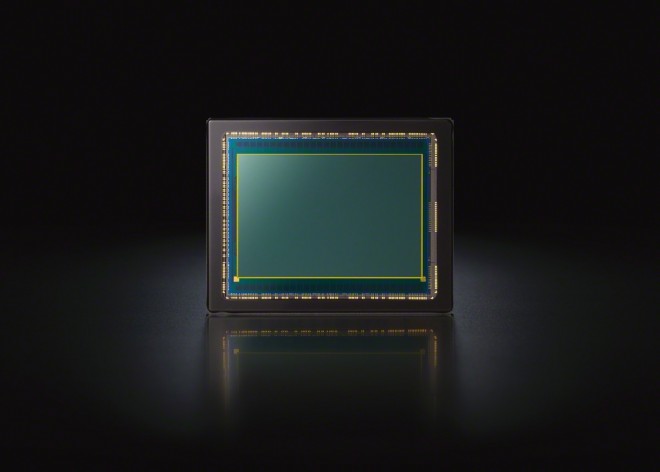 Sensor size
GH4 – 1.5x crop (4K mode with Speed Booster) / 2.2x crop without Speed Booster
A7S – 1.0x crop (full frame mode)
Pixel size
GH4 pixel size – 3.7 µm
A7S pixel pitch – 8.4 µm (possibly greater)
The GH4 is a 1.5x crop with Speed Booster compared to full frame photographic. That is Super 35mm size. Without Speed Booster it is a 2.2x crop in 4K mode. You can still get the Super 35mm cinema look with most glass at this size of sensor. It is way bigger than Super 16mm (3x crop) or 'small chip' (5x crop or smaller).
The pixel pitch on the A7S depends on the gapless micro lenses and architecture of the sensor but in theory 12MP on a full frame CMOS should be around 8.4 µm. Much larger than even the 5D Mark III's 5 µm pixel sizes and far larger than the GH4's 3.7 µm. This should result in usably clean ISO 12,800 on the A7S while the GH4's maximum usable ISO is around 3200, 6400 at a push if delivering 4K for 2K with noise reduction in post.
Which wins? Clearly for low light the A7S is going to be wonderful. The GH4 has a sensor size which is better suited to the Super 35mm cinema standard and APS-C lenses, while for the full frame look the A7S is obviously the way to go. The Sigma 18-35mm F1.8 on Speed Booster with the GH4 will give you a similar look to a Canon 24-70mm F2.8 on the A7S but to achieve a look close to that of a 24mm F1.4 or 50mm F1.2 is much harder. The GH4 will have the more manageable focus though as soon as anything moves. That's quite important. Some of the A7S's advantage in low light is reduced if you have to stop down to F5.6 or even F8 just to get manageable depth of field.
In 4K mode both cameras do a 1:1 pixel readout of the sensor, outputting all pixels in the 16:9 4K window with no binning or line skipping. This means moire and aliasing as we've experienced it is a thing of the past. On these cameras it will be reduced to the levels seen in JPEG still images – that is to say it just no longer a problem for everyday shooting.
Codec
GH4 4K codec – 100Mbit IPB (long-GOP) H.264 in Quicktime MOV
A7S 4K codec – N/A
GH4 1080p codec – 200Mbit/s ALL-I H.264 in Quicktime MOV
A7S 1080p codec – XAVC-S at 50mbit/s
HDMI output
GH4 – 4K 10bit 4:2:2
A7S – 4K 8bit 4:2:2
Grade-friendly picture profile
GH4 – Panasonic CineLikeD
A7S – SLOG 2
The lack of internal 4K recording on the A7S is very disappointing. The recorders to make use of this won't be available for a while and will cost as much as the camera body again. The GH4 ships in late April and records 4K out of the box with no rig. It is very good 4K out of the box as well. It grades superbly and makes for excellent 2K delivery also.
The HDMI output of the A7S is key to why this camera is attractive but here too the GH4 is better specced. It can deliver 4K in 10bit as opposed to just 8bit on the A7S. It is a shame Sony did not push the boat out just a little bit more on the A7S's 4K recording side. For 1080p it seems very good though, finally dumping AVCHD and going XAVC-S. SLOG 2 is also a welcome addition. This is flatter than CineLikeD on the GH4 though I question the wisdom of shooting too flat with an 8bit codec. It requires a more forceful grade and that will introduce banding.
[vimeo]http://vimeo.com/90683855[/vimeo]
Mount and lensing
GH4 – Micro Four Thirds
A7S – E-mount (FE)
Lenses define the overall look and feel of the GH4 and A7S far more than any other aspect on the spec sheet. Sony E-mount has the better compatibility with Canon EF lenses but you cannot use the Metabones Speed Booster on full frame. This is designed for crop sensors. PL adapters exist for both mounts but the GH4 has the sensor size better positioned to make use of cinema lenses designed for Super 35mm. My Cooke S4i/Mini lenses for example will not cover the full frame sensor of the A7S so if I want to use these for 4K I need the GH4.
I enjoy seeing the edges of lenses not just the sharp centre. This goes for all sensor sizes. On Super 16mm with the Digital Bolex I preferred to use C-mount lenses designed for the format for example, where you have a bit of softness and fall off at the edges and a sharp middle. This to me is attractive. Ditto on full frame, I like to see the edges of my Canon 50mm F1.2L where the bokeh begins to curve and go elliptical. Both the GH4 and A7S have lenses which are great matches for the sensor sizes. On the GH4 the Voigtlander 17.5mm and 25mm F0.95 will look beautiful. With Speed Booster on the GH4 my current favourite is the Sigma 18-35mm F1.8 which gives me a look close to the 24-70mm F2.8 on full frame but not quite as wide or as long. It's very sharp and great in low light. The A7S arguably has the best rendering of the widest range of lenses, because there's just SO MUCH full frame glass out there, from decades of photography, new and old. My favourites are the Canon L series (24mm F1.4L, 85mm F1.2L, zooms like the 70-200mm F2.8L IS) and of course the look of an Iscorama anamorphic on a Helios 44M is incredible on full frame. I still use a lot of vintage stuff when I want more flare and lower contrast. All the lenses I recommend will shortly feature in my A7/A7R/A7S lenses guide which you can pre-order now.
It's worth noting that Panasonic have the most video optimised lenses for the GH4 but Sony are working hard behind the scenes on some rather appealing offerings like this –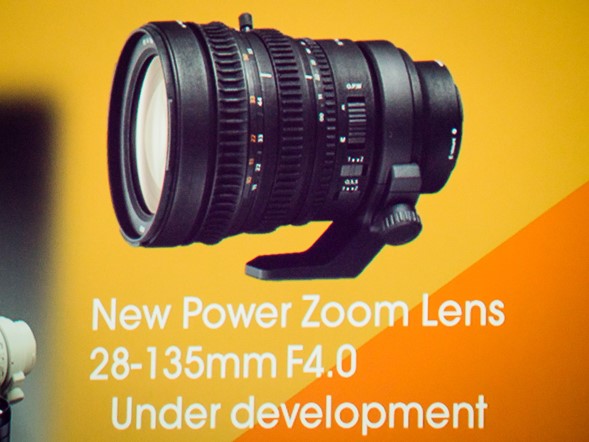 Audio and connectivity
Both cameras feature external XLR bolt-ons and the Sony solution is the most elegant. The GH4's solution takes the form of the YAGH interface unit, which is ergonomically not great and requires external power. However you do get the added benefit of full size HDMI and HD-SDI ports with this. There's no solution for HD-SDI on the A7S.
Both cameras use Micro HDMI ports on the camera body itself to deliver 4K video externally. This is the worst connection known to man. Far better would have been a full size HDMI connector with proprietary locking device which secures the jack to the chassis of the camera rather than just to the internal circuit board. The problem is more of an issue on the A7S as the GH4 can record 4K internally. If the jack falls out on the A7S you lose the shot. If it falls out of the GH4 you just lose the monitoring. That said when outputting 10bit 4K over HDMI on the GH4 for recording, you can't record to the SD card simultaneously as a backup.
Both cameras feature 3.5mm mic and headphone jacks along with the usual array of on screen audio meters and gain controls.
Form factor
With such small cameras you have opportunities but also some drawbacks. The A7S is the smaller of the two and it will be interesting to see how the smaller battery holds up vs the large one in the GH4. It might be nice to bulk out the A7S a bit with the Sony battery grip. In the UK the GH4 actually comes with a Panasonic battery grip in the box at some retailers for no extra charge. Both are weather proof and have magnesium alloy shells.
I am not sure the parts you need to attach to the A7S are exactly well matched in size to the compact body though… Getting a good balance is going to be a problem with this camera.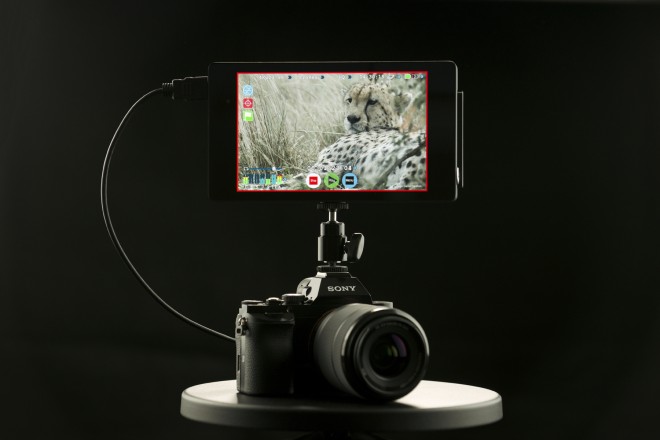 Rolling shutter
This could be a real deal-breaker on the A7S if it does not perform well. The Sony AX100 was very poor in 4K mode with regards skew. The lower megapixel count of 12MP should help here but it is a big sensor in terms of physical size. It all depends how fast that readout is. On the GH4 the sensor readout is 50% faster than the GH3, which already had some of the least rolling shutter skew of all the affordable 1080p cameras. So a positive here for the GH4 and a question mark for the A7S.
Slow-mo
The GH4 shoots full HD 1080p at 96fps and image quality depends on the shot. For lenses like the Panasonic 35-100mm F2.8 you get a nice sharp slow-mo image for medium close-ups and people. For wide angle work at 12mm the results are less impressive because the image doesn't resolve as sharply or as cleanly at 96fps as it does at 60fps. The 96fps rate is certainly more dramatic and Frank Sauer showed me some amazing results from his shoots using it. I'll have more on slow-mo in the final GH4 Production Diary later in the week.
The A7S shoots 120fps but only at 720p. To be honest 1080p at 96fps looks more like 720p in terms of detail on the GH4 so this on paper might not be too much of a disadvantage for the A7S. It all depends on if it can maintain image quality at this resolution and speed. I'm expecting a lot of line skipping in this mode. The low light prowess of the 12MP full frame sensor though should come in very handy for slow-mo, because you have to use much faster shutter speeds at 120fps compared to 24fps. I'm not expecting the image to beat the FS700's slow-mo given the price of the camera but it could be a very cool creative tool. I shot this on the super cheap Nikon V1 – resolution is not everything!
[vimeo]http://vimeo.com/62177101[/vimeo]
Personal opinion
I will be shooting with both of these cameras this year. I am super excited to own both of them. I've already shot for a week with a pre-production GH4 and loved the images. For me the pair of them each have their own purpose. Speaking personally for my own filmmaking work, the GH4 has the advantage of small size and stealth as it doesn't need an external monitor or recorder for 4K recording and it has a sensor size compatible with my Cooke PL mount lenses. This will be useful for on-location situations that call for high image quality but discrete filming, to capture a natural mood and non-staged moments as a documentary shooter.
The A7S I will use for low light shooting mostly or when I specifically want a full frame look for a locked down shot. Overall I am expecting the image to be most exciting from the A7S. Full frame – love it. Low light – love it. No internal codec – don't love it! Although shooting wide open on such a large sensor gains you an extra dimension of aesthetic beauty that is sometimes lost on a smaller sensor, I don't love trying to focus it on a moving subject. I don't like the shallow depth of field where people drop in and out of focus constantly but I do love the silky lack of noise, wide dynamic range and full frame rendering of photographic lenses that a full frame sensor gives me.
I am expecting nearly 14 stops in 4K video mode out of the A7S. By that I mean captured and baked as shot, not 14 stops that you can shift around in post like with raw, though it will be interesting to see what SLOG 2 handles like on this camera.
Well done Sony for trying something amazing here, even if in terms of some of the implementation it is a bit tepid and doesn't quite go far enough. Let's hope the 4K external HDMI capture solutions are as exciting as the A7S itself.
By the way – what happened to these shown at last year's NAB? Is the A-mount one dead and did it evolve into the A7S? I'm not expecting this to be the only 4K camera Sony announce this year. Photokina comes in September, which should be pretty interesting too.