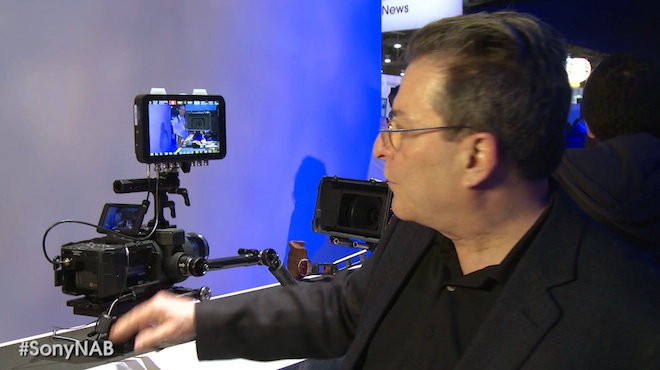 Super charged specs!
1-60fps 4K raw to DPX format
120fps 4K raw burst mode
240fps 2K raw continuous to Cinema DNG (would love to see the file sizes on that!!)
Single 3G HD-SDI link
You won't need Sony's own expensive raw recorder for the F5 to get 4K raw on the FS700. The camera firmware will step it up to being able to deliver 4k over a single 3G HD-SDI connection to the affordable Odyssey7Q monitor / recorder.
And what a step up that is.
When I tested the FS700 last year I was pretty disappointed with the image quality although slow-motion was absolutely great. That iffy image quality (worse than the older FS100) was down to scaling the 4K sensor and compressing it to AVCHD.
[vimeo]http://vimeo.com/58068874[/vimeo]
In a stroke the update from Sony fixes this and gives us a full sensor output at 4K to the DPX raw codec on the Odyssey7Q at up to 60fps!
It even does 4K at 120fps in a high speed burst mode of 4 seconds (buffered).
Even better, 240fps continuous high speed recording in 2K raw is possible.
The FS700 costs only a little more than the Canon C100 yet leaves it completely in the dust now. What a shame the ergonomics aren't more like that camera or the F5 / F55. At least you get a built in ND filter this time round and with raw you won't be constantly digging around in the camera settings – just stick the shutter to 180 degrees and leave the ISO to post – the rest is on the lens.
[vimeo]http://vimeo.com/63672082[/vimeo]
Now before you hover your finger over the Buy It Now button like I just did, realise that Sony are still tightlipped on how much the firmware update will cost (if anything) and there seems to be some confusion too about whether the camera needs to go off for a chargeable service due to hardware changes.
It is about time they got this pricing info sorted out.
Be aware too that the FS700 raw capability and 240fps recording of the $2295 Odyssey7Q cost extra over the $1295 Odyssey 7 and $2295 7Q base model but Convergent Design are still offering a total bargain here. OLED monitor and 4K raw recorder for far less than Sony offers just the recorder!
It seems likely that if not quite next month but in the near future you can pick up a Super 35mm 4K raw FS700 for less than $10,000 with the state of the art recorder and OLED monitor. Keep an eye on used FS700 prices at eBay
. The best price I have seen on a new FS700 in Europe is £6600 which is nice but double the price of the Blackmagic Production Camera, even before you go on a shopping odyssey at Convergent Design. However just look at the advantages:
240fps in 2K raw for extreme slow-mo
I am hearing up to 15 stops dynamic range (even compressed to AVCHD the FS700 sensor did close to that)
Better low light performance
Built in ND wheel 
E-mount more adaptable for Super 35mm lensing than Canon EF
Metabones Speed Booster in 4K – hooray!
Small interchangeable batteries
OLED monitor (with Odyssey7Q)
And the disadvantages are pretty minor. Rolling shutter is minimal on the FS700 though it cannot compete with a global shutter like on the Blackmagic. However that does hurt low light and dynamic range quite significantly.
Remember the raw crunching is being shared between camera and external recorder so you will still likely be able to run the FS700 on normal Sony NP F770 batteries. All in all the camera seems not too far away from the F55 considering the price gap in all but ergonomic design.
I think the 4K raw Super 35mm FS700 Odyssey7Q although more expensive will be the more capable kit.
This kind of direct tap on the very capable FS700 is a great way to go, so congratulations to Sony. I've always assumed that if DSLRs get raw or 4K recording it will be via a direct tap on the sensor like this which bypasses the cheap consumer photography hardware in the camera. The sensors are much more capable than the processors now.