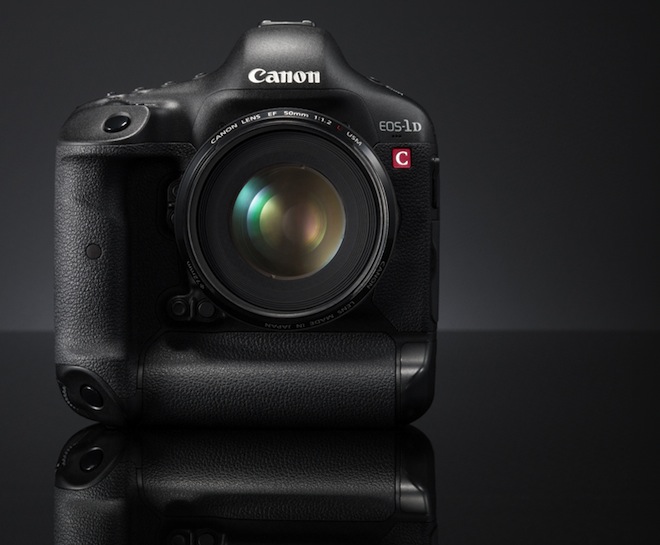 Above: the Cinema 1D, a 4K video camera and a stills camera second
Today Canon made official their plans to enter the high end cinema and TV production market with two very competitively priced products relative to the current industry standards – the Arri Alexa, Sony F35/F65 and Red EPIC.
How do they fit in?
Canon Cinema 1D
This camera is a departure for Canon because it is 100% a tool for industry. It isn't really aimed at the lone professional, freelancer or pro photographer. At $15,000 the Canon 4K DSLR is a b-camera to the Canon C300 on set which fits in a tighter space and offers the option for 1080/60p slow mo and cropping into a 4K image (giving the ability to re-frame in post). As a stand-alone camera it offers a very future proof 4K recording format from an APS-H crop and it is also a professional full frame stills camera.
There hasn't been a product of this kind before in the cinema camera industry. Making sense of the 4K DSLR is rather difficult as no precedent has been set.
For studios who do both professional video and stills, the cost over a Canon 1D X of the Cinema 1D is an extra $9,000, similar to the cost of a Sony FS700 which is not yet 4K capable out of the box. For a lot of people the Cinema 1D is going to be very attractive.
The industry is progressing toward 4K. Sony in particular is pushing 4K into the hands of consumers and cinema goers. Red have been providing 4K acquisition solutions for years before anyone else. Canon recognise that the future is 4K and have started providing the solutions. The Cinema 1D is part of this trend.
For professional 1080p acquisition the camera seems a good companion to the Canon C300 or Arri Alexa. As a 4K camera it can be intercut with the Red EPIC, Sony F65 and the FS700 once that camera becomes 4K with an external recorder. So the Cinema 1D – despite being a very different camera to anything else – does fit well into existing industry infrastructure and Hollywood productions.
In terms of low light, I'm expecting the 1D C which features a maximum ISO of 25,600 to significantly out perform the Red EPIC at higher sensitivities with less noise. So it may find a niche here as a low light 4K B-camera on professional sets. Since it has such a large full frame sensor and Log Gamma mode, dynamic range should be far better than we've experienced in consumer video modes on DSLRs like the 5D Mark III, where the sensor is capable of delivering but the camera not capable of storing the full dynamic range in video mode. The Technicolor Cine Style picture profile improved matters slightly by allowing you to move dynamic range around in post but it didn't really give you extra usable dynamic range because it was still limited by the consumer-grade recording format.
The camera is not perfect – it lacks the smooth tones of 10bit or 12bit colour and the gradability in post of a raw codec – so potential filmmaking professionals might want to consider how this will affect their projects. 8bit colour has a subtle negative affect on areas in the frame containing a large area of one shade of colour – like blue skies or pale walls – and a potentially destructive affect on VFX work with green screen and keying.
The build quality of the Cinema 1D is suitable for a film set and for rental. But an area of concern is that it lacks robust HD-SDI and XLR jacks for video and audio monitoring. The 3.5mm headphone jack and HDMI socket are both consumer standards not pro, so rental houses and studios may want to consider the shooting environment and kind of usage they put their camera through before investing in a set of Cinema 1D DSLRs.
One puzzling aspect concerns the European broadcast PAL standard of 25p. If organisations like the BBC are to include the Cinema 1D in their productions, outsourced or in-house then 24p is an unsuitable format. Professional broadcasters do not allow you to mix 24p and 25p on the editing timeline and there are issues around flickering electronic lighting. The 4K on this camera seems only to support the Japanese and American NTSC 24p standard.
Those in the UK, China, Russia and Europe may have to hope Canon is not excluding their format from the Cinema 1D and that the omission is a error on the marketing material.
Key selling points:
Potentially ground-breaking high ISO performance on a 4K camera
4K capable without the need for an external recorder
Small form factor (suitable for vehicle action scenes, confined spaces or stealth shooting in public places)
Log Gamma mode to maximise the already large dynamic range provided by Canon's DSLR CMOS sensors
High build quality (but no HD-SDI or XLR jacks)
A competitive price point relative to Red and Sony's 4K offerings
Bitrate of 500Mbit in MJPEG mode for 4K
4 minute of 4K footage per 64GB compact flash card
For 1080p and ALL-I, IPB codecs (H.264) similar to the 1D X which give you longer recording lengths and takes up less space
What about the Canon Cinema EOS C500 prototype?
This camera sees the introduction of Canon's first raw video format, EOS RAW. It is also 4K capable and does high frame rates such as 120fps for slow motion sequences. This camera is aimed squarely at A-cam territory. The Red Epic, the Arri Alexa and the Sony F65. The prices mooted so far for the C500 undercut all of those offerings and the technology itself appears to be very attractive with a colour space of 12bit and a similar form factor to the C300 with HD-SDI and XLR jacks.
EOSHD will have more coverage of the 4K EOS and C500 when NAB 2012 begins this weekend.