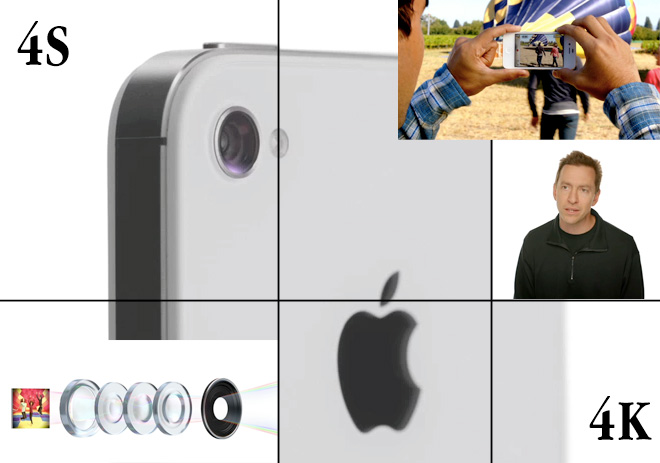 iPhone have chosen Omnivision's OV8830 sensor for their iPhone 4S and the module has a surprise up its sleeve along with some some quite startling technology we're not unfortunately seeing on the consumer handset itself.
Can't wait for the jailbreak!
According to the official sensor specs on the Omnivision website the sensor can run at 24fps in 8MP mode, that is 3264 x 2448 in 4:3. Amazing!
Sony were speculated to have provided some of the sensors or possibly the front facing camera but at the moment this doesn't appear to be the case. A big win for the Taiwanese Omnivision.
Since this sensor is 4:3 (photographic) rather than in a 16:9 video aspect ratio it has more vertical lines and less horizontal – and so would only be capable of 3K video if enabled by the software and cropped to 16:9 but in terms of outright performance there is no denying this sensor is a beast.
8MP @ 24fps = 4K video. That 8MP is (roughly) the same resolution pixel-for-pixel that a RED camera pumps out when it does 4K at 24p with a resolution of 3,840×2,160.
Instead of Apple implementing 4K video (probably due to memory and heat issues) the sensor uses this nice video output resolution advantage to enable electronic image stabilisation (EIS). The image processor then scales the high resolution output of the sensor to 1080p or 720p.
Scaling down the sensor output of 8MP or 4K to standard full HD is done by 2 x 2 binning. This method of scaling is better than a Canon DSLR (line-skipping) and similar to how the Sony NEX 5N resolves 1080p – but not as good as the GH2 which has a more advanced method. We shouldn't be expecting very much moire and aliasing on the iPhone 4S according to Omnivision:
"The sensor's binning functionality with post-binning re-sampling filter minimizes spatial artefacts and removes image artifacts around edges, delivering clean, crisp color images."
"The high data-output of the sensor allows other advantages. No image lag for shutter-less designs, continuous shooting [up to 30fps at 6MP and 24fps at 8MP], minimized rolling shutter effect and real-time image capture with no lag between resolutions."
The sensor size for the new iPhone 4S is 1/3.2″ – only a little smaller than the usual 1/2.6″ compact. With a close focus and F2.4 aperture you can get some nice background blur – yes, even though it's a phone not a DSLR!
The sensor is also better in low light. It has a backside illuminated design (BSI) like in modern Canon and Sony compact cameras. The lens is also new featuring a maximum aperture of F2.4 and 5 elements.
The camera module measures just 8.5 x 8.5 x 6 mm.
Seriously impressive!
But why don't we (quite) have the full capabilities of the hardware available to us?