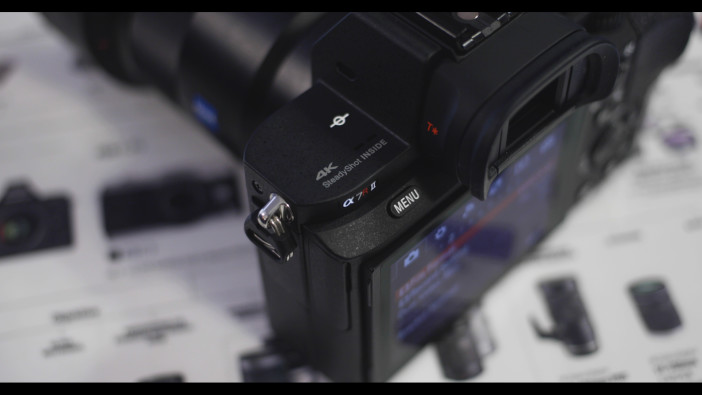 This first hands on is with a pre-production model, so no footage for now. Instead on Tuesday August 4th I will shoot for the first time with the final retail boxed Sony A7R II in Berlin at a boxing academy. Be sure to check out EOSHD for that and the full review next week.
The Sony A7R II represents a significant escalation in specs for both stills and video, a truly next generation camera.  To kick off my coverage of Sony's 1st 4K internally recording full frame mirrorless model I bring you this exclusive hands-on.
The 5 axis stabilised 42MP sensor appears at first glance to be a game changer.
I have never known such a well balanced, high performance chip.
It looks significantly less noisy at first glance than the Canon 5DS. I say Canon have a lot of catching up to do.
Usually a balance must not only be struck between low light and megapixel count, but between stills and video. Yet video on the A7R II is far better than I had expected, especially given that Sony have a video optimised A7S they could so easily have not bothered doing professional cinema line specs for video on the A7R II but they did.
The Minimum ISO in S-LOG2 mode is ISO 800, a significant improvement in usability terms over the A7S.
This picture profile must be disabled if using the silent shutter for stills though, that quirk still exists. The mechanical shutter in the old A7R was very loud. Not so this time, it has the quiet whir of a high end Nikon camera.
We had the Sony 55mm F1.8 FE on the camera. With this AF was enormously impressive. There's been a big leap here for the A7R II over previous Sony cameras. AF object tracking is massively more sophisticated and getting much closer to a flagship pro DSLR like the 1D X.
The problem of the movie record button being so awkward to reach, especially with your hand in the natural grip position has been solved by making it assignable to the C1 or C2 buttons near the shutter release. Other small changes abound and Sony are really working through that long list of changes. However it wasn't possible to assign the APS-S/Super 35mm ON/OFF toggle to a custom button. It is quite a dig into the menus to get to it.
The zoomed focus assist can be toggled during a shot whilst recording 4K, which is something the Canon 1D C doesn't allow. I find this endlessly useful in the real world and prefer it to peaking. The A7R II does have peaking but I'll wait to the final production unit to try it out.
The camera is now able to take power from a the USB port whilst recording. This means you can connect a massive USB power cell (20,000mha) and have it act like a V-lock battery on your rig. It also mean you can carry fewer Sony batteries, even jettison the battery grip and charge your camera via a phone top up power bank during down time on set, or even during a shot from the cell Velcro'ed to your rig.
The EVF is impressive but doesn't feel different to the original A7R at first glance. I'll do a proper comparison on Wednesday with the final camera.
120fps on this camera is full frame, no APS-C crop necessary! It is listed under the XAVC-S HD menu along with 24p. However I am told it is not full 1080p, but 720p. We'll see if the final firmware upscales this to 1080p like 480fps on the RX10 II. Not making any claims for quality yet!
The camera has a new locking mode dial, which I found inconvenient. I have never had the problem of the main mode dial being not where I want it or slipping in my bag. I don't want to have to press the lock down whilst turning it as it makes it slower and more fiddly to switch quickly between movie and stills mode!
Aside from that the camera body is pretty much as the Sony A7 II. It has a matte finish rather than the shiny A7S & A7R coating and it has put on weight! I have to say it handles better… but it is not as nice to look at.
Also the menus are still a bit of a mess where the sheer amount of features overwhelm the screen. The extra two custom buttons introduced since the A7R do help by virtue of you not needing to dig into the menus as much… but there are still things you will need to browse for, like switching from 4K to 1080p in a hurry or wanting to quickly re-frame by switching from full frame to APS-C or visa-versa… the ensuing frustration might make you wish Sony would adopt a Favourites menu tab like the 5D Mark III has.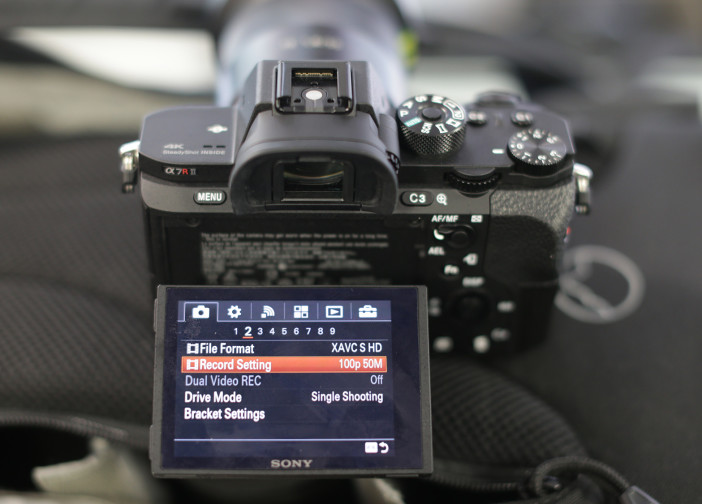 Stay tuned
Wednesday 5th August! Mark the date. This is when I will buy my Sony A7R II in Berlin and start shooting for real.
Let's see if Sony have given us a 4K dream camera that is even capable of beating the Canon 1D C.
Oh – and the canny Brits got it early!
On the EOSHD forum the cinematic time-lapse specialist Davide Roveri had his retail boxed Sony A7R II delivered already! You can discover his findings here on the forum and later his review will be posted on his own blog here. Below is Davide's interesting demonstration of the different modes and picture profiles –