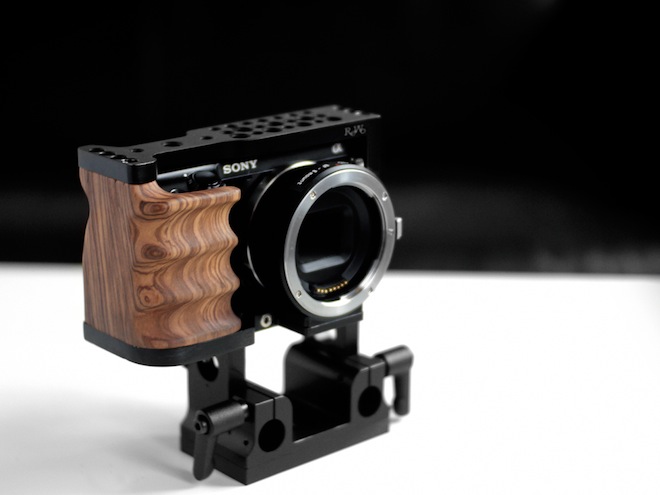 If you are interested in the NEX 7 cage get in touch with Philip and Wondo at ReWo's website here
The NEX 7 just became more attractive on a professional film set. Here is the ReWo cage for the Sony NEX 7. The shots below are of the most recent prototype. You may remember ReWo from the professional GH2 cage (see the EOSHD review).
The cage has smooth cut-aways for access to the tri-navi controls, shutter release and to flip up the screen from the bottom.
Access to the battery / SD compartment and HDMI socket is unobstructed by the cage. In fact with the cage raised on a rod block you can hot-swap the SD and battery without disassembling your rig.
As with the ReWo GH2 cage the NEX 7 has support for industry standard 15mm rails and Arri / RED standard cheese plate mountings.
The cage integrates securely with the Conurus / Metabones EOS adapter (the issues with which have now been 100% fixed). Because this adapter features a tripod mounting bracket, the camera is attached to the cage at two positions and that prevents any rotation or movement of the camera. A really smart design.
With the Metabones adapter the camera is like a b-cam C300, with support for Canon lenses, aperture control on the body, IS and more. It is like a 1080/60p C300 in fact!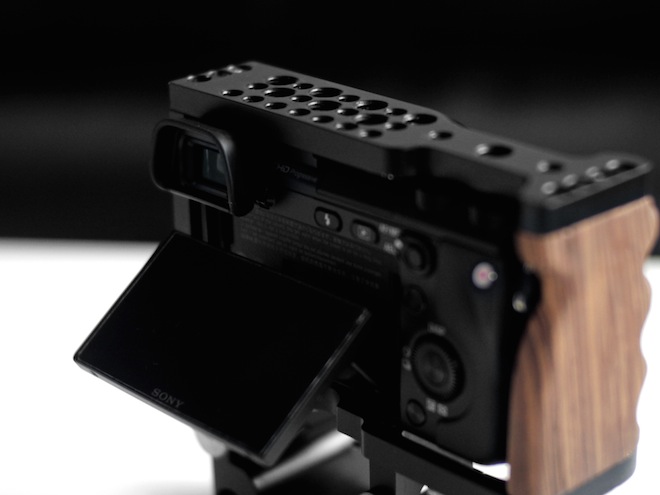 The cage will come in two versions – a standard one and the one with the lovely wooden grip. This version is strictly by request at the moment. Let ReWo know if you are interested so they can work on quantities and supply details when they become available.
The woodwork here is just beautiful but it is not something that can be mass produced easily! The rest of the cage is CNC anodised aluminium like the GH2 version.
I'm very much looking forward to going back to Berlin for the Summer from April onwards, and will catch up with the ReWo guys to take a look at the cage myself. Exciting stuff!