It's official. In 4K on the 1.8x crop Canon EOS R, the new 28-70mm F2.0 turns into a 50-126mm F3.6. Shooting with that combo is a $5300 privilege, with no wide angle to speak of.
I call for the Canon manager most culpable to resign.
The EOS R (R for Revolution, apparently) is Canon's most exciting and relevant camera this decade, passions are running high. I understand why. This is the modern Canon system everyone wanted and waited 5 years for.
1.8x crop in 4K is literally a deal-breaker for me. Nobody wanted this. I don't even think many inside Canon wanted it but through some kind of very high-up management decision in Japan we have ended up in this shambles yet again on an important new release for video. Canon appeals to both stills and video users in the marketing, they really emphasise video on it. There is a clear market for it. Why not buckle up and cater for it?
I can assure you – buying a full frame camera to shoot nearly 2x crop appeals to nobody. You can spend the same on a Nikon Z6 or Sony A7 III or wait to see what Panasonic will offer.
The EOS R comes with a plethora of other video-related problems. Pathetic 720p slow-mo which nobody can use professionally. It has horrendous rolling shutter problems and no IBIS. There are zero excuses at all for any of this in 2018, not least in their most important product in 10 years. So I repeat my call just so it's absolutely crystal fucking clear – to whoever is responsible – R for RESIGN!
R for "Reverse-gear"
The EOS R has gone backwards in several areas over the 5D Mark IV
With H.264 the internal codec drops from 4:2:2 to 4:2:0. I never thought I'd miss MJPEG, but that's going to hurt the image. If that isn't bad enough, the 4K crop has increased, because there's no option for DCI 4K resolution any more. As Canon explain in their official launch video, the 3840 x 2160 video frame is a straight cut out of the 30 megapixel sensor. That Ultra HD crop is more severe than the 1.74x crop of 4096 x 2160 on the 5D Mark IV. If you calculate the crop factor only horizontally it is 1.75x but taking into account the vertical crop as well, it is a bit more than a 1.8x crop of your lenses designed for full frame 1.0x.
Canon have been doing this 1:1 4K crop since 2012 with the 1D C. During the last 6 years, the technology to avoid a 4K crop has existed on a range of rival cameras up and down the line-up from low-end to high-end. Do Canon have a severe technological problem?
50-126mm F3.6 for $3000
Canon appears to want people forget the groundbreaking new R lenses for video – in particular the 28-70mm F2.0 and 50mm F1.2. The crop compels us to invest in EF-S lenses instead, with their boring slow apertures, just to get some form of wide FOV.
There is even a Movie Cropping option in the menus, which activates automatically for EF-S lenses in 1080p mode. Using APS-C glass on a full frame camera is pretty silly but Canon here positively encourages it!
So for 1080p can have a 1.6x crop like a 2010 Rebel. In 4K we don't even have the privilege of 1.6x crop. A crop of 1.8x in 4K ruins the wide end of EF-S and APS-C lenses as well. Take the rather more exciting Sigma 18-35mm F1.8 as an example. It's designed for a 1.5x crop not a 1.8x crop. It is supposed to be a 28-50mm F2.8 equivalent in full frame terms, but in 4K on the EOS R it is a rather less useful 35-66mm F3.4 with a less shallow depth of field.
I know Canon is banking on people not understanding this and buying an EOS R anyway.
Their marketing video claims it as a positive for wildlife!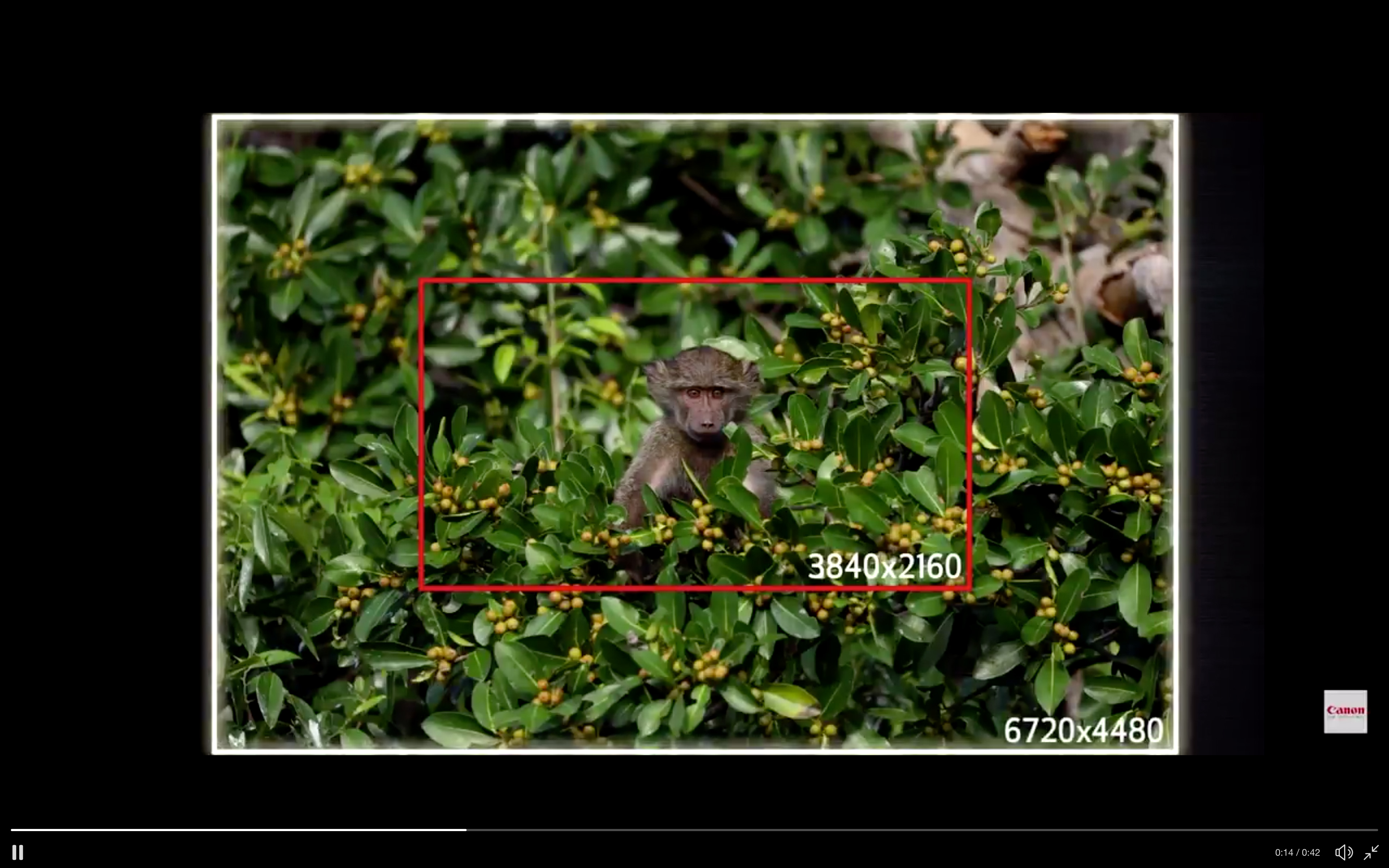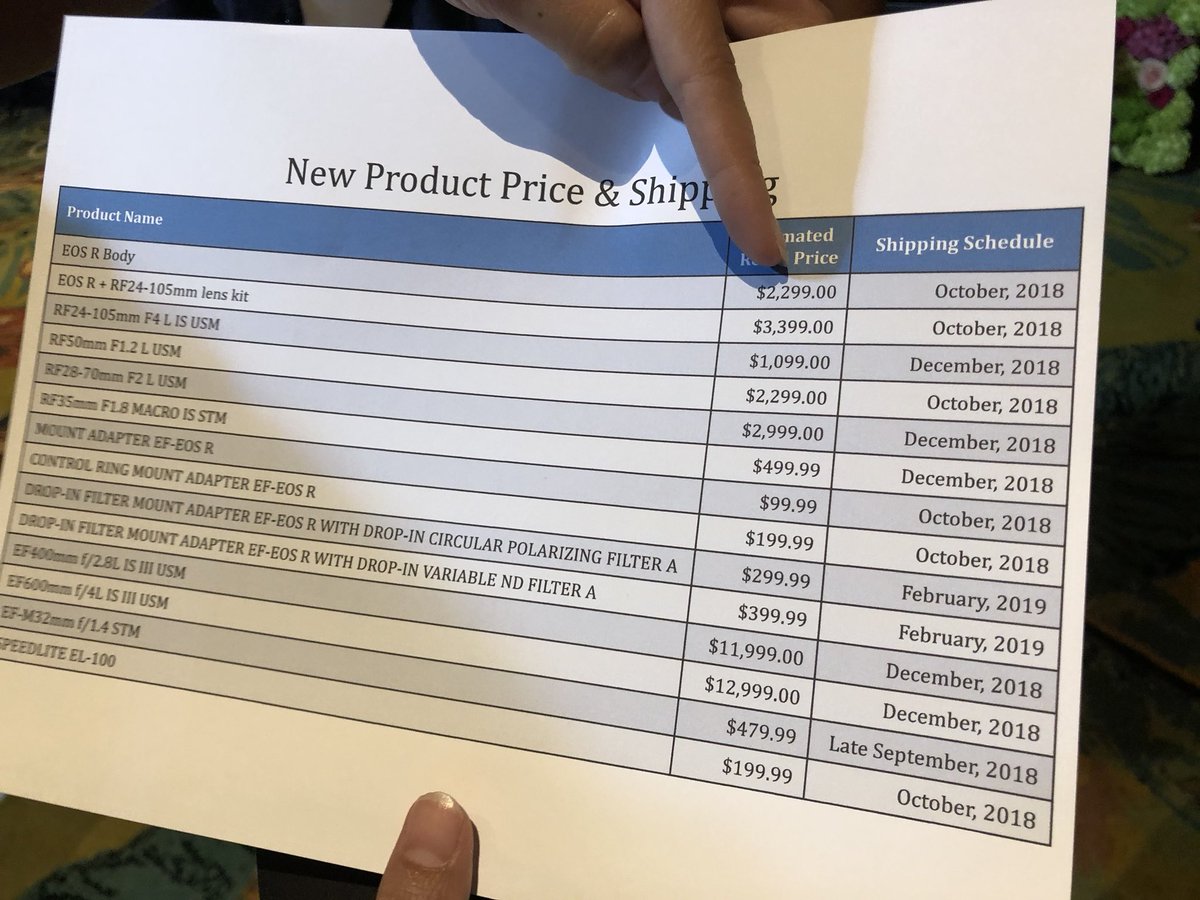 Above: Eye-watering lens prices considering the low-end body
There will be a $400 EF mount adapter with drop-in variable ND filter, but not until February 2019.
No 5 axis IBIS and dreadful slow-mo capabilities
There's no IBIS (sensor shift stabilisation). Just a small reminder – this is featured in ALL of the competitors to this camera. Canon try numerous times to fudge the wording of their official site material to make it sound like you're getting REAL 5 axis stabilisation and full frame 4K. You have to dig very deep into the launch material to even notice there is anything wrong. It's digital stabilisation with an even greater crop and worse image quality!!
It's extremely misleading.
Pathetic slow-mo capabilities are the final insult. There's no 1080/120fps, which has been standard on high-end mirrorless cameras since 2014 beginning with the Samsung NX1. Sony, Nikon and Panasonic rival mirrorless cameras all now offer very high quality 1080/120p without moire and aliasing. Fuji offer it as well, albeit at a lower quality on the X-H1 and X-T2. The forthcoming X-T3 I am sure will offer very much improved 120fps. On the EOS R you must drop to line-skipped 720p.
High bitrates – understand the truth
The ALL-I H.264 codec is an all-hype codec. Those high bitrate numbers might look attractive on paper. The reality is it does not offer higher bitrates PER FRAME vs IPB mode at 120Mbit. It's just very inefficient and hard to edit compared to superior codecs (like ProRes 422). File sizes are as unmanageably big as MJPEG but the image is worse than MJPEG – it's 4:2:0, not 4:2:2.
10bit is only via HDMI. Some may see this as progressive. I don't. It's a hangover from the past that pleases nobody but the external monitor manufacturers. HDMI is the worse connector known to man. Back in 2014 I did not want to use a bulky recorder on the Sony A7S to get 4K, yet they think I want to use it here just to get a small incremental improvement in image quality?
HDMI is not really an uncompressed signal. It isn't like having 14bit RAW data or real 10bit ProRes 4444. It is crippled 10bit and looking at the image might not even be real 4:2:2. On top of that the shitty cable can fall out at any moment.
The 10bit processing is INSIDE the EOS R so I don't see why I should have to buy an expensive add-on to get at it. Panasonic and soon Sony with the A7S III and Fuji with the X-T3 route their 10bit processing to an SD card, without any compromise to ergonomics, weight, wobbly cables or added costs.
Fine, if you are using a field monitor for manual focus, do that. Just don't buy the external recorder 10bit hype.
A chorus of condemnation
Philip Bloom:
"For me this camera isn't a revolution at all. Canon are playing catch up and with these specs they are far behind the competition, as in Sony and even the new Nikons. I have read some apologists saying that this is just their first one and they will release a "pro version" that will rectify all my issues with it. Well the 5DMK IV is a professional camera so this is too. I know it's their first mirrorless but Nikon have far exceeded this with their specs and cameras by Sony from 3 years ago have higher specs that this. I REALLY wanted this to be great. I adore the Canon image and love what I get from my 1DX MK II"
Jordan Drake:
"Still a huge ass crop in 4K recording. Looks the same as the 5D Mark IV. Heavy rolling shutter as well. Yes, it does suck that there's no IBIS. Canon will not be opening up RF mount to third parties."
DPReview:
"Video-wise, things are less impressive…it maxes out at 4K/30p and features the same 1.7x crop [actually 1.8 – EOSHD] that essentially reduces the camera down to sub APS-C quality and still appears to exhibit significant rolling shutter."
Despite being outgunned by ALL of the full frame mirrorless competition and now even Fuji, Canon are STILL making purposeful negative design choices when it comes to video functionality, concealed behind a wall of marketing and hype. I don't know whether this is Canon being technologically incapable or just plain obstructive. They are 5 years late to the full frame mirrorless market and 4 years behind on sensor technology. They have been overtaken not just by Sony but by Nikon. They have no justification or wiggle room to go shooting themselves in the foot on top of that as well.
It's bad enough that it cannot shoot full frame 4K because they're using a 2 year old sensor in a new product. But if they are preventing a very modest decrease in crop factor so it can shoot 1.5x crop 4K, they are nutting their own customers in the head. They're dancing around the boxing ring worried about their own C300 sales, whilst Sony lands a knockout punch, followed by Nikon, Panasonic, Fujifilm and even video-lightweight Olympus.
They have completely ignored the long-time warnings on this blog and from customers.
PLEASE do not reward Canon for insulting video users time and time and time again. Buy the Sony A7 III for the same money and get that full frame 4K look. It's absolutely beautiful. Choose REAL in-body 5 axis image stabilisation and 1080/120fps slow-mo with crisp detail. Consider the Nikon Z6 with all of the aforementioned and more. If you can afford it, consider the Nikon Z7. Even better, wait for the Panasonic full frame GH5/G9 announcement at Photokina.