[pullquote]
Comment on the forum
[/pullquote]
The leaked specs of the Canon 5D Mark IV are now all over the internet but the video mode warrants further investigation…
5D Mark IV in 4K – what is the crop?
The 30 megapixel count of the 5D MK IVs new sensor is an overall negative for video, but it really depends how Canon read out the sensor in video mode.
By far the most likely method is to do what the 1D X Mark II and 1D C already do, as well as the Nikon D5 and Panasonic GH4. These use a 4K crop of the sensor without pixel binning.
The Samsung NX1's 28 megapixel sensor gives us the closest idea of what the likely frame width is for 30 megapixel. In 16:9 aspect ratio it measures approximately 6500 pixels horizontally (6.5K in video terms) and 3600 pixels vertically. The Samsung sensor reads the whole 6.5K frame out to the image processor, which then down-samples to 4K in-camera. It's extremely unlikely the full frame Canon sensor will be able to do the same thing as there's simply no precedent for it in the range. Canon's flagship 1D X Mark II can't even read out a 20MP full frame image for video.
The Nikon D5 has a 20 megapixel full frame sensor and does 3840 x 2160 capture in video mode from a crop of this, which results in a 1.5x crop field of view (Super 35mm). If we compare this to the 5D Mark IV doing the same 3840 x 2160 capture from 30MP we can compare the size of the crop.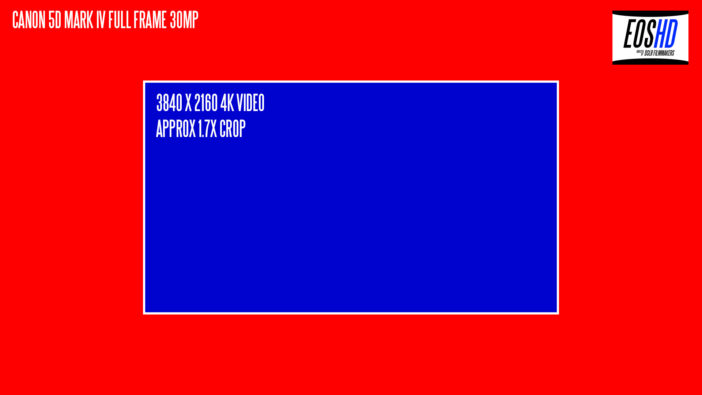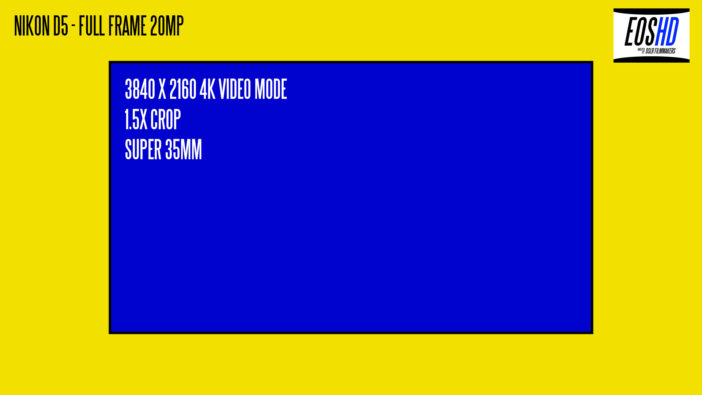 So we are likely looking at roughly a 1.7x crop from the 5D Mark IV and closer to 2x crop Micro Four Thirds. If it has a 4096 x 2160 DCI 4K mode like the 1D C it will help mitigate the crop horizontally a little bit.
As we know the Sony A7R II has a 42MP sensor yet manages to offer a full frame 4K mode as well as a Super 35mm crop 4K. However it does this by using an oversampled 5K area of the image sensor in Super 35mm mode. Oversampling has not been mentioned in the 5D Mark IV's specs so far and again it is unlikely to be there because the 1D X Mark II, which costs double, doesn't do it either.
The only way Canon will give you full frame 4K from the 5D Mark IV is if they have a pixel binning mode like Sony does on the A7R II. But as we saw from that camera, the image quality of 4K when pixel binning is used takes quite a drastic hit, with moire & aliasing as well as 2-3 stops worse low light performance.
Unfortunately Canon EF-S lens which would be a better match to a 1.7x or 1.8x sensor crop (Canon APS-C is 1.6x crop) won't fit the 5D Mark IV's EF mount. The protruding rear glass would bump into the large full frame mirror. So in order to get even moderate wide angle on the 5D Mark IV in 4K we would have to use a 20mm and wider. Also a Metabones Speed Booster is a physical impossibility on EF mount, there would be no way to turn the crop into full frame, as there is with the Super 35mm mode of the Sony A7R II.
4K codec capabilities
It turns out that with the Canon 1D C in 2012, the company was laying the groundwork for future 2016 cameras in terms of the codec. It's just a shame the codec in question is a 1990's one.
The 5D Mark IV specs mention the 4K codec as MJPEG 4:2:2 at 500Mbit/s which is in-line with expectations as the 1D C and 1D X Mark II use the same format.
Unfortunately MJPEG uses the same compression as JPEG for stills. It doesn't have the complex efficiency of H.264 for video recording let alone H.265. Therefore in order to maintain image quality, MJPEG has to use an extremely high bitrate. On the 1D C it is 500Mbit/s which only gives us 16 minutes of recording per 64GB card. This footage needs to be transcoded to Apple ProRes or Avid DNxHD in order to be edited fluidly as there's no hardware acceleration support for such an outdated codec.
There's no mention of Canon LOG in the specs so far and again it is unlikely for the cheaper 5D Mark IV to get a capability the 1D X Mark II didn't.
Since I have quite a lot of experience with the 8bit MJPEG codec on the 1D C, I can say a lot of positive things about image quality. However small file sizes and natively editable files would have been desirable especially as all of the competition to the 5D Mark IV have H.264 4K codecs.
No mention yet of what kind of HDMI output is on the camera. The 1D C and 1D X Mark II do not give a 4K signal over theirs.
Ergonomics for video
Despite the trend of high-end mirrorless cameras the DSLR form factor remains popular and I can see why. It feels familiar, substantial and robust. AF for stills has always been a strong point of the DSLR and now the 5D Mark IV will offer Dual Pixel AF for video.
However looking at the leaked images, the rest of the handling looks to be pretty much as-per the 5D Mark III. There's still no articulated screen like on the Nikon D750 which is an essential feature when shooting video on a tripod without a HDMI monitor. Without that, your back takes a real hammering on long shoots.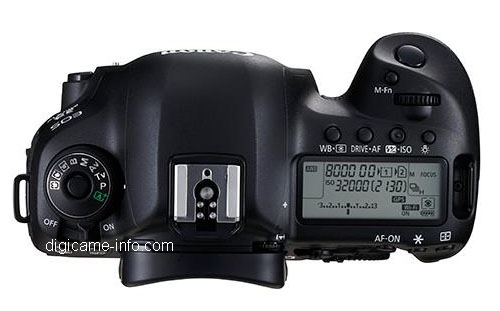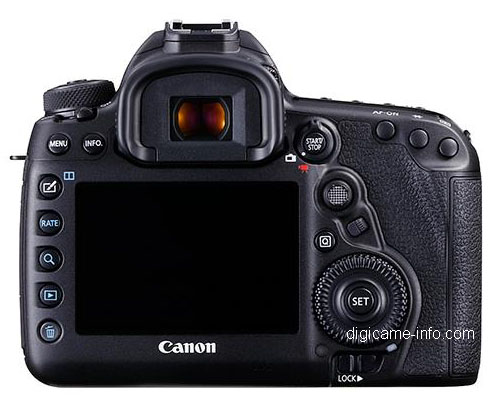 What else do we know?
The camera features a pixel-binned 1080p mode with a maximum frame rate of 60fps. Unfortunately the 120fps is only 720p unlike the full HD of the 1D X Mark II, but at least it is there at all.
There's a time-lapse movie mode built in and you can grab stills from 4K video in-camera. It has touch screen capabilities, WiFI and GPS.
I expect the Canon 5D Mark IV to be officially on show in September at Photokina 2016. I will be there to check it out. It's the first 4K camera Canon have released for a prosumer price ($3.2k) but to be honest the video specs so far are nothing earth-shattering. Mirrorless cameras still have the trump cards.