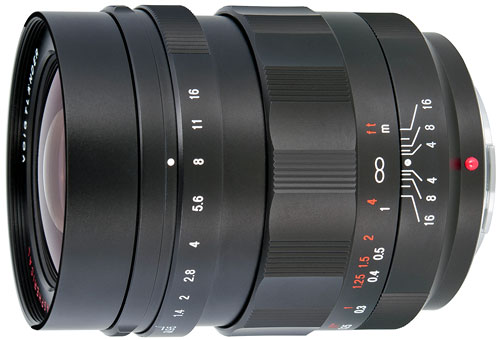 UPDATE: De-clicked aperture ring is on the lens for video, according to 43Rumors whom I am sure can read the original German better than I can! Good news!
This came out of the blue. Cosina are releasing a sister lens for the 50mm equivalent Micro Four Thirds 25mm Nokton F0.95.
The new lens will be equivalent to 35mm on full frame and features the same incredible aperture of F0.95 for extra depth of field control and low light performance on the GH2 and other Micro Four Third (MFT) cameras.
43rumors today leaked the lens,giving it a middle-FT3 rating and since the initial image was so visually similar to the Nokton 25mm I initially didn't believe it! Well it turns out (again) 43Rumors was right!
The lens will be available in late March for a hefty ¢1299. This is not the price I would have liked to see but since the Nokton 25mm F0.95 was handmade, mechanically superb, and almost constantly in demand at ¢899 I am not surprised at all Cosina feel they can charge more this time around.
I consider the Nokton 25mm F0.95 the best lens on the GH2, and it is the one I use the most out of the 30-40 I own. I recommend it in my top 9 in the EOSHD GH2 Shooter's Guide.
Here are the full specs (translated from German):
Specifications Nokton 0.95 / 17.5 mm aspherical MFT
Focal length
17.5 mm (35 mm corresponding to small picture)
Connection
MFT (Micro Four Thirds)
Maximum aperture
0.95
Minimum aperture
16
Lens construction
13 elements in 9 groups
Angle
64.6 °
Diaphragm Blades
10
Shortest Distance setting
0.15 m
Macro area
1:4,0
Max diameter
63.4 mm
Length
80 mm
Weight
540g (without hood)
Filter Size
58 mm
Color
black
Other
Snap off hood, sun visor with a second cover
Price
€ 1,299 (MSRP)