[pullquote]
Comment on the forum
[/pullquote]
The Canon 1D C has seen dramatic price falls from $12k to $7k and finally to $5k. Now the camera is listed as discontinued at UK pro-video retailer CVP.

It's no secret I love the images from my Canon 1D C. Over the course of owning my camera, which I bought lightly used for £5000 in 2015, there were times when owing such a powerful tool dulled my passion for blogging about cameras altogether, as it simply made the rest look a bit pointless! Since I enjoyed EOSHD best during the affordable Panasonic GH2 era, I don't think it has been a productive camera for the blog but I have shot some beautiful material with it that I will be able to look back on in years to come and think – wow. That kind of image quality is not yet surpassed – not by the 5D Mark IV and not by the 1D X Mark II – because they don't have Canon LOG or as large a sensor readout window. Also as a stills camera, aside from Dual Pixel AF in live-view, there's very little the 1D X Mark II does better – FOUR years later!
However this camera always had a dark side. It felt like a toe in the water for Canon, to see if there would be demand for a 4K DSLR. I don't have the sales figures for the 1D C but something tells me pros preferred to send their $12k in the direction of the C300 instead. Now this leads me to the question in the headline – is a replacement around the corner?
Actually I am inclined to think the line has been killed off.
I cannot know for sure, and I hope I'm wrong. In my opinion though, Canon's attention was shifting elsewhere from the day this remarkable camera was born.
Since 4 years ago (nearly 5 years ago from the actual announcement), Canon haven't added any more features in firmware updates to the 1D C like focus peaking. When it shipped, it didn't even have 25p in 4K which was a glaring oversight on a camera shipping worldwide – although this was later added… slowly. The 1D C was made for the US market and I think they probably sold most of the cameras there in big deals to movie studios and rental houses. Canon didn't seem to want to go after the wider video market with this camera.
A rebadged 1D X with minimal changes under the hood, it could have been MUCH more. I really don't know what they were thinking because the concept of full frame hybrid stills/video camera in a small form factor is very much in demand. The concept of the 1D C was fantastic and the images absolutely spellbinding. It's easy to think that now the 1D X Mark II is out, Canon will rebadge this as a 1D C Mark II with minimal changes… But really, why bother? And if they stick to the original pricing of $12,000, why would anyone buy it? They can get 4K already on the $6k 1D X Mark II.
If there is to be a replacement and it is to be accepted by the market and really work well, it has to be a different camera to the 1D X Mark II, but with much of the same technology under the hood.
The 1D X Mark II's 20MP sensor first and foremost is VERY powerful. Clearly it can do 4K 60fps so it is a VERY high bandwidth chip with a very fast scan rate and less rolling shutter than the 1D C.
What if Canon were to take this superb sensor and utilise the full 5K pixel readout for full frame 5K video?
The CFast 2.0 card could easily take it. They could even quite easily back this sensor into some proper processing – to downsample the 5K to 4K and put a H.264 codec in there rather than MJPEG for smaller file sizes.
The new form factor could have a nice big touch screen for Dual Pixel AF, an EF mount but the mirror wouldn't be needed. Instead Canon could put an EVF in the body and trim some weight from it whilst they're at it. Myself and many others would buy this camera in a flash.
Of course one of the reasons I love the 1D C so much is because I love stills and video. The 1D C's ergonomics, viewfinder and EF lens mount are all utterly suited for photography, much more so than video! When it comes to my hypothetical 1D C Mark II with redesigned body, I'm not saying Canon should throw away its strengths as a stills camera. They did this with the XC10 which can't even shoot raw photos! But that mirror has to go. Dual Pixel AF is very good and can supersede the optical view finder phase-detect AF on a hybrid stills/video camera.
The Cinema EOS range is very successful as a whole and I am sure they see potential in expanding the line-up. Any forthcoming C100 that shoots 4K is always going to be Super 35mm. Canon have shown a willingness to experiment with Cinema EOS cameras like the XC10 and 1D C. The gap is there for that "proper" new 1D C full frame hybrid camera.
I think it's a real shame we only have 1 true full frame hybrid camera for stills and 4K video in the Sony A7S II. Shooters are crying out for more. We love full frame and 4K video.
As it is, the original 1D C stands up as strongly today as it did when it came out. The market is a total mess.
The A7R II meanwhile is not really truly 4K in full frame – it is a pixel binned image with moire and needs to be used in Super 35mm mode for best results. Yes you can use a Speed Booster on it but what about all those lovely expensive full frame Sony and Zeiss Batis lenses? All wasted in Super 35mm on the A7R II.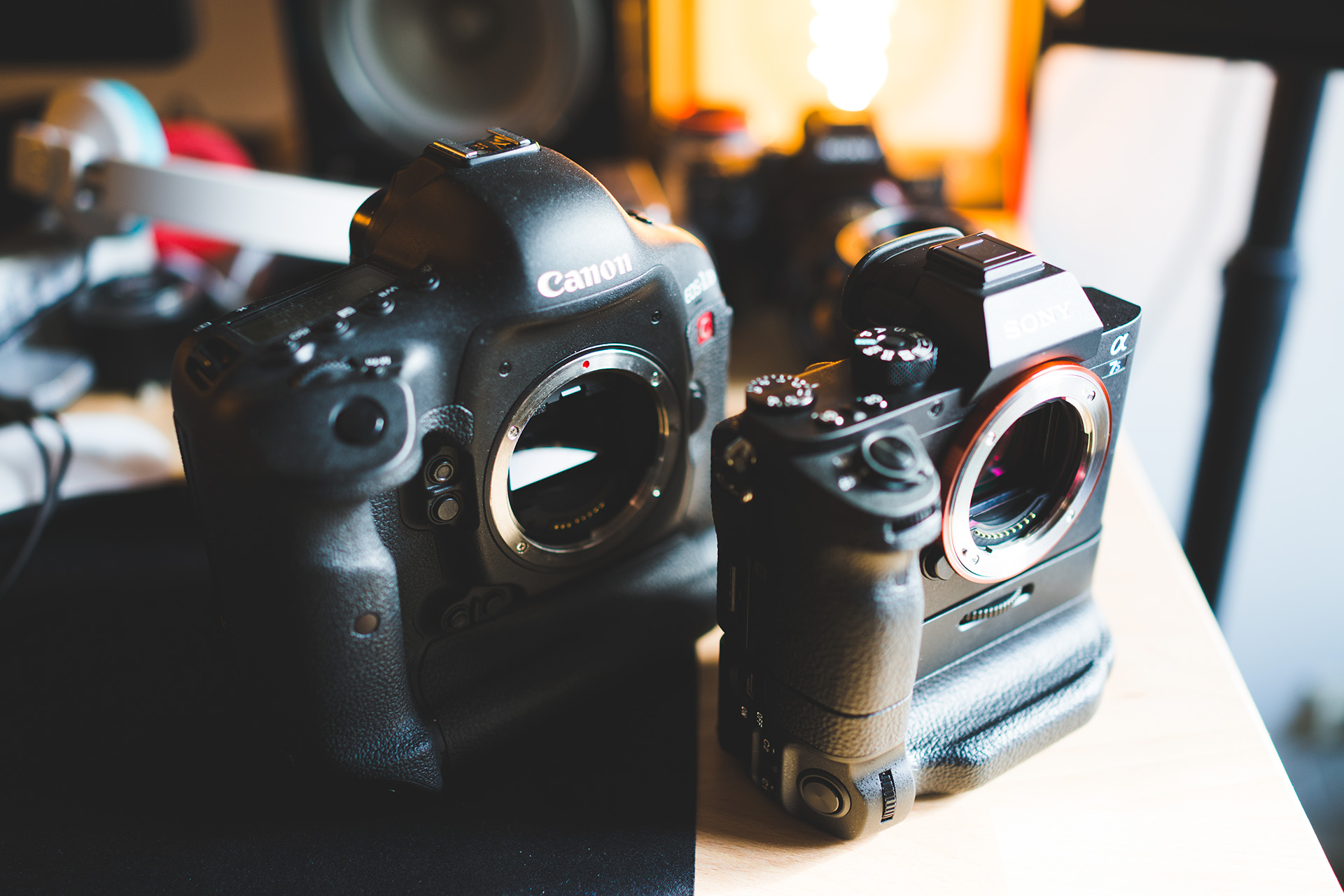 The Sony A7S II doesn't quite have the 4K quality of the 1D C, but the main issue I have with it is the dreadful AF with my Canon lenses which means I hardly ever use it for stills – only for video in manual focus. So we are forced to choose between moire on the A7R II or a Super 35mm crop that needs rescuing with a Speed Booster, or terrible stills AF on the A7S II… and both have very suspect ergonomics without a shred of photographic soul.
The native EF mount on the 1D C is another strength, no need to use third party adapters for the broadest and best lens range on the market.
Even Canon however seem to have had real trouble bettering the 1D C during the past 4 years! The 1D X Mark II only tempts me in ONE respect – Dual Pixel AF. The rest is 'meh'.
I don't particularly lust after the file sizes of MJPEG 4K 60fps! I don't particularly jump out of bed in the morning thinking "hooray, no more Canon LOG!". I don't want to PAY MORE to downgrade my 1D C! The 1D X Mark II is in no way a 1D C replacement and Canon know it.
What is so frustrating in all of this is that Canon have all this amazing technology but can't seem to excite anybody interested in full frame 4K video under $5000. That's a big chunk of the market they are not taking advantage of properly.
The 5D Mark IV doesn't interest me in the slightest due to the massive crop and overall lack of video features when it really should have tried harder to include them. A LOT of video shooters are interested in this camera and once again haven't got what they asked for.
So there is nothing else like the 1D C out there…
And there may never be.