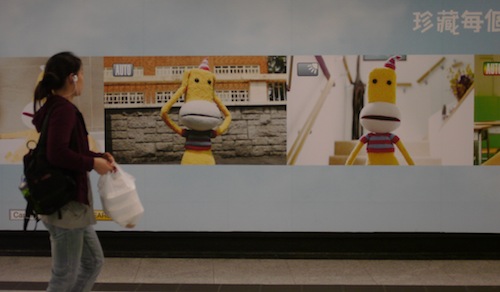 Canon, rather unsurprisingly you might say, are using the 5D Mark II combined with the 550D and full HD super-zoom Powershot, the SX210 to film their own TV advertising campaign.
The campaign is in the format of 'stories' about photographers and artists, and is set throughout Europe, beginning in Italy.
I don't think it'll be as good as the one currently airing in Hong Kong, Japan and Taiwan about the Vixia camcorders though! (Pictured). Reminds me of the Levi's flat eric character – a classic of advertising if ever there was one.
[vimeo]8496873[/vimeo]
Indeed, this video has nothing to do with Canon's latest marketing campaign, but I thought I'd post it anyway!
And more from the Vixia ad on the Hong Kong metro: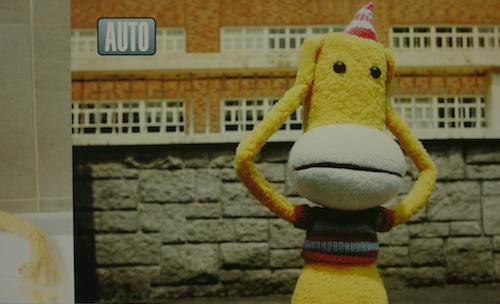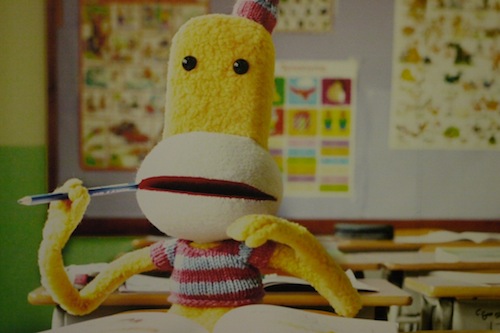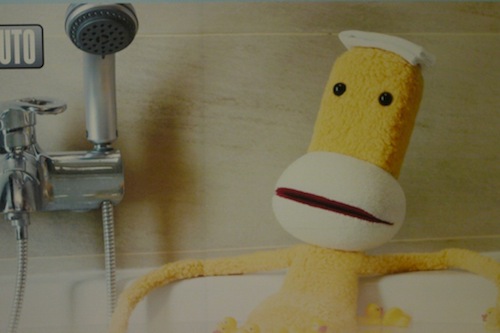 Anyway – for those outside Europe, you can already view most of the EOS shot European 550D / SX210 campaign online here: [url]http://www.canon-europe.com/takestories
Here is the Canon press release in full for all the details:
Canon announces new advertising campaign for EOS 550D and PowerShot SX210 IS

United Kingdom, Republic of Ireland, 26th May 2010 – Canon announces the launch of its new advertising campaign for the EOS 550D and PowerShot SX210 IS, the latest instalment in its "Take Stories" line-up. Created to run throughout Europe, both adverts were shot at the Venice Carnival in Italy earlier this year, and follow three photography enthusiasts as they capture their unique story at the event.

In common with the recent EOS 7D TV campaign, both adverts have also been shot on an EOS DSLR camera, the 5D Mark II, mixed with stills and films taken on the EOS 550D and PowerShot SX210 IS. The EOS 5D Mark II's full frame sensor and full 1080p HD movie capabilities made the camera the ideal product to allow the creators to get closer to the action and capture more of the electric atmosphere.

The PowerShot SX210 IS advert takes the viewer on a journey of the evening event where, as the light begins to fade two enthusiasts, Michele Mattrel and Alicia Radice, take striking images and films using the camera's Image Stabilizer, 14x super-zoom, Smart Auto and 720p HD video technologies. The PowerShot SX210 IS compact will allow anyone to capture their best memories exactly as they experienced them.

The EOS 550D commercial follows the photographer, Massimiliano Cori, capturing his story behind the scenes of the carnival. This camera is perfect for taking stills and full 1080p HD movies in low light conditions thanks to a DIGIC 4 image processor and 18MP sensor supporting standard ISO settings of 100 – 6400 (expandable to 12800) and enhanced in-camera noise reduction technology. Furthermore, the system's 14-bit image processing produces smoother tonal gradation and natural looking colours for high quality prints, showcasing the amazing energy and detail Massimiliano experienced and empowering him to explore new levels of creativity.

"Any image can show a place, a person or an event but a great picture or video tells a story. With Canon's photo heritage and passion for images we set ourselves apart. Our campaign based on unique stories during the carnival aims to inspire, educate and enable anyone to take more than pictures; we want them to take stories." Commented Nigel Taylor, Consumer Imaging Group, Marketing Communications Director at Canon Europe.

Alongside the TV advert placements, Canon's Venice campaign will be fully integrated with through the line activation from TV, print and online advertisements through to an in-store call to action.

Both adverts will be broadcast across Germany, UK, France and Pan-European markets until the end of 2010.

For further information on the Take Stories campaign please visit: [url]http://www.canon-europe.com/takestories