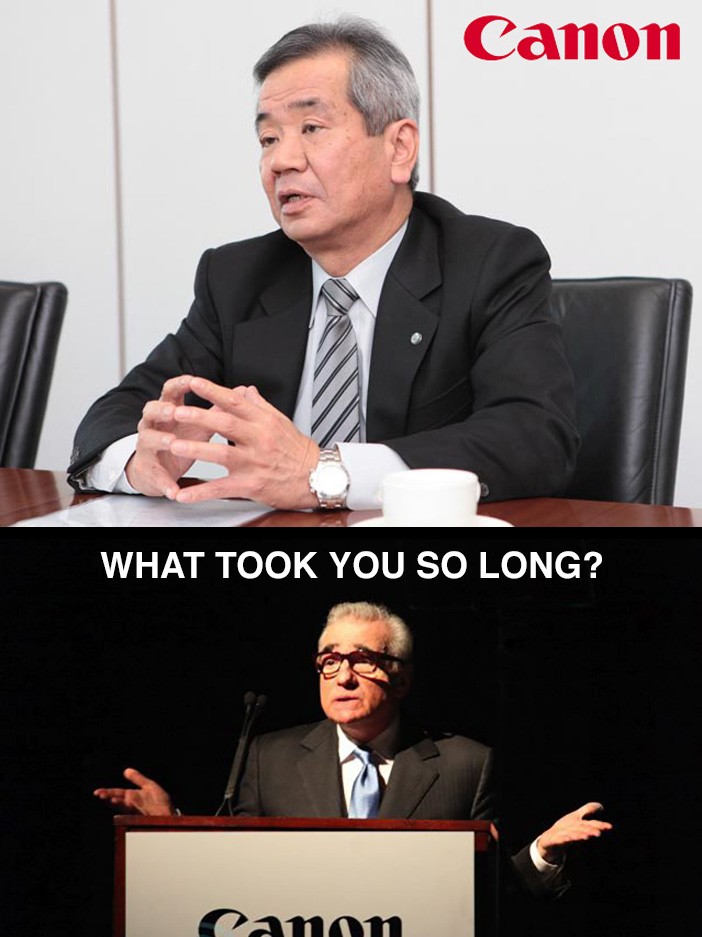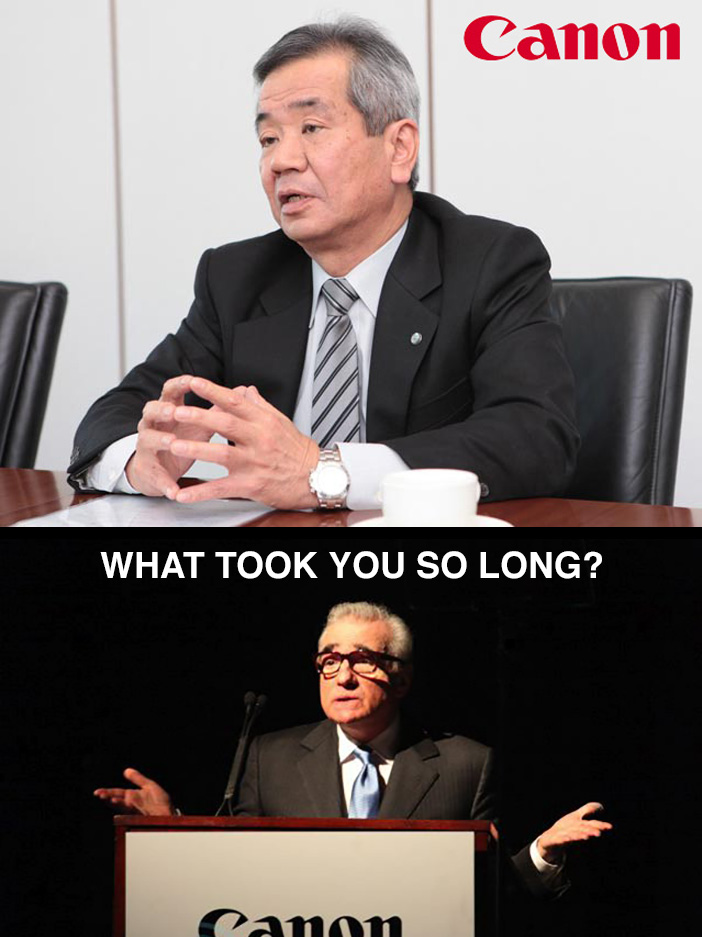 Canon are finally on the move. They have given the strongest hints yet that they see mirrorless as the future and have several mock-up designs in the lab.
This is great news for video. How long before DSLRs are phased out?
Global shutter and mirrorless will come from Canon
Says Canon's Maeda Masaya (Google Translated)…
"Since mirrorless is free layout, actually, there are a lot mock-up also of various forms. Is still likely to take a little time before the market, but the challenge is to center the younger generation."
That doesn't sound like a very high end mirrorless camera – but what Masaya says about future technologies is worth hearing…
"[A] model change

"CFast is we believe that it is most promising memory card. Does not change that it is a leading candidate for us. However, whether immediately adopt the CFast card, you can not answer now."
Finally!!
Canon's current sensor in the 5D Mark III starts an exposure globally but finishes it with a rolling shutter scan. Of course this means that for video the bottom of the image is exposed later than the top, leading to distortion if the subject moves fast enough and uneven exposures if the light changes fast enough. The next leap in sensor technology is to bring a global shutter into action whilst maintaining pixel quality.
A global shutter effectively 100% replaces a mechanical shutter, thus the DSLR's mirror and optical viewfinder become surplus to requirements too, a relic of the 1970's.
Possible new high-end lens line-up
Canon are also preparing to add 'the most important' lineup of EF lenses to the current range (EF, EFS, EF L). If these are so important they must be a high end group of optics. I'm expecting the lenses to be expensive upgrades to the current ageing L lenses like the 35mm F1.4, and ready for any high megapixel DSLR Canon will bring out in 2015. Masaya effectively confirms such a camera is coming, in the interview which you can see quoted on that particular subject at Canon Rumors here. Like Sony, Canon see the market divided into customers who want 'high sensitivity' and those who need 'high resolution'.
Indeed Canon definitely need updated fast primes with such strong competition from lenses like the Sigma 50mm F1.4 and 35mm F1.4 ART.
I think there's a good chance the high megapixel body will use a Sony sensor. Canon I think are taking their time and developing a sensor revolution, which means for evolutionary sensors they can pick them off the shelf until the revolution is ready to play out based on new Canon technology.
Sensor development is seeing huge strides at the moment but openly only Sony and Samsung really have any new sensors on the market to show for it. Whatever advances Canon have made, they are keeping it behind closed doors for now.
Source: DCWatch interview with Maeda Masaya (Google Translated)
Comment on the EOSHD Forum