Now this is a bit more like it. It isn't quite a Sony A7 III but it is definitely the most interesting full frame camera for $1299.
The body-only price is quite an aggressive move by Canon. It almost seems like a loss-leader to get people hooked on the new system and new lenses. Those people should have an adapter ready though, because the R lenses (even the basic 24-105mm kit zoom) are astronomically expensive, with the 24-105mm kit bringing the price to well over $2k and the primes are mostly a $2k+ pro affair on their own.
The codec is 8bit H.264 at 120Mbit/s which is similar to the Sony A7 III, but there is no 120fps slow-mo or Canon LOG.
I am not too worried about Canon LOG being left out and it is not surprising. My own EOSHD C-LOG will be compatible with the EOS RP and costs just $26. This will give you a C-LOG profile under one of the User Defined photo style slots, usable at any ISO and in any shooting mode.
The 4K frame rates top out at 24p and 25p, there is no 30p. Although the lack of 4K/30p doesn't bother me as I prefer the cinema look of 24p, it could point to a shortcoming of the sensor which will impact rolling shutter. This is clearly a sloth-like old chip with a slow rolling shutter that can't stretch to 30p. Be prepared for a lot more jello from the EOS RP compared to something like the Fuji X-T3.
Nevertheless it seems like quite a nice, compact and affordable full frame stills camera, with some of the ergonomic foibles of the more expensive EOS R consigned to the dustbin.
1.6x crop 4K mode
The 4K is again a 1:1 crop of the sensor, 6240 × 4160 being the total resolution. That makes the horizontal crop of 3840 pixels at 4K a 1.6x crop of the full width of the sensor. This is very slightly better than the EOS R but not by very much. It falls just short of the 1.5x crop Super 35mm cameras, like the Fuji X-T3 and Sony A6500. No big deal. It is exactly Canon APS-C.
No pixel binned full-width 4K mode is mentioned on the specs sheet, so we can safely assume it doesn't have one.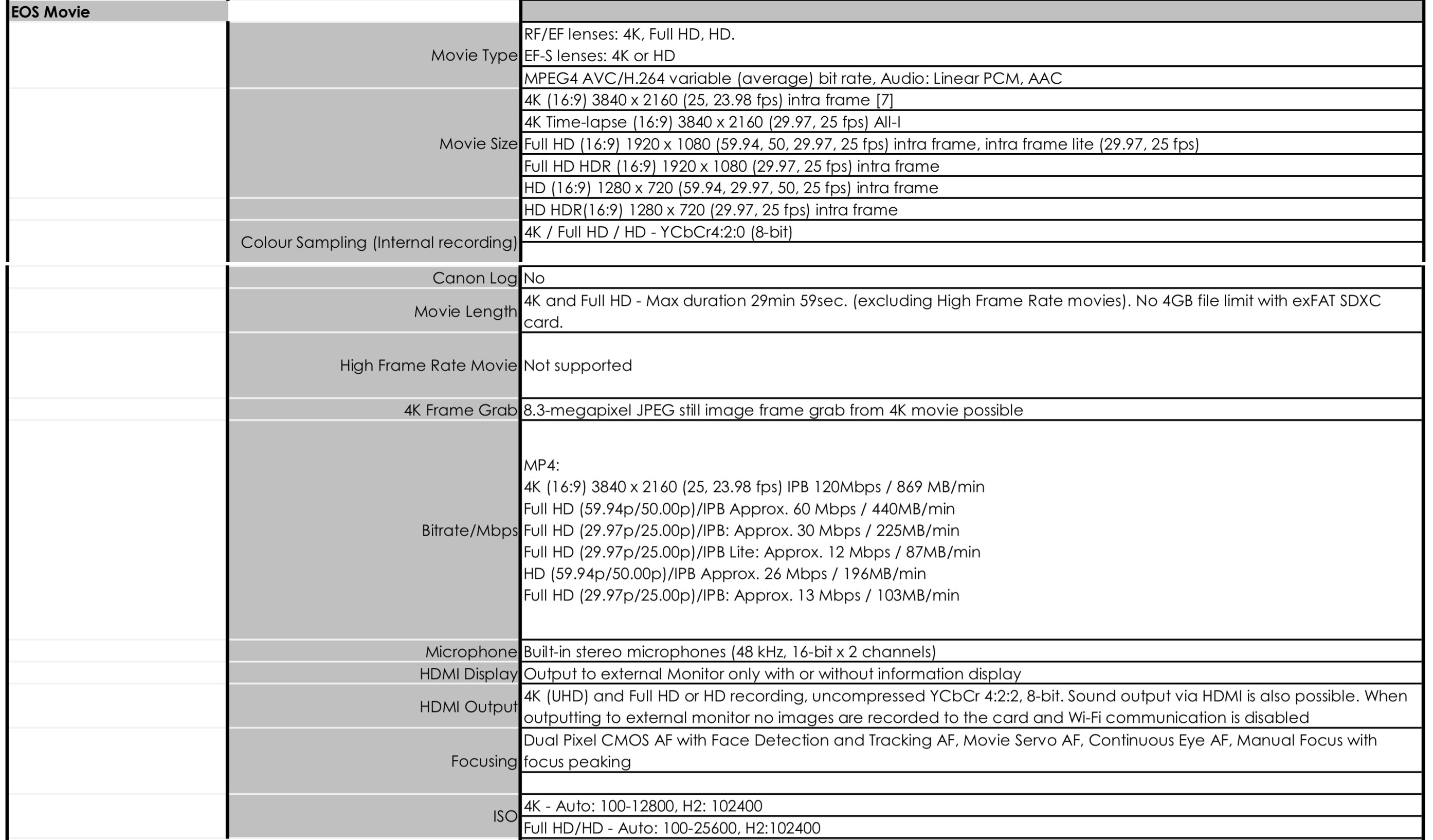 I suppose we must wait for the inevitable high-end $3k+ EOS RX for true full frame 4K video.
There is no slow-mo but considering the 120fps 720p on the EOS R, I am not mourning that! It was rubbish!
You want 720p for $1299?? Are you kidding, say Canon! You must UPGRADE for that.
Like the 6D Mark II, the camera features Dual Pixel AF, 1080/60p (woo) and a 4K time-lapse mode – which does give you 4K 30p but only for time lapses and not movies. 1080p goes up to 60p but if that's anything like the 6D Mark II I'm not expecting miracles in terms of detail. Dual Pixel AF should work in 4K this time, unlike on the Canon EOS M50. It will be deeply disappointing if it doesn't.
So on paper it's a thin-release but in reality, I think I might buy one and sell my original EOS R.
It's not a perfect camera, not even by the standards of a desperate man.
It's not a powerhouse and it doesn't move the industry forward.
However…
It is not missing anything from the EOS R I'd miss. No 720/120fps? Who cares. No Canon LOG? Just add it from here. Slightly smaller, lower resolution EVF? I am surprised there is one at all! Smaller, lighter, with better ergonomics and almost half the price? Count me in.
Personally, I like the idea of perfect autofocus in a small affordable 4K body with full frame stills for $1299…. Canon colour science, good low light performance and native compatibility with EF lenses as well.
I also like that the 1.6x crop brings into play the wide-end of the Sigma 18-35mm F1.8 with Dual Pixel AF.
I am sure the rolling shutter performance will be horrific. I am sure the Sony A7 III, Nikon Z6 and Panasonic S1 are worth the extra for most people.
However, you won't find a full frame mirrorless camera with 4K video from any of those manufacturers at $1299.