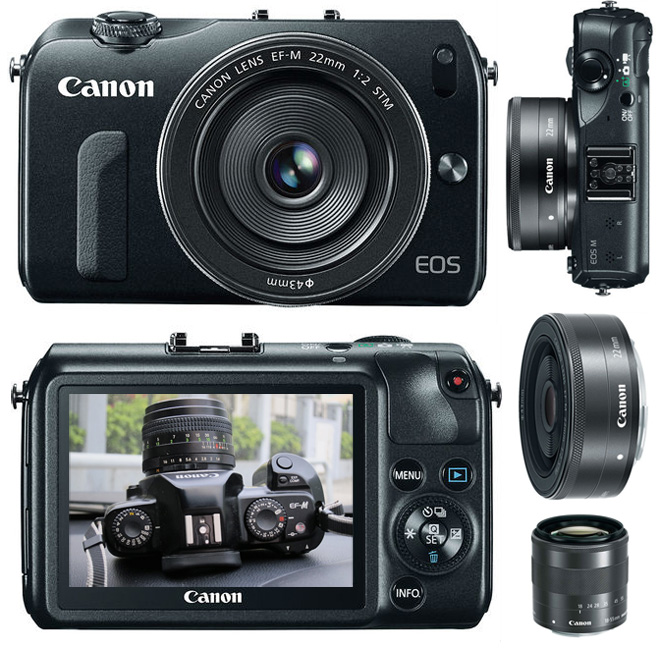 Canon last had an EF-M camera and lenses in 1991 (inset, LCD screen pic)
The Canon EOS M mirrorless camera with new EF-M mount and lenses is due to be officially announced on Monday. The EOS M seems to be closest to the Sony NEX C3. The lack of physical controls hint that it is too basic to compete with the NEX 5N or NEX 7.
Because it is designed to work with Canon's new STM AF lenses which use phase detect AF on the sensor I am 100% certain the EOS M will have the same 18MP APS-C CMOS as the T4i / 650D. Using the G1X sensor would make it incompatible with the very EOS-M lenses it is pictured with at launch. The 18-55mm EF-M STM and 22mm F2 EF-M STM.
Will the new mount be the basis of a C100 affordable digital cinema camera, following the strategy of Panasonic and Sony?
Laying the foundations for a EF-M Cinema EOS?
Since a mirror is irrelevant on a video camera and a mirrorless mount has no mirror to get in the way of industry standard PL cine lenses, Sony and Panasonic chose to use one for their video cameras. This also meant sales of E-mount and Micro Four Thirds lenses would increase, as filmmakers picked them up to shoot video with as well as stills.
Canon have an EF mount on the C300, and an EF-S adapter for their mirrorless camera. It now makes zero sense for the C300 or future Cinema EOS cameras aside from the 1D C to have an EF mount.
Canon should do the right thing and fill the massive hole below $15,000 with a EF-M mount C100 circa $5000.
EOS M – Enthusiast camera or Latte Mum offering?
Since the EOS-M will likely use the T4i's sensor as I stated earlier for live view AF reasons, we are looking at a camera that in all likelihood will not improve on the image quality offered by the T4i, will not be pocketable like the RX100 and might not be better handling than a higher end mirrorless camera like the NEX 7 or OM-D E-M5. The rear panel shows a distinct lack of controls.
Therefore EOSHD looks beyond the hype and asks – what is the point?
Canon NEX
Canon's mirrorless looks to take a similar approach to the market as Sony with their NEX system. Certainly the design of the new lenses takes a lot from Sony's E-mount range.
Unlike the Nikon 1, the NEX system is a sales success and the large almost DSLR sized APS-C lenses didn't seem to bother anybody.
However in my mind there seems to be very little sense in a low end mirrorless camera like the NEX C3, EOS M, Lumix GF3 or Olympus PEN.
Enthusiasts will go with a higher end mirrorless or DSLR. Consumers will go for a high end compact like the Sony RX100. Everyone else will be shooting with a smartphone.
Wrong strategy?
Focus groups keep telling camera manufacturers they want DSLR quality in a small camera.
Canon, Nikon, Olympus and Panasonic took this to mean a small DSLR with interchangeable lenses.
This pleased their accountants – there is much margin in cheap glass. Rather than sell only a body like they were doing with compacts, Sony, Panasonic and Olympus could now sell multiple lenses to the mass market for the first time not just to enthusiasts and pros.
However.
What they needed was to listen to a visionary like Steve Jobs instead, because a focus group doesn't actually know they really want.
Sure enough it turns out that what these people really wanted was a compact camera with a massive zoom lens built in and a higher end compact camera with DSLR image quality that they could put in their pocket like the RX100.
So what is the point of low end mirrorless now?
In my view mirrorless should be pulled out of the low end of the market, and manufacturers should concentrate more on high end mirrorless cameras like the GH2, X Pro 1 and NEX 7.
Now in the age of large sensor compacts, mirrorless cameras have to offer something else compelling other than just small size and a crappy kit zoom which isn't pocketable.
For nearly 3 years I have been using mirrorless cameras for professional work and my own creative projects. Cameras like the GH1, GH2 and NEX 5N were already giving me something compelling above and beyond DSLRs – and it wasn't small size.
I got the GH2 because I like to adapt a huge range of lenses from the most affordable Canon FD to the best Leica M. I also like to fool Francis Ford Coppola into thinking I am using an Alexa.
I got the NEX 7 because it has an OLED viewfinder and a 24MP APS-C sensor which thrashes the dated 3 year old sensor in the T4i into the weeds.
I got the Fuji X Pro 1 because it has a better sensor than even the NEX 7, not to mention Leica rangefinder style handling and looks.
I got the Olympus OM-D E-M5 because as an all-rounder for high quality stills it beats the lot of 'em.
Will the EOS M be as exciting as those cameras or will it just be a T4i without the mirror?
Please push harder
Everything from Canon in my studio is solid but somehow a little bit uninspired. Take the 40mm pancake as a prime example. In the 1970's Nikon released a very low end range of lenses for their full frame 35mm SLRs, and badged this the E-Series. Their pancake was a 50mm not too dissimilar to the Canon 40mm but it had a much faster aperture of F1.8. It is no larger than the Canon EF 40mm F2.8 yet it was released over 30 years ago as a cheap low end consumer lens. The cheapest they did.
Why couldn't Canon do a pancake with a F1.8 aperture? Please try harder!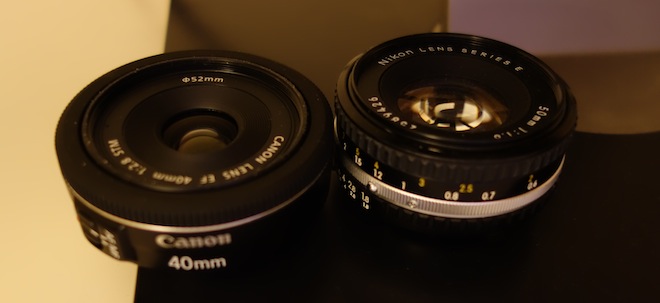 The Amazon sales rank speaks
Canon's leadership in digital cameras came about because they took brave creative decisions.
Since 3 years ago I have been looking for another flash of creativity but haven't seen it. This worries me greatly.
First to introduce an affordable DSLR for consumers, the Rebel – it became Canon's driver of huge mass market success. First to do video on a full frame DSLR, this creativity has served Canon's business extremely well and if it was not for the 5D Mark II's video mode Canon would not be present in the cinema and broadcast market with Cinema EOS.
All this happened before 2009.
Since the 5D Mark II and 7D Canon's spark seems to have faded. It has been one re-heat after another, and long gaps in between at that. The sensor in the 7D is 3 years old. It has been reheated in so many cameras I have almost lost count. No Canon APS-C DSLR in any price bracket has taken a step forward in image quality since 2009.
The 7D's sensor went into six more cameras – important ones at that. The 550D, 600D, 60D. Then the G1X which cut the size down but used the same sensor, and the 650D which used the same sensor but with a few pixels turfed off for AF sensels. Now the EOS M looks likely to use that sensor AGAIN. Effectively for the 6th time Canon is serving up the same camera in a different shape aimed at a different focus group.
Now Canon have a problem.
The camera currently ranking at number 1 in the Amazon sales chart is the Sony RX100, despite being the most expensive pocket camera ever made at $649. The biggest sales successes for Canon and Nikon are now obsolete with the arrival of this large sensor compact. Just as the original Rebel put DSLR quality into the hands of consumers at an affordable non-pro price for the first time, the Sony RX100 puts DSLR image quality into the pocket for the first time.
It is a game changer for normal consumers.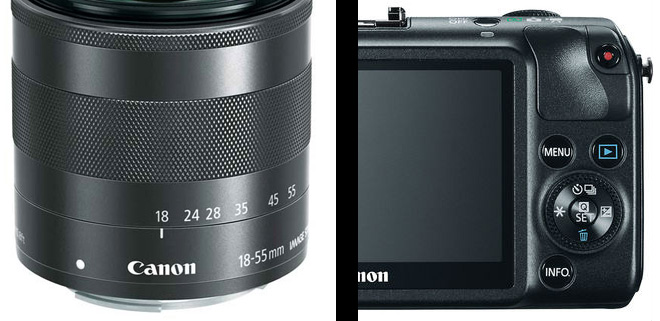 Canon EOS M – rear controls or rather lack of them. Left – NEX inspired kit lens.
So again, what is the point of a small mirrorless camera for normal consumers? It isn't interchangeable lenses. The target audience is not buying that concept at all.
Here are the models set to lose out because of the RX100 – the Nikon D5100 at number 5 in the overall Amazon charts, the Canon S100 (currently discounted by 31%) is at 9 and the also heavily discounted Canon Rebel T3 is at number 12. These dated cameras come with standard kit zooms like the EF-S 18-55mm II. The Nikon D5100 shares an identical price to the Sony RX100 but the S100 and old T3 are cheaper by around $150-200.
I cannot see any reason why someone would choose the D5100 with kit lens over the RX100 if they are only going to use the kit zoom, which the vast majority of people do. Ditto the Canon Rebels even if they are a bit cheaper. Ditto the S100 even though it is heavily discounted from the launch price, the RX100 is just flat out the better camera.
Let's now have a look at the mirrorless victims.
The best selling low end mirrorless camera in the US is currently the very heavily discounted Olympus PEN E-PL1 for just $289. Despite low prices, mirrorless has never managed to conquer the US. The best selling PEN only reaches 82 on the overall sales chart for all cameras at Amazon at the time of writing. The most successful of the higher priced mirrorless cameras is the NEX 5N at 112 and the E-M5 at 131. These sit at a lofty 3 and 4 in the compact system camera charts. This is where Canon wants to be with the EOS-M which would likely be priced similar to the Sony NEX.
The sales performance of the Olympus OM-D E-M5 by the way – is unusually strong for a mirrorless in the US. And an expensive one at that. The OM-D kit at number 4 in the mirrorless chart is $1,499 ($999 body only) and is only beaten on the sales rank tally by cameras costing $699, $379 and $289.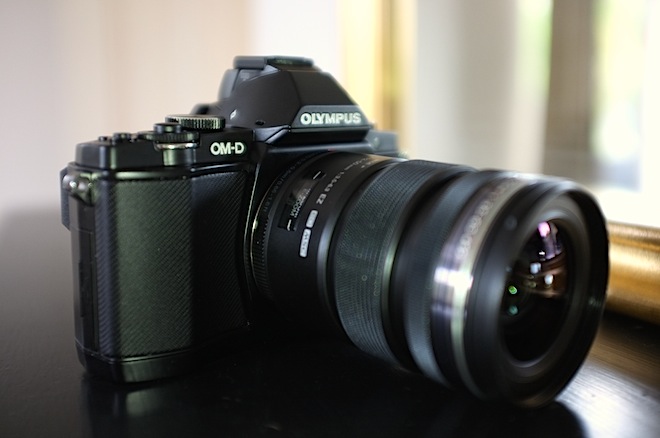 A mirrorless with appeal – the OM-D
You see, in my opinion low end mirrorless is a flawed concept. High end mirrorless is where it is at.
Latte Mum uses a compact or smartphone and if she wants more image quality she may upgrade to a small, basic mirrorless but only use the kit zoom.
Why get an interchangeable lens camera and not interchange the damned lens? She may also be frustrated it is not pocketable like her compact was. So RX100 is better for her.
Interchangeable lenses are for enthusiasts not the general public. They are photographic tools not consumer electronic lifestyle gadgets. And enthusiasts don't like dumbed down cameras especially ones without a viewfinder and a lack of physical controls like the EOS M. Why isn't Canon's mirrorless catering to them? Why isn't it better than a T4i? Why are the controls dumbed down? Why is it so small? Why target someone who doesn't want it?
To prove my point, the smallest mirrorless camera is also the least successful. The Pentax Q lacks the image quality of a DSLR so enthusiasts deserted it. See – enthusiasts don't care about size if it compromises quality and normal people don't care about changing lenses. To them it is a hassle, an extra complexity, an extra expense.
The last major manufacturer to try an extremely small low end mirrorless was Nikon. The Nikon 1 is still hot on the shelves having only come out 6 months ago. It is extremely cheap. It is front and centre in stores. It carries the Nikon badge. It is tiny and heavily advertised. It should be a success. Yet the best placed Nikon J1 is a hopeless number 317 on the overall Amazon camera chart. The low price of the Nikon J1 saves it from even further anonymity. The Nikon V1 currently ranks at number 979! Now as you can see the V1 is no D5100 – versus the best selling DSLR it just isn't established enough or competitive on image quality and lens range.
Canon are not destined to repeat the mistake Nikon have made with the V1 because image quality and the lens range do look to be competitive with their DSLR (thanks to EF-S lens compatibility).
But it really is in dire need of a unique selling point now the RX100 has blown away the mirrorless weeds.
The EOS M doesn't seem to be more appealing to consumers wanting DSLR image quality in a pocket camera, because it isn't pocketable. It doesn't seem to offer more than a T4i, so enthusiasts and filmmakers won't find a reason to buy it either. It has no viewfinder and hardly any physical control – a necessary concession to the mass market but a further off putting aspect for enthusiasts and pros thinking of a 2nd body.
Let's hope I am proved wrong on Monday.