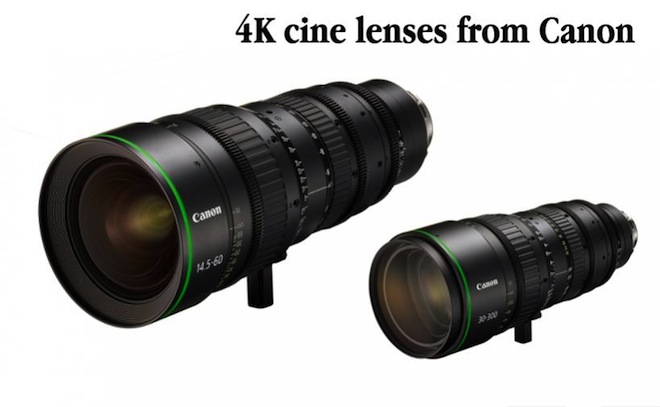 An interesting precursor to a Canon Super35mm 4K cinema camera? Well, they have just announced the lenses for one.
Canon have produced two new very high end PL mount cinema zooms for use with PL mount digital cinema cameras like the RED Epic, Arri Alexa and Sony F35. These are Über High End expensive professional movie making zooms.
They are designed for large sensor coverage and 4K image acquisition (and 2K or HD of course). One lens is a wide-angle zoom FK14.5-60 T2.6 and the other is a telephoto zoom FK30-300mm. No word on pricing yet.
"Anticipating 4K"
Here is how Canon describe the raison d'etre of the lenses:
"The 2K and HD digital production formats are firmly established in the global marketplace today, while 4K resolution is poised to further propel the imaging quality of digital cine production. Anticipating this exciting evolution in digital acquisition guided Canon's developments of a new optical platform in recent years to meet the current and future imaging needs of high-resolution camera sensors," explained Larry Thorpe, national marketing executive, Broadcast and Communications division, Canon U.S.A. "Canon has extrapolated a new optical platform – first seen during NAB 2009 on a working prototype 8K lens – to bring to market these two new PL-mount lenses. Advanced glass materials, exotic new optical coatings, and new computer-design techniques were all employed to achieve significant overall optical performance in these two lenses."
The lenses will both be on display at NAB 2011 – I'm interested to see on what camera!