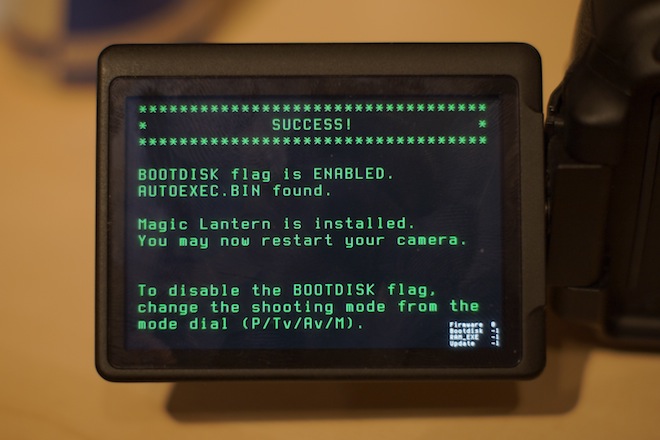 Download the latest Magic Lantern
How to: Install Magic Lantern
I am really impressed with the way the Canon DSLR hack – Magic Lantern – has recently been progressing. Enabling video on cameras that didn't have a video mode is a miracle in itself! (50D). Putting all the settings into a menu system on the camera rather than in a Windows app like PTools with the GH2 hack – also pretty good. As well as higher bitrate recording, ML has evolved to give us ISO 12,800 recording, peaking, crop marks, false colour, zebras and now even variable frame rates.
The install procedure is a little more simple than the GH2 hack. Update to the latest Canon firmware then simply copy the Magic Lantern files to your SD card and go into the menus to select Firmware and proceed with the update. If you take the SD card out the camera returns to the default Canon firmware. Pretty simple really. All the info to do this is in the top two links on this page.
[vimeo]http://vimeo.com/33351733[/vimeo]
Variable frame rates are working (via the advanced menu in Magic Lantern, by default the option is hidden). On my 600D it goes to 35fps in 1080p. The sensor can overheat but you can get some nifty 24p slow mo out of it while it lasts! In tests they've had up to 40fps going…. Pretty cool.
By the way, you have to disable audio recording on the camera to get this to work.
There's also an HDR video feature coming on the 22nd December which I'll be covering here on EOSHD.
[vimeo]http://vimeo.com/33987353[/vimeo]
So what does Magic Lantern currently give you, for free, that is really useful that Canon doesn't?
EOSHD's Favourite Features
Here are my favourites in no particular order, with a brief description of what they do:
Magic Zoom
This is a manual focus assist which causes the magnify buttons on the back of the camera to display the zoomed area of the frame in a window – maintaining the full shot on the LCD. This is how all magnified focus assists should work, someone please tell Canon, Sony and Panasonic.
Anamorphic crop marks
Crop marks can be loaded from a BMP image on the card. Cinemascope ones are provided as default. It is handy for framing in 2.39:1 or 2.66:1 without an anamorphic lens if you plan to crop the image afterwards, and it saves on tape!
High bitrates – 50Mbit+
An increase of up to 40% higher bitrates than the standard 36Mbit Canon codec are stable. It goes well past 2x (up in the 80Mbits) but that just isn't stable enough to be used yet. Might 7D owners with the dual-DIGIC4 chipset have better luck? With my 600D I can't get past the 1.4x 50Mbit point before it gets unstable. It doesn't give us as fine a noise grain as the GH2 hack but you do at least have an i-frame codec at 50Mbit – not too shabby!
Follow Focus
Enables arrow keys on the back of the DSLR for an electronic follow focus using the AF motors of the lens. It actually works quite well and smoothly although the button presses and AF motor noise can get picked up on the sound track if your mic is close to the camera with a high gain.
Peaking
Focus peaking highlights in-focus areas of the frame with coloured specs so you can see visibly where the focus plane is in the image without squinting, magnifying, EVFing or guessing. I personally find peaking a bit distracting and prefer to use an EVF or the Magic Zoom feature.
Movie Log
Saves metadata (ISO, exposure, etc.) for each movie file in a text file ending in .LOG on the card. Very handy for test shoots, camera comparisons and keeping track of what shot was shot how.
Below: the Magic Window focus assist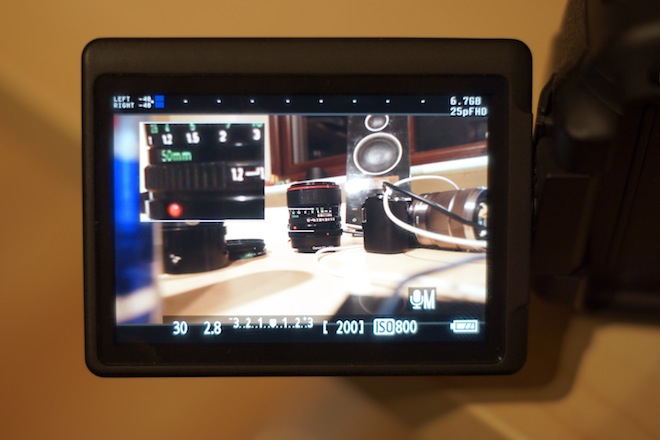 CineStyle, Lion, EOS Utility and Magic Lantern
If you are a 60D or 600D owner with Lion, Canon's software team does not seem to think you are very important. The EOS Utility STILL does not work with the 600D or 60D when you run it under OSX Lion on your Mac. EOS Utility is only really useful for filmmakers because it is the gateway to installing Technicolor CineStyle.
I am running Windows on my Mac under VMWare Fusion 4 which I highly recommend, because you can run the GH2 hack PTools with this as well and you don't need to close everything and reboot like you do with Apple Boot Camp. You can also drag and drop files between the Windows Desktop and the Mac operating system while Windows runs in an isolated window itself – just the way I like it – that way it can't cause any trouble!
So do CineStyle and Magic Lantern work together in harmony? Yes they do but I couldn't get EOS Utility to load CineStyle onto the 600D under Windows inside VMWare Fusion 4 either, because I was only running XP SP3 and the 600D driver didn't load. Switching to Windows 7 under Boot Camp solved the problem and I was able to finally put CineStyle on using the EOS Utility.
Then, when I loaded Magic Lantern I was able to use it just fine with CineStyle.
Coming soon…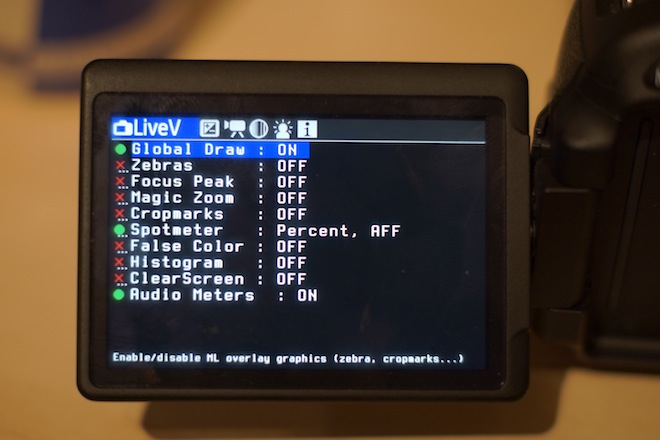 The GH2 meets her nemesis in The Battle of The Hacks.
EOSHD will be putting a hacked Canon 5D Mark II and Canon 600D up against the mighty hacked Panasonic GH2 where they face off over image quality and features. I'll also take a look at how the 5D Mark II handles shadow detail and dynamic range with CineStyle versus the flattest film mode setting on the GH2 as well as compare colour and resolution from both cameras.