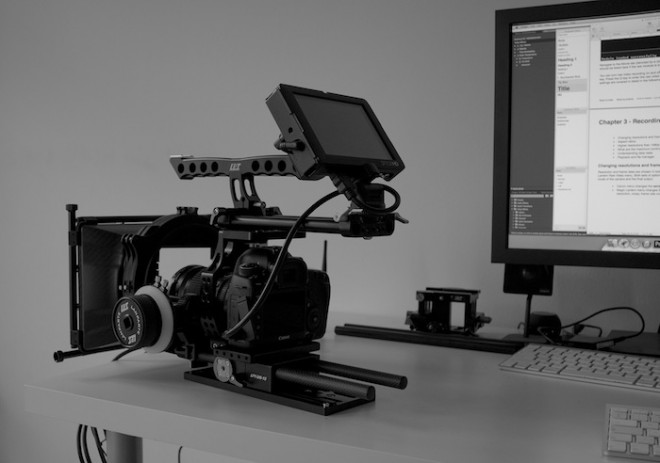 Crop mode is covered in my 106 page EOSHD 5D Mark III Raw Shooter's Guide on 5D Mark III raw video here
Above – EOSHD "raw rig" above is comprised of the Lanparte BMCC cage with 5D Mark III and LanParte follow focus / carbon matte box from HDVideoShop
Slashcam and I set out to test the 5D Mark III's crop mode as precisely as possible using a chart – it is possible thanks to 100% accurate framing in crop mode with the black & white Magic Lantern live-view preview mode. Further optimisations to the buffer handling by Alex at Magic Lantern aims to make higher resolutions such as 2560 x 960 at 98MB/s sustainable for longer or even continuous.
The 5D Mark III has a 5760 x 3240 full frame sensor.
It also has a sensor windowing mode, which Canon uses to show the very crisp 5x magnified focus assist. This is a 1:1 crop of the sensor.
The image buffer which supplies this view, is 3584 x 1320 in size. It is a narrow aspect ratio but has a Super 35mm wide window on the sensor. At this resolution the camera only manages around 2 seconds before the buffer fills up but I can record for sustained periods of time by dropping this from 3.5K to 2.5K. The 2.66:1 anamorphic style aspect ratio I chose gives a Micro Four Thirds style sensor crop, actually a bit closer to the 2.3x crop of the Blackmagic Cinema Camera. The resolution is 2560 x 960 and that's continuous at 98.3MB/s on my 64GB KomputerBay 1000x card.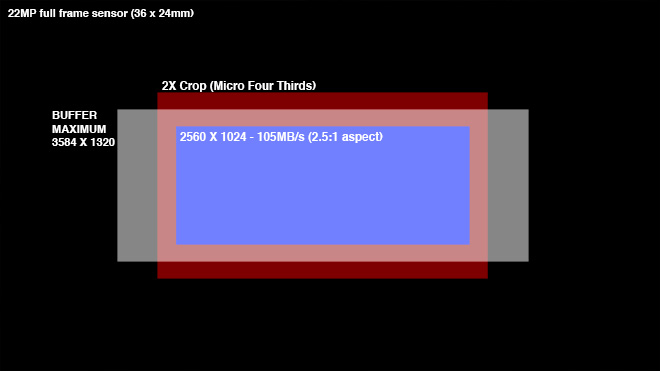 In the test at Slashcam we tested all the horizontal resolutions from 3.5K down to 1.92K and compared to the 1D C and the 5D Mark III's own full frame 1920×1080 raw video.
This being a 1:1 crop of a photographic sensor, the results are about the same as a 1:1 crop of a 22MP raw still, so the quality is pretty incredible considering it is raw video we're talking about here not stills.
Here's how they all compare to the full frame 1080p raw output…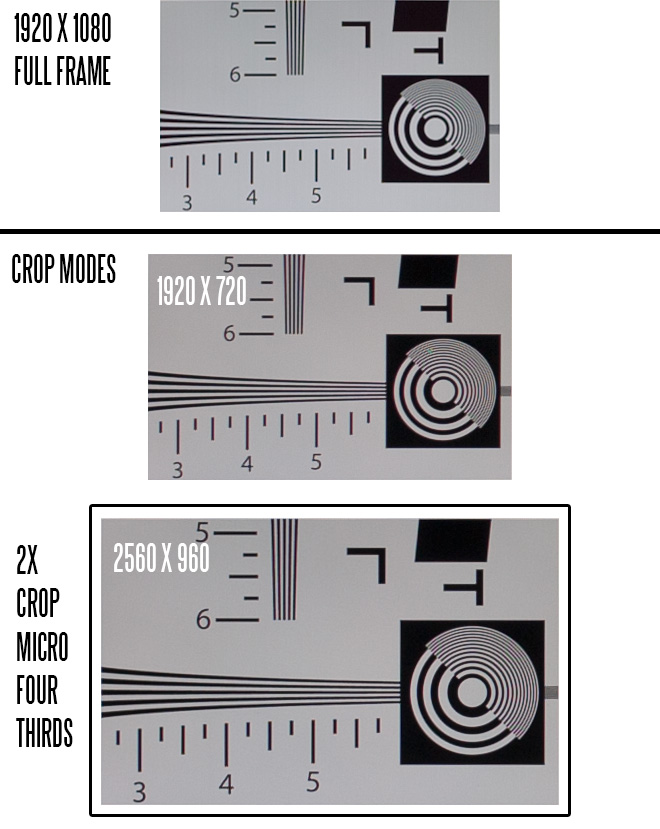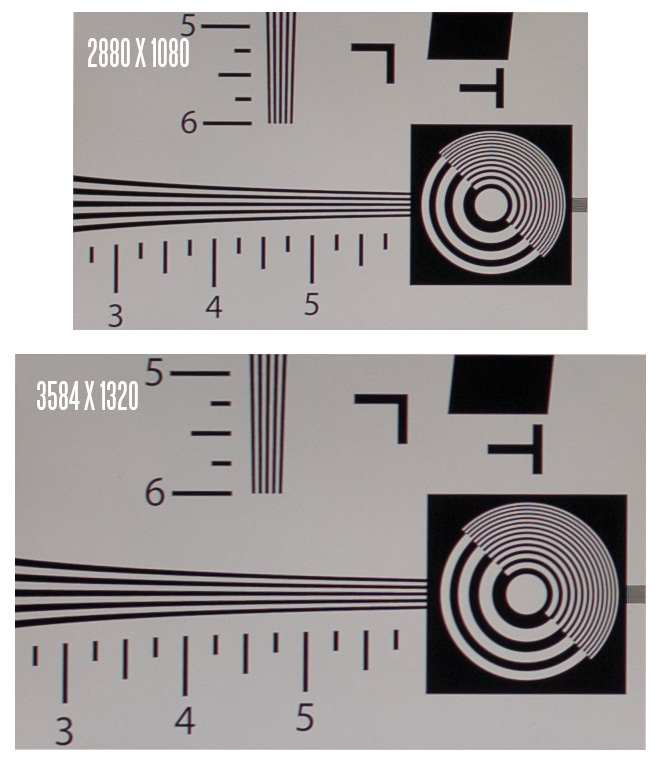 As you can see, the continuously shooting 2560 x 960 mode gives you a nice step up in resolution from 1080p, and will give you a narrower field of view from your fast prime without opting for a slower telephoto lens. So it certainly has a creative use on almost any film project.
I certainly used the GH2 crop mode a lot in my documentary style shooting in Asia where I wanted to quickly capture a punched-in view of something happening which would have been over by the time I'd changed lenses and re-framed.
The sensor output in this mode is unfortunately 30p as it is designed for a smooth live view display rather than the cinema screen. Frame skipping has to be done in-camera to output this at 24p (and lower the data rate so the card can handle the higher resolutions). This doesn't do any favours for motion cadence but the effect is pretty subtle.
At 3.5K the 5D Mark III has a similar level of resolution to the 1D C's 4K output (at least horizontally), but with the advantage of it being raw. Horizontally it is actually in my view a little sharper than the 1D C. Vertically it falls short (1320 vs the 1D C's 2160) and has a bit of an artefact on the chart but nothing that should trouble a real world shoot.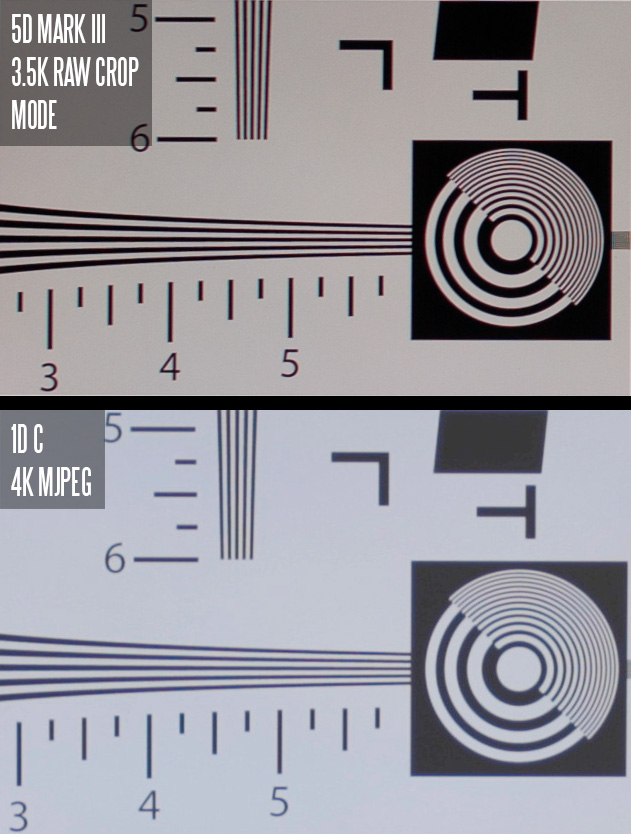 However it's likely that the full 3584 x 1320 frame will never be a continuously recording mode. 4 or 5 seconds maximum is what I predict. The UDMA 7 compact flash standard is very fast but it tops out at 150MB/s, some 39MB/s too slow for 3.5K recording at 2.72:1. Narrower aspect ratios such as 3:1 will help drop it below the threshold at the expense of vertical resolution whilst maintaining the 3.5K horizontal resolution.
I'd rather keep crop mode as a creative tool for a quick telephoto re-frame and have 3:2 1920 x 1280 in both crop mode and full frame sensor mode. That's the maximum full frame resolution and an anamorphic lens can then stretch this close to 3K and it does upscale very well, so although we can all dream for 3.5K or 4K on a DSLR raw video mode, you can get practically the same results right now with the right lens.
Canon 50D is crop mode monster
The Canon 50D also has a crop mode which I explored at the weekend since I recently picked up a Canon 50D. It only cost 400 euros, so stay tuned for some low budget raw video fun on EOSHD. You are able to get 1920×1080 in the crop mode and it has no moire or aliasing like is present in the Super 35mm full sensor mode.
Slashcam's take on the results is here (Google Translated) and here (original German)