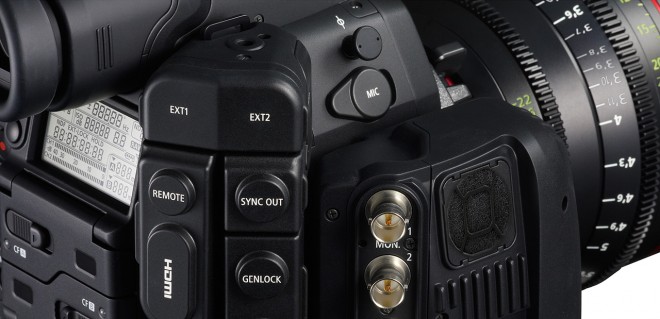 According to a professional DP, Canon may in fact have some excitement for us in store at NAB. (Important to note this is a rumour and may just be speculation on behalf of my source).
The rumour mill has been surprisingly quiet in the run up to NAB but not just for Canon. Last year Blackmagic kept the surprise factor right up to the point where new camera banners were standing on the show floor. Maybe companies are just getting better at keeping hold of their secrets. However one DP claims to know something we don't – that the Canon C200 will be an 4K entry level Cinema EOS camera and the C400 the semi-pro version, sitting under the C500.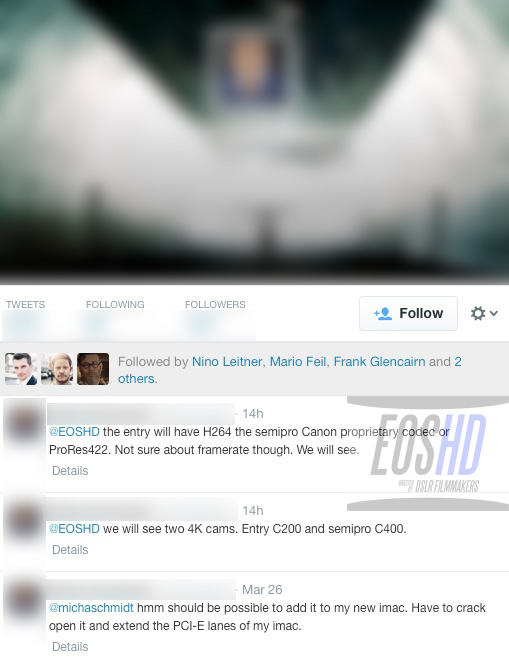 I've blurred out areas of this screen grab to protect the identify of the source, although it was a public tweet shared openly. Let's hope he is right!
Canon have made great inroads into the professional video industry with Cinema EOS but so far, frankly I think their low end has been a mess and the other problem is a lack of really complete 4K solution. The time is now.
Canon's current 4K solutions the Canon 1D C and C500 of course produce absolutely spectacular images but they have their limitations. The 8bit codec on the 1D C and the form factor unchanged from the 1D X stills camera it is based on is for me quite a big limitation. The GH4 has a much better form factor for video work, of course with the advantages of mirrorless – a built in EVF and full PL mount compatibility.
The C500's dependance on an external recorder and again a form factor unchanged from the C300 it is based on is also a limitation. That camera has recently seen quite a big price drop to $19k from $26k and this week CVP in London are giving away a free Odyssey 7Q with their remaining stock, on sale for just £12,900 + VAT. Interesting!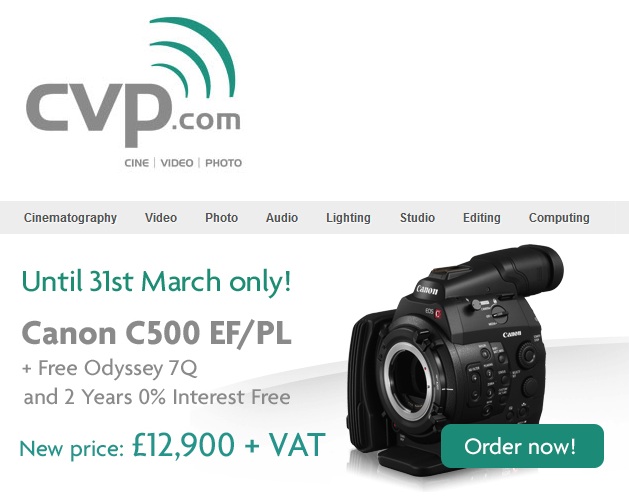 This isn't however the final price for 4K. The Odyssey 7Q needs an expensive 4K firmware update, extra codec licenses and expensive proprietary media to work, none of which are supplied in the bundle at CVP.
And the 4K competition is definitely hotting up. Panasonic and their 4K VariCam and GH4, Sony with as yet unannounced 4K DSLRs and other solutions, Blackmagic and the flawed but cheap Production Camera.
[vimeo]http://vimeo.com/89607288[/vimeo]
The Canon C100 recently had some of Canon's newer technology enabled in it with an upgrade – phase-AF on the sensor – which as you can see from Philip Bloom's C100 AF test here actually is very useful for certain work. This certainly seems to speed up working with unpredictable subjects (once you combine it with serendipitous usage of the AF-lock button!) and great for run & gun. However the C100 and C300 are really now looking a bit dated specs wise when we have 10bit ProRes, global shutter, 4K and even raw available on much cheaper alternatives. The Panasonic GH4 has virtually no competition yet – certainly not on a cost basis. The Blackmagic Production Camera – also a very impressive spec for the money ($2995). So a Canon answer is needed.
A C200 with a "semi-pro proprietary Canon codec" may also feature a flavour of ProRes, according to those tweets. Frame rates are unknown but the GH4 does slow-mo at nearly 100fps in 1080p while the current Cinema EOS C100 maxes out at just 30fps. If Canon can step their frame rates up even if it is just 60fps in the entry level model, it would help everyone.
The GH4 outputs 10bit 4K 4:2:2 via standard HDMI onboard, which is also a BIG reason for Canon to step up their specs lower down the range.
The C400 is higher end and I am told this sits under the C500. Based on the C200 it will also offer a 4K image. My source didn't divulge any other info at all, but I expect it to also record 4K internally unlike the C500 and have a proprietary Canon codec.
What I would love to see next from Canon though, is for them to start taking video in DSLRs more seriously.
The whole raw video thing has passed them by and Canon should have embraced it. Where is the raw video firmware update for the C300?
The image from the 5D Mark III in raw is a league apart from anything else at the moment in 1080p and it is used professionally despite practical issues surrounding reliability and file sizes.
Magic Lantern shows there is an appetite for a more 'expert' DSLR from Canon which goes beyond the 1D X for video and beyond the 5D Mark III's consumer leanings for functionality, yet maintains the accessible pricing.
NAB starts on April 5th. Stay tuned for full coverage on EOSHD next week.