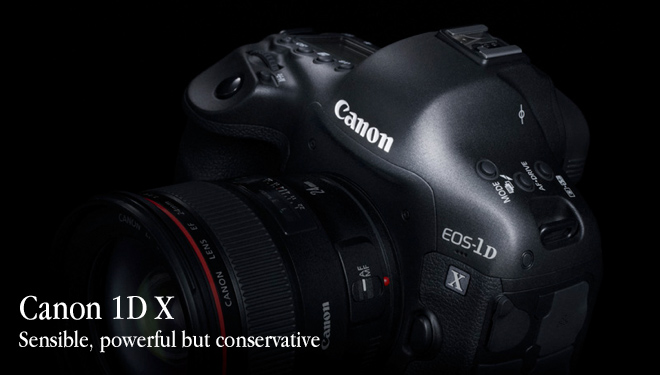 Sample movie clip from the 1D X now online
Canon have announced the $6800 Canon 1D X designed for professional news and sports shooters. It is far more a successor to the 1D Mk IV than the 1DS although officially Canon say it represents the merging of the two lines. Really, the 1DS replacement will be the 5D Mark III with a higher megapixel count.
The 1D X lacks the 1080/60p mode of the $600 Sony NEX 5N but it does thankfully have the AVC Intra-frame codec of the $800 hacked GH2. Chuck Westfall says of video on the 1D X:
"I think people are looking for a balance between cost and performance – the cameras offering 60P at the kind of bit rates that we can offer tend to be in a higher price bracket. And we can offer 720p at 60 frames per second"
Well, the Sony NEX 5N is not really in a higher price bracket Chuck is it? What's also rather disappointing is that although the camera has file-spanning to get around the 4GB file size limit of the FAT file system of Compact Flash cards the 1D X is limited to 29 minute recording time due to a very stupid European tax law, much like cheaper consumer DSLRs.
At a glance
64 manual audio controls
Capacitive Touch-Pad for silent manual control adjustment during video shooting.
EOS iTR AF Colour/Contrast AF in live view mode (video unconfirmed at time of writing)
1080/30/25/24p AVC H264
IPB 50Mbit (VBR) standard compression mode
ALL-I 300Mbit+ in Intra-frame recording mode. Canon say this plays back smoother when editing especially on lower spec machines, because the complex compression is not a feature – it is literally each frame stored sequentially.
Carbon fibre shutter, 12fps (up from 5fps from the previous full frame shutter – very impressive). Electronic rolling shutter at 14fps for 18MP JPEGs (if only it was 24fps 12MP huh?)
ISO expansion to ISO 204,800 but limited to ISO 51,200 in video mode
UDMA 7 for 176MB per second data recording to dual compact flash card slots (note – Megabytes not megabits – the limit of the card controller is much higher than video recording will use)
Drop frames feature for syncing with dual system audio
Industry standard Timecode (a feature some pros will appreciate but creatively uninteresting)
MetaData recorded for video clips inside a .THM file (the thumbnail image)
Same LCD as the 600D but not articulated
What is most exciting about this camera is not the rather conservative implementation but the raw tech behind it. Dual DIGIC 5+ is a real beast of an image processor and the new full frame sensor improves on the low light performance of the previous 1D Mk IV. The camera uses the old DIGIC 4 of our 600D and 7D just for controlling the new Auto-Focus and Auto-Exposure system. This includes a new AF tracking system called EOS iTR AF which tracks object by colour and contrast. Usually contrast detect in live view and video mode on DSLRs works just with detecting contrast changes but the 1D X has a dedicated DIGIC-4 CPU for AF. As well as the new colour-detect component to contrast detect which improves the way it works and the speed, face detection is in there as well. What we need now is some silent video optimised lenses from Canon for the EF mount and confirmation of whether this contrast detect AF system works in video mode. By definition it should because contrast detect works off a sensor live video feed with the mirror up.
The new 35mm CMOS sensor uses a 16 channel read-out and it is 1.4x faster than the one in the 1D Mk IV. Rolling shutter is therefore improved and gapless micro lenses mean that despite also being full frame and 18MP, the photosites are larger capturing more light. Gapless microlenses are not that new, both the 7D and GH2 have them but this is the first time they're implemented to this level in a full frame 35mm sensor from Canon.
With DIGIC 5 being based around a video core, scalling is done by inteligentlly binning pixels like on the Panasonic GH2 and not by line-skipping. Therefore detail is greatly improved without the kind of false colour moire and horrible aliasing we had before on Canon DSLRs.
The release date of the 1D X is March 2012 so quite a while to wait – which is good because to save up $6800 is no easy thing! What I am looking forward to is the 5D Mark III which will be more affordable but is likely not to have the same level of low light performance due to the higher megapixel sensor.
The 1D X is a nice incremental leap forward but still too conservative for my liking in innovation terms. It lacks a bit of Steve Jobs magic. It is a highly corporate product. Cameras are undergoing a massive change at the moment. The 1D X gives pros exactly what they need to improve their game but is lacking some really exciting inspiration beyond the brute force of the new DIGIC 5 processor and sensor.
There's no news yet about how good the HDMI output is apart from the fact that it is improved to at least the level of the 7D (no drop of resolution while recording) or the colour sampling and colour space used by Canon for video. 10bit 4-2-2 uncompressed HDMI out on this camera would be very nice indeed but 10bit 4-2-2 in-camera would be far better!
Maybe the 5D Mark III will be more adventurous in terms of feature set.