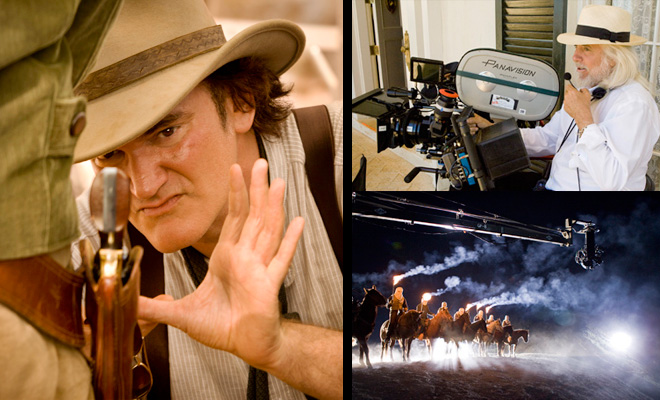 Thanks to Volker for spotting the info. Image credits and further reading: Django Unchained / Robert Richardson at The American Cinematographer Magazine ~ Django Unchained echoes spaghetti westerns at Kodak camera and television
Learn the ropes and unholster your gun – The EOSHD Anamorphic Shooter's Guide
I honestly can't remember the last time I was so gripped by a mainstream piece of cinema. For the first half I had a permanent grin etched on my face for at least an hour, and for the second half I was on the edge of the seat with the kind of tension and sheer terror that you rarely see with the pacing of most mainstream movies – Ridley Scott did it with Alien and Tarantino's completely mastered it here. The first act is like the journey of a roller coaster up the tracks and then for the 2nd half it comes rocketing down and you're terrified.
Django Unchained is a towering achievement – and here's how it was shot.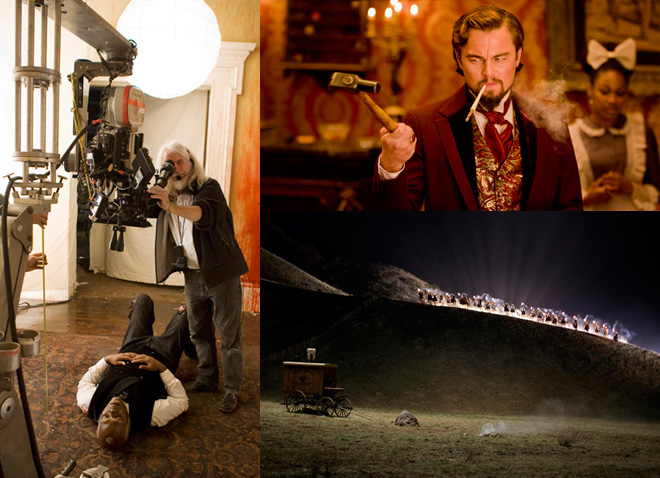 Images (c) The American Cinematographer Magazine
A big mainstream hum around Tarantino and the endless violence debates (which are really rather silly) can often get in the way of what I consider to be a great artist at work.
He's drawing in very broad brushstrokes again with Django but there's a ton of intelligence, wit, depth of feeling and subtle undertones in the film. It is also a very authentic Western, steeped in the culture of cinematic glories past. Tarantino has long been a film buff and now it's pay off time.
The cinematography by Robert Richardson often saw the DP or Tarantino himself behind just a single camera. Tarantino said of this "I don't select, I direct". The direct control was 100% necessary to get that John Ford Western authenticity.
The film has an Oscar winning turn by German / Austrian actor Christopher Waltz  (who along with DiCaprio's villain is for me the best character in the film) and an Oscar winning screenplay written by Tarantino. According to the ASC magazine, cinematographer Robert Richardson didn't try to push Tarantino to shoot digital. Although Quentin was present at screenings of the Zacuto Shootout at Skywalker Ranch last year, digital has his curiosity but not his attention.
He still prefers the photochemical process of film.
Anamorphic was also Tarantino's choice, and he'd envisioned every shot in the wider aspect ratio. This was a superb move and it adds to the already very organic, magical look of film. Although 'old-school' the viewing experience immersed me in the story far more successfully than High Frame Rate 48fps did in The Hobbit. Often the more advanced technology is a backward step.
Richardson chose a more muted, cooler 'British Technicolor' look and Kodak film stock for first act heavily influenced by 60's and 70's spaghetti westerns, but moved to an intoxicating 'spaghetti southern' feel for the second half where a more saturated warmer film stock was used (an IB Technicolor look). Big Sky Ranch in Simi Valley was used for sites representing Texas…
"Then we move to the winter wonderland, where Django becomes a bad-ass bounty hunter; we shot all that up in Wyoming. Then we moved down to Louisiana, where we wanted to drench the movie in Southern atmosphere."
– Robert Richardson
[vimeo]http://vimeo.com/43992478[/vimeo]
Above – The trailer (very dumbed down I know – the film is far better than represented here)
Simulating moon light
At one point the crew needed to simulate the look of moon light for a night sequence covering a vast Western landscape.
"How do you light a vast Western landscape for a T4.5 or T5.6? I'm sure we were seeing up to a mile of background in every direction. There was no light out there, and there wasn't supposed to be any. The only motivation was moonlight ambience."
– Gaffer Ian Kincaid
The answer for me would be to ramp the sensitiviy of a digital cinema camera up to something like ISO 12,800, open up the lens to T1.2 and use actual moon light. But Tarantino didn't have this option with film and didn't want to open up the anamorphic lens to a wider aperture. Shooting wide open gives a lower contrast, more dreamy look and more flare; This was a scene involving crisp dark backdrops and torch flames.
So Richardson pushed Kodak 5219 film stock to a very grainy ISO 1000 and lit with crane mounted 40×40″ truss frames filled with 6K space lights. There's a shot in the film which does indeed look very grainy and I'm sure you can spot it, but that amount of light combined with some exposure 'to the left' lends it a genuinely dark moon-lit feel – a great backdrop for the fiery torch wielding riders on horse back.
"I did tests pushing the film stock to 800 or 1000, depending on your point of view of the speed of the stock. That allowed me to take it to a 5.6, essentially a T4, so I gained one stop of capability. It definitely required more light, but the look of a full anamorphic negative is unbeatable – unless you go to a 65mm negative, as was done on The Master."
– Robert Richardson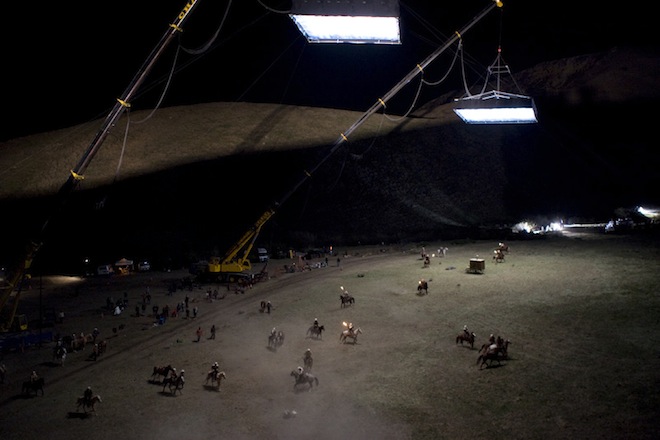 Above – The space lights were skinned with Gelfab Full Blue Silent Grid Cloth to provide some "moonlight" ambience.
Below – video contains strong language, NSFW…
[youtube]http://www.youtube.com/watch?v=TLwjCvxp8AQ[/youtube]
Tarantino shot on a one-camera set-up (rarely a B-cam) and same anamorphic lenses he picked for Inglourious Basterds
The main camera was a Panaflex Millenium XL-2.
The 2x stretch factor anamorphic lenses giving a 2.40:1 aspect ratio – as used on Tarantino's previous film Inglourious Basterds – were a set of Panavision Primos. These were supplemented with a set of Panavision E-Series anamorphic primes ranging from 28mm to 180mm for when a lighter camera configuration was needed or a focal length not present in the set of Primos. Tarantino used a number of crash-zooms and dolly zooms in the film, and the anamorphic zooms were the Primo 48-550mm ALZ11, 40-80mm AWZ2 and 70-200mm ATZ.
Tarantino apparently has an affection for wider focal lengths (meaning 40mm or 50mm in anamorphic on Super 35mm).
"Quentin doesn't like the foreground-background separation that a long lens creates"
– Robert Richardson.
Occasionally Tarantino would request a 'snap zoom' so Richardson would punctuate the drama with these, pulled himself by hand.
Tarantino took a more improvisational approach for Django
Whereas on previous films (notably Kill Bill) Tarantino would provide handwritten shot lists on the day of principal photography, Django saw a departure in style for Tarantino and I feel the film is all the more spontaneous for it. There's some brilliantly naturalistic set pieces, what you'd definitely call 'organised chaos'.
"Quentin still knew exactly what he wanted to shoot, but this time, he was willing to come in and develop a scene based on the moment, which was a little unusual in my experience with him."
– Robert Richardson.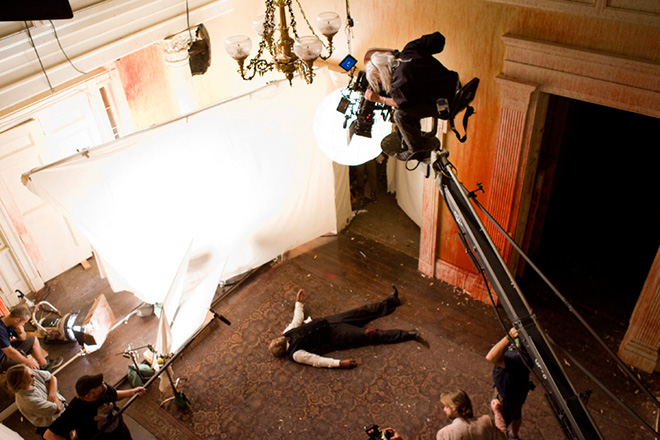 To soften a shot, they used a stocking in front of the lens
In the scenes set in the South, which called for softer more intoxicating, humid atmosphere – with more diffused lighting Richardson would soften a lens by putting a stocking over it. This would create a slight bloom and lower contrast.
"That reflects the nature of the light down south, which is kind of humid, a little glowing."
– 1st AC Gregor Tavenner
Tavenner says the different stockings had 'got mixed up in his kit' over the years so he'd judge the feel of the fabric by eye and varied the effect by matching different fabric to different focal lengths and varying the stretch.
Richardson says the Primo anamorphic lenses are sharper than the E-series ones. Some of the scenes called for a very softly lit feel, so Richardson would shoot these with the sharper Primos to bring out the detail.
"A Primo is so truthful in its translation of what's in front of it. With the older anamorphic lenses, you can throw all that light at a scene and they will soften it. [Richardson's] lighting is so soft that he benefits from the Primos' ability to capture all that resolution and detail."
– 1st AC Gregor Tavenner
[youtube]http://www.youtube.com/watch?v=Zv0ecgerGAc[/youtube]
Above: 12 minutes of behind the scenes B-roll
Tarantino was against a digital master
Tarantino took an interesting approach to the release of the sound track for the film, something he was keen to try with the picture as well.
The sound track (which is superb!) features recordings from Tarantino's own vinyl collection, together with the crackles and pops you'd expect from old vinyl records. Tarantino personally places the needle and recorded the audio himself which was transferred to the actual release. He didn't request digitally cleaned up remasters from the record company.
Tarantino originally wanted also to use an analogue process for the film's release in cinemas but reality got the better of this.
Instead of the photochemical finish Tarantino wanted, the film was mastered in 2K digital. The release needed to get into as many theatres as possible – most of which now have fully digital based projection systems. The film was shot on Kodak Vision3 500T 5219, 200D 5213. A digital intermediate was used in the editing process.
"With Quentin, it was old school – and yet it doesn't look old school. That's the beauty of his work. It's very out-front. It's more dazzling. He's a remarkable director. You can take contemporary equipment and new school ideas, but it doesn't necessarily mean that your work is going to be any better. In fact, your work could become worse. How often have we heard that with digital, you don't have to light anymore? That's not true. You need to light and shape the light because the element of light remains a contributor to the story. Why give that up? It's absurd."
Django Unchained is showing at a cinema near you now. Highly recommended.