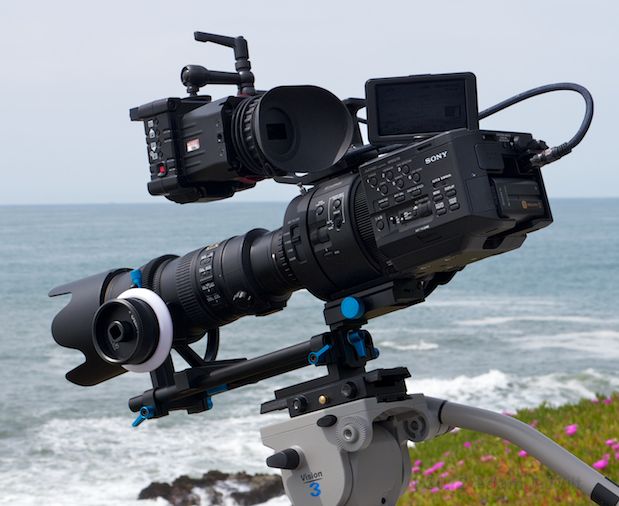 Above: FS700 in action with Adam Wilt of provideocoalition
Sony did a live chat today, mostly concerning the FS700. Here is an extract of the most interesting bits, quoted almost verbatim from the horse's mouth:
That 4K bit doesn't actually exist yet
For 4K recorder, we haven't decide the details of the external recorder including its release data. We will listen to the market feedback then decide.
No 10bit colour
The FS700 does 4:2:2 8bit.
How about low light performance?
This is equal to the FS100.
EOSHD: The newer sensor design is compensating for the increase in MP count from an effective 2MP (1080p) to 8.3MP (4K) and the downsampling from 4K to 1080p helps a lot.
On whether the Metabones adapter will work
Sony cannot guarantee that every lens adaptor will work properly. Despite this, many third-party manufacturers have had access to E-mount diagrams, in order to develop many lens rings.
EOSHD: This is interesting – Sony actively supporting use of third party lenses.
What about that zoom rocker switch on the F3. Any plans for powered zoom lenses for the FS700?
As you could see on some photos, zoom rocker has been incorporated on the hand grip. It will have a future usage. E-mount allows data interchange between lens and camera.
EOSHD: Powered zoom ENG style E-mount lenses are coming.
Is the FS100 now obsolete?
The NEX-FS700 addresses a different market segment on both pricing and feature set. At this point in time there is no plan for a trade in. The NEX-FS100 is still a fantastic camcorder for many applications!
Should I be worried about over heating using 240fps Super Slow mo during a long shoot in a hot climate?
No worries. No over heating. But please use it in 0 to 40 degree temperature.
Has build been improved?
The FS700 will feature an ehanced ergonomic design and a robust chassis – bubble wrap not required! FS700 will be very similar to FS100 in aesthetical terms. We haven't had any report about broken chassis nor malfunctioning buttons. We need to keep that design in order to preserve low weight, agility and affordability.
What is the price in the EU?
List price is €8,100 for the Sony FS700E (body only).