[vimeo]http://vimeo.com/90683855[/vimeo]
Above: GH4 test footage shot in 4096 x 2160 Cinema 4K DCI mode. Academy 1.85:1 aspect ratio. CineLikeD profile for best dynamic range.
Tip jar EOSHD just $5 if you think this article is useful
Below: Cooke S4i Mini (uncoated Panchro/i version) on the GH4 with Ciecio7 PL adapter (buy it on eBay here
)
Andrew Reid (EOSHD) and Frank Sauer (Filmmaker) are shooting with the Panasonic GH4
On Day 1 of shooting with the GH4 we did a location scout at the Spreepark abandoned theme park in Berlin. The park has granted us paid access to do a proper shoot with the free runners so I am going to save the location scouting footage for when it comes to that edit and the final piece. Frank is near Frankfurt now with the GH4 to shoot a piece with a new aerial drone and gimbal (similar to MoVi) and I have been out shooting with the GH4 around Berlin to get an idea of the image quality when it comes to 4K. I've also tried grading the 100Mbit/s 4K codec in Premiere to see how well it holds up. Here are the results in glorious 4K!
Disclaimer 1: This GH4 is a pre-production model. Firmware version is v0.5. The image quality may not represent the final camera.
Disclaimer 2: Because I don't have NDs big enough or good enough for the Cooke lenses yet, most shots were shot at higher shutter speeds than 180 degrees (1/50)
Tip: if you don't have a Vimeo Plus account to download the original file and pixel peep I've uploaded some short GH4 4K clips here in ProRes LT format. Try grading them and looking at the detail 1:1!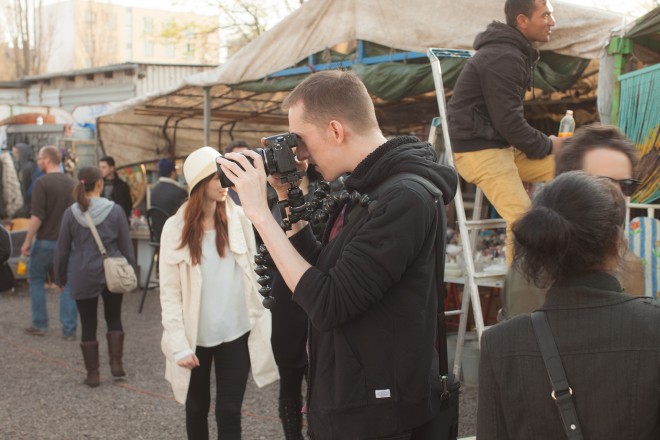 Above: Andrew Reid. Filmmaker and blogger, EOSHD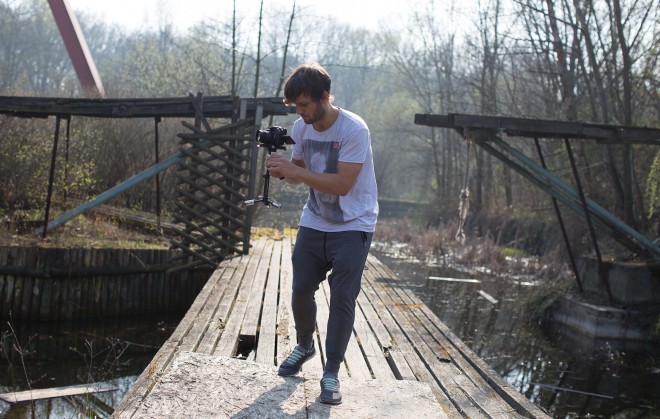 Above: Frank Sauer, Filmmaker
The real magic hour for me is the morning at sunrise. The dawn light has a other-worldly feel, it is pearly and hazy purple and more ethereal. Sunset in the evening has a more in-your-face impact, it is more romantic but less subtle. So for 2 days I have been awake, GH4 in one hand, tripod in the other to catch some of this incredible light in 4K, as well as capture a new dawn for camera technology.
The first thing which struck me when I started editing the footage is how well the 4K codec grades. I have never had H.264 that grades as well as this. You can do huge white balance corrections. It handles more like 10bit ProRes rather than something from a £1299 mirrorless camera.
CineLike D and V are available on the GH4 and these are pro picture profiles Panasonic also uses on the VariCam. CineLikeD is flat and brings up the blacks so great for grading. CineLikeV gives you a nice smooth cinematic image but punchy and ready to show straight off the card.
Film Convert is not yet optimised for the GH4 and there's no profile but choosing a profile for the Blackmagic Pocket Camera (Video) or a GH3 setting allows you to work pretty well with it. The image is not 'thin' like on other DSLRs, it can be pushed around and not break up – especially if your final delivery is going to be 1080p from a 4K master. If this is the case you also have the added creative bonus of being able to do 'ExTele' mode in post rather than in-camera, with an extra focal length anywhere in the frame when cropping 4K to 1080p instead of scaling. For 1080p or 2K delivery it is best to transcode the 4K files to ProRes before you grade.
Here's an example of how well the 4K grades…
The clip was set to the wrong white balance in-camera for the light we had, which was warm evening sunlight. I've corrected it with Film Convert Pro.
Ungraded, wrong white balance (click to enlarge):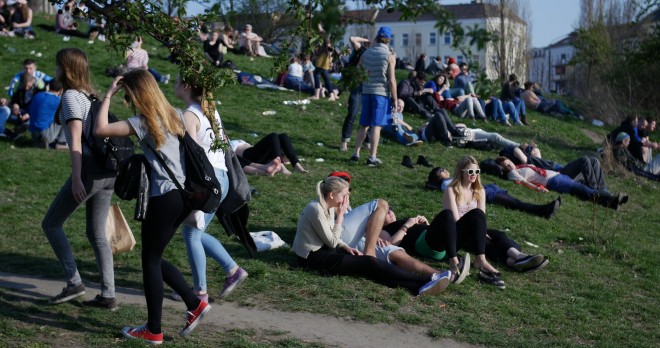 Graded with Film Convert in Adobe Premiere Pro CC (click to enlarge):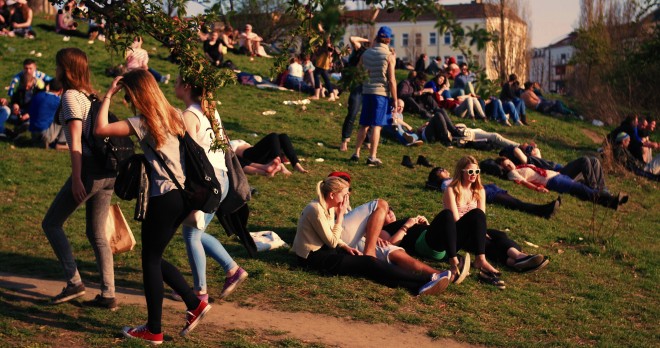 In particular look at the improvement in the grass and the girl's golden hair… amazing how it holds up to such heavy correction!
A new era
Back when enthusiasts were using a Canon HV20 camcorder as the cutting edge and pros were using Sony EX3s with clunky DOF adapter, along came interchangeable lenses, large sensors and DSLR video in 2008/9. The moment I saw Philip Bloom's first GH1 shoot in Haiwaii (Kauai Sunset) the creative possibilities of this new equipment was clear and the price made it possible for me to jump right in. The song used on that video still plays in my head whenever I think back. I went out to my local camera store (at that time I was on holiday in Taipei, Taiwan) to track one down, finally finding a Japanese import at a family run store… got it back and unboxed it, I remember how tiny and advanced it looked for the time. That moment was the genesis of EOSHD, soon after I started blogging about the camera and I have not felt the same about any of the subsequent cameras since. It was a one off life changing moment. Don't tell me cameras don't matter. They do. Although they will send you mad.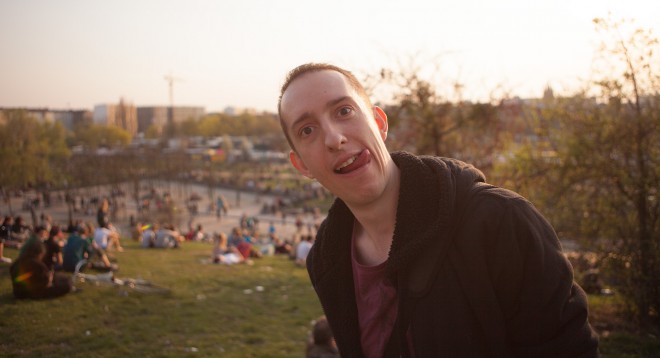 So to the GH4 over 4 years later and this image is in a new league. It cannot be compared to any of the previous DSLR or mirrorless cameras.
Not many people realise this but all cameras do a raw video output from the sensor. 1080p has been done by only reading out a limited amount of raw data from the sensor though, and a JPEG still can use ALL the raw data which is why video always comes up way short in terms of image quality. The GH4 reads out all pixels from a 4096 x 2160 sized window of the full sensor. That data is identical to what you would see if opening a GH4 raw still and cropping out 4096 x 2160 in Photoshop. It is this data the GH4's 4K codec uses to build the final compressed video. Immediately when that raw data comes off the sensor, Panasonic put their codec expertise to good use. The GH3 had the best codec on any stills camera out there. The GH4 moves this up into a whole new level. Up to 200Mbit/s (ProRes standard bitrates) in 1080p, up from 72Mbit/s on the GH3. The popular ALL-I options remain for 1080p but in 4K the codec is more efficient, using IPB compression (Long GOP) to save space.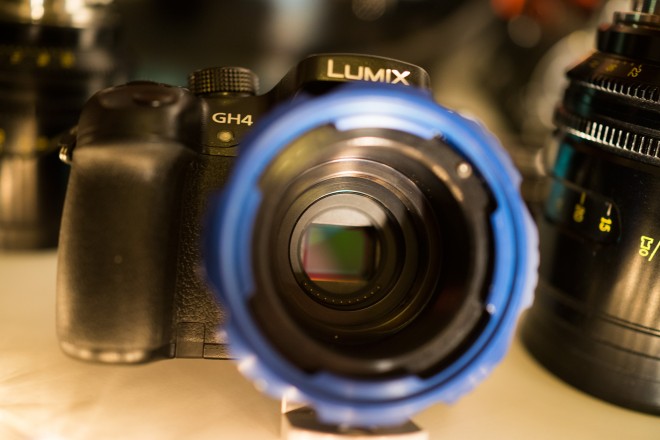 Above: The Ciecio7 PL adapter for Micro Four Thirds on the Panasonic GH4 (buy it on eBay here
)
I have not seen any moire in the GH4's 4K output yet. The only artefacts in the 4K image are related to aliasing from 4:2:0 colour sampling. Mr Uematsu told me that all internal processing and debayering is done in 10bit 4:2:2. However the internal 4K codec drops this to 8bit 4:2:0 to save space. You're thankful for the light footprint of this codec though after using Blackmagic 4K ProRes or 5D Mark III raw files! Much more practical to store and archive. The 4:2:0 artefacts are barely noticeable as is the compression. On some shots any artefacts are entirely absent and disappear altogether if scaling the 4K to 2K, resulting in a 2K or 1080p 10bit 4:4:4 image. You can do this with FFMPEG and Frank has tried it. This will be later in the production diary.
Another option is to use a 4K capable external recorder to grab the uncompressed 10bit 4:2:2 4K image from the GH4's micro HDMI port.
It's amazing that the GH4 has such a high spec HDMI output but a Micro HDMI port is not ideal. 10bit 4K is a pro-level feature and the pro video port is HD-SDI so finding a recorder to accept this 10bit 4K signal over HDMI is going to be tricky for a few months before new options appear. Until then we have the rather clunky external YAGH interface unit which gives the GH4 those lovely HD-SDI ports.
The internal 4K codec is not entirely free of compression artefacts like macro-blocking, particularly noticeable on blue skies – but again downrezzing to 2K or 1080p cleans that up no-end and you gave to be really pixel peeping the 4K footage to notice that it is compressed. If you want a finer grain to the GH4 like a 'film stock' then again, use the uncompressed 4K output from the camera HDMI port or YAGH box instead.
If I were Panasonic I'd have used a stronger OLPF in the camera just to take the sharpness and edge off the 4K video. This is definitely a camera you're best dialling down to -5 on the picture profile sharpness setting. I did not do this on all my footage so we live and learn. That's why some of it looks a bit over sharpened, sorry about that!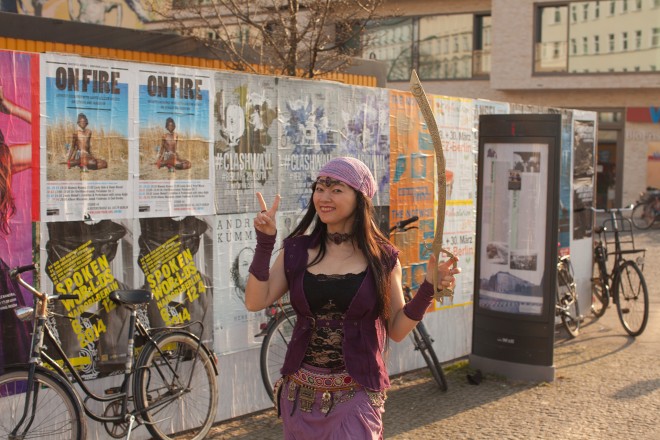 Editing and grading
There's two ways to approach the GH4 in post. With the GH2 I hardly ever graded. I put all my effort into the shoot and on getting the image right at the time of shooting.
The good news is a Macbook Pro 15 Retina and iMac 27″ will edit the GH4's 4K material at full resolution if you just have the clip on the timeline and no effects. If you add effects and multiple tracks then you need to drop the playback resolution to 1/2 or 1/4.
When not grading GH4 footage I used the same tricks I did with the GH2. Expose to prioritise either shadows or highlights. Do your grading in-camera with the picture profile settings.
H.264 is not like raw when you can choose your white balance and exposure in post. What the GH4's codec should really be compared to is ProRes on the Alexa – the ultimate lossy compressed image. I would love to get some Alexa footage and see how the GH4 grades by comparison. That isn't to say I think it will be a match, what I am saying is that is the current HD benchmark and I want to see how the GH4's 8bit 4K codec compares to the best 2K stuff.
There's around 4x the data in the 4K GH4 files compared to 1080p on the GH3 so your hardware needs 4x the power to crunch through it. Putting playback resolution to 1/4 on less powerful systems or when you have lots of plugins therefore makes sense.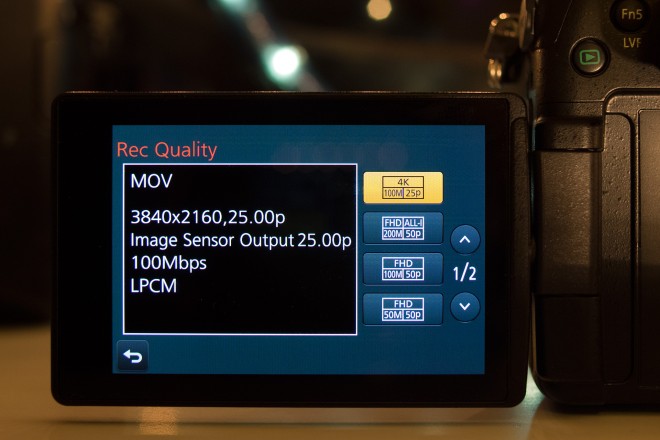 Both Twixtor and Film Convert can be set to GPU accelerated but laptops and iMacs don't have the GPUs you need to really go for lots of effects and tracks on a 4K timeline. My iMac is the late 2013 model (27″) with Nvidia GTX 775M 2048MB and CUDA but this was not enough to give me realtime 4K playback with Film Convert Pro 2 on full. Rendering speeds improved with the GPU compared to using the 3.4ghz CPU but not by the leap I'd expect. Maybe the plugins are just not optimised to work with 4K yet? Also Film Convert uses OpenCL for GPU acceleration whilst Nvidia cards work better with CUDA – their OpenCL performance is really not that good.
Although setting Premiere to quarter playback resolution results in a very aliased playback monitor, it's fine for giving you immediate feedback about how the edit is progressing though in terms of timing, mood, etc. without having to constantly wait for rendering your next chunk.
In Premiere it also helps to change the sequence setting to ProRes if using Film Convert, because there seems to be a bug whereby Film Convert will sometimes corrupt image quality (making it look terribly blocky) when editing in native H.264.
Of course 4K can also be transcoded to whatever format and resolution you like for the final delivery. If your final delivery is in 1080p it makes sense to transcode to 1080p ProRes early on so your editing is realtime. The 4K files from the GH4 make amazing looking 10bit ProRes 1080p 4444 but that extra transcode step does add time to your workflow early on, so a fast turn-around might be more tricky.
This GH4 derived ProRes does grade really nicely though in 10bit 4444 and it is this I want to compare to 2k ProRes on the Alexa.
In a nutshell this situation is the same as when full HD came along and people were stepping up from standard definition. And to get some perspective… the GH4 files are much quicker and easier to edit than raw from DSLRs or Blackmagic so the fast turnarounds can be had, even on laptops.
Rolling shutter
In 4K the sensor has to read out 2160 lines which is double 1080p. That takes twice as long so the sensor has to be sped up to avoid rolling shutter which is doubly bad.
The Sony AX100 really suffers from rolling shutter in 4K mode, it is horrendous. Here's a great example from my friend Emmanuel Pampuri (French readers can view his latest GH4 test too here). Lovely moggy! Rolling shutter test is around 4:35 at the end…
[youtube]http://www.youtube.com/watch?v=fKJt7p_qj0U[/youtube]
Thankfully the Panasonic GH4 avoids the worse of rolling shutter issues in 4K, because the sensor readout has been sped up by 50% over the GH3.
This helps with stills too because the camera features an electronic shutter mode when you want to use it in complete silence. This uses the rolling shutter for 16MP raw stills, very nice.
In 4K video mode the rolling shutter skew is about what we're used to with other cameras in 1080p like the GH3.
Almost all cameras, even the Alexa have rolling shutters so if your work needs a global shutter my advice is get a global shutter 🙂 There are some options especially for global shutter and none of them have the all round feature set of the GH4 and the low price. Take a look at the Digital Bolex, Blackmagic Production Camera (both $3k) or for pros the Sony F55 ($29k).
Shooting
For fun I shot this test footage with the GH4 at Berlin's Mauerpark (Wall park) flea market. Like most things in Berlin the park is currently under threat from property developers. Sucks! I also shot around Mitte and Museum Island in the centre of town.
Since this is one of my first shoots with the GH4, there are some things I would have done differently. I am learning like you all are about this camera as I go. First my PL adapter needs a bit of fine tuning I think. It is a bit loose on the GH4's Micro Four Thirds mount and I think occasionally it rotates by a tiny amount and gives me a soft corner or two with the Cookes. I'm looking into this now. With 4K you really notice any optical issue because everything else is so sharp.
Secondly I'd have exposed for the highlights a bit more and for the sky to really get the hazy dawn light to sing, as I would have done with the GH2. The GH4 has really good dynamic range – around 12 stops I'd say – and the codec grades really well, but it is not raw. You have to get your exposure spot on at the time of shooting. On the GH4's display the shadows look a lot darker than they actually are so sometimes you think you're under exposing too much and overexpose to compensate. That's a mistake, so use the histogram instead for exposure.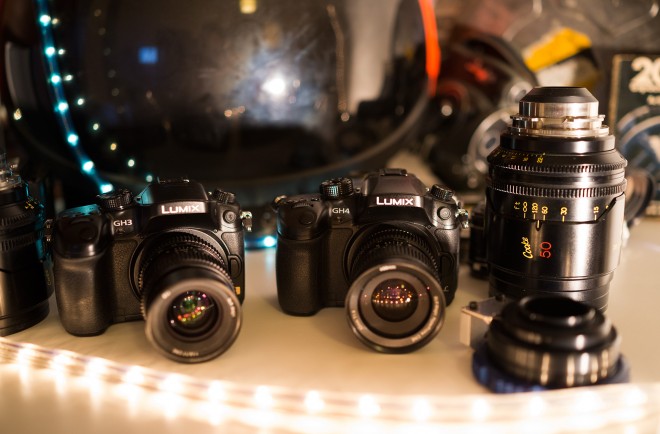 Lenses
The GH4 with the Cooke PL lenses is pretty special – so sharp, almost too sharp. I think Luke Neumann said it best when he revealed he was selling a RED Epic kit and replacing it with the GH4; spending the money he saved on more important things like lenses and projects.
Lenses are an essential investment when it comes to any camera and in 4K mode the GH4 has approximately a 1.5x crop sensor over Super 35mm and a 2.2x crop sensor over full frame, so get the glass to suit the project. If you want a more 'full frame' feel on the GH4, use the Metabones Speed Booster and some very fast Nikon glass, or the super fast glass (F0.95) from others.
So far I have shot with the following lenses on the GH4
Cooke Panchro/i (S4i Mini) 50mm T2.8
Cooke Panchro/i (S4i Mini) 32mm T2.8
Cooke Panchro/i (S4i Mini) 25mm T2.8
SLR Magic 12mm T1.6
Sigma 18-35mm F1.8 (via Speed Booster)
Voigtlander Nokton 25mm F0.95
Olympus 12mm F2.0
Sadly all my Canon EF glass can't be used as there's still no sign of the Metabones Speed Booster with Smart EF ability. This is really needed. I do have an EF adapter for Micro Four Thirds but obviously it is a bit useless and some lenses like the 85mm F1.2L can't even focus on it because they have a fly-by-wire focus ring.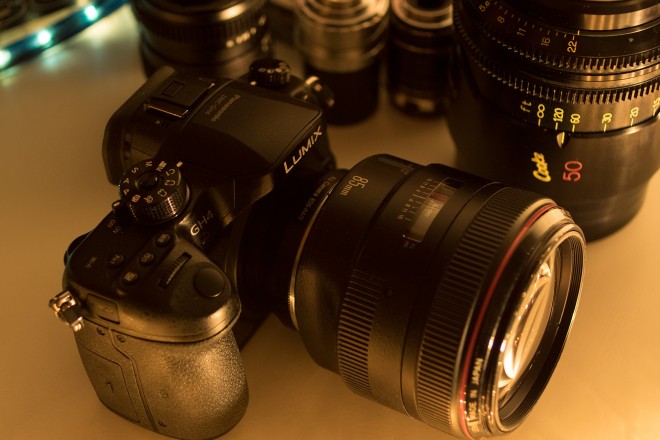 Above: The Canon 85mm F1.2L won't work on the Panasonic GH4 via the passive M4/3 mount adapter here – so sadly it is just for show. Where IS the Metabones adapter?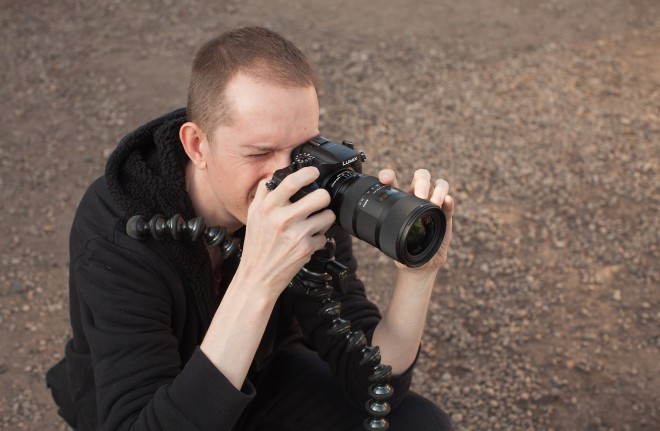 Above: Sigma 18-35mm F1.8 on Metabones Speed Booster with the GH4
The Sigma 18-35mm F1.8 is super sharp on the Speed Booster in 4K with the GH4. This is my favourite zoom of all the DSLR options out there. You have to go to modern PL mount cinema lenses designed for Super 35 to get a better one. The aperture is crazy fast yet it is so sharp wide open at F1.2 (on the Speed Booster). Use it without the Speed Booster and it loses some its appeal because you lose the wide end and have to expose at F1.8 instead of F1.2
More to come
What is to come in Day 3 and 4 of the production diary?
Low light test up to ISO 6400 in 4K and 1080p – How does it rank against the 5D Mark III raw in low light and the GH3?
8bit 4K converted to 10bit 2K and 1080p – how does it compare to the internal 8bit 1080p?
Shootout with the Canon 5D Mark III raw, Nikon D7100, Panasonic GH4 and Blackmagic Pocket Camera!
Further footage and shoots
As always check EOSHD tomorrow for the next instalment.