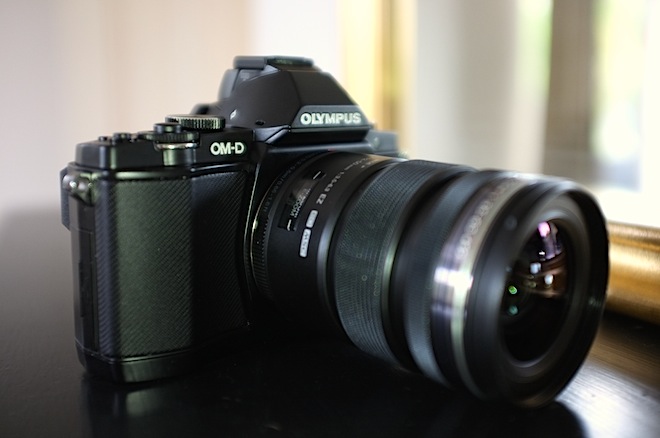 For me the OM-D is a superb stills camera with question marks for video. So satisfied I am with it as my main stills camera I've replaced both my Fuji X Pro 1 and NEX 7 with it for stills. Much better AF and the lens range were certainly a factor in that, but this camera also combines the retro good looks of the Fuji with the operational fluency and advanced featureset of the NEX 7, as well as offering superb 5 axis image stabilisation inside the body.
But how does it do for video?
Impressive dynamic range and live curve adjustment aside, before having one in my hands I wasn't really considering the OM-D as a serious purchase for video because of the codec. No choice of frame rates. No high bitrates. Olympus chose my least favourite recording format (30p in an interlaced progressive segmented frames format). 30p is the 'video look' personified and 1080/60i is completely unnecessary on a computer or in an NLE, it is only there for compatibility with cheap TVs and set top boxes. Ironically for 90% of those who will use the E-M5, it is rather a compatibility hassle. Quicktime X on my MacBook already has issues with E-M5 clips. Most NLEs will recognise the 30p native video without the need for special transcoding but the lack of native 24p/25p is a serious oversight by Olympus, both in terms of convenience and cinematic feel.
However the camera does have strong points.
The video aesthetics of the Olympus are close to the GH2 – sharp, contrasty and punchy results out of the box. Less rolling shutter than any DSLR bar none. A fantastic articulated screen and a beautifully tactile handling along with great colour and arguably the best image stabilisation system ever made.
Like the GH2 you get full manual control of everything in video mode (shutter, ISO, aperture, etc.) which is very important for composition.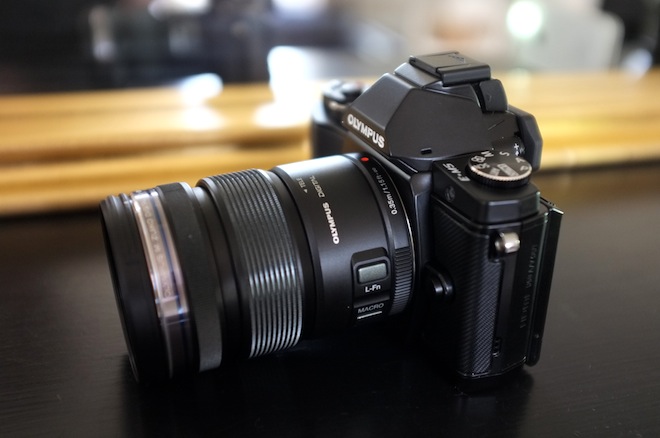 Going steady
Subjectively at first glance the superb 5 axis in-body stabiliser is better performing than even the best Canon L lens. It isn't a replacement for a good Steadicam rig for walking around a live event, tracking shots, etc. but for static handheld shots, or as a reportage news cam with vox-pop talking heads it is almost as effective. The shot is completely locked off in every axis, even rotational movement is snuffed out.
Furthermore in stills mode this camera gives every lens you own – be it Nikon, Canon FD or Leica M – cutting edge IS with no extra crop. This is incredibly attractive for stills and gives you far more low light shooting ability minus the hassle and bulk of a tripod. Voigtlander Nokton 25mm F0.95 with IS? Yes please I'll take 5!
In video mode the 5 axis IS only works with supported Micro Four Thirds lenses (those with electronic contacts) and introduces a slight crop, but it is just as effective. The crop is perfectly liveable with because it is so slight. Smooth handheld video with the 12-50mm, Olympus 45mm F1.8 or lovely Olympus 12mm F2 is a real speciality of the OM-D that no other DSLR comes close to imitating.
As a handheld behind the scenes (BTS) camera or for run & gun with a minimum of weight and hassle, the E-M5 is probably the best tool for the job especially in low light where a small chip camcorder turns to mush.
Connectivity
There's no external mic socket and the HDMI output requires a proprietary Olympus cable not provided in the box. A very poor show here and as a result I cannot yet tell you if it works with the Zacuto EVF or Small HD DP series, etc. or what image quality is like via HDMI yet – uncompressed 4:2:2? One can hope!
Thankfully the SD card door is on the side like the GH2, not on the bottom with the battery like on so many idiotically designed small cameras.
Splash proof
Handling and build is real strong point. Weather sealed magnesium alloy body, like a 7D, I'd have no qualms about using this is a B-cam shot getter in the rain or rigged to a vehicle getting splashed with mud, provided you have a weather sealed lens to go with it, like the 12-50mm kit. The magnesium alloy construction of the E-M5 makes the GH2 look and feel like a toy. The handling of the camera combines all the best bits of the X Pro 1 and NEX 7 without any of the quirks.
AF in stills mode is also a strong point – the kit lens outperforms all the old phase detect based Canon and Nikon lenses, and is on par with the newest phase detect technology in the 5D Mark III, especially in low light. Only on low contrast surfaces does it fail to lock on which is hardly surprising, being contrast detect based.
However in video mode AF is terrible, constantly pulsing and hunting and a very electronic look. Turn it off and use MF instead!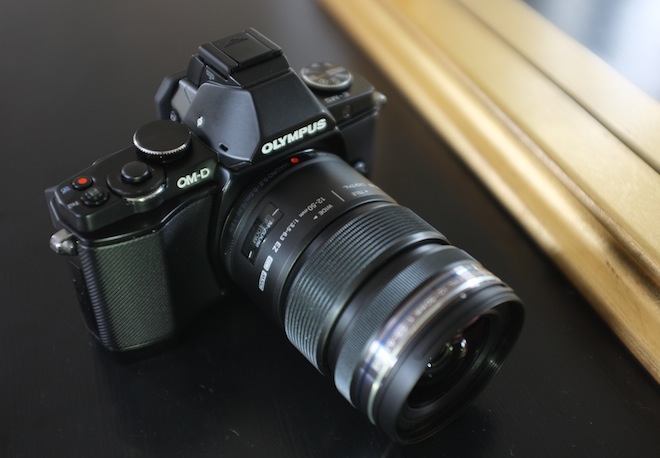 4:2:2 MJPEG mode
The video mode is not without a surprise. MJPEG mode on this camera is reported as 4:2:2, though only at 720p and again 30p. Though resolution is superb for 720p if you look closely enough, it certainly doesn't look like the 36Mbit VLC Player reports – there's macro blocking and fizz on detail from the codec. Not nice. 20Mbit Full HD mode looks far better.
I'd avoid fast action and quick movement with this camera. The implementation of the H.264 codec reminds me very much of the GH1 prior to the hack. You do get some mud and compression artefacts especially on handheld work. When you lock off the shot and use a shallow DOF this is far less of a problem. Mud occurs more sparingly than it did with the original GH1 but it does seem like Olympus are using quite a basic encoder implementation which lacks b-frames. Usually 20Mbit would be perfectly serviceable with a better encoder.
Interestingly, from my inspections it seems like it is 20Mbit CBR not variable bitrate.
There's some mush and break-up in highly detailed scene, mostly around the edges of detailed areas of the image. Nothing that a higher bitrate in firmware couldn't fix or an uncompressed HDMI feed.
Resolution in 1080p mode is bettered only by the GH2
Resolution in 1080p mode on the other hand, when it is not smeared away by the poor encoder, is actually very good. Almost as good as the GH2 but not quite as clean. There's some occasional performances from our friends, the comedy duo Moire and Aliasing.
Turning sharpness down to -2 in the picture profile helps a bit and for many shots you won't be able to tell the OM-D and an out of the box GH2 apart, aside from 24p, which is quite something.
It is not a good all-rounder, some shots look terrible whilst others absolutely sing. Again the poor encoder is primarily to blame.
There's no AVCHD on this camera, instead video clips are recorded to MOV files in the main DCIM directory like on a Canon DSLR, which I actually much prefer to the stupid directory structure of AVCHD.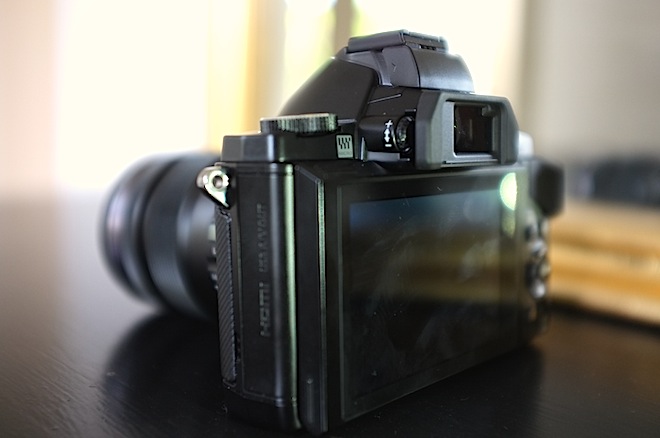 The main LCD is a new (and expensive to produce) OLED type so the power economy, contrast and colour are all huge strong points. Whilst it is not quite as high in resolution terms as the 5D Mark III it is every bit as beautiful, if not actually more vivid and more visible in direct sunlight. The key advantage of the screen over the 5D Mark III and Nikon D800 is that it is articulated on a similar hinge to the NEX 7, which is extremely useful for video and difficult to do without. The screen is better than that featured on the GH2 by a country mile.
The built in EVF is also very good though not up to the resolution offered by the NEX 7. I still prefer the EVF on that camera, but I prefer the OLED LCD on the back of the OM-D over the NEX.
Aside from the video codec, Olympus have really got their stuff together here
The philosophy of going with in-body stabilisation rather than optical in the lens was a masterstroke by Olympus, relative to Panasonic. When your stated aim of a system is to get the size down, especially of the lenses, why Panasonic chose to bulk up their lenses with OIS is a mystery. The Olympus stabilisation technology is far better and as a result their 12-50mm kit lens is affordable, light and very compact. Though Panasonic did a great job of miniaturising the 14-42mm PZ pancake zoom, the Olympus lens is wider, longer and has less compromises optically. It also has the better stabilisation when used with the EM-5.
Styling wise, the Olympus camera (and lenses) look more like serious photographic tools than the futuristic styling of Lumix line (along with all that plastic Panasonic's 1980's vision of the future seems to entail).
The Olympus approach to video on the other hand is the opposite of masterstroke. If this camera was hacked to support high bitrate 24p it would be a GH2 beater. Given the shear responsiveness of the camera, the speed of the AF, the fast scan of the sensor for minimal rolling shutter and the high resolving power in video mode – it clearly packs some powerful hardware under the hood and a very capable sensor. It is just a shame we yet again don't see the best of it in video mode because of decisions made in firmware.
The issue is not colour, nor is it resolution (though there is some false detail and moire), it is purely the frame rate and encoder on show and most likely fixable in firmware. So if you are reading Vitaliy Kiselev, please start collecting donations for an OM-D E-M5 body. I'll offer $100 now to get it started.
The other thing which could really push this camera ahead of the GH2 for video is if the external HDMI output via the mysterious proprietary jack turns out to be uncompressed and full 1080p to a HyperDeck Shuttle or Atomos Ninja.
Full review and short film soon.