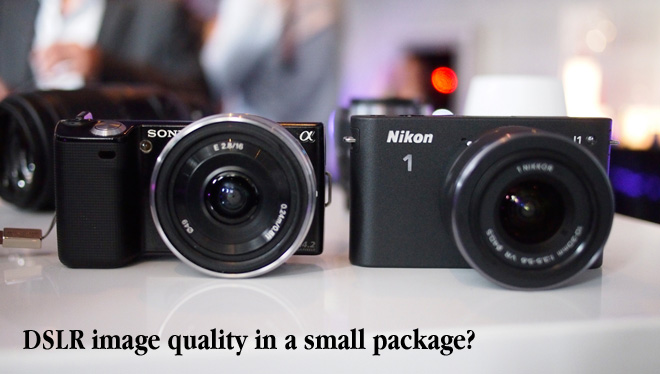 More Nikon 1 images at Lenses.fr (French website)
In an interview with Imaging-Resource, Nikon general manager of R&D said that image quality (not size) was the number one priority for the Nikon 1 series and that the camera has been in development for 4 years, a process which began even before Panasonic's work on Micro Four Thirds.
Has it been worth it? You are about to find out.
Nikon say they have targeted the J1 and V1 at that mythical creature – the compact user who wants to upgrade for better image quality. This audience is a fickle one because they want to keep the small pocketable size of a compact and a long zoom.
But they want better image quality which means a bigger sensor like a DSLR.
The target is predominantly female and men have never understood this audience. Nikon have tried and the the J1 is the first Handbag Camera.
Nikon's Masahiro Suzuki:
Basically, they're currently compact-only users, but who are eager to step up, seeking a better quality image; but who feel that a DSLR would be too much, because of the complexity, or the bigger size. So, there's some hesitation for a DSLR.
In developing the system image quality was the number one priority followed by (2) speed of shooting and (3) compact size and (4) ease of use. This system camera is not in fact meant as a simple point and shoot. It is an upgrade from your compact or smartphone and should be more advanced.
Nikon say that image quality on the J1 and V1 matches that of a DSLR. It is a DSLR without the bulk and complexity, they claim.
Let's test this claim but be careful about what we benchmark it against.
The J1 is aimed at the entry level DSLR market and competes against the Canon G12 and high end compacts, Sony NEX C3 and 5N, the Panasonic GF3 and G3, Olympus E-PM3 (Mini PEN) and Canon 600D. Although the Canon 600D is a bulky DSLR it will be a consideration because it is still mightily popular, well priced and until now the number one choice for those upgrading from a compact to their first DSLR. My first DSLR was also a Rebel.
The enthusiast orientated V1 is priced quite high and therefore competes with the Sony NEX 7, Sony A65, Fuji X100 and Canon 60D.
In the end it is fair to compare Nikon 1 cameras to a wide spectrum of cameras from the Canon G12 right up to the Sony NEX 7, because the J1 and V1 cover a lot of people. It was Nikon's intention to cover off as much of the market as possible without hurting their DSLR sales, though they admit some DSLR users are targeted – Nikon say the 1 series could be a second body for enthusiasts or pros who shoot with DSLRs.
Sensor size is interesting in Nikon's compact rivals, the Canon G12, S100 and Fuji X10. The Canons have large for a compact 1/1.7″ sensors but the Fuji X10 has a larger 2/3″ sensor similar to the Nikon. Really the Fuji X10 and X100 are enthusiast cameras for men, not Handbag Cameras. But they're tough competition for the more manly Nikon V1.
The image quality on the J1 and V1 is identical so I have used the new J1 samples from the excellent Imaging-Resource to do this test. Visit the site and make your own conclusions. Of course there is more to image quality than detail, colour and signal-to-noise ratios. Dynamic range and depth of field are two important attributes not tested by these samples. Because of the small 2.7x crop sensor of the Nikon V1 you will gain a shallower depth of field at the same focal length and aperture on all rival compact system cameras.
Nikon J1 versus Canon G12
This is the image quality gain you get for the extra cost and the sacrifice of not being able to pocket the camera. But since it is a Handbag Camera this is less of a problem. The kit zoom is roughly equivalent in range.
Base ISO, 1:1 pixel crop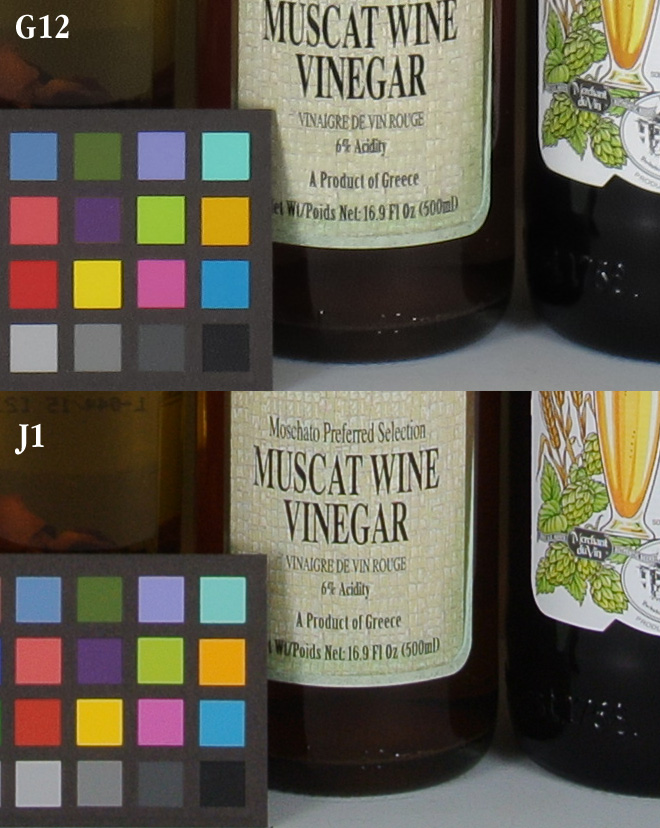 They're essential identical but for a bit of extra digital sharpening on Nikon's default picture profile. Look at the halos on the colour chart.
This shot shows no gain in image quality. What about at ISO 3200 for low light indoor Handbag Photography?
ISO 3200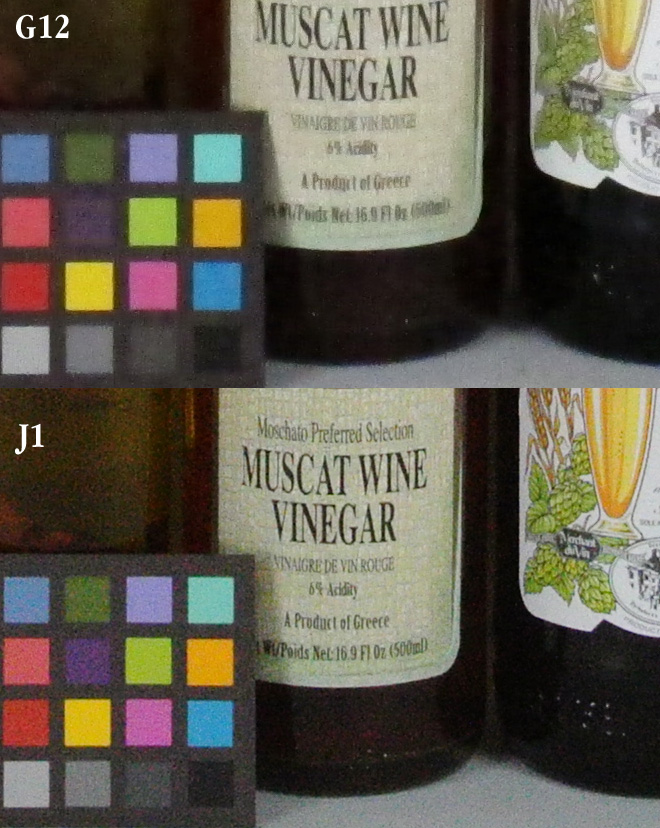 Yes the J1 definitely has the edge here but the difference is not as big as you'd expect considering one is a compact at ISO 3200. The G12 will soon get a replacement and there is the newer CMOS based Powershot S100 as well which has DIGIC 5 noise reduction – it will likely match the J1 at high ISOs and surpass it at low ISOs.
Nikon J1 versus Panasonic G3
The Panasonic G3 is currently the best selling compact step up camera on the market in the UK, although it is not quite as small as the J1 it is a popular handbag camera and has better image quality than the GF3, matching the GH2. Unlike the J1 it has a built in EVF despite being priced similarly. The Nikon V1 with built in EVF is far more expensive. It has a 16MP sensor versus 10MP on the J1 and V1. Personally 10MP or 12MP is enough for me but those who crop images may enjoy the extra 6MP as this sample shows…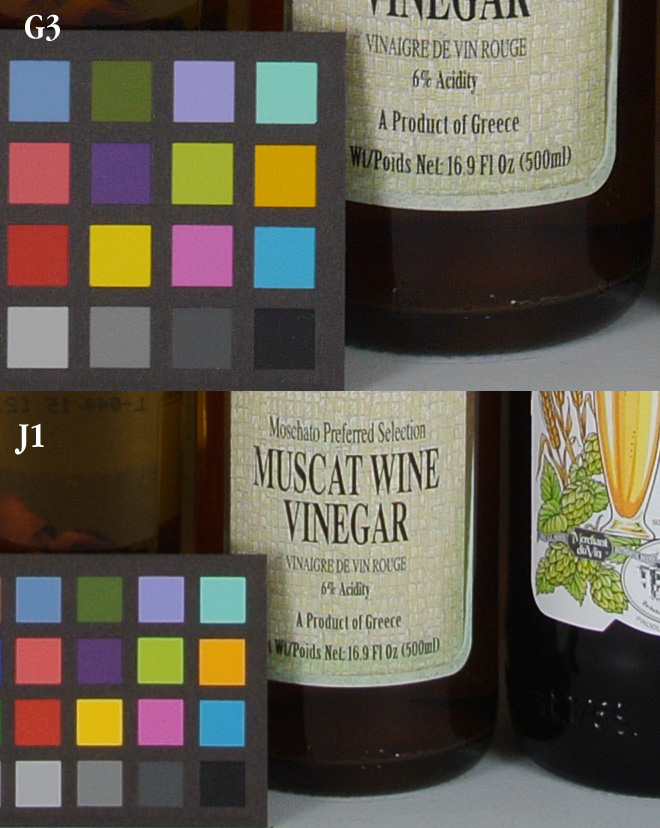 As you can see resolution is a bit of a none-contest. 16Mp is a big step up. Whether the Handbag Photographer target audience will notice is another matter – they don't typically read pixel peeping reviews. But I find it unappetising that Nikon say image quality is the main reason for buying the J1 and V1 when it is really no better than a high end compact, and far less than offered by rival systems of the same price and similar size.
Now for the ISO 3200 test I downsampled the G3 to 10MP to match the J1 and to give a better idea of per-pixel performance in low light, since this is how photos will be printed and viewed on the web by users, down sampled not at 1:1 on a demanding LCD screen.
ISO 3200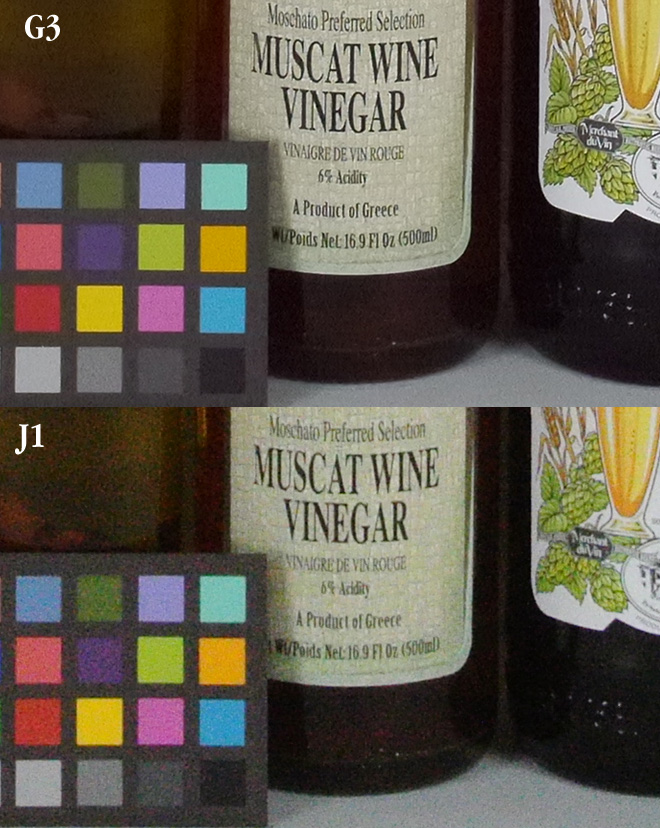 It is a win for the G3 and the difference in detail and noise will be far more noticeable in actual dim conditions, rather than under the studio lights as seen here.
CMOS sensors behave badly at high ISOs with dim low contrast details found in low light situations. Noise reduction smears more detail in low light since there is a higher level of noise to begin with. When you're blasting 100 watt bulbs down the sensor at ISO 3200 the signal is far stronger than the noise. With dim lighting the signal is weaker. I really wish more reviews would show real world high ISO performance and turn the lights down.
Nikon J1 versus Canon 600D
In shops this will be an important battle. The 600D is the main seller for compact step up users who haven't already embraced mirrorless, particularly in the US where the bulkier 600D is seen as superior especially by men. The 600D is priced right at the J1's level and it is definitely this camera Nikon is trying to take market share from along with the Canon G12. They dominate the shop floor.
So how does it do? DSLR image quality in a small package?
18MP versus 10MP is a tough sell, but really at base ISO the J1 puts up a good fight despite the massive difference in resolution.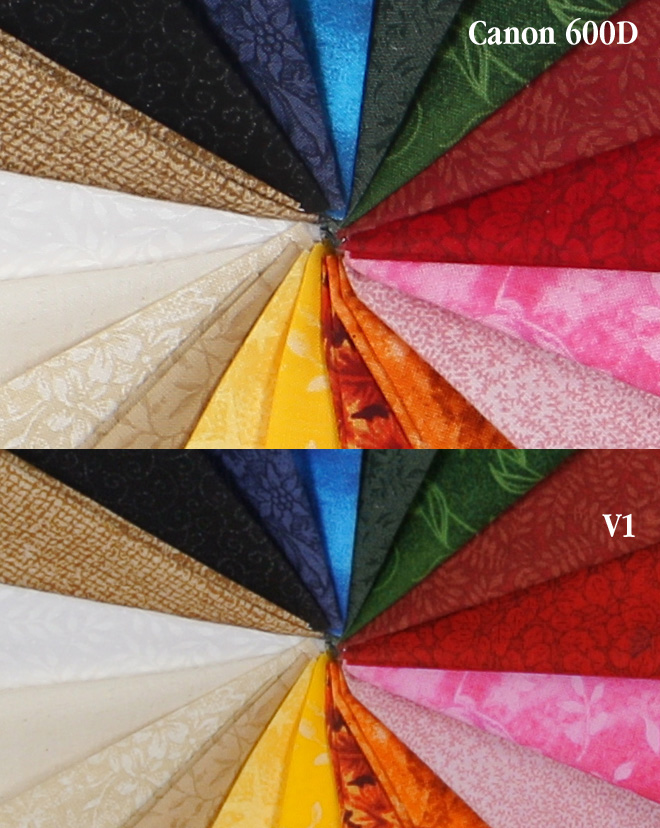 Now let's look at the V1
The V1 is £849 and competes with a higher grade of camera for the attention of enthusiasts. It won't sell as well as the J1 and I think it is here where Nikon have the biggest problem with their 1 series. The price is far too high for the performance it offers, and the size is not even very much different to a Micro Four Thirds camera. Enthusiasts do pixel peep, rightly or wrongly and don't really go for cute features like the Handbag crowd do.
Enthusiasts like small 2nd cameras but despite the small sensor the V1 is larger than the Sony NEX 5N and Fuji X100 although the kit zoom is slightly smaller than the 18-55m Sony NEX kit zoom.
Video is a big selling point of the V1 for enthusiasts but it doesn't have cinematic 24p, and Nikon have not even mentioned whether it has manual control or not yet. Detail looks good and well resolved with little moire or aliasing, but there are some doubts over the bitrate and compression of the J1 and V1 that is making me think twice about taking it seriously. Additionally the NEX 5N does 1080/60p for slow mo, something which is a big selling point on the Nikon V1. But the V1 can only do full HD 24p slow mo from 60p in short bursts, and 1080/60i is the worst video format known to modern man.
With adaptable fast lenses and 1080/30p you will be able to get some nice cinematic results from the Nikon V1 but the Panasonic GH2 is just far better specced.
There are no decent video samples out there so I can't do in-depth video mode reviews yet.
We'll look at the performance of the sensor and JPEG stills again.
ISO 100
Again the sheer amount of extra detail and a larger sensor for a shallower depth of field and better low light performance is what you upgrade from a compact for, in my view, and the Sony NEX 5N gives you that in far greater quantities than the Nikon V1 despite being more than £200 less and with an optional OLED viewfinder which is the best on the market.
The NEX 5N's video mode is better and it has eye-catching features like Sweep Panorama, 3D Panorama, Smile Shutter and Handheld Twilight whereas the V1 has some better high speed shooting modes.
10fps continuous on the NEX 5N is not too shabby though either, and well up their with the high end Sony A77 and Canon 7D. The A65 destroys the £850 Nikon V1 for image quality, video and EVF though it is bulkier you can choose the NEX 7 which is even better though more expensive than the Nikon V1.
For video the GH2 is better than the lot of them if you don't mind a slightly smaller than Super 35mm sensor.
Nikon V1 versus Fuji X100
ISO 3200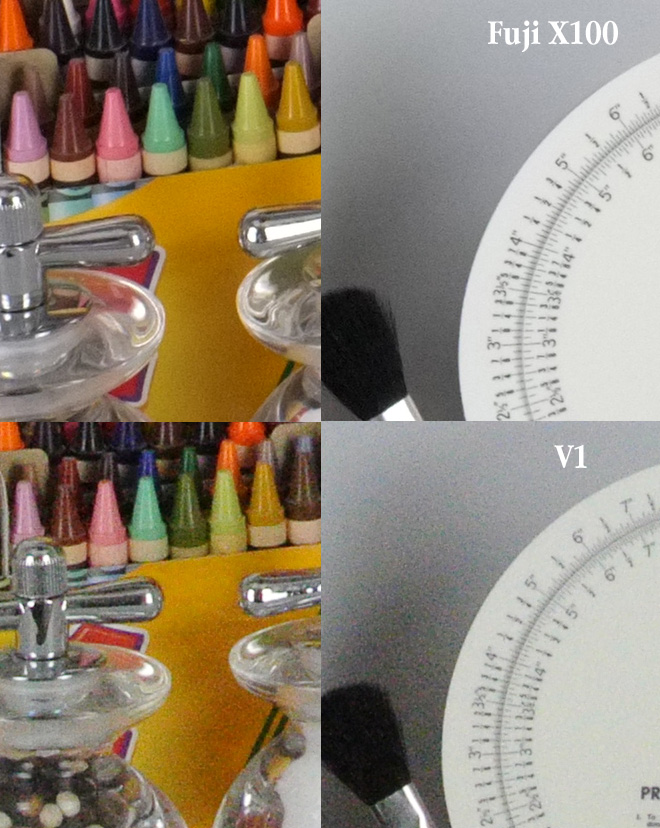 The V1's low light abilities are simply not at the same standard as the Fuji X100 or Sony NEX 5N, and bear in mind that the X100 also has a much faster standard lens in the box. The Nikon 10-30mm is F3.5 at the wide end, F5.6 at the telephoto / portrait end.
If you're taking pictures of your girlfriend in romantically lit locations you'll be far better off with just about any other £850 camera kit.
Nikon V1 versus A65
In a megapixel driven market place Sony and Nikon's approaches couldn't be more different. Nikon are playing a dangerous game here.

In reality just how much difference does 24Mp give you over the Nikon V1's 10MP? These cameras cost the same money… Let's see what you get for free on the Sony A65.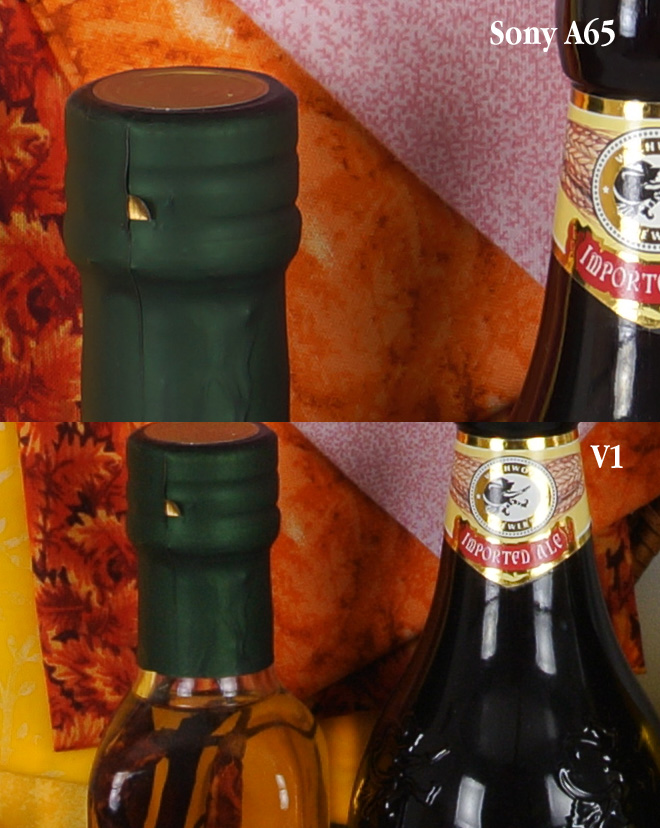 Hmm.
Well – despite the obvious gap in image quality to similar priced models I can actually see why some enthusiasts would choose the Nikon V1.
It has good high speed shootng options, good slow mo video, reasonably good video resolution from the clips we've seen so far and it is good for sports and action shooters, where the crop of the sensor gives you better telephoto and the speed of the AF system gives you best-in-class auto-focus for fast moving objects.
It also has phase detect AF on the sensor and many more focus points than virtually any other camera. The J1 also has a silent electronic shutter, though some skew is possible on very fast moving objects.
But for those enthusiasts not interested in speed, the V1 is a virtually a write off image quality wise especially for low light shooting with the Nikon CX lenses.
Conclusion
By now it should be clear to everyone that if you are upgrading from a compact like the Canon G12 searching for more image quality, virtually any other choice of camera is better for image quality than the Nikon J1 and V1.
In fact the Nikon V1 is by far the worst in it's class for resolution and high ISO performance, in fact I'd go so far and say that for £850 it is a catastrophe against its peers. The Fuji X100 is far more interesting, more innovative, more fashionable and has far better image quality.
If Nikon had released this mirrorless camera 1 year ago it would have been FAR more competitive but all their rivals especially Sony have moved on in big steps recently especially with their CMOS and image processor technology.
For the normal mass market consumer (not the enthusiast) the Nikon J1 gives you no real meaningful image quality boost over a high end compact like the Canon G12 or upcoming PowerShot S100 and no size advantage.
For average consumers looking for a Handbag Camera, the Sony NEX 5N is a far better choice for a genuine compact step-up in terms of image quality.
It also has the added bonus that you can make a Hollywood film with it.