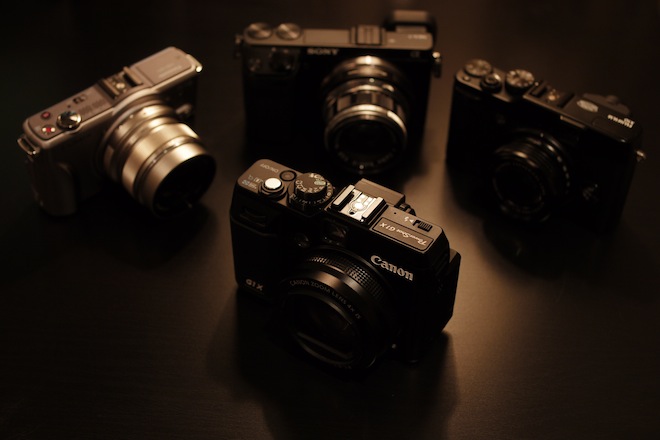 It is a testament to how demanding the camera market place is of manufacturers at the moment that Canon could bring out a large sensor compact like the G1 X and for me to have quite a few major gripes about it.
This is the best image quality we've ever seen from a camera in the 'compact' class. Although the Panasonic GX1 with 14-42mm PZ comes pretty close for around the same price. Video wise, image quality at 1080/24p is actually rather detailed and can be almost DSLR standard but it is not a match for the GH2 because of heavy aliasing, a slow fixed lens and a lack of manual control.
In this part of the review I will talk about my experience in using the camera, give you my conclusion and then in part 2 I will look more closely at image quality, high ISO and the video mode.
I am also doing a comparison of the Fuji X10 vs G1 X since these are currently the two most popular and advanced high end compacts with fixed zoom lens.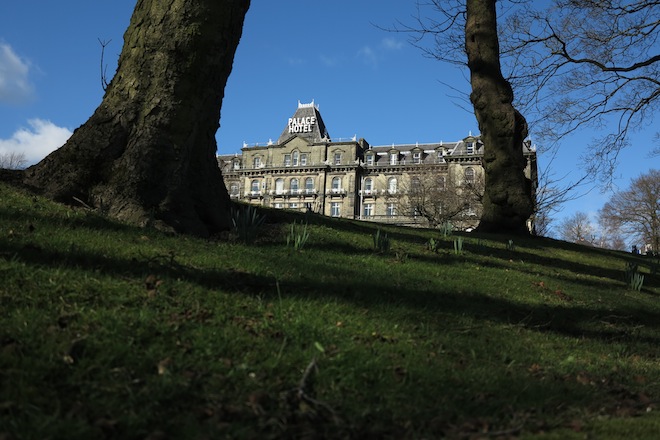 The Palace Hotel in Derbyshire shot on the G1 X
What is the G1 X?
Mirrorless cameras like the GX1 and GF3 are a slightly different bag to the G1 X really. With a zoom lens they are larger and with the Panasonic 14-42mm PZ powered zoom they are more expensive. The G1 X is designed as an all in one solution with a better sensor of the same size to what Panasonic have to offer for Micro Four Thirds.
It is designed to be like a 'super G12' with a large sensor, rather than a system camera. It has an advanced auto mode and a trigger around the shutter to zoom, just like the G12.
It has a large sensor which produces image quality on par with the 600D, but being a 2x crop Four Thirds sensor similar to the G3 (the GH2 has a wider 1.86x crop sensor to support native 16:9 video recording) it is slightly smaller than APS-C (which is a 1.6x crop on Canon DSLRs).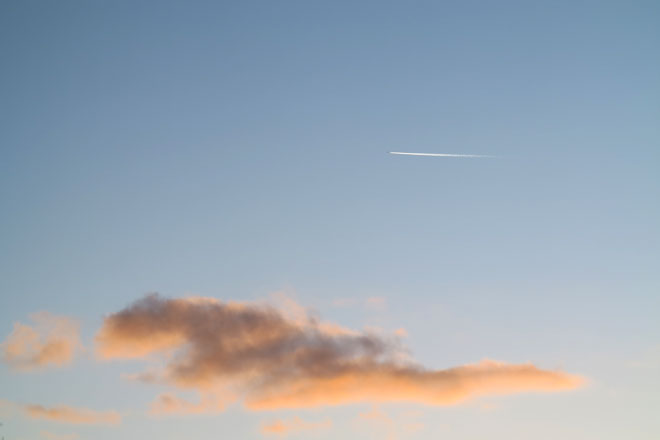 Aeroplane shot at the 4x 120mm equiv. / 60mm end of the G1 X's zoom lens
Lens
The all important lens is an act of Japanese miniaturisation much like the Panasonic 14-42mm PZ. This lens however is not quite as small especially when extended. It does however have the advantage of a faster F2.8 aperture at wide angle and a longer telephoto reach of 120mm equivalent. The actual lens is 15-60mm which is a decent range considering the reduced size over DSLR zoom lenses.
Panasonic's equivalent powered zoom for Micro Four Thirds costs $500.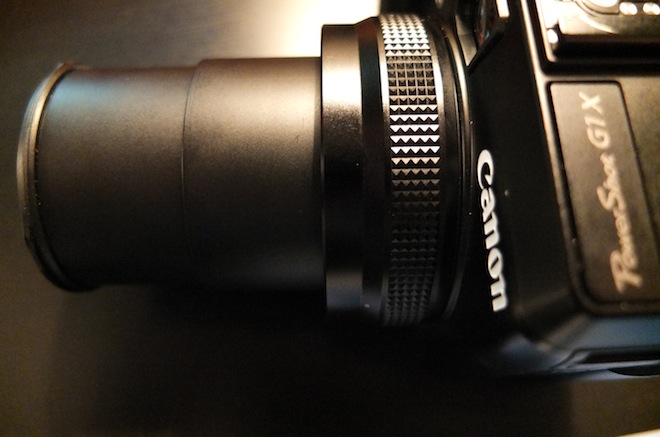 Above: when fully extended to 60mm, it is a pretty long optic!
Although the lens is fast at wide angle at F2.8 it decreases almost immediately and sits in the F4-F5.8 range for anything but 28mm. This makes me rather miss having a prime and interchangeable lens mount. But again the G1 X is designed to be an all in one compact which you take with you wherever you go. No lens hassle here.
Would I have rather had a fast prime like the GX1's Lumix 20mm F1.7 instead? Maybe. But most people who will buy this camera want a zoom.
As a result the large sensor in the Canon G1 X is slightly wasted because of the slow aperture which counters the strengths of a larger sensor – namely a shallow depth of field and good high ISO.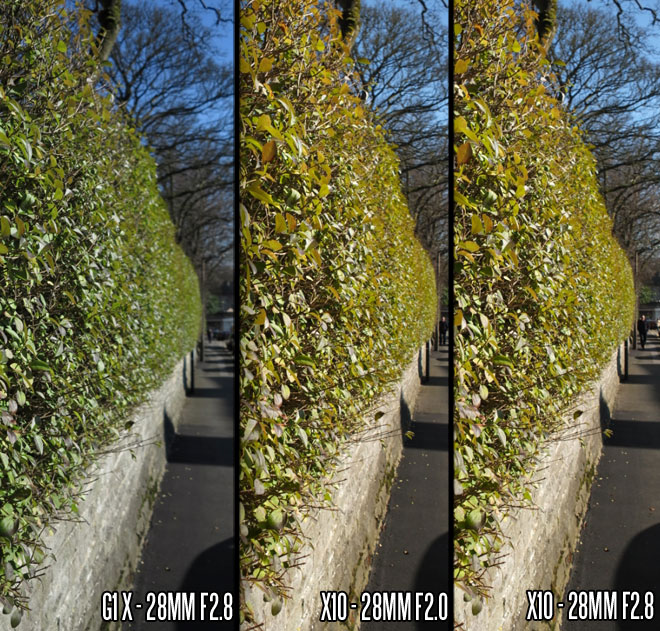 To make up for the slow aperture in low light, Canon have added a very powerful IS system and a burst mode which combines shots at high ISO to average out and reduce noise. (This works in the same was as Handheld Twilight on the Sony NEX).
In other regards however the lens is very good. Low distortion and very high sharpness across the frame. That IS system is up there with the best I have ever used on a compact, similar in performance to the Sony HX9v. I've had some shots come out nearly pin sharp at shutter 'speeds' of 0.5″!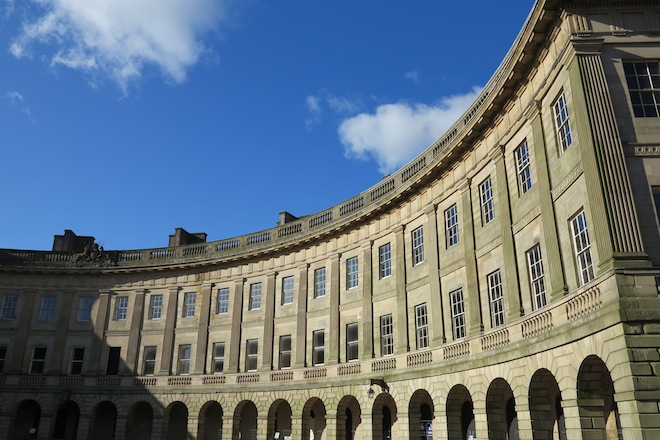 The Crescent, Buxton, shot on the G1 X
Build
If you are used to the build quality of the Canon G series, the G1 X will disappoint initially.
It feels like Canon have cut some corners to get it under a target budget.
Firstly, it doesn't help that the outer lens housing is a detachable bayonet that wobbles. Though at least that part is made of aluminium and not plastic like the rest of the camera. It is a bulkier camera than the G12 but just as well laid out. Apart from that is, the missing ISO dial. Instead space is taken up by a really cheaply built pop up flash, which I would have jettisoned in an instant had I designed the camera. It should really have been provided as a separate hot-shoe unit like on the Sony NEX cameras.
Another area where the G1 X is weak compared to mirrorless competition, is the tiny viewfinder. It is the kind of optical viewfinder you get on a $10 disposable camera. For the same money on the Panasonic G3 you get a nice EVF and for an extra £200 you get a world beating OLED EVF on a Sony NEX 5N, albeit as an add-on.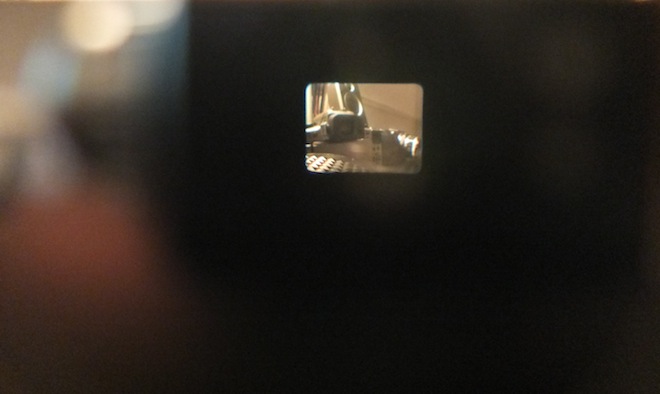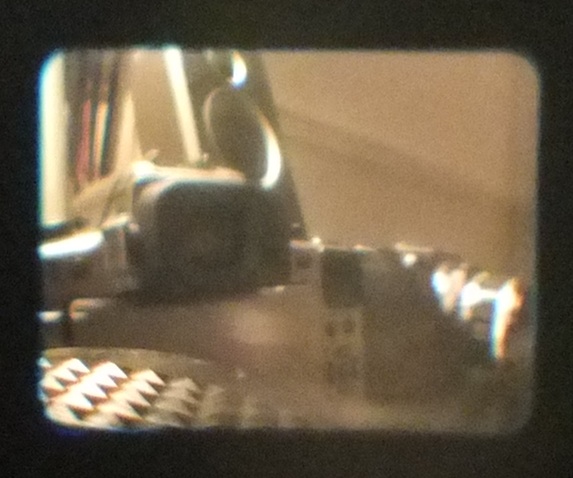 In terms of handling the G1 X is extremely well designed and the articulated screen is a lovely feature. But somehow it feels a bit clunky in use, compared to say, the Fuji X10.
Menus are snappy but they are animated so take 1 second to appear and become activated. There are also some operational quirks like not having an image review once you take a shot in P, S, A, M mode which (UPDATE: if you have continuous AF enabled, this option gets disabled. I only found this out later! Enabling single shot AF allows you to enable it again in any mode).
The shutter release button on the G1 X is a bit of a cheap part. There's not enough feel between a half press and actual press. When confirming focus with a half press it is too easy to press it down all the way. Sometimes it doesn't even respond at all.
And finally the battery of the G1 X could be better given its chunky size. Although is more than double the thickness of the battery in Fuji X10 it has slightly less capacity!
The G1 X is by no means badly designed, but it could have been a lot better for £699 / $799.
Video mode
I didn't really buy the G1 X for video quality because I have my GH2 and soon, a Canon 5D Mark III!
I bought it for stills. However, whilst it is never going to be a GH2 beater for video, it can be used as a decent shot grabber or b-camera. Image stabilisation is incredible in video mode and the camera produces a lot of detail, although it must be said that most of it is false! There's a lot of aliasing from the downscaling process and it is not as clean as some other compacts, like the Sony HX9v's output which has a faster sensor.
The G1 X's primitive line skipping / binning is most noticeable when you have a lot of hard lines at wide angle, like on a building. For a handheld medium close up on an actor's face or a duck it isn't as noticeable and the image pops a bit more.
Duck: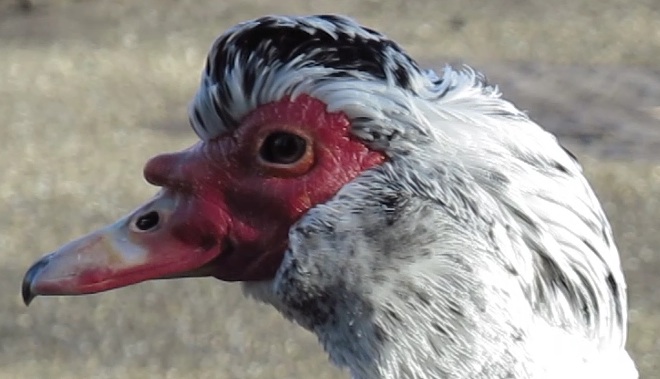 That is at 1:1
Building not so good:

It is good to see 1080/24p and the bitrate seemed to exceed 30Mbit judging from my VLC player metrics. But the encoding process is not wonderful. There's no real mud on sweeping pans but there's quite a bit of macro blocking over large areas of low contrast.
There's no manual controls, which really p***es me off. Why should be have to be babied in video mode on a camera of this level? Brightness changes automatically in the middle of a shot, particular a high contrast one and the amount of settings you get in video mode are vastly reduced compared to in stills mode.
The built in ND filter can be activated in video mode which helps to bring your shutter speed down in bright light to improve the natural look of motion. But without manual controls this potentially great feature is kind of pointless.
There's no output at all via HDMI in recording mode, only in playback mode – so no Zacuto EVF on the G1 X is possible.
Live view
In manual mode or even when using auto-exposure compensation, exposure is not simulated until you half-press the shutter, which I find a bit unnecessary. Personally I like to see the effect my changes are having on exposure in real time, which is what live view is there for in the first place!
There's no option in the menu to change this like there is on the Sony NEX 5N and NEX 7 which allows normal exposure composition in low light or when under exposing or exposure simulation – Sony lets you choose, Canon doesn't for some reason.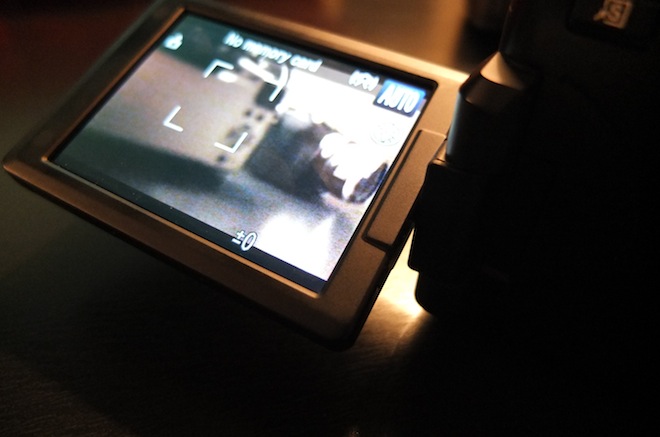 Though the screen itself is high resolution, the on-screen overlays look like they're from a ZX Spectrum game circa 1985 – but not in a cool retro way – in a Japanese camera way! Please give Apple a ring, Canon!
One other thing I have noticed on compacts, is that although they now have the same high resolution screens as DSLRs their live view image never seems to make the most of it, possibly for battery economy reasons. The feed is often quite low res, and that is the case here. Compare the boot up logo and how crisp playback mode is to the live view display.
Focussing
Auto-focus is rather slow and not that reliable. As soon as anything low contrast or flat is your focus point, you have to focus on something more detailed and then re-frame, which can be frustrating.
Manual focus is not much better. It has separate on-screen focus scales which toggle between the lens' normal range and macro. I just find that annoying. I'd also like to use the front dial to focus, and maintain shutter or aperture on the rear dial. But you can't assign MF to the front dial. As a result, I find myself accidentally pressing any one of 4 buttons under the real dial whilst manually focussing, which is incredibly distracting. Nor is there a magnified focus assist or peaking.
Frankly this is all completely rubbish compared to a good mirrorless camera.
The NEX 5N, Olympus PEN, OM and Panasonic G series walk all over the G1 X when it comes to both AF speed and manual focus.
The only other modern camera I've used which has as slow AF as the G1 X is the Fuji X100, and that is poor for manual focus as well due to the rather dodgy fly by wire manual focus ring implementation! However, at least that has a manual focus ring!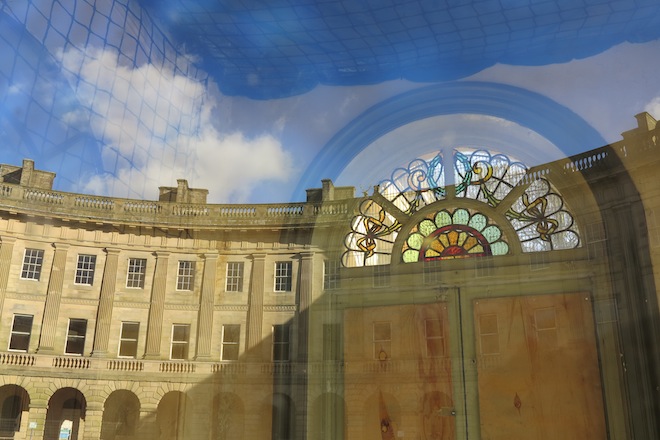 Reflections of Roman Spa town architecture in Buxton, Derbyshire, shot on the G1 X
Conclusion
The G1 X is a camera that, aside from AF speed, gets the fundamentals incredibly right but the peripheral details pretty hideously wrong. It is that typical first generation product from a manufacturer, and I am sure the issues will be addressed for the next model. A fast lens (even if it means sacrificing zoom range) is needed, with better AF. Panasonic are far ahead in terms of this kind of technology on their 14-42mm PZ for Micro Four Thirds. The ISO dial needs to replace the built in flash and an external unit needs to be bundled in the box like a NEX has. The awful cosmetic bayonet housing around the lens barrel needs to be dispensed with and a proper zoom / focus ring added. The pointlessly small optical viewfinder which is almost completely blocked by the lens needs to be shot so far into space it never comes back. Canon need to start taking EVFs seriously especially if they are to unveil a mirrorless camera as expected later in 2012.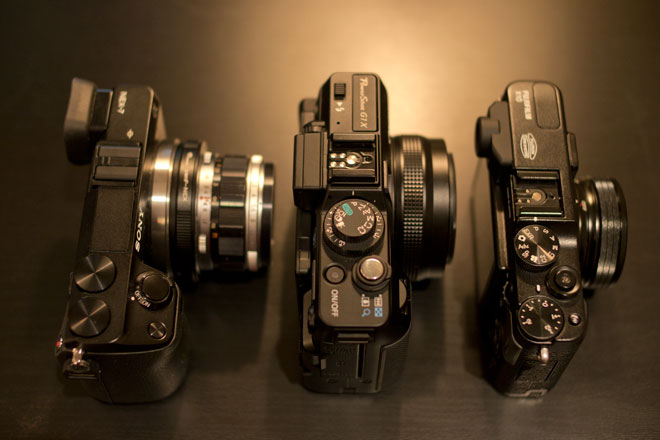 The G1 X is supposed to be a small camera and for what it offers, it is. However it is much bulkier than a high end compact like the Fuji X10. The lens on the G1 X is the limiting factor in terms of size, not the sensor, in that it is hard to see how the lens could have been any smaller. If it had a faster aperture and the same zoom range of 28mm to 120mm, it would have been very large. It is easy to build a small camera body around today's mirrorless CMOS and tiny electronic boards, much more difficult to make a small fast zoom.
And after all those criticisms, one thing remains…
DSLR image quality in a compact! And that alone is reason enough to consider buying one.
Pros
The best image quality ever in a fixed lens compact, and the largest sensor
Very good dynamic range and low light performance – even by DSLR standards, let alone compact class!
1080/24p video shows a lot of detail (though high aliasing), good for medium close ups but very bad for wide angle architecture
Incredibly effective image stabilisation (IS) in both stills and video mode
A shallower depth of field than any other compact on the market thanks to DSLR class sensor
Competitively priced when you consider large sensor and lens what comes with it
Decent manual controls
Well laid out and nice high resolution articulated screen
Small compared to a DSLR…
Cons
Bulky compared to a compact, even Fuji X10
Clunky auto-focus
Crap viewfinder
Poor pop-up flash build quality
Tons of aliasing in video mode
No manual controls in video mode
Weird wobbly external lens housing, although actual lens barrel fine
No image review after taking a shot in P,A,S,M modes
4:3 aspect ratio sensor. Why not 3:2 like a DSLR?
Powered zoom trigger not as nice as a zoom ring on the lens like X10 (which also turns on the camera when extended)
Macro mode nowhere near Fuji X10 standards
Plastic build and clunky looks (Fuji X10 is far more sexy)
Bulkier than Fuji X100 and X10 – is large sensor worth compromising zoom aperture and body size for?
Lens is slow at anything past 28mm wide angle
Shutter release button feels too loose on half presses, lack of tactile feedback when fully pressed
Manual focus a pain in the ass without rotating ring on lens
Sensor no larger than Micro Four Thirds and NEX system has larger sensor
Poor battery (chunky but lower capacity than much smaller ones)
My full comparison with the Fuji X10 will be in a separate article as there's so much to cover on that camera. It is an interesting battle of high end compacts this year as the category is evolving quickly.