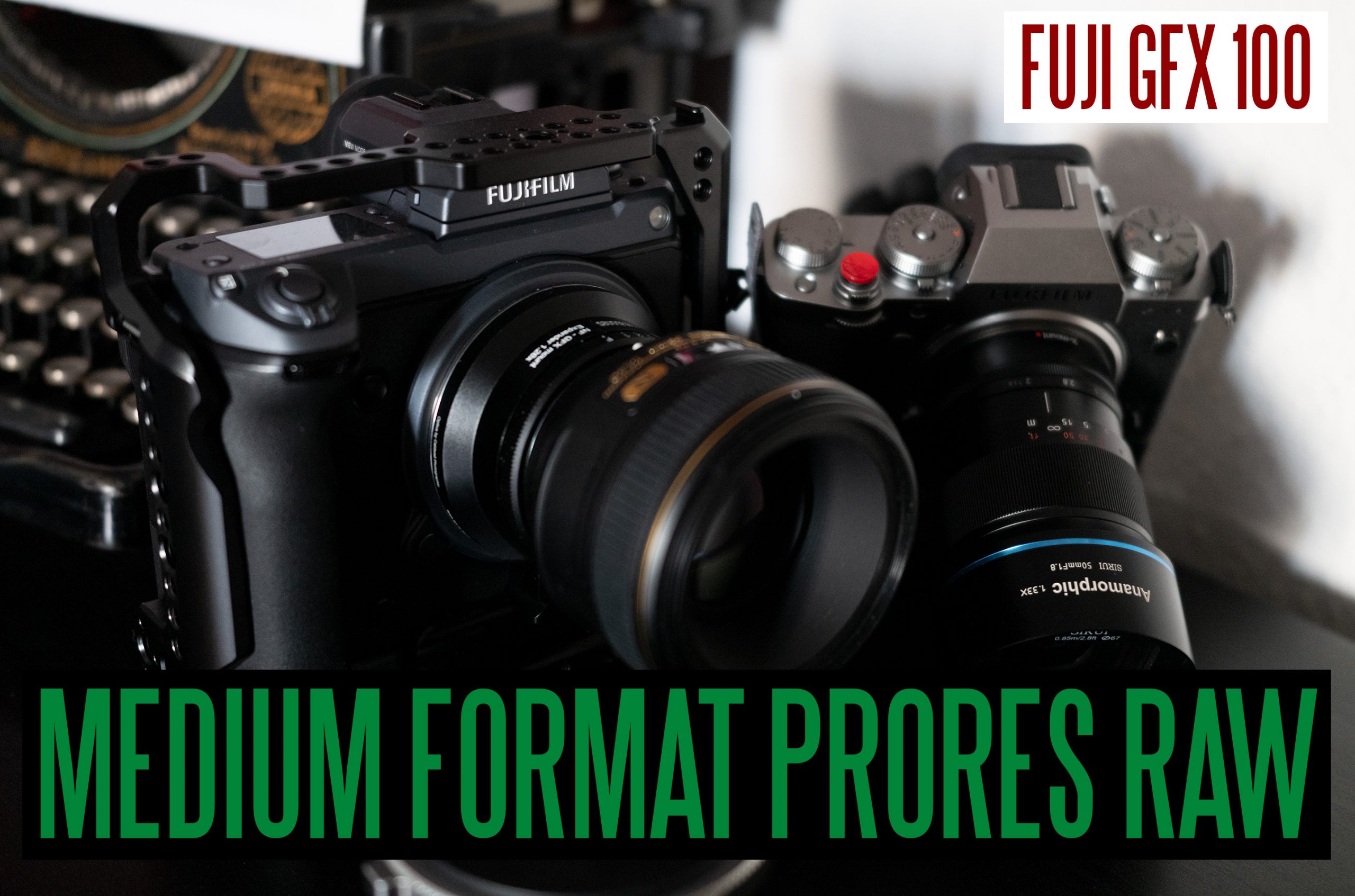 Today Fuji confirmed a big firmware update for all the GFX cameras, but the one that is especially interesting for filmmakers is the GFX 100 update. This adds a 4K 12bit RAW output via HDMI which the Atomos Ninja V is able to compress and record as ProRes RAW. This can be smoothly graded and edited in Final Cut Pro X with full GPU acceleration.
The GFX 100 will also receive the new Classic Negative Film Simulation and Color Chrome Blue, which together I found to be my go-to new look on the X-T4 and X-Pro 3. So I am very happy about this.
As a GFX 100 owner myself I can't wait to shoot with this update.
I am so far very happy with the internal 10bit image quality but RAW video from a sensor 70% larger than full frame is unheard of in the market and a cinematic dream come true.
Actually, it is not quite unheard of. The Hasselblad H6D 100C features internal RAW recording – but costs a cool $33,000 and the RAW codec is quite poor with noisy shadows.
There is no mention in this firmware of the mooted 400 megapixel pixel-shift mode (for stills!) on the GFX 100. However there is now compressed RAW for the 100 megapixel still files. Maybe they had to implement that feature first to bring the 400 megapixel file sizes under control? Hopefully we'll see another update soon.
Full list of changes in Firmware 2.0 for the GFX 100 (details from Fujifilm)
1. Features RAW video data output to ATOMOS NINJA V field monitor-recorder
GFX100 will be able to output maximum 4K/29.97P* 12bit RAW video data using HDMI to an ATOMOS NINJA V, in Apple ProRes RAW. New firmware for NINJA V will be released by ATOMOS [TBA].
RAW video data gives maximum flexibility for exposure adjustment or color grading in post-production for professional videographers. Also, simultaneous output of RAW with Film Simulation / F-Log / Hybrid Log Gamma (HLG) is also available. GFX100 can record ProRes RAW only with ATOMOS NINJA V (as of June 30th 2020).
*Compatible with 4K (3840×2160) 29.97P/25P/24P/23.98P. Not compatible with FHD.
2. Expanding the use of outstanding image technology based on unique color reproduction
Addition of the new Film Simulation modes below.
・"CLASSIC Neg" mode, simulating color negative film traditionally chosen for snapshots.
・"ETERNA Bleach Bypass" mode, which simulates the film processing technique of the same name.
"Color Chrome Blue" is added, which adds depth to color and tonal reproduction in blue skies and other primarily blue subjects.
Additional functions of GRAIN EFFECT (SIZE, ROUGHNESS).
3. Improving autofocus performance
Fast and highly-accurate phase-detection AF even in low-light conditions at -5EV.
Improvement of the Face / Eye AF performance.
The face / eye detection accuracy and stability are improved when shooting multiple people, so as to make portrait photography easier than ever before.
Auto mode will be added to focus bracketing.
Specify the starting and ending points and shooting interval, and the camera can automatically determine the number of frames and steps required.
4. Enabling video recording control from Gimbal / Drone via USB communications
Combining the GFX100 with Gimbal / Drone that supports this function, will allow users to start / stop video recording, specify exposure settings for video (shutter speed, aperture value, ISO sensitivity and exposure compensation), and make manual focus adjustments.
Guilin FeiYu Electronic Technology Co. Ltd., Shenzhen Gudsen Technology Co., Ltd., SZ DJI Technology Co.,Ltd. and ZHIYUN (alphabetical order) have announced the intention of offering compatible products. Functions that can be controlled vary from Gimbal to Gimbal.
5. Expanding various other functions requested by customers
The firmware will allow users to adjust exposure settings (shutter speed, aperture value, ISO sensitivity, exposure compensation) for still images from a computer when using software that supports some tether-shooting functions.
More photo-editing applications will support the import of rating information, assigned in camera.
"COMPRESSED" is added to RAW RECORDING.
6. Fix of minor bugs
EOSHD remarks
12bit ProRes RAW will be editable in Final Cut Pro X on a Mac but if you are a PC user or edit in Blackmagic DaVinci Resolve, it would have been useful if Fuji had followed Sigma's lead and implemented BRAW compatibility with the Blackmagic View Assist 12G.
Even more useful than RAW recording would be if manufacturers found an agreement with Apple to implement 10it ProRes 422 in-camera – because H.265 is not really an editing codec. A lot of professional filmmakers see it as an iPhone codec and won't use it on set and professional editors won't edit it.
The other key to unlocking a cinema workflow for the majority, would be if RED could come to the table and open up their licensing a bit. As we saw from the Apple vs RED legal case, REDCODE patents complicate the implementation of internal compressed RAW recording more broadly. You will notice that certain Canon have compressed Canon RAW internally recorded, and have done since the C200. Now it has come to the 1D X Mark III and EOS R5. You will notice that the RED Komodo features an RF mount and autofocus with Canon lenses, in what looks to be in my opinion a technology swap and some sort of patent licensing agreement.
What would be really great in my opinion is if RED made REDCODE even more of an industry standard, by licensing it to a select few manufacturers like Fujifilm, Sigma, Panasonic, Sony and Canon in order to bring it to the mirrorless camera market.
We are not talking about allowing Sony and ARRI to compete with RED by offering REDCODE on directly competing cinema cameras at the high-end… Just the mirrorless cameras would have it.
This way, the fantastic technology Graeme Nattress and RED pioneered would come to many, many more users and RED would earn a lot from the licensing fees.
Indeed, making this an optional firmware update to add REDCODE would be ideal because Fuji could pass the licensing costs onto the end-user who actually needs the codec, and not to all users with higher camera prices. If a user only shoots stills they should not pay more for their camera.
I soon hope to feature an interview with Fujifilm (from 4th July) and Jarred Land at RED on EOSHD.