The E-M1 II is one of my favourite cameras. Now the high-end version has been officially unveiled, I have to say I am a little bit disappointed. I had expected an all-new technological marvel to justify the price tag… Instead the E-M1X is very much based on 2-year old technology from the E-M1 II.
It is a little bit like an E-M1 II with a firmware update and vertical grip.
Now the E-M1 II was itself a fine, fine camera. Not quite the powerhouse for video that the GH5 would be a bit later on, but it came out first and gave us just as good an image in 8bit, with the same sensor and arguably even better 5 axis stabilisation (especially when paired with the rather nice 12-100mm F4 Pro). I still like how small and well built the E-M1 II is. In fact, Olympus have put out some seriously good cameras in recent years. One of the fastest in the E-M1 II, one of the best looking and most fun in the PEN-F and in 2017 one of the best value for money cameras ever made by anyone, the superb E-M10 III.
I cannot say the same about the E-M1X because it is $3000, with no 10bit codec, no 4K/60p and the same standard LCD-type 2.36m dot resolution EVF as the E-M1 II. The magnification has increased to 0.83x so it is at risk of looking rather pixilated. For comparison the G9 and GH5 feature a 3.68m dot resolution OLED (the G9 with 0.83x magnification so as roomy as the E-M1X glass). Olympus will say this is a sports and wildlife camera so a 120fps refresh rate is more important than resolution. To be honest for $3000 you would expect both and when enabled, the 120hz mode drops resolution even further than the already mediocre native panel resolution.
The E-M1X is almost double the size and weight of the E-M1 II, as heavy as a full sized traditional full frame DSLR like the Nikon D750. It has a lovely roomy grip though, far less cluttered controls and extremely good battery life so I can forgive it. Despite the extra room on top of the camera there's no top-panel LCD, something the cheaper G9 saw fit to include.
An impressive full res 60fps electronic shutter is present, just like on the E-M1 II which you could use to do short bursts of 5K RAW video. Sane people, just used it for photography. Ha ha crazy cats.
Sadly the E-M1X specs fall short of the much cheaper Panasonic G9 in that it lacks 4K/60p, but it does have LOG recording. This comes in the form of OM-LOG400. Little detail is currently given on how that works or how much dynamic range is on offer. Aside from that the codec is the same as the E-M1 II and with the same on-sensor AF system. It remains to be seen whether this has been improved to work well in video mode thanks to some AI routines which are now present in stills mode. On the original E-M1 II it wasn't too hot (for video).
Here is an example of OM-LOG – complete with horrific grading
The E-M1X features 1080/120fps with stabilisation
Live-ND
There were excited mumblings when the rumours confirmed this feature, without telling us anything about how it works.
It turns out it isn't electronically operated ND filter glass over the sensor or anything of the kind. It is just a fake shutter speed effect in live-view. This allows you to preview slow shutter speeds in bright light. Previously, most live-view modes did preview slow shutter speeds but they also previewed the exposure and in bright light, a slow shutter speed would be overexposed. Olympus have solved this problem by finding a different way to simulate the slow shutter speed – probably a multiple exposure and frame blending trick, whilst the sensor exposes at a faster shutter speed.
It appears to have no practical use for video shooters, which is a shame as some form of electronic ND is badly needed in our mirrorless cameras now. The Sony FS5 proves it is possible even in the tight confines of E-mount. Why the technology has still not appeared on anything else is a deep mystery to me.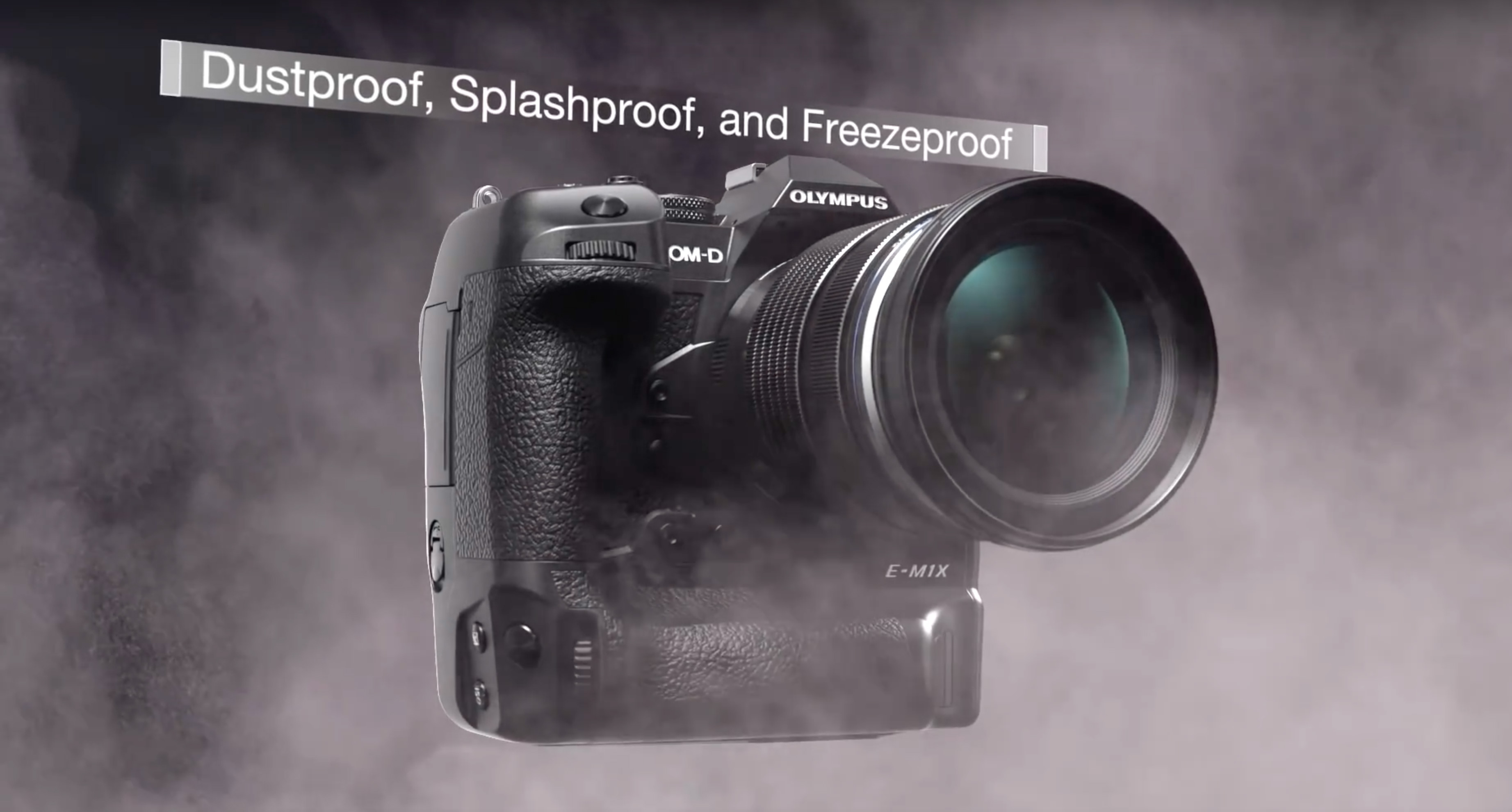 I fear a bit for Olympus
Olympus are one of my favourite manufacturers. It would be sad to lose them.
I am not one to dismiss cameras based on sensor size. I think in terms of the look the lenses give instead, and Olympus have some absolutely superb ones. In addition I am a huge fan of the Super 16mm look which corresponds more closely to the 2x crop of Micro Four Thirds than to full frame. A Kern Switar 26mm F1.1 for instance on a 2x crop sensor is going to beat the full frame look for some subjects. A larger sensor is not automatically better under all circumstances. Also, well travelled wildlife shooters will appreciate the extra tele-photo reach, smaller lenses, amazing stabilisation, very good AF tracking and silent electronic shutter mode.
So the E-M1X is not a bad camera by any means, but it could have been a genuinely special one.
Cost cutting measures include:
No new sensor
Same AF system, with most new features added in firmware
No OLED EVF panel
Same low resolution EVF LCD panel as the E-M1 II
No top panel LCD info display
A complete lack of 10bit video encoding hardware
4K still capped at 30p, despite sensor being capable of 5K RAW at 60FPS and larger body facilitating better heat dissipation
No 10bit via HDMI either
This seems like a curtailed project, one hampered by severe budgetary constraints.
It comes in addition to their absence in the L-mount alliance, with no full frame offering to compete with the Panasonic S1R, Nikon Z and Sony A7 series, let alone the lower specced Canon EOS R.
The main competition for the E-M1X is the Sony A9, a camera that did not exactly set the market alight with a fiery bonfire of red hot sales. The Canon 1DX II and Nikon D5 remain dominant workhorses that I can't see the E-M1X unseating, much as this is probably the main target of Olympus.
Then again, we have seen cameras before that seem underwhelming on paper or missing features found on much cheaper equipment, which have gone onto do very well because they are a pleasure to shoot with. I have a feeling the E-M1X can make a claim for being such a camera. It is the most mature and ergonomically nice professional product Olympus have ever made and it has a loyal band of followers, already invested in a huge range of Micro Four Thirds glass. Whereas for video shooters it brings little to the table not found in the existing E-M1 II which sells for $1000 used, or the similarly priced Panasonic G9, let alone the Fuji X-T3 or Panasonic GH5, it could be that this is a much better camera than on paper, with superb Olympus colours, the best stabilisation on the market, copious battery run-times, very fast USB 3.1 charging and supreme ergonomics with a huge viewfinder.
I just wish Olympus had brought brand new technology to the market, what a missed opportunity there… I can only hope the reason the E-M1X has 8 severe cost cutting measures is that they allocated the funds to the R&D department with the instruction to make a full frame version.