With a completely new Super 35mm sensor, the Panasonic EVA1 has just been announced at CineGear Expo.
The EVA1 is an even more compact version of the Varicam LT digital film camera and sits above the GH5 in the Panasonic range.
It has an extremely enticing spec. The 4K is oversampled from an all-new Super 35mm 5.7K sensor, with colour science from the highest-end Varicam range. 2k slow-mo at 240fps, 10bit 4K oversampled from nearly 6K put it ahead of the Canon C200.
In a future firmware update, the camera will output 5.7K RAW.
It has a number of new technologies on board such as Dual Native ISO. I have only just watched the presentation and will bring you the details about how exactly this works later.
The body has a Canon EF mount, and remains extremely small for a cinema camera. Think of it as approximately Sony FS5 sized. Dual SD card slots means media is about as affordable as it gets for a camera of this spec.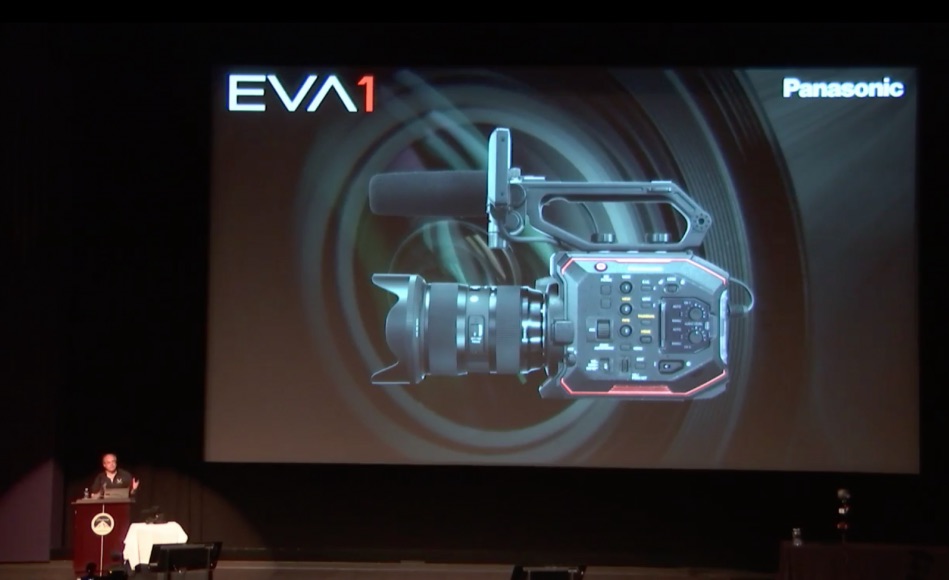 Out of the box it has V-LOG and V-Gamut, VariCam colour science, EF mount, ND filter wheel (2/4/6 stops), 4K 60p / 2K 240p, 422 10bit, 400Mbit codec and future 5.7K raw outut. XLR audio, HDMI and SDI 4K outputs, timecode and it weighs just 2.64lbs.
Panasonic has positioned the camera between the GH5 and VariCam LT, meaning it costs less than $8k although Panasonic seem a bit cagey about the exact price. Clearly the competition is the $8k Canon C200 and $6k Sony FS5.
I am much more excited about this camera than the C200 or FS5.
The internal codec is much stronger than both. And I mean MUCH much stronger.
However on the stabilisation side, there's no 5 axis in-body stabilisation like the GH5 – but it does have an electronic IS capability and of course many Canon EF lenses have OIS.