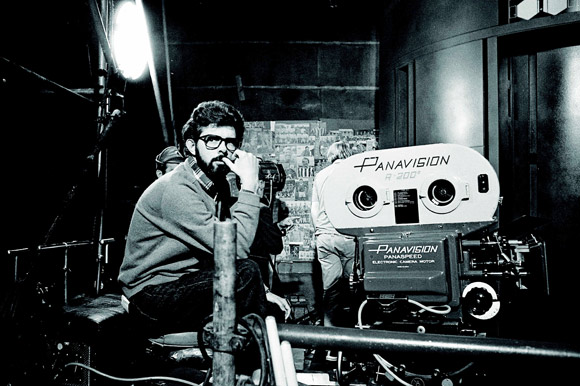 Right now, 35mm film stock producers Fujifilm are missing a huge opportunity to shape cinema's future
Band of pirates though they are, RED are a profitable company and right now their only competition comes from some unlikely sources – Arri's Alexa and Canon's consumer DSLRs.
Sony's high end CineAlta cameras which cost upward of £100,000 and the Panavision Genesis are in a different league to RED and much more expensive.
Incredibly, only the Canon DSLR is a full frame camera. The rest are Super 35mm, which is closest in DSLR terms to APS-C (Canon 550D) because motion picture 35mm has a much smaller frame than 35mm photographic film.
With RED proving that demand exists, and the Canon 5D Mark II showing that full frame is hot property, let's add into the mix the diminishing power of expensive-to-process 35mm motion picture film and we have the perfect logical reason for what Fuji should do next.
Today there are whispers that Fuji will announce a Micro 4/3rds DSLR. This is not the answer of course, but they are already part of the Four Thirds consortium, along with Kodak, Panasonic, Leica and Olympus. So this seems like the next logical step for Fuji in the consumer DSLR market.
Even more interestingly, I believe the time is right for a Fujifilm digital cinema camera to compete with RED and Arriflex. The camera would be able to undercut both, and take on the Panasonic AF100 at first glance and second glance.
As digital takes over from 35mm film cameras, both Fujifilm and Kodak will have to find a way to replace the vast amounts of money generated by 35mm motion picture stocks.
Their digital answer would feature a larger sensor than the Panasonic AF100 which uses a Micro 4/3rds chip in 16:9 aspect ratio like the Panasonic GH1.
Since Fujifilm are an innovative CMOS sensor producer themselves, they could also develop their own photographic full frame sensor and taylor it especially for motion. They could further extend it's profitability by building a professional DSLR around it too. Fuji are an innovator when it comes to sensors, having recently put phase detect AF chips on an image sensor and having specialised in extending dynamic range on their DSLR sensors for years. This expertise in latitude on digital sensors would come in handy when replacing S35mm motion picture film.
Their Digital Cinema Camera (DCC) would come in two flavours – Vista Vision (equivilent to full frame DSLR sensor size) and Super35 with an APS-C sensor from Sony.
The Fujifilm Super35
This would be by far the cheapest camera, undercutting the AF100 and competing with DSLRs. It would be small, un-obstrustive and compatible with a wide range of manual focus Nikon lenses out the box just as Fuji's professional DSLR range is. But it would offer all the specialist cinema features such as manual control, zebras, native 24p, high bit rates, selectable frame rates up to 120fps, proper handling and more. The only requirement for it to be slightly larger than a DSLR (think Scarlet sized) would be the cooling system for the image processing chips.
Think of it basically as a motion friendly, DP friendly DSLR with faster processors.
Fujifilm's Vista Vision DCC
The Vista Vision however would be placed to compete with the RED ONE, EPIC, Arri Alexa and even Sony F35 Cine Alta. It would cost twice as much as a Panasonic AF100 but would feature a photographic sized 35mm full frame sensor like the 5D Mark II. Fuji would reduce the megapixel count and boost dynamic range. I think people would be willing to pay extra for this one, as we have seen with DSLRs. In DSLR land full frame stuff is still sold at a premium, even if the functionality of cameras like the 5D Mark II are in fact very similar to a top end APS-C product like the Canon 7D.
People are paying for the full frame goodness.
Fuji's Vista Vision DCC would enherit all of the lower end APS-C cinema camera's functionality. In effect Fuji should apply Canon's DSLR business model to the digital cinema sector and see what happens.
Fujifilm would reassign and retrain film technicians and sales people to go out into the industry and guage product feedback for their digital cinema cameras. They would tap into the rental market, help train rental houses in the new digital cinema cameras and promote the cameras via the internet by handing out units for review to guys like Philip Bloom and others who are not yet tied to one manufacturer (such as Vincent Laforet with his stringent Canon-only connections).
I believe Fujifilm and Kodak will have to do something about the decline of traditional 35mm film stocks, just as they have done so in the consumer compact markets when digital began to take over from film 10 years ago.
Otherwise Fujifilm risk becoming a golden relic of cinema's past and not part of it's future.