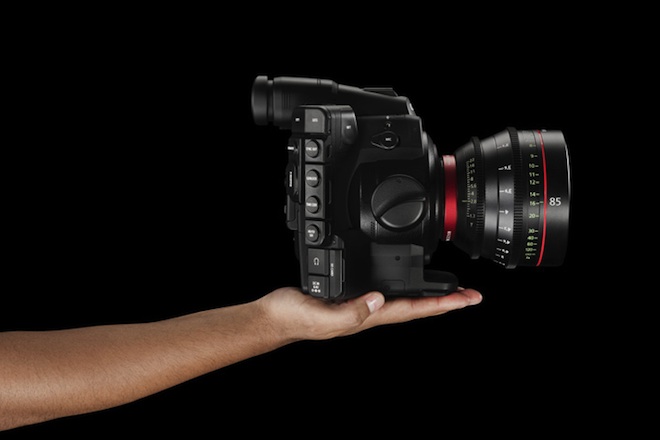 Many people aren't ready for 4K yet. These people just got the bargain of the century with a massive Canon price reduction on the old Canon C300.
You can read my most recent views on the C300 here.
But should you give into temptation and buy one? Let's have a look at the options.
The Canon C300's shelf life is just about up. In some ways the new C100 Mark II is better – better EVF, better LCD, better low light performance (though by just a little) and the option of 1080/60p where the C300 tops out at just 30p.
However the C300 has the advantage of a finer noise grain with the MPEG 50Mbit/s broadcast ready codec as opposed to AVCHD. It also benefits from 4:2:2 colour sampling internal so footage will grade that bit better. The C300 also comes in a PL mount variant, which is now just $6999.
I expect people who are already C300 users commercially and need a second body will rip Canon's arm off with this deal and the stock probably won't last long. A direct replacement is on the way that shoots 4K internally.
Now the C100 Mark I and C300 are now not much more than a high end DSLR. Let's say you're a 5D Mark III shooter or a Nikon D800 owner, or you are shooting 1080p on a Sony A7S or 4K for 1080p delivery on a Panasonic GH4 – should you switch?
I'd caution against it. The C300's image is not the smoking hot free lunch that some people claim it is. You have some aliasing around highlights and resolution looks so rubbish side by side with the GH4 or Samsung NX1. Sony A7S has the better low light and a much larger sensor. The main advantage is that the C300 has less rolling shutter. And of course the ergonomics & broadcast ready codec are of more use to many commercial shooters than 4K or full frame currently is.
It all boils down to what you do with your existing camera. If you are only shooting 1080p, but have invested in an expensive rig, vari-ND, audio add-ons and a bunch of adapters, it might make more sense to sell all that and pick up the bare bones C300. It truly is a camera that can be shot ably with just 'as is' with no cage or dual system audio. If you have plenty of Canon lenses and need better audio yet don't plan to make the move to 4K for a while yet then it should be considered at this new price.
C100 (Mark One)
The C100 is now $2999. This little sister of the C300 has the world's worst EVF and screen. Apart from that the image is actually pretty similar and the codec holds up well. You can very easily shoot ProRes with it by adding the $300 Atomos Ninja Star though to be honest image quality remains very similar, it just gives you a ProRes workflow and less compression on motion blur. However the kind of user who would go for the C100 at such a low price might be more of an advanced consumer or hobbyist rather than a working cameraman and here I think the Sony A7S at $2500 is just so much more creative. The full frame look coupled with stunning 1080p at 50Mbit/s especially in low light betters the C100's 1080p at 24Mbit/s all-round for less money. You can select Super 35mm on the A7S to reduce rolling shutter so it is more in-line with the C100 for violet handheld camera shots. That Sony E-Mount is more adaptable as well and the camera is easier to travel with being much smaller. S-LOG 2 requires decent variable ND filters but actually you get more control with these for precise exposure than with the ND-switch on the C100, nice though it is to have that built in. Shooting with the A7S isn't like on a DSLR, you have peaking, audio meters, articulated screen, the experience is much more C100-like for all intents and purposes.
Wait until after NAB?
I expect these Canon price reductions to last a little while at least, if not a year then a few months and limited stock to continue as it is unlikely Canon will have the C300 Mark II in store at the same time as the announcement at NAB on 11th April 2015. They usually have a 3-4 month gap in which to ramp up production.
The C300 Mark II is likely to be at least double the price of the reduced C300, at least $12,000 as I hear it will be better specced than the $8000 Sony FS7 and the Canon logo demands a premium, mainly because of the lens mount! However there might be some much more innovative cameras around the $6000 or $3000 mark at NAB that do much more than a C300, if not ergonomically then certainly creatively in terms of low light, high frame rates, raw, etc. Also GH4 users should bear in mind that a potentially very large update is coming their way.
Well done to Canon for finally recognising there is a big market under $10,000 for pro video!! Only took them 4 years!!